Andrew McGregor
October 5, 2016
South Sudan achieved independence in July 2011 but the era of peace most citizens had hoped the event would initiate remains elusive, thanks in large part to the ravages imposed by both a tribally oriented government and a slew of warlords with outsized personal ambitions. One of the most active of these warlords is General Johnson Ulony Thubo, a self-proclaimed defender of the Shilluk people, South Sudan's third largest ethnic group (the Dinka are the largest, while their perpetual rivals, the Nuer, are second-largest).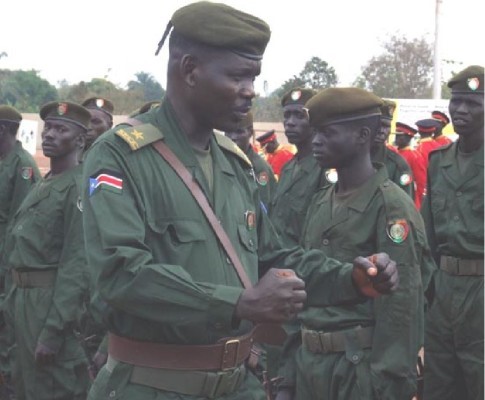 General Johnson Ulony Thubo (Gurtong)
In a land of extraordinarily tall people, Johnson Ulony's size still makes him stand out. By repeatedly playing off one side against the other in Upper Nile State and threatening the young nation's oil supply (nearly its only source of revenue), Ulony has cynically but successfully made himself a major player in the continuing struggle for South Sudan. In the process, Ulony has drawn the critical attention of the United States and been accused of war crimes by the UN and a former British Prime Minister.
The Situation in South Sudan
Fighting broke out in the Upper Nile State capital of Malakal between Dinka and Nuer elements of the Sudanese People's Liberation Army (SPLA – the national army controlled by the Dinka-dominated Sudanese People's Liberation Movement – SPLM) in December 2013 after President Salva Kiir Mayardit claimed Nuer Vice-President Riek Machar Dhurgon had attempted to overthrow the government in the capital, Juba. Machar fled north to rally Nuer and other allied troops under the name SPLA In Opposition (SPLA-IO).
Since then, the conflict has been complicated by President Kiir's unilateral creation of 28 states from the original ten in October 2015, a move seen by many groups as an attempt to transfer traditionally held tribal lands to Dinka control. The decision is regarded as illegitimate by both the Joint Monitoring and Evaluation Commission (JMEC – an international peace monitoring group) and the United Nations Mission in South Sudan (UNMISS). In the case of Ulony and his personal Shilluk militia Agwelek, the changes are seen as "a naked power grab" and an attempt to transfer Shilluk lands on the east side of the Nile (including Malakal) to the Dinka Padang group (Radio Tamazuj, May 4). Kiir's decree divided Upper Nile State into three new administrative territories; Western Nile State (dominated by Shilluk), Eastern Nile State (with a significant Shilluk population) and Latjoor State (mainly Nuer). Agwelek controls the west bank of the White Nile, while government forces control the east bank, including the regional capital of Malakal, an important Nile River port.
The Shilluk
With a population of 1.5 to 2 million people, the Nilotic Shilluk (a.k.a. Chollo, or Collo), the Shilluk are divided into kwari (clans) who trace their lineage to some contemporary of the kingdom's legendary mid-16th century founder Niyakang, who established a kingdom at the confluence of the Sobat River and the White Nile after being exiled by his twin brother from a kingdom in the region of Bahr al-Ghazal. The clans are all under the authority of the Reth, a king traditionally regarded as a descendant and spiritual incarnation of Niyakang. The Reth is regarded as a form of "divine kingship," in which the health and prosperity of the king is an instrumental and necessary element in the success of the community as a whole.[1]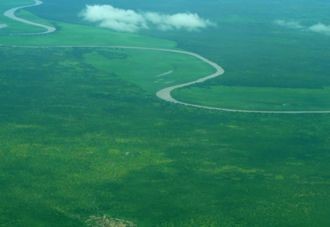 The Sobat River in the Shilluk Heartland
The Shilluk built a navy of dug-out canoes and made themselves a regional power through control of long stretches of the White Nile and by sending boat-borne warriors to raid Arab communities to the north. This situation changed dramatically when Turco-Egyptian forces occupied the Shilluk kingdom in the 1820s and initiated large-scale slave raids and cattle-raiding expeditions enabled by possession of firearms.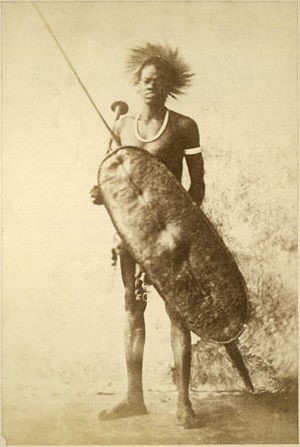 Late 19th century Shilluk Warrior
The Shilluk capital of Fashoda (Pachodo) was established around 1700 CE as a royal residence and center for mediation activities and religious/political rituals. The Reth was not obliged to live there full time, but spent most of his time within the Shilluk Kingdom. A French attempt to claim sovereignty over Fashoda and the Upper Nile region in 1898 (the "Fashoda Incident") nearly led to full-scale war between France and Great Britain, which was in the process of consolidating its control of the Sudan. Fashoda was renamed Kodok by the British in 1904 as part of an unsuccessful attempt to eliminate memory of the incident at a time of improving Anglo-French relations.
Though most Shilluk are today Christians (both Roman Catholic and Protestant) or Muslims, traditional religion is still a strong influence in Shilluk society.
Disarmament Campaign of 2010
Ulony, who hails from Panyakang County in Upper Nile Province, first came to prominence in the course of a nation-wide disarmament campaign in 2010 in which the SPLA was accused of massive human rights abuses in Shilluk territory. Despite persistent local rivalries over land ownership between Dinka and Shilluk, the government ill-advisedly sent Dinka troops to disarm Shilluk communities. Resistance followed, led by a former wildlife officer, Colonel Robert Gwang (Pachodo.org, July 27, 2010). Gwang joined the SPLA in late 2010, but his lieutenant Ulony and his men spent months waiting in a camp for integration into SPLA's 7th Division before the alleged rape of a Shilluk fighter's wife by an SPLA soldier sparked a battle that killed 14 on both sides.[2]
After initial clashes with the SPLA in Panyikang County in early March 2011, Ulony attacked Malakal on March 12, 2011.[3] Ulony's militia was driven off by the SPLA, but it was only the first of a series of battles Ulony would fight in Malakal.
With integration now impossible Ulony led his men across the border into South Kordofan and joined a new armed movement opposed to the Government of South Sudan (GoSS). Formed by Dinka Lieutenant General George Athor Deng, the South Sudan Democratic Movement/Army (SSDM/A) attracted rogue commanders from several ethnic groups.[4]
When Athor was killed by South Sudanese border guards in December 2011, he was succeeded by Peter Kuol Chol Awan, who came to terms with Juba in February 2012. As led by Ulony and fellow Shilluk rebel Alyuak Ogot Akol, the SSDM/A's Upper Nile faction rejected the peace agreement, with Ulony taking control of the dissident fighters still in the field. Ulony claimed Chol had already resigned as the movement's leader due to health reasons and thus had no authority to negotiate an agreement with the ruling SPLM (Sudan Tribune, March 1, 2012).   Ogot accepted the amnesty in September 2013.
By early 2012, Ulony's troops were active on Khartoum's behalf against rebel forces of the Sudan People's Liberation Army – North (SPLA-N – Sudanese rebels abandoned by the South's 2011 independence) in Southern Kordofan and participated in the seizure of Jau, a town in the disputed oil-rich region of Unity State. Ulony continued to campaign in the South Kordofan region into 2013.
Conciliation with Juba – 2013
In April 2013, President Kiir issued another amnesty offer, which was accepted by several Nuer and Shilluk rebel movements (Sudan Tribune, April 27, 2013). Ulony rejected the offer, but an order from the Reth to accept the amnesty brought Ulony into the SPLM/A fold.[5]
After his arrival in Juba in June 2013, Ulony appeared on state media to declare his 3,000-man militia had received full support from Khartoum, including training, logistics and "any support we need." Now, however, it was time to join the SPLA's 7th Division and forget the past as President Kiir had urged (Sudan Tribune, June 6, 2013). Ulony joined the SPLA's bloated general staff as a major-general as his men crossed into South Sudan from Sudan. However, when clashes between Dinka and Nuer forces erupted in Juba in December 2013, Ulony's Shilluk militia had still not been fully integrated into the SPLA.
During his unsuccessful defense of Malakal against SPLA-IO attacks in February 2014, Ulony was shot and wounded in the neck by the rebel forces and was evacuated to Juba for treatment (Sudan Tribune, February 20, 2014) Having recovered, Ulony took a shot In July 2014 at the ineffectual but well-educated Shilluk politicians who had been unable to secure Shilluk territory, announcing he had "a doctorate in fighting" (African Arguments, October 6, 2014).
Child Soldiers and Terrorism Accusations
In February 2015, UNICEF accused Ulony of recruiting 89 (or "possibly hundreds") of child soldiers between 12 to 15 years of age. Ulony was summoned to Juba to answer these charges but failed to appear as he was involved in offensive operations alongside the Presidential Guard (the "Tiger Division") against SPLA-IO forces in Manyo County at the time (The Insider [Kampala], March 16, 2015; Radio Tamazuj, February 28, 2015; March 9, 2015). Possibly unaware that Ulony was at the time a Major General in South Sudan's national army, former UK prime minister Gordon Brown described Ulony's unit as a "terrorist group," adding that they were "a cynical, hypocritical group of people" (Radio Tamazuj, March 19, 2015).
Following clashes at Malakal in April 2015, Ulony was ordered to report to SPLA headquarters in Juba. When he failed to appear, SPLA chief of general staff General Paul Malong Awan was forced to admit he was no longer in contact with Ulony and no longer received reports from him. Ulony, however, claimed there was "no problem," stating that he was "still part of the government" (Sudan Tribune, May 14, 2015).
Defection to the SPLA/M-IO
Ulony's April 2015 defection to the SPLM/A-IO was spurred in part by the April 1 killing of his deputy Major General James Bwogo Olieu (a.k.a. Johnson Bwugo) by a Dinka militia allegedly under the supervision of SPLA military intelligence (Nyamile.com, April 19, 2015; Sudan Tribune, April 6, 2015). At the time, however, Ulony publicly maintained that the Dinka youth militia had confused General Bwogo's entourage with a Shilluk youth militia they had been fighting sporadically for several days, adding that his forces remained under SPLA command and were not a separate Shilluk militia as some (including SPLA-IO leader Riek Machar) had alleged  (Sudan Tribune, April 7, 2015)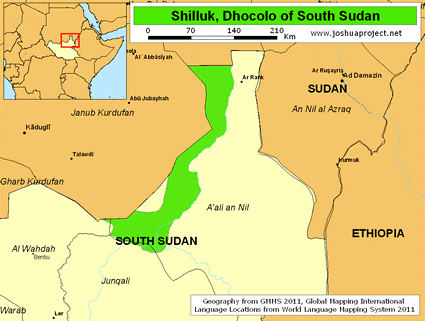 Map Source: Joshua Project / Global Mapping International
Formation of the Agwelek Militia
Having taken SPLA-issued heavy weapons with him during his defection, Ulony formed Agwelek, a Shilluk militia, on May 15, 2015. Agwelek accuses the "tribally-oriented" South Sudan government of grabbing Shilluk land and handing it over to the Dinka (Southsudannation.com, July 3, 2015). The movement's declared objectives include:
The unification of all opposition groups in South Sudan
Implementation of federalism
Establishment of a reconciliation commission
Proportionate representation of all states in a "truly national army"
A complete overhaul of the police and all security services
Diversification of the economy as part of a socio-economic revival
The establishment of an Upper Nile/Fashoda Trust Fund of $500 million, 60% of which will come from international donors.
An allocation of 50% power sharing in Upper Nile State and the right to appoint the governor (com, July 3, 2015).
In June 2015 the SPLA-IO declared it had retaken Malakal in cooperation with Agwelek forces, though by this time the city was largely a depopulated ruin, most residents having fled for the protection of a squalid UNMISS camp on the outskirts of town (Radio Tamazuj, June 28, 2015).
In early July 2015 a government offensive pushed Agwelek troops from the Kodok (Fashoda) region on the west bank and retook Malakal from Agwelek and the SPLA-IO on the east bank without meeting significant resistance (Radio Tamazuj, July 11, 2015).
Hassan Otor, a commander in Aguelek, denied September 2015 reports from Khartoum that Ulony had defected from the SPLA-IO (Radio Tamazuj, September 17, 2015). Other Shilluk forces under the command of Major General Ogot's deputy, Yohanis Okeich, defected from the SPLA to the SPLA-IO the next month (Radio Tamazuj, October 30, 2015).
The U.S. proposed a UN travel ban and asset freeze on Ulony in September 2015 on the grounds of perpetuating a conflict that was causing needless civilian deaths and displacement. The sanctions were ultimately blocked by Russia and Angola (BBC, September 16, 2015). Hassan Otor, described the sanctions as "illogical" and maintained that Ulony was only defending civilians from aerial and chemical attacks by Juba (Radio Tamazuj, October 2, 2015).
An International Incident
In late October 2015, Ulony and his militia sparked an international incident by detaining three barges on the White Nile hired by UNMISS to deliver fuel to a UNMISS base in Renk. Aboard the barges were 12 South Sudanese crewmen, 18 UN peacekeepers and 55,000 liters of fuel. The shipping company that owned the barges was also used by the SPLA, which was involved in operations on the river against Shilluk rebels at the time. Ulony's spokesman insisted that some of the detainees were SPLA troops and agents of the National Security Service, proof of local collusion between UNMISS and the Juba government.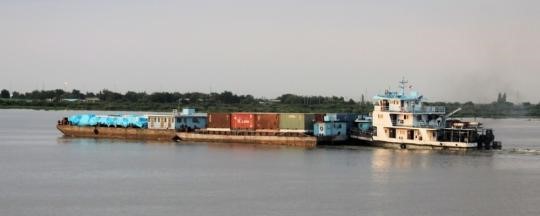 Typical White Nile Barge Transport
On October 30, 2015 a U.S. State Department spokesman condemned the seizure of the UN barge and suggested the action could constitute a war crime (Radio Tamazuj, November 2, 2015). Meanwhile, the failure of UNMISS to respond to the seizure for three days led the SPLA to believe UNMISS was in collusion with Ulony. The UNMISS chief finally condemned the detention as a war crime and the personnel were released, though Ulony's men kept the fuel, the peacekeepers' weapons and some communications equipment (African Arguments, November 4, 2015; Radio Tamazuj, October 30, 2015).
In the same month, General Yohannes Okich (or Okij) split from Agwelek, forming the Tiger Faction New Forces (TFNF).
Deposing the Reth
On January 13, 2016, conspirators including General Ulony overthrew Reth Kwongo Dak Padiet, the long-standing 34th king of the Shilluk, citing his support for Kiir's creation of 28 states and the Reth's extended two-year stay in Juba during a time of crisis in the Shilluk homeland. The king was replaced by a prince of the royal lineage. A statement issued by Shilluk elders asserted that Shilluk leadership customs don't "allow absence of the king from soil of the kingdom for a long period as this could open gaps for bad luck to the people with the spirit of founder Nyikango and other ancestors deserting the land" (Sudan Tribune, January 17).
The Shilluk king is seen as the community's guarantor of law and order, so deposing the king is not an action to be taken lightly, as it threatens the stability of the community as a whole. Was deposing the king, in Shilluk terms, an outrageous and revolutionary act? It's difficult to say, as there seems to be no precedent of a Shilluk Reth abandoning his people to live elsewhere, a primary cause of his overthrow. Given the Reth's spiritual importance to the survival of his people (and the presumption that he would continue to live amongst them), the idea that he would live elsewhere seems inconceivable, and the same reaction may have occurred at any time in the Shilluk past. In any case, the move appeared to have the support of many Shilluk.
Conclusion
General Ulony's proclivity for changing sides in South Sudan's seemingly interminable civil conflict suggests that his interests lie in his own personal advancement rather than the improvement of the Shilluk community of the success of South Sudan's efforts at nation building. Ulony is hardly alone in this; indeed, a long list of South Sudanese warlords who look mainly to their own fortunes could be compiled with little effort. Nonetheless, Ulony's machinations have now made him the commander of SPLA-IO Sector 1, which includes the 1st and 7th Divisions as well as the Aguelek militia, all located dangerously close to the heavily defended Paloich oil fields, South Sudan's last remaining source of revenue.
Notes
[1] See E. E. Evans-Pritchard, The Divine Kingship of the Shilluk of the Nilotic Sudan, Cambridge, University Press, 1948.
[2] "SSDM/A-Upper Nile Faction," Small Arms Survey, November 6, 2013, http://www.smallarmssurveysudan.org/facts-figures/south-sudan/armed-groups/southern-dissident-militias/ssdma-upper-nile.html
[3] SPLM/A-Shilluk Conflict in Upper Nile, Small Arms Survey, April 2011, http://www.smallarmssurveysudan.org/fileadmin/docs/archive/other/armed-groups/HSBA-Armed-Groups-Shilluk-Conflict-Upper-Nile-April-2011.pdf
[4] See "Renegade Generals Threaten Unity of South Sudan's SPLA as Independence Referendum Approaches," Terrorism Monitor, May 20, 2010, http://www.jamestown.org/single/?tx_ttnews%5Btt_news%5D=36404&no_cache=1#.V-xEwiRqnIU
[5] Op cit, Small Arms Survey, November 6, 2013.
This article first appeared in the September 2016 issue of the Jamestown Foundation's Militant Leadership Monitor