Andrew McGregor
March 3, 2017
According to a confidential UN report, six million people, half the population of South Sudan, are in need of humanitarian assistance less than six years after the nation gained its independence as a result of militia warfare spinning out of control (AFP, February 15). Power struggles in the oil-rich but otherwise completely undeveloped nation have devolved along tribal and ethnic lines. Intensifying the problem is the large variety of South Sudanese warlords, invariably "generals," whether self-appointed or granted this distinction in order to pull them within the orbit of the governments of Khartoum or Juba.  These inflated militia leaders share a habit of changing sides according to whatever profits them most, making rational solutions to the crisis in South Sudan difficult in the extreme.
One such "General" is Martin Terensio Kenyi, a member of South Sudan's Ma'di tribe and the most important warlord in the hilly and forested Eastern Equatoria region bordering Uganda.
General Kenyi calls for a federal system in South Sudan that would break Dinka domination of the government, though the government claims he is working for the separation of Eastern Equatoria from South Sudan (Sudan Tribune, December 7, 2014). General Kenyi's career is marked by a pattern of defections and changing loyalties based more on opportunism, tribal rivalries and personal relations with other warlords than the interests of the young nation.
Kenyi has called for a united front to dismantle the "tribally-dominated regime" of President Salva Kiir Mayardit, who many South Sudanese believe is intent on establishing the dominance of South Sudan's Dinkas, the largest ethnic group in the nation (Sudan Tribune, January 31, 2015). When not in the field, the General lives with his family in Kampala, Uganda.
The Ma'di People and Eastern Equatoria
 In South Sudan, the Ma'di people live in Magwi County in Imatong State. Other Ma'di live across the border (including South Sudanese Ma'di refugees) in Uganda's adjoining Adjuman and Moyo districts. The Ma'di have an intensive interaction with Acholi clans (some friendly, some not) that live side by side with the Ma'di on both sides of the border.
The tribe's oral history claims a Nigerian origin, though this has not been substantiated. The Ma'di were among many southern tribes that endured slave-raiding by Egypt's Turko-Circassian army in the mid-19th century. The Ottoman onslaught drove many Ma'di into the bush and others south to Uganda, though General Charles "Chinese" Gordon made efforts to end slavery in the region while Ottoman governor of Equatoria (1874-76). The slave raids left the southerners with a deep hostility toward their northern Muslim neighbors that would help fuel Equatorian participation in the Anyanya rebellion (a.k.a. "The First Sudanese Civil War,"1955-1972). Government repression was heavy and atrocities frequent during the rebellion in Equatoria, the conflict's focal point. [1]
After a brief period of Belgian rule in part of the Ma'di territory (the "Lado Enclave," 1892-1910), all the Ma'di fell under Anglo-Egyptian rule in the Southern Sudan or British colonial rule in northern Uganda by 1910.  The Second Sudanese Civil War (1983-2005) arrived in Eastern Equatoria in 1985 when the rebel Sudan People's Liberation Movement/Army (SPLM/A) began raiding Ma'di territory. The use of Acholi recruits on these raids heightened tensions with the Ma'di community for several years.  By 1986, some Ma'di began to form self-defense militias, though others, like Kenyi, joined the SPLM/A. [2]
Most Ma'di are Christian, though there is a significant number of Muslims, especially in trading families.  Syncretistic forms of Islam and Christianity are common and a minority continues to follow traditional forms of ancestor worship. Most Ma'di are sedentary agriculturalists specializing in tobacco and cotton.
Early Career
General Kenyi was born in the Sudanese border town of Nimule in 1962.  He and his family took refuge in Uganda during the Anyanya Rebellion, which ravaged Equatoria before a Ma'di officer named Joseph Lagu united the Southern guerrilla groups and forced Khartoum to negotiate the Addis Ababa agreement that ended the war in 1972.
The family returned to Sudan after the end of the war, and Kenyi eventually went to the United States to earn a B.A. in political science and economics at Iowa's Loras College in 1986. After completing a M.A. in political economy and comparative politics at Western Illinois University in 1988, Kenyi returned to Sudan and joined the rebellion led by John Garang's Sudan People's Liberation Movement/Army (SPLM/A). [3] His American education earned him a spot in 1989 at the military college in Bonga, Ethiopia, a strongly Marxist institution that trained the rebel movement's officers from 1984 to 1990 under the patronage of the military-communist Derg regime in Addis Ababa. [4] On graduation Kenyi was commissioned as a second lieutenant in the SPLA. Kenyi rose to the rank of captain and served as adjutant to co-founder and military chief-of-staff William Nyuon Bany (Nuer, killed 1996).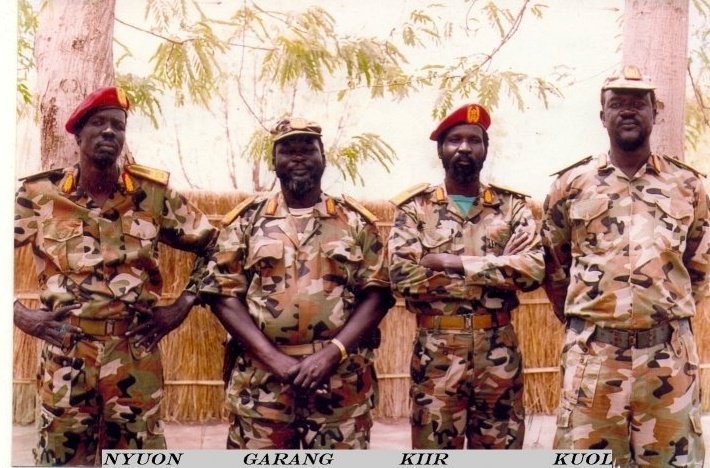 Early  SPLA Leaders: William Nyuon Bany (died 1996); John Garang de Mabior (died 2005); Salva Kiir Mayardit (current president of South Sudan); Kuol Manyang Juuk
Defection to the SSDF
In 1992, Kenyi followed Nyuon in defecting to the breakaway South Sudan Defense Force (SSDF), a Nuer-dominated umbrella group led by Riek Machar Teny (Dok Nuer) that incorporated a variety of South Sudanese ethnic militias aligned with the Khartoum government. Besides Nyuon, other leading members included Gordon Kong Chuol (Jikany Nuer) and the late Paulino Matip Nhial (Bul Nuer). However, there were serious tensions between the Nuer and the Equatorians in the movement that led to internal clashes and an assassination attempt on Kenyi allegedly ordered by Nyuon (Radio Tamazuj, November 23, 2014).
Birth of the Equatorian Defense Force (EDF)
Separating himself from the rest of the SSDF command, Kenyi assumed the role of military commander of the Equatorian Defense Force (EDF), which continued as a part of the SSDF. By 2001 Kenyi was a Colonel and the SSDF's commander of the Equatoria military region. The EDF was one of dozens of pro-government militias operating in South Sudan during the Second Civil War.
With fighters from the Ma'di, Acholi and other small ethnic groups, the EDF fought Joseph Kony's Lord's Resistance Army (LRA, still largely Ugandan Acholi at that point) along the Ugandan border through 2001-2004 (BBC Monitoring Africa, March 30, 2004).
The political wing of the EDF was led by Dr. Theophilus Ochang Loti. The movement signed on to the 1997 Khartoum Peace Agreement that committed the government to a referendum on independence, but the SPLM/A refused to sign the pact. The agreement called for the SSDF and its constituent parts to remain a separate entity from the Government of Sudan (GoS) army, but under a joint SSDF/GoS military command. This clause, like the referendum, was never implemented. [5] Nonetheless, the SSDF relied on Khartoum for arms and supplies.
In 2003, Kenyi claimed that the SPLM/A's decision to negotiate a peace agreement with Khartoum validated his choice to collaborate with the GoS rather than rebel against it: "Today the SPLA is negotiating a peace agreement with the GoS. We are not opposed to such a process because after all these years the SPLA has come to follow our example." [6]
With the encouragement of Riek Machar [7], Kenyi led the EDF out of the SSDF and re-joined the SPLA as a brigadier general after the signing of the Comprehensive Peace Agreement (CPA) in 2005. A major consideration was the need to drive the irrational and bloodthirsty LRA out of South Sudan, an objective best achieved by uniting forces.  Kenyi was made deputy director for procurement at SPLA headquarters in Juba, director of procurement for 2009-2010 and then , 2013-14.
Assassination Attempts
Not all Ma'di oppose the Juba government; some have little interest in prolonging the violence and are willing to cooperate with the Juba government. Prominent Ma'di supporters of the regime include Dr. Anne Itto Leonardo, the presidential advisor on agriculture and food security, and John Andruga Duku, a former ambassador for the SPLM/A. Both are held in suspicion by some Ma'di who are wary of their ties to Dinka leaders in Juba (SouthSudanLiberty.com, May 9, 2015).
One South Sudanese media source cited a leaked government report in May 2015 that alleged Dr. Itto and Ambassador Andruga met privately with President Kiir on April 15, 2015 to discuss means of convincing General Kenyi to abandon his rebellion. Three plans were devised: the first involved bribery and assistance in resettling in South Africa; the second would drop capital offense treason charges against Kenyi, allowing him to return to Juba; while the third plan was to convince General Kenyi that his rebellion was unwanted by the Ma'di people, who suffered repression on account of it. Kenyi's caution made face-to-face discussion of these options impossible, so Andruga allegedly led South Sudanese security agents on a mission to assassinate Kenyi in Nairobi, but a tip from a South Sudanese security agent allowed Kenyi to escape (SouthSudanLiberty.com, May 9, 2015).
With the Juba regime still believing that the elimination of General Kenyi would lead to the collapse of a number of other small rebellions in Equatoria, Chief-of-Staff General "King" Paul Malong Awon (Dinka) and Defense Minister Kuol Manyang Juuk (Bor Dinka) were alleged to have met with Equatorian General and 6th Division commander Johnson Juma "JJ" Okot (Acholi) in January 2016 to plan Kenyi's assassination. This plan also failed when it was prematurely revealed (Nyamile.com, January 7, 2016). [8]   
The SPLM/A-IO claimed National Security Service agents attempted to kill Kenyi on July 1, 2016 by ambushing his car. Kenyi was not in the vehicle at the time, but his security chief, George Ruben Ishamala, was allegedly wounded, abducted, tortured and finally murdered by security agents who dumped his body in the Juba morgue (SouthSudanLiberty.com, July 3, 2016).
Renewed Alliance with Riek Machar
The South Sudan Civil War broke out in December 2013, ignited by a tribally infused rivalry between the nation's Dinka president, Salva Kiir Mayardit, and his Nuer vice-president, Riek Machar Teny. The latter formed the SPLM/A-IO ("In Opposition"), which Kenyi joined in November 2014. [9] Riek Machar made Kenyi a major-general and placed him in charge of the movement's forces in Eastern Equatoria.
In January 2015, Kenyi explained his reasons for joining the opposition:
[The government] has created an atmosphere for rampant corruption. It has created an army, inherited an army, which is so parochial, sectarian, tribalistic, nepotistic. It has created a system of governance that has no sense of accountability. It has created a system… which generates crisis, ill-feelings… There is a need to struggle to establish a democratic system in this country. A democratic system which will reflect the diversity and multi-ethnicity in this country. This can best be addressed by creating a federalist system in South Sudan… [10]
Despite his decision, Kenyi would acknowledge local calls to form an independent Equatorian front:
There is a call for [an] Equatorian front because the people of Equatoria have repeatedly found themselves marginalized and even now in the government of Salva Kiir. They are right. There is no question about [it]. They have been marginalized and even treated as underdogs and called all [kinds of] names, including being branded as cowards, even when some of us led in battles and we captured major towns [during the civil war of 1983-2005] (Sudan Tribune, February 1, 2015).
Riek Machar made Martin Kenyi deputy Chief of Staff for moral orientation in 2014. In early January, 2015, Kenyi was named commander of the SPLM/A-IO forces in Eastern Equatoria.
The arrival in Eastern Equatoria of Dinka herdsmen and their cattle fleeing the civil war added to ethnic tensions in the region when the Dinka showed little interest in returning home after South Sudanese independence in 2011 (Sudan Tribune, August 18, 2011). Since then, the Dinkas have demanded land, grazing rights and representation in local government, all opposed by traditional Ma'di chiefs (Radio Tamazuj, April 5, 2015).
On the Road to Nimule
The Juba-Nimule Highway – Perfect Ambush Country
Since 2014, General Kenyi has made efforts to cut the vital Juba-Nimule road (a.k.a. the A43 Highway), the only tarmacked road connecting the land-locked nation to the sea via Uganda and Kenya. The many dips and hills along the 192 kilometers (km) A43 make it perfect ambush territory, especially as it passes through heavily forested areas. Vicious attacks on all manner of road traffic by well-armed guerrillas believed to be under Kenyi's command pose a serious threat to South Sudan's economic viability and have brought his group into confrontation with the Ugandan military. Customs duties and taxes paid by traders are a significant source of revenue for the government of South Sudan, which is otherwise reliant on oil revenues. Cutting the road hurts Uganda as well; Ugandan Ministry of Trade statistics indicate that South Sudan is Uganda's largest trading partner, with annual export revenue of over $350 million a year (ChimpReports, December 17, 2014).
Led by Lieutenant Jada Anthony Tibi, Kenyi's men destroyed three vehicles on the A43 carrying food for government troops in mid-December 2014 and announced that Kenyi had closed the "Salva  Kiir Mayardit lifeline to the outside world" (Sudan Tribune, December 18, 2014). A Uganda People's Defense Force (UPDF) spokesman warned that "this development will compel Uganda Special Forces commando units to use combat action to clear the rebels' pockets of resistance along the Juba-Nimule road if it continues" (Nyamile, December 17, 2014).
Kenyi's forces claimed to have overrun Nimule for three hours on July 4, 2015, capturing ammunition stores and vehicles after the local garrison fled into the bush following a short fire-fight. The attackers pulled out before retaliation from Ugandan and South Sudanese military units (Sudan Tribune, July 9, 2015). Two days later, a policeman was killed and three vehicles burned in an attack on an A43 checkpoint (Radio Tamazuj, July 6, 2015; Sudan Tribune, July 7 2015).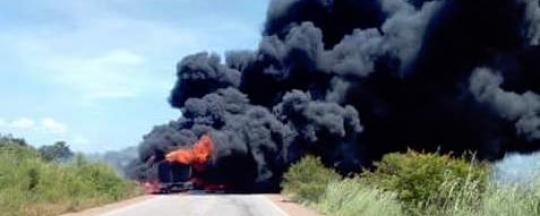 Burning Tanker on the Juba-Nimule Highway (Radio Tamazuj)
Kenyi's forces under the operational command of Commander Marli Max attacked an SPLA-Juba barracks in mid-August 2015 and overran the town of Pageri approximately 25 km northeast of Nimule (Radio Tamazuj, August 18, 2015). Kenyi's militia claimed the attack on Pageri happened only after they were attacked by government troops. The timing of the incident was curious, as SPLM/A-IO leaders had signed the Intergovernmental Authority on Development (IGAD)-sponsored Agreement on the Resolution of the Conflict in the Republic of South Sudan the day before. [11] SPLM/A-IO Major General James Koang Chuol Ranley suggested the government attack was an attempt by the Salva Kiir government to derail the peace process (Sudan Tribune, August 19, 2015).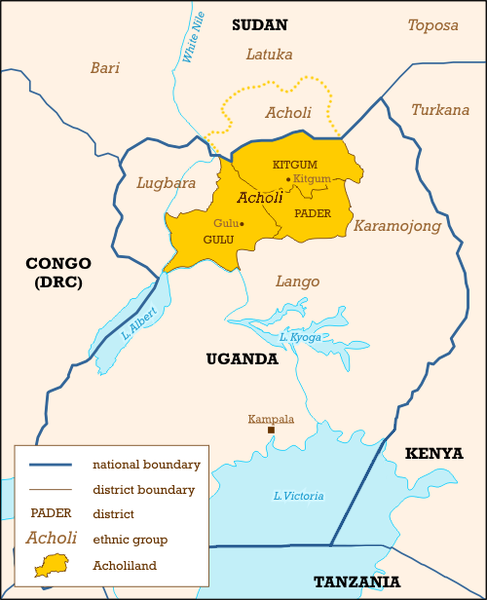 South Sudan – Uganda Border Region
Attacks on the road continued, with rebels killing truck drivers and bus passengers (Radio Tamazuj, November 24, 2015). Six Ugandans were abducted in July 2016 inside Uganda's Lamwo District by rebels believed to be under Kenyi's command (Monitor [Kampala], July 19, 2016). The UPDF was involved at the time in the evacuation of over 8,000 Ugandans and people of other nationalities from renewed clashes in Juba. By August 2016, heavy fighting again closed the A43. The attacks on government forces were believed to be retaliation for a security sweep of Ma'di territory that left 13 civilians dead (Nyamile, August 7, 2016).
Government troops flooded the Juba-Nimule road in September 2016 after two South Sudan security officers were killed on the road in a Ma'di area by attackers armed with rocket-propelled grenades and other sophisticated military equipment. Hundreds of Ma'di fled the area afterwards, fearing retaliation from the army (Sudan Tribune, September 2, 2016). A flurry of attacks on buses and fuel tankers followed, with one unfortunate driver being burned to death (Monitor [Kampala], September 5, 2016; Welyam.com, September 9, 2016; Sudan Tribune, September 11, 2016).
Observers from UNMISS (the 13,000-man United Nations Mission in South Sudan) confirmed reports of clashes between government troops and SPLM/A-IO fighters in Magwi County in January 2017. According to the SPLM/A-IO, its forces under the command of Major General Patrick Ohiti Chapuho ambushed the government troops as they burned Acholi villages in the region (Sudan Tribune, January 25).
Government troops have been accused of illegally detaining and torturing civilians suspected of supporting General Kenyi (Radio Tamazuj, May 20, 2015; Sudan Tribune, December 2, 2015). Serious abuses were reported in February 2017 by Eastern Equatoria's Bishop Paul Yugusuk, who alleged government troops were using a base south of Juba intended to provide security for travellers on the A43 to commit large scale rapes, looting and illegal detentions and torture (Sudan Tribune, February 15).
Conclusion
Many Equatorians are uninterested in the conflict between the Dinka and Nuer and resent the activity of SPLM-IO forces, which inevitably draw reprisals on civilians by government troops.  An agreement was signed earlier this year providing for joint South Sudanese/Ugandan police patrols to provide security along the highway (Monitor [Kampala], January 27). General Kenyi has been unable to sever the Juba-Nimule highway on anything more than a temporary basis even while most government forces are deployed against larger SPLM/A-IO in the northern regions of the country. Though his activities have encouraged government repression of the Ma'di, this is consistent with terrorist/guerrilla strategies of inciting repression in order to compel rebellion.
Given General Kenyi's pattern of changing sides, the question now is whether he will maintain his campaign along the A42 on behalf of Riek Machar, who has now fled to the Democratic Republic of the Congo, settle with the Juba regime or lead his fighters in a Quixotic struggle for the independence of Eastern Equatoria. Ultimately, this warlord, like his South Sudan counterparts, will do what's necessary to maintain a personal stake in a nation blessed by oil riches but tormented by a tendency to resort to violence in nearly all issues, a proclivity bred by decades of brutal warfare.
NOTES:
[1] Edgar O'Ballance, The Secret War in the Sudan: 1955-1972, London, 1977, p.83.
[2]  Douglas H. Johnson, The Root Causes of Sudan's Civil Wars, International African Institute, Oxford, 2003, p.86.
[3] "Maj Gen Martin Speaking Directly to the People of South Sudan," January 29, 2015, https://www.youtube.com/watch?v=vQPbMicLU3U
[4] Mawut Achiecque Mach Guarak, Integration and Fragmentation of the Sudan: An African Renaissance, AuthorHouse, Bloomington, Indiana, 2011, pp. 305-309.
[5] "Interview with Martin Kenyi and Garhoth Garkuoth of the South Sudan Defence Force," Institute for Security Studies, Pretoria, June 22, 2003, https://www.files.ethz.ch/isn/137116/SUDANJUN03A.PDF
[6] Ibid
[7] Matthew LeRiche, Matthew Arnold, South Sudan: From Revolution to Independence," Oxford University Press, 2013, (p. 273, fn. 51).
[8] After persistent accusations of corruption and misappropriation of salaries intended for soldiers in the 6th Division (which led to troops rioting in October 2015), General Okot was relieved of his command in February 2016 (Radio Tamazuj, February 17, 2016).
[9] John Young, "A Fractious Rebellion: Inside the SPLM-IO," Small Arms Survey, HSBA Working Paper 39, Geneva, 2015, p.30.
[10] "Maj Gen Martin Speaking Directly to the People of South Sudan," January 29, 2015, https://www.youtube.com/watch?v=vQPbMicLU3U
[11] Agreement on the Resolution of the Conflict in the Republic of South Sudan, Addis Ababa, August 17, 2015;https://unmiss.unmissions.org/sites/default/files/final_proposed_compromise_agreement_for_south_sudan_conflict.pdf
This article first appeared in the March 3, 2017 issue of the Jamestown Foundation's Militant Leadership Monitor.