Andrew McGregor
Militant Leadership Monitor, August 30, 2018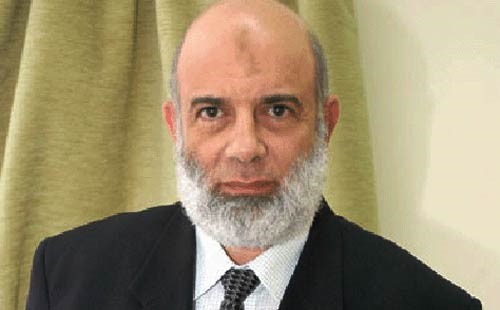 One of the most controversial preachers in contemporary Islam is Dr. Wagdi Abd al-Hamid Muhammad Ghoneim, a leading member of Egypt's Muslim Brotherhood (MB). Now an occasionally troublesome resident of Turkey, Ghoneim has been arrested eight times in Egypt and turfed out of numerous nations for his advocacy of radical Islam, using electronic platforms such as Facebook, Twitter and YouTube. Intolerant of women seeking anything other than traditional roles and almost fanatically opposed to the existence of Egypt's Coptic Christian population, Ghoneim was added to Egypt's terrorist list last June, accused, with others, of attempting to "escalate the armed struggle against the state" (Youm7 [Cairo], June 26, via BBC Monitoring).
Early Career
Wagdi Ghoneim was born in 1951 in Egypt's Sohag Governorate (Upper Egypt). Ghoneim began his academic career with a Bachelor of Commerce from Alexandria University in 1973 and worked for the Egyptian Ministry of Finance as an accountant from 1976 until his resignation in 2001. During that time he also served as the Secretary General of the Traders' Union of Alexandria and Secretary General of the Division of Accounting and Auditing of the Traders' Union of Greater Cairo (Assabile.com, n.d.). [1]
Ghoneim began his formal studies in Islam in the 1980s at the Alexandria campus of al-Azhar University. He began preaching in Alexandria, adopting a powerful and persuasive style that exploits his listeners' often limited knowledge of the Western world to spin conspiratorial narratives with little or no basis in reality. Ghoneim was soon using cassette tapes to spread his vilification of Christians, both Western and Egyptian, and attracted the attention of Egypt's secret police. A series of arrests and detentions of three to six months at a time began, though Ghoneim claimed to have continued to receive his government salary each time (Ottawa Citizen, January 10, 1998).
Activities in North America
By the late 1990s, Ghoneim was being invited by Islamist groups to preach in North America. In 1998, he was strip-searched and held at the Canadian border while attempting to cross from Detroit. Suspected of being a member of Hamas, Ghoneim was detained overnight before being interviewed by a member of the Canadian Security Intelligence Service (CSIS). Immigration records indicated that the preacher was a member of the MB and had already been denied a visitor's visa by the Canadian Embassy in Cairo in 1993. Ghoneim demanded an apology and financial compensation from the Canadian government. His supporters maintained he was simply a harmless accountant in Egypt's finance ministry and claimed the Egyptian government was behind Ghoneim's immigration problems (Ottawa Citizen, January 10, 1998). [2] Ontario's socialist New Democratic Party also supported the radical Islamist and unsuccessfully demanded an apology to all Muslims in Canada from the federal government (Washington Report on Middle East Affairs, March 1998).
In 1998, Ghoneim urged the audience at an Islamic Association for Palestine conference in Brooklyn to help fund jihad before leading them in a song with the chorus, "No to the Jews, descendants of the apes, we vow to return [to Palestine], despite the obstacles." [3]
By 2001, Ghoneim had decided to move with his family to California, where he became Imam of the Islamic Institute of Orange County. He acted as a fundraiser for the Toledo-based Hamas charity KindHearts and helped support himself by working as an Arabic calligrapher.
This existence ended abruptly in January 2005, when he was detained and voluntarily expelled from the U.S. in January 2005 (along with his wife and seven children) for violations related to his fundraising activities and his immigration status. He left for Qatar after receiving a ten-year ban on re-entry to the United States. Bill Odencrantz, U.S. Immigration and Customs director of field legal operations, said there were greater concerns regarding Ghoneim's activities, but the immigration violation was pursued as "it was the easiest charge to prove… Frankly, our task is not to sit around and wait for people to blow up buildings" (LA Times, December 29, 2004).
A Peripatetic Preacher
Ghoneim was denied entry to Switzerland in September 2005 while attempting to attend the annual meeting of the League of Muslims in Switzerland, which claimed the decision was "driven by a bunch of opportunists who are playing the terror card to scare authorities and to provoke the Muslim minority" (IslamOnline, September 19, 2005). Ghoneim then returned to Qatar, where he held a work visa and enjoyed the ruling al-Thani family's support for Muslim Brotherhood leaders. Ghoneim used Qatar as a base for frequent speaking tours elsewhere in Europe.
Ghoneim shifted his base to Bahrain, but was expelled from there in November 2007 after it was revealed he had supported Saddam Hussein's invasion of Kuwait. The preacher moved to South Africa in March 2008, but was deported only months later for possessing an "illegal residency permit" (Islam Online, July 3, 2008).
This turmoil did not prevent Ghoneim from receiving a Masters of Theology and a Doctor of Philosophy in Islamic Studies in 2008 from the Indiana-based Graduate Theological Foundation for his online studies of the Islamic concept of divine shura (consultation) and the status of democracy. [4]
After several preaching trips to the UK, Ghoneim was banned from entry to Britain for seeking to "promote, justify and glorify terrorist actions" (UK Home Office Press Release, May 5, 2009).
He was soon living in Yemen, where he became (in absentia) one of five prominent members of the MB to be charged in Cairo with money laundering (IkhwanWeb.com, July 13, 2010). On returning from a visit to Qatar, Ghoneim and his wife were denied re-entry to Yemen in August 2011. They were briefly detained before being returned to Qatar, likely due to the suspicion of Yemeni security officials that the preacher was involved in Islamist opposition politics (Yemen Post, August 30, 2011).
Several Tunisian Islamist organizations invited Ghoneim to Tunisia to speak on a variety of religious issues in February 2012, but the visit turned into a national uproar when the preacher decided to lecture Tunisians on their obligation to carry out female genital mutilation (FGM) on young girls. The practice is extremely rare in Tunisia and Ghoneim was quickly rebuked by the Tunisian Ministry of Women's Affairs, which denied any connection between FGM and Islam while reminding Tunisians FGM was prohibited by a number of international conventions to which Tunisia was a signatory  (TunisiaLive, February 15, 2012; TunisiaLive, February 17, 2012).
Ghoneim and the Egyptian Revolution
The election of Muslim Brotherhood member Muhammad Mursi as the successor to deposed Egyptian president Hosni Mubarak in June 2012 was a high point for the movement, but Mursi's rule soon brought protesters back into the streets.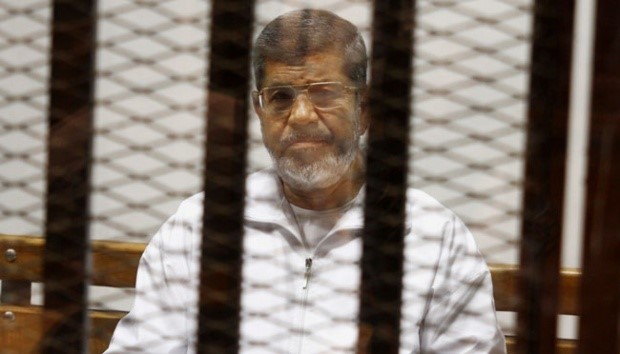 Former Egyptian President Muhammad Mursi on Trial in Cairo
Even Ghoneim was critical of the Mursi regime; in September 2012, he condemned Mursi for meeting with Egyptian artists, whom the preacher claimed were "promoters of immorality and prostitution." Ghoneim asked why Mursi did not also meet with "stoned people and homosexuals." He then slammed Mursi for referring to Egypt as "a civil state" rather than an Islamic state (which it is not) (Ahram Online [Cairo], September 17, 2012).
Nonetheless, as protests mounted against Mursi's government, Ghoneim took to YouTube in January 2013 to demand that Mursi kill the "criminals, thugs, thieves [and] those who are burning the country and are killing innocent people." The preacher further warned that if the police were not willing to do it, "we [the MB] will restore justice… God willing" (al-Arabiya, January 30, 2013).
With the anti-Mursi Tamarod ("rebel") movement gaining steam, Ghoneim continued to defend the Mursi regime energetically, declaring that rebellion against Mursi's government was a "rebellion against Islam" (Al-Masry al-Youm [Cairo], June 16, 2013).
The Egyptian military moved to replace the Mursi governmet on July 3, 2013. The security services began a campaign of repression against the newly powerless Brotherhood that killed many, detained others, and drove its leaders abroad as fugitives. Ghoneim remained safely in Doha at the time of the coup. By December 2013, the Muslim Brotherhood had been declared a terrorist organization.
In September 2014, Ghoneim became one of seven MB leaders to be asked to leave Qatar in what appeared to be a conciliatory gesture to the anti-Brotherhood regimes in Saudi Arabia and the United Arab Emirates (Observatoire-Qatar.com, September 13, 2014). Ghoneim then moved his base to Turkey.
Views on Coptic Christians
When Coptic Pope Shenouda III died in March, 2012, Ghoneim offered no words of condolence, insisting via a March 18 YouTube video that "God's worshipers and the trees and the animals were all relieved by his death" (al-Arabiya, January 30, 2013). Ghoneim called the late Pope "the chief of the infidels," and accused him of the clearly impossible intention of turning Egypt into a Coptic state: "We should be happy that he died. He should go to Hell." [5]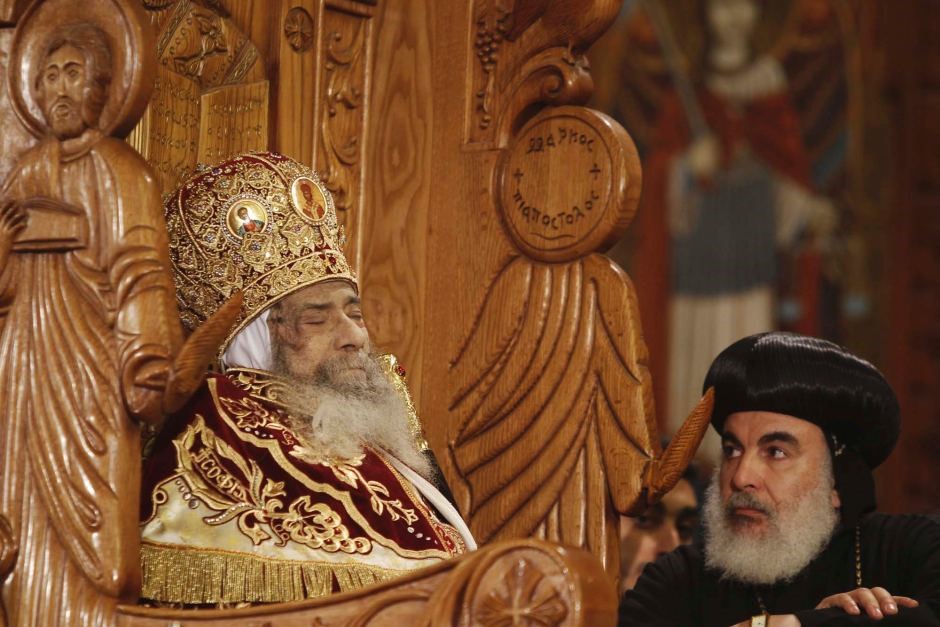 The body of Pope Shenouda III was put on temporary display after his death in 2012. (ABC)
A year later, Ghoneim made the absurd claim that Copts were stockpiling weapons in their churches in preparation of a Coptic revolution and demanded an immediate search of these buildings (Al-Masry al-Youm [Cairo], June 16, 2013).
When Egyptians packed into Cairo's Tahrir Square to protest the Muhammad Mursi Islamist government, Ghoneim used YouTube to assert that most of the protesters were actually Copts disguising their religious affiliation. The preacher's anger spilled into warnings of imminent genocide:
The day Egyptians — and I don't even mean the Muslim Brotherhood or Salafis, regular Egyptians — feel that you are against them, you will be wiped off the face of the earth. I'm warning you now: do not play with fire! … If you want to stay here in Egypt with us, know your place and be respectful…   What do you think — that America will protect you? Let's be very clear, America will not protect you. If so, it would have protected the Christians of Iraq when they were being butchered! [6]
Ghoneim eventually received a five-year sentence in absentia from a Cairo court in March 2017 for incitement against Egypt's Copts (Daily News Egypt, April 30, 2017).
Views on the Islamic State Organization
A September 20014 YouTube video provided Ghoneim's views on the Islamic State (IS) organization and Western efforts to contain it:
No to the crusader war that America and the crusader West is recruiting for now against the Islamic State… The crusaders are malevolent towards Islam and Muslims… These are the words of Allah, not my words. [The crusaders] have a creed that is based on spilling blood… America is the terrorist state, by Allah the biggest terrorist state… Are we going to forget what America did to the Red Indians and what it took from them?
Demonstrating a cavalier attitude towards historical facts, Ghoneim went on to accuse Christopher Columbus of handing out smallpox-infected blankets to the "Red Indians" on his arrival in America in 1776 (a mere 224 years after his actual arrival in 1492; the "smallpox blankets" allegation dates from 1763 and involves Swiss mercenary officers in British service, not Columbus or his descendants).
Despite the Islamic State's own pride in its sadistic execution videos, Ghoneim claimed that these videos were photo-shopped by the "crusaders." In the video, Ghoneim says he differs with IS on some issues and asks them to review their policies. Yet Ghoneim "absolutely does not approve of the crusader coalition to strike them" and warned Muslims against taking crusaders as allies against IS or handing over IS militants "to the enemies." [7]
Ghoneim on Punishments and Palestine
Speaking, as he claimed, from his extensive experience of prisons and their inmates, Ghoneim has insisted that many prisoners would have preferred Islamic hudud punishments such as hand amputation over incarceration (Al-Nas TV [Cairo], August 11, 2011). The preacher has railed constantly against "Egyptian infidels," who include liberals, seculars and moderates. In his view, "One who does not want the application of God's law [i.e. Shar'ia] should get out of his universe completely" (IPT News, November 9, 2012).
Ghoneim backs the Palestinian cause, but his support often takes the form of outlandish claims: "[Israelis] enter Egypt without a visa, bringing with them drugs. They bring heroin. Their girls who go to Sinai [resorts]… transmit AIDS to our youth. These girls wear shorts, and then they get naked and fornicate with an Egyptian boy, leaving him a message: "Welcome to the AIDS club." [8]
Under Sentence of Death
Ghoneim received a death sentence in Egypt in April 2017 after being tried in absentia for terrorist activities. The sentence was ratified by Egypt's Grand Mufti (a necessity for all capital sentences in Egypt, though the Mufti's decision is non-binding) and upheld by the Cairo Criminal Court in April 2017 (Daily News Egypt, April 30, 2017; Al-Sharq al-Aswat, May 1, 2017).
Ghoneim was handed another in absentia death sentence in July 2018 at the trial of 75 MB defendants related to the clash of Egyptian security forces and MB supporters at the Raba'a al-Adawiya Square protest camp in 2013. The clash led to the death of at least 600 people, most of them MB supporters (Anadolu Agency, July 28). These sentences were again sent to the Grand Mufti for confirmation.
Conclusion
Ghoneim's anti-Western YouTube channel has not only been enormously popular (270,000 subscribers and 31 million views by March 17, 2017), but may have provided an important line of revenue for the preacher, with marketing experts estimating an income of $78,000 from ads placed alongside his videos by Google algorithms. Google UK spokespeople questioned the figure, insisting it was "only in the tens of pounds" while defending the free speech of web extremists "even when that means we don't agree with the views expressed" (The Guardian, March 17, 2017).
Ghoneim's inability to secure a permanent residence has not tempered his appetite for controversy.  The preacher created a diplomatic incident from his base in Turkey in August 2017 when he issued a video condemning Tunisian president Beji Caid Essebsi's remarks supporting full gender equality and inheritance rights for women. The Turkish ambassador was summoned and later announced that his government was "disturbed" by Ghoneim's video and denounced any attempt made to harm Tunisia from Turkish soil (Middle East Eye, August 26, 2017).
Last December, Ghoneim issued a sarcastic letter "of thanks" to Saudi crown prince Muhammad bin Salman, the effective leader of the kingdom and the instigator of a series of controversial reforms. Addressing the prince as a "traitor and Zionist" and describing him as "dirty" and "disgusting," Ghoneim thanked Bin Salman for "reinforcing our conviction that the majority of the al-Sa'ud family and their princes are thieves and robbers." The preacher also thanked Bin Salman for making clear his "alignment with the Hebrew Zionists" and for "daring to be selfless in offering Ivanka and her father Trump the wealth of a whole nation [i.e. Saudi Arabia]" (Le Libre Penseur, December 14, 2017).
At the moment, Egypt's Muslim Brotherhood is at historic lows of power and popularity. Ghoneim's relentless calls for jihad in Egypt have met with little response, though he has been cited as a potential successor to fellow Egyptian and Doha resident Yusuf al-Qaradawi as spiritual leader of the Brotherhood.
Notes
Jocelyne Cesari: The Awakening of Muslim Democracy: Religion, Modernity, and the State, Cambridge University Press, 2014, p.239, fn. 42.
Abdulrahim Ali, Iba Cer Thiam and Yusof A. Talib: The Different aspects of Islamic culture: Islam in the World today, UNESCO Publishing, 2016, p.327.
An audio recording can be found here: https://www.investigativeproject.org/567/ghoneim-no-to-the-jews.
Ghoneim can be viewed discussing his academic work here: https://www.youtube.com/watch?v=GUmUZ2Ybzpw (September 17, 2013).
See: https://www.youtube.com/watch?v=y9d1vk8OgTo March 21, 2012.
See: https://www.youtube.com/watch?v=XBVukGwjkEs&feature=player_embedded (December 6, 2012).
"Sheikh Wagdi Ghoneim on Fighting IS," September 23, 2014 (recorded September 16, 2014), https://www.youtube.com/watch?v=WzktBtWZ8-M
Al-Aqsa TV [Gaza], March 11, 2012. Video is available at: https://www.dailymotion.com/video/x2qr6p0
This article first appeared in the August 30, 2018 issue of the Jamestown Foundation's Militant Leadership Monitor.