Andrew McGregor
June 30, 2016
Despite the 2011 separation of South Sudan, Sudan's civil war continues in Darfur and what has become known as Sudan's "new South," Blue Nile State and South Kordofan. Though the fighting has often been intense, government forces in Blue Nile have been unable to overcome rebels of the Sudan People's Liberation Army/Movement-North (SPLA/M-N) led by veteran opposition leader Yasir Arman. Arman claims that many of the troops arriving in Blue Nile State for the current dry season offensive are Darfuri Janjaweed who have been absorbed into Khartoum's Rapid Support Forces (RSF) and include Arab tribesmen from Chad and Mali (Radio Dabanga, May 14). The conflict has left tens of thousands of displaced civilians without any type of shelter and severe shortages of power, water and medicines are reported in al-Damazin (Radio Tamazuj, May 28; Radio Dabanga, May 23).
Early Influences
Yasir Arman was born the son of a primary school teacher in the al-Jazira region south of Khartoum in October 1961. Arman is a Ja'alin Arab, one of the three Arab tribes which, along with the Sha'iqiya and the Danagla, have dominated Sudanese politics since independence in 1956.
During his time studying law at the Khartoum campus of Cairo University in the 1980s Arman was implicated in the murder of two Islamist students, though he was later acquitted in court. As a student, Arman joined the Sudanese Communist Party, once a powerful political force in Sudan until its eventual repression by President Ja'afar Nimeiri. At the same time, Arman was engaged in political discussions with southern students and became interested in the ideology of South Africa's African National Congress (ANC), a communist-influenced movement that was, like Sudan, faced with how to build a new nation from a multi-ethnic, multi-confessional population. Arman's leftist orientation drew the attention of Nimeiri's security forces and Arman spent parts of 1984-85 in prison, where he was able to have further political discussions with imprisoned southern students (New Sudan Vision, January 15, 2010).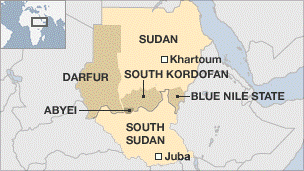 Sudan: Regions of Conflict (BBC)
Arman made the unusual and personally momentous decision to leave Khartoum in 1986 and join the almost exclusively non-Arab insurrection in South Sudan led by the Sudan People's Liberation Army/Movement (SPLA/M). The young rebel was assigned to the Blue Nile front, led by Commander Salva Kiir Mayardit, the current president of independent South Sudan. As an Arab and a Muslim, Arman endured suspicion from his new comrades, who, unsurprisingly, suspected his motives.
Committing to the "New Sudan": Yasir Arman and "Dr. John"
Despite the reservations of some of his fellow combatants, Arman rose quickly in the SPLA ranks, coming into close contact with the movement's leader, Dr. John Garang de Mabior. A Bor Dinka and American educated career soldier, Garang used his considerable charisma and fierce discipline to maintain control of a movement that always seemed ready to fracture due to personal and tribal rivalries as well as inducements from Khartoum. Though the SPLA was widely regarded as a Southern separatist movement, Garang sought the liberation of the whole Sudan from the rule of the riverain Arabs of the north, a "New Sudan" that would bring an end to regional and ethnic marginalization and establish a national unity and identity based on democracy and secularism rather than ethnic and religious differences.  Unlike many SPLA commanders who paid lip service to the "New Sudan" while believing Southern separation would be the ultimate outcome of the war, Arman became deeply dedicated to Garang's vision, which became his guiding political principle.  In time, Arman became a well-known spokesman for the SPLA/M and a familiar voice on the clandestine SPLA Radio. Arman continued to raise eyebrows in the Arab north by marrying Awuor Deng Kuol, the daughter of Ngok Dinka Sultan Deng Mjok and a former member of the SPLA's Katiba Banaat (Girls Battalion) (New Sudan Vision, January 15, 2010).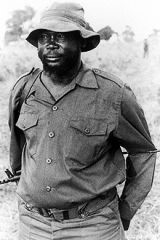 Colonel John Garang de Mabior, South Sudan, 1985
Arman's political and diplomatic skills were put to work as one of the main framers of the Comprehensive Peace Agreement (CPA) that ended Sudan's long civil war. Only six months after the ratification of the CPA, John Garang died on July 30, 2005 in a still unexplained helicopter crash near the Ugandan border, destroying optimism that a New Sudan could be created. The SPLA/M was taken over by his second-in-command, fellow Dinka and ardent separatist Salva Kiir Mayardit. Disillusioned and marginalized by this turn of events, Arman briefly left the movement in 2007 to study English at Iowa State University, the same institution attended by Garang.
Presidential Candidate
Arman's has described the international community's "policy of appeasement" regarding President al-Bashir as similar to that which created Adolf Hitler and has described al-Bashsir as "a racist delusional person who happens to be the president of a state and who is wanted by the International Criminal Court and is committing genocide and crimes against humanity that the world will live to regret." [1]
The CPA made it possible for Arman to face Bashir in the presidential election of 2010, though the SPLA/M later decided to boycott the presidential contest. Some pro-independence Southerners urged others in the South to vote against Arman on the grounds that, if elected, he would make national unity more attractive to Southerners prior to the independence referendum and might even use force to maintain a unified Sudan (South Sudan News Agency, March 19, 2010). Despite withdrawing, Arman still finished second by taking over 21% of the vote to al-Bashir's 68% (Sudan Tribune, April 27, 2010).
Juba Waves Goodbye
The CPA's ill-defined "public consultations" on the political future of South Kordofan and Blue Nile State  were never carried out, the victim of endless obstruction from Khartoum and the NCP-dominated parliaments in both states. The South, however, was not to be denied its chance for independence and a successful referendum was quickly followed by separation from Sudan in 2011. Arman blamed the division of Sudan on political Islam, citing the NCP's "fascist vision," intolerance and failure to accept democratic rule and cultural and religious diversity as the source of genocide and war crimes (Sudan Tribune, February 8, 2013). [2]
The South moved on, but left two locally-raised SPLA divisions (the 9th and 10th) stranded on the northern side of the new border. Khartoum demanded the divisions either disarm, be absorbed into the Sudanese Armed Forces (SAF) or cross the border to rejoin the SPLA, though these units had never actually served in the south. These rebels had fought for Garang's "New Sudan" rather than Southern independence, and decided to continue the fight against NCP rule under the banner SPLA-Northern Command (SPLA-N).  Arman was dismayed to find the new movement isolated internationally, with both the U.S. and the UK urging South Sudan to end all support to the SPLM-N (Sudan Tribune, March 24, 2012).
The Dry Season Offensive
Shortly after the latest government offensive began in April, Arman's SPLM-N claimed that Khartoum's military and paramilitary forces had suffered "their biggest defeat in the six years of their military offensive" in Blue Nile State (Radio Dabanga, April 26).
President Bashir announced a unilateral four-month ceasefire in South Kordofan and Blue Nile in mid-June that would, in the words of an Army spokesman, "give the armed groups a chance to join the peace process and to surrender their arms" (al-Jazeera, June 18). Similar government "gestures of good-will" have failed in the past. Khartoum wants the SPLM-N to sign onto the African Union-brokered Roadmap Agreement, a deal that has been rejected by the movement and its opposition allies in the Sudan Call coalition (formed December 2014).
Conclusion
Amidst suspicions that Khartoum's ceasefire was only buying time to evacuate trapped wounded and rebuild its forces in South Kordofan and Blue Nile, Arman suggested Khartoum prove its sincerity by immediately sending a delegation to join in comprehensive peace talks in Addis Ababa (Sudan Tribune, June 16). Arman continues to hope for a popular rising in Sudan, one that will embrace the concept of a New Sudan: "The vision of the New Sudan remains valid and in fact, it is the only game in town to build a viable state based on citizenship, recognition of diversity, democracy and social justice, and bringing a just peace and national reconciliation… At the end of the day, the current junta in Khartoum has only two options – they either accept change or they are going to be changed."   [3]
Note
Yasir Arman, "General Bashir's Racism and Promotion of Religious Hatred are Behind the Burning Down of the Church in the Heart of Khartoum," April 24, 2012, http://www.sudanjem.com/_upload/2012/05/04-24-12-General-Bashirs-Racism.pdf
Yasir Arman, "The Sudan Question: A Failure of Nation-building and the Experience of Political Islam," Speech given at the Monterey Institute of International Affairs, February 15, 2013, http://collectifurgencedarfour.com/yasir-arman-the-sudan-question-failure-nation-building-experience-political-islam/
Ibid
This article first appeared in the June issue of the Jamestown Foundation's Militant Leadership Monitor