Andrew McGregor
July 6, 2018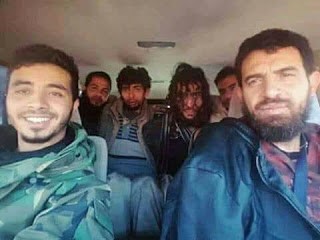 Major Mahmud Mustafa Busayf al-Warfali (right) takes a selfie with two alleged militants (center rear) on their way to their execution.
Islamist militants have long used the power of videotaped atrocities to terrorize their opponents. One man believes he can do the same in the interests of Field Marshal Khalifa Haftar's attempt to gain control of Libya: Major Mahmud Mustafa Busayf al-Warfali, a senior officer in Libya's Special Forces unit.
Early Career – The Libyan Revolution
Born in 1978, al-Warfali, a member of Libya's Warfalla tribe, joined Libya's elite al-Sa'iqa ("Thunderbolt") Special Forces brigade after Qaddafi's fall. Many Warfalla were pro-Qaddafi and fighting continued for months after Qaddafi's death around the Warfalla-dominated town of Bani Walid (90 miles southeast of Tripoli) Nearly five months after Qaddafi's death, al-Warfali was involved in the successful defense of Bani Walid as spokesman of the revolutionary forces against an assault on the town by lingering pro-Qaddafi forces (AP, January 23, 2012; Express, January 23, 2012).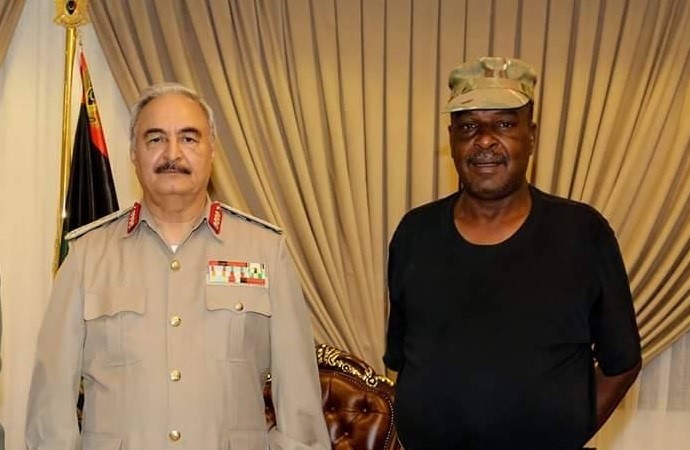 Field Marshal Khalifa Haftar (left) and Major General Wanis Bukhamada
Al-Sa'iqa is led by Major General Wanis Bukhamada (Magharba tribe), a career military officer who deserted the Libyan regular army in 2011 to join the revolutionary forces. Al-Sa'iqa joined Khalifa Haftar's Libyan National Army (LNA) in early 2014, as Haftar began a three-year siege of Benghazi (Reuters, May 18, 2014). Despite its name, the LNA is actually a coalition of revolutionary militias, former Qaddafi loyalists, radical Saudi-influenced Islamists and African mercenaries, though it is closely tied to the Tobruk-based House of Representatives (HoR), one of three rival governments in Libya.
War Crimes in Benghazi
During the siege of Benghazi, al-Warfali's enemies attempted to eliminate him through a car bomb targeting his convoy on February 7, 2017. Two soldiers were killed while al-Warfali was rushed for medical treatment at the Benghazi Medical Center, where his men imposed a security lockdown so tight that even doctors had difficulty gaining access to al-Warfali (African News Agency, February 27, 2017).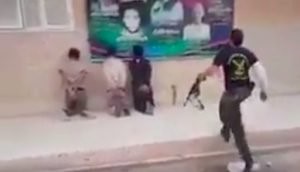 Al-Warfali Executes Bound Suspects, Benghazi, 2017
Al-Warfali began to attract international attention in March 2017, when a video was released of the LNA officer executing three bound suspects in the Salmania district of Benghazi. Following international outrage, the LNA announced it was launching an inquiry and would not tolerate extra-judicial killings.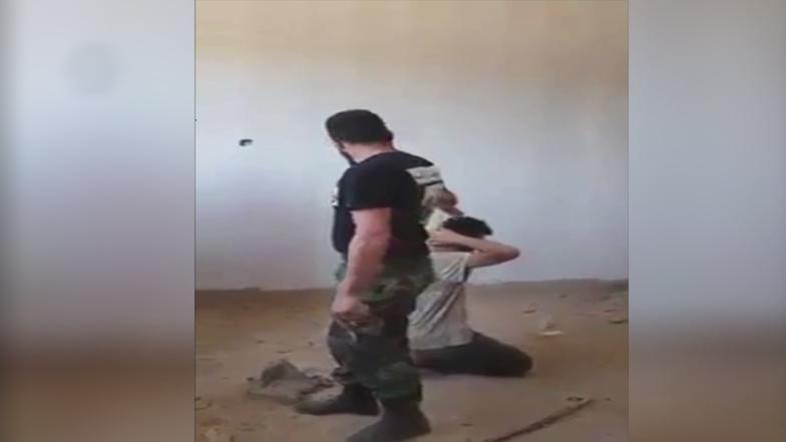 Al-Warfali Executes an Algerian Militant, May 2017
Nonetheless, a  video released in early May 2017 showed al-Warfali firing into the head of a bound individual alleged to be an Algerian Islamic Stare (IS) militant (Al-Arabiya, May 11, 2017). The Benghazi Security Directorate accused al-Warfali's men of murdering police captain Musa al-Mijibri (Libya Observer, July 23, 2017). The accusation did not prevent al-Warfali's promotion to major shortly afterwards.
Apparently responding to the international condemnation of his actions, al-Warfali resigned his commission on May 15, 2017 in a theatrical videotaped event, but Bukhamada refused to accept it (Libya Herald, May 16, 2017).
In June 2017, al-Warfali was accused by the UN Panel of Experts on Libya of running a number of secret and illegal prisons. [1] In the same month, al-Warfali appeared in a video killing four masked men, stating he was "honored" to kill them and purify the world of their evil  (Libya Herald, August 15, 2017). Al-Warfali sometimes quotes scriptural justification for his executions while waving a Quran in his hands.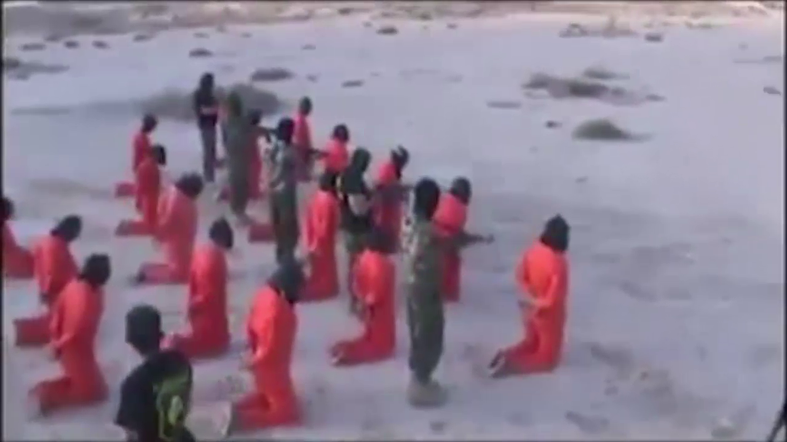 Summary Execution of 20 Bound Men, July 17, 2017 – Al-Warfali in black shirt, bottom left
Another video was released showing a July 17, 2017 mass execution of 20 bound men in orange jump suits directed by al-Warfali. The victims were arranged in four rows before gunmen approached them from behind to fire point-blank into the back of their heads. Al-Warfali himself kills one of the last three prisoners (Libya Observer, July 23, 2017; Libya Herald, August 15, 2017). Al-Warfali insisted the killings came only after "it was proven that they were involved in the killing, kidnapping, torture, bombing and slaughter" of military personnel and Libyan civilians (Al-Arabiya, July 24, 2017).
The International Criminal Court (ICC) issued an arrest warrant for al-Warfali on August 15, 2017, alleging he had committed and ordered "murder as a war crime" in seven incidents involving 33 victims between June 2, 2016 and July 17, 2017. [2] Not long after his supposed arrest, al-Warfali was spotted in Ajdabiya conducting the summary execution of five prisoners taken by the LNA (Libya Observer, September 7, 2017; Libya Herald, January 25).
On August 17, 2017, the LNA announced al-Warfali had been arrested and detained on August 2 at Haftar's order.  Despite pledges to do so, the LNA failed to provide the ICC with any of the results of their investigation (Libya Observer, August 17, 2017; Al-Jazeera, August 18, 2017).
In Abyar, roughly 40 miles from Benghazi, 36 bodies were discovered on October 26, 2017, all bearing signs of torture and execution-style shots to the head. The bound men were alleged to have been prisoners at one of the LNA's private prisons (Al-Arabiya, October 30, 2017; Libya Observer, November 29, 2017). Some security sources implicated Mahmoud al-Warfali and Saddam Haftar, one of the LNA commander's sons (Al-Jazeera, October 29, 2017; Libyan Express, October 28, 2017).
In early December 2017, a Sa'iqa spokesman, possibly oblivious to the fact al-Warfali was supposed to be under arrest, announced that the Special Forces commander had led al-Sa'iqa's 1st battalion in an assault on militant positions in the Sidi Akribesh district of Benghazi  (Libya Herald, December 2, 2017).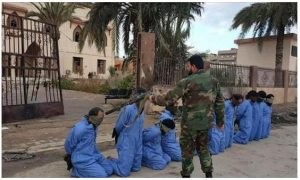 Al-Warfali conducts revenge killings, Benghazi, January 2018
After the twin bombing of Benghazi's Baya'at al-Radwan mosque that killed dozens of worshippers (many of them LNA members) on January 24, 2018, al-Warfali was reported to have taken revenge by executing ten suspected militants outside the damaged mosque. The bodies were left in the street (al-Ahram [Cairo], February 4, 2018). Photos of al-Warfali killing at least one of the kneeling prisoners were later released, attracting the attention of UN Secretary General Antonio Guterres (Libya Herald, January 25, 2018).
Arrest and Release
Haftar complained to an Italian daily that the focus on al-Warfali was disproportional, even citing a lack of "concrete evidence," despite the videos: "I respect the laws of human rights and the authority of the International Criminal Court. But it should also add the horrific crimes that are being committed daily in Libya. Why is the court only focussing on Warfali?" (Corriere Della Sera, September 28, 2017).
As Haftar continued to ignore the ICC warrant, Gambian ICC chief prosecutor Fatou Bensouda declared the LNA leader needed "to demonstrate, by concrete actions, respect for international justice" (Middle East Monitor, November 9, 2017). Haftar's response to the extradition demand was to again ask: "There are crimes being committed in Libya every day, so why are you focusing only on Warfali?" (Asharq al-Aswat, November 9, 2017).
Al-Warfali formally turned himself in to LNA military police headquarters in Benghazi on February 6. Shortly afterward, LNA gunmen led by sons of Khalifa Hafter showed up and took al-Warfali to Rajma (27 km east of Benghazi). There were fears in al-Sa'iqa that al-Warfali had been spirited away in order to carry out his extradition to the ICC, and rioting Special Forces and Islamist fighters were soon mounting barricades in the streets of Benghazi in protest. With the LNA's strongest unit now taking to the streets to oppose their Field Marshal, al-Warfali found himself back on the streets in less than two days (Libya Observer, February 8).
According to an account carried by Libyan TV, Haftar demanded Bukhamada turn over the Sa'iqa fighters who were involved the in the Benghazi riots. Perhaps aware that his demand might not be met, Haftar offered to release back wages owed to Sa'iqa members in return for Bukhamada's cooperation (Al-Nabaa TV, February 22). The detention of the Sa'iqa rioters provoked yet more Sa'iqa protests and road seizures (Libya Observer, March 8).
Al-Warfali conducts summary executions, May 2018
After this episode, Bukhamada was reassigned to Derna, where a new offensive was being prepared. Rumors that he had been sacked by Haftar as leader of the Special Forces proved false, but there were suggestions that Haftar was disturbed by the level of support Bukhamada and al-Warfali had received in Benghazi after the latter's arrest (Libya Herald, February 18).
An Army without Discipline
While al-Warfali may have tapped into a widespread Libyan thirst for revenge against murderous Islamic State militants who never displayed any mercy of their own, his actions damage the LNA's efforts to gain international recognition as a state army while his very public indiscipline creates rifts within the LNA's loose command structure.
Is al-Warfali a rogue commander or a loyal agent of Haftar's campaign to seize power in Libya? The LNA has claimed the illegal executions represent "only those who committed them," even as al-Warfali continued serving as an LNA officer (Asharq al-Awsat, August 19, 2017). The executions are either approved at the top or demonstrate that Haftar little control of the varied military coalition he presents as Libya's "national army." [3]
There is little difference between the methods used by al-Warfali and those employed by the Islamic State terrorists; al-Warfali is certainly not the first to adopt the tactics of his enemy. What is unusual is his determination to document his own participation in potential war crimes. Al-Warfali may enjoy immunity now, but, as an ICC spokesman pointed out, conditions often change, noting "There is no statute of limitations for the ICC arrest warrants" (Libya Herald, August 15, 2017).
Notes
United Nations Security Council: "Final report of the Panel of Experts on Libya established pursuant to resolution 1973 (2011)," June 1, 2017, http://undocs.org/S/2017/466, p.19.
"The Prosecutor v. Mahmoud Mustafa Busayf Al-Werfalli," ICC-01/11-01/17, https://www.icc-cpi.int/libya/al-werfalli
For the difficulties in creating a national Libyan army, see: "The Missing Military: Options for a New National Libyan Army," AIS Special Report, November 10, 2017, https://www.aberfoylesecurity.com/?tag=libyan-national-army
This article first appeared in the July 6, 2018 issue of the Jamestown Foundation's Militant Leadership Monitor.