Andrew McGregor
May 30, 2016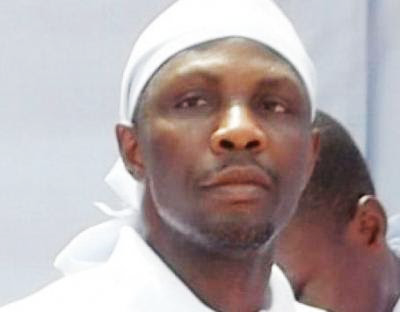 Government Ekpemupolo, a.k.a. "Tompolo"
Just as the global oil industry begins to show slight signs of recovery, Nigeria, one of its biggest producers (as well as one of its most oil-dependent nations) has been struck yet again by a wave of crippling attacks on its oil infrastructure. At the heart of this disruption, according to many, is a long-time Niger Delta militant, Government Ekpemupolo, better known as "Tompolo." Others, however, especially those from his own powerful Ijaw ethnic group (14 million people and Nigeria's fourth-largest ethnic group), maintain that the (alleged) ex-militant is the victim of political and ethnic machinations. Currently a fugitive from serious corruption charges, Tompolo now tries to manipulate his destiny through messages sent from his hideouts in the oil-rich creeks of the Niger Delta, a nearly impenetrable and insurgent-friendly region where creeks rather than roads often provide the only means of access.
Early Career
Tompolo was born in 1970 in the village of Okerenkoko, part of the Gbaramatu Kingdom in Delta State. The future militant's father, Chief Thomas Osei Ekpempulo, was a successful businessman providing services to the local oil industry and Tompolo followed in his footsteps despite failing to complete his secondary school education. Reputed to be only semi-literate, Tompolo freely admits that he has other people do "anything concerning paper work" (Sahara Reporters, August 16, 2012).
Like many of his fellow Ijaw youth, Tompolo first took up arms in 1997 when the Nigerian government transferred the headquarters of the Warri South Local Government from Ijaw-dominated territory to a site dominated by a rival ethnic group, the Itsekiri. In what became known as "the Warri Crisis," Tompolo established a reputation as a fierce fighter and capable leader. Newly politicized, Tompolo then became active in Niger Delta militancy directed at remedying the alleged exploitation of the Delta region and its peoples (particularly the Ijaw) by international oil firms and the Nigerian government.
One outcome of the Warri Crisis was the formation of the Federation of Niger Delta Ijaw Communities (FNDIC) under the leadership of Chief Oboko Bello. The movement was intended to advocate for Ijaw autonomy and rights and Tompolo's appointment as the FNDIC mobilization officer provided a springboard for the young activist. [1]
Tompolo's personal wealth and reputation as a fighter and follower of Egbesu (the Ijaw god of war) soon enabled him to take a leadership position amongst the Delta militants. A series of successful strikes against foreign-owned oil installations allowed Tompolo to begin collecting "security fees" from firms eager to avoid bombings and shutdowns, though he continued to steal oil by breaking into Shell and Chevron pipelines (an activity known locally as "bunkering") (Sahara Reporters, September 10, 2013) Bitter fighting in the creeks between Ijaw militants and Nigeria's Joint Task Force (JTF – a multi-agency special purpose security force) took a considerable toll on helpless civilians caught in the middle while bunkering and attacks on pipelines flooded the creeks with oil, creating environmental devastation. Tompolo purchased a certain amount of indulgence by investing some of his considerable wealth in local health and education infrastructure, while behind the scenes that same wealth was making him an influential force in local Ijaw politics.
The growth of Tompolo's force allowed him to assist in the creation of new movements such as al-Haji Mujahid Dokubo-Asari's Niger Delta People's Volunteer Force (NDPVF) through the provision of arms and other assistance [2] (Sahara Reporters, August 16, 2012).
MEND Leader
In 2006, Tompolo gathered the leading Delta militants at his Camp 5 headquarters in Okerenkoko to form a united front (though maintaining a decentralized command) known as the Movement for the Emancipation of the Niger Delta (MEND). Though Tompolo assumed the role of founder, communications were put in the hands of the better-educated Henry Okah. MEND immediately opened up new revenue streams by kidnapping foreign oil workers in the Delta while further attacks on the oil infrastructure led to a 50% decline in Nigeria's much-needed oil revenue.
Having carved out a section of the Delta under his personal control, Tompolo demonstrated his power in 2007 when he granted an audience at Camp 5 to then-Vice President Goodluck Jonathan, whose high-ranking escort was compelled to disarm before the meeting could take place (This Day [Lagos], February 8, 2016).
After Tompolo's men executed 11 soldiers in May 2009, JTF commander Brigadier-General Sarkin Yaki Bello declared Tompolo the most wanted man in Nigeria, but repeated raids on his camps failed to apprehend the elusive militant (Sahara Reporters, August 16, 2012).
The Amnesty Era
On October 4 2009, Tompolo, like many other leading Delta militants, accepted inclusion in the amnesty program advanced by the late Nigerian president, Umaru Yar'Adua, a Muslim Fulani northerner from Katsina State and leader of the People's Democratic Party (PDP). Tompolo led some 1500 followers into a disarmament camp at Oporoza, all of whom were to be provided with varying levels of assistance in remaking their lives under the terms of the amnesty program.
When Yar'Adua died from an illness in May 2010, he was succeeded by his Vice-President and PCP number two, Goodluck Jonathan, a Christian Ijaw from Bayelsa State in the Niger Delta region.  One result of this unexpected development was a dramatic increase in funds flowing to ex-militant leaders through the amnesty program, allowing many of them to build large mansions and live conspicuously wealthy lifestyles. By 2010, it was reported that Tompolo was making good money assisting the JTF in hunting down other militants still operating in the creeks (Daily Independent [Lagos], April 4, 2015)
Tomposo's greatest windfall came in November 2011 when he was awarded a 10-year, $103.4 million government contract to provide security for oil facilities in the Delta region. Under the terms of the contract, Tompolo's Global West Vessel Specialists Ltd (GWVS) would provide services to the Nigerian Maritime Administration and Safety Agency (NIMASA) with a fleet of 20 ships purchased through a public-private-partnership. The NIMASA Director-General who arranged the deal was Dr. Ziakede Patrick Akpobolokem, a friend of Tompolo.
In 2012, Tompolo acquired a small navy purchased from Norway through a British shell company after Norwegian official failed to vet the purchaser, a post-office box in the name of CAS Global.  The private fleet consisted of six Hauk-class missile torpedo boats and the Horten, a 1700 tonne support ship. The sale was disclosed by an investigative reporter two years later and created a political scandal in Norway (Dagbladet [Oslo], June 14, 2014; Maritime First [Lagos], May 5, 2015). Tompolo then added a Canadian-built Lear Jet to his holdings for the sum of $13.3 million in August 2013.
In February 2015, the NIMASA Director-General held a press conference to state that GWVS was involved solely in the provision and maintenance of platforms and had "nothing to do with bearing arms and ammunitions and chasing criminals, bandits, pirates or whatever." Nonetheless, the Director-General admitted that NIMASA's relationship with GWVS had brought "wonderful benefits" by bringing in criminals, controlling pollution and handling safety issues (Primetime Reporters [Lagos], February 24, 2015).
The Downfall
Tompolo's world began to change following the defeat of his patron, Goodluck Jonathan, in the March 2015 presidential election. The new president was Muhammadu Buhari, a retired Major-General, northern Muslim and leader of the All Progressives Congress (APC) who was willing to extend the amnesty program to December 2017, but cut the flow of patronage money to the south.
As part of an anti-corruption initiative introduced by Buhari's government, Nigeria's Economic and Financial Crimes Commission (EFCC) charged Tompolo, Akpobolokemi and several others with 40 counts of corrupt practices committed between 2012 and 2015 involving $171 million, but the ex-militant went underground and failed to appear in court on February 14, 2016, leading to an order for his arrest and the seizure of his assets. Tompolo insists all the questionable transactions were approved by the federal government and that the real reason he is being prosecuted is his refusal to join the ruling APC (The Nation [Lagos], December 12). Further charges of attempting to defraud the government were laid in mid-April against Akpobolokemi and Tompolo (the latter in absentia) (Punch [Lagos], April 18).
Tompolo filed a counter-suit through his lawyer seeking a stay in the proceedings against him; the case will be heard by the Federal High Court in Lagos on June 17 (Daily Post [Lagos], May 19). Tompolo blames most of his troubles on Chief Ayiri Emami (a.k.a. Akulagba), an Itsekiri business tycoon, prominent APC member and business rival in the pipeline protection business; "Ayiri Emami and others accusing me of the destruction of oil facilities in part of the Delta are simply looking for relevance, recognition and pipeline surveillance contracts." (Sahara Reporters, May 16).
Emergence of the Niger Delta Avengers
A new and unexpected campaign of bombings and attacks on oil infrastructure in the Niger Delta began almost immediately after charges were laid against Tompolo. Claiming responsibility was a previously unknown group using the name Niger Delta Avengers (NDA). Gas and oil pipelines were blown up as was Chevron Nigeria's Okan platform, an attack that impacted roughly 35,000 bpd of Chevron's net crude oil production (Sahara Reporters, January 15; Channels Television, May 23; AFP, May 7; Center for International Maritime Security, May 5). The Greek-owned oil tanker MV Leon Dias was hijacked on January 29, with militants demanding the release of Nnamdi Kanu, leader of the separatist Indigenous People of Biafra (IPOB). The militants abandoned the ship two days later, taking five crewmen with them as hostages (International Business Times, February 4). Most damaging was the early March destruction of the massive Forcados 48-inch underwater crude oil pipeline, resulting in the loss of 300,000 b.p.d., or $12 million per day (This Day [Lagos], March 10).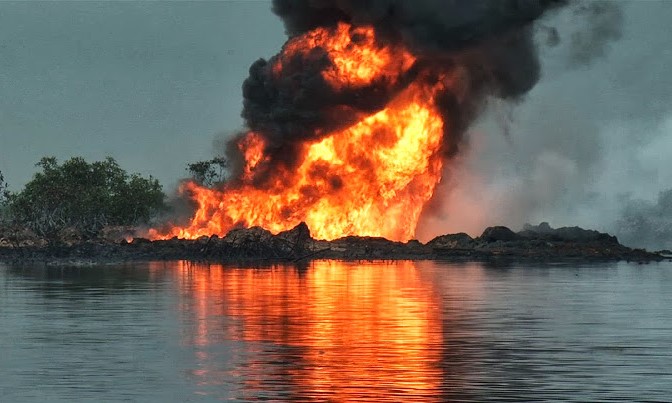 Niger Delta Avengers Attack on a Chevron Pipeline (Daily Post)
The NDA has released a stream of grammatically unsound press releases, usually signed by their spokesman "Colonel" Mudoch Agbinibo. One such statement expressed respect for the previous generation of militant leaders in the Niger Delta, but warned that if they stood in their way, "we will crash you." The group also emphasizes that they are not solely an Ijaw movement, but also include Isekiri in command positions (Niger Delta Avengers.com, May 12).
The NDA has singled out Chevron as a target, claiming it was ready to take the fight to the firm's tank farm and headquarters in Lekki (Lagos State) (Niger Delta Avengers.com, May 11). Among its main concerns is the alleged distribution of 90% of the Delta's oil blocs to individuals from northern Nigeria, a problem the movement suggests it will remedy by demanding the shut-down of operations in these blocs, otherwise they will be "blown up." The movement further promised that it would unveil "our currency, flag, passport, our ruling council and our territory" by October 2016. (Niger Delta Avengers.com, May 12).
Hidden Hand behind the Niger Delta Avengers?
Given the timing and Tompolo's fugitive status, suspicion quickly devolved on the ex-militant as the hidden hand behind the NDA.
One of Tompolo's former MEND colleagues, Africanus Ukparasia (a.k.a. General Africa, now an APC member), accused Tompolo and another former MEND Leader, High Chief Bibopiri Ajube (a.k.a. General Shoot-at-Sight) of organizing the attacks as well as assembling a fleet of ships and men to deter federal prosecution efforts (Sahara Reporters, January 26). Elsewhere, a statement issued by "General" Ossy Babawere of the Lagos and Ogun State-based Forest Soldiers militant group claimed they had declined a request from Tompolo for the group to initiate bombings and pipeline vandalism in the Delta region and instead urged the militant leader to surrender himself for prosecution (Daily Post [Lagos], January 31).
The Egbesu Mightier Fraternity, a militant group dormant since 2011, issued a demand on May 19 for the restoration of Tompolo's seized bank accounts while claiming: "Tompolo is not responsible for the bombing of oil and gas pipelines in the region. Egbesu Mightier Fraternity is part of the bombings. We are responsible" (Vanguard, May 19).
Tompolo has repeatedly tried to dissociate himself from the NDA, suggesting his accusers are simply looking for "pipeline surveillance contracts" (Vanguard [Lagos], May 16). In mid-March, NIMASA took over GWVS's fleet of 20 ships, explaining: "These ships are mounted with guns… We don't want a situation where [they] will be used against the Nigerian state" (Daily Trust [Lagos], March 16).
On April 29, Tompolo sent a warning to President Buhari that some members of his own APC party in Bayelsa and Delta states "are not happy with him because they have not gotten anything from him after almost a year since he assumed office by way of appointments and contracts. Therefore, some of them are involved in nefarious activities in the oil and gas sector…" (Sahara Reporters, April 29).
In a May 2 statement, Tompolo laid the blame for the NDA attacks on oil servicing companies seeking repair contracts and enemies he made "protecting oil facilities"; "It is unfair to link me with this new militant group, which I do not agree with in terms of its philosophy, ideology and mode of operation. I am not part of the Niger Delta Avengers" (The National [Lagos], May 2). Tompolo's repudiation of the group did not go down well with the NDA and an apology was demanded for this "slap in the face" along with a threat that if such was not issued in three days, the NDA would attack energy infrastructure in Tompolo's home region. Tompolo refused to apologize and three days later the NDA attacked gas and oil facilities in the Gbaramatu Kingdom (Sahara Reporters, May 5; Niger Delta Avengers.com, May 3; Bella Naija, May 9).
In a May 10 open letter addressed to President Buhari, Tompolo suggested that the EFCC charges against him were inspired by ethnic bias on the part of other "political actors" from the Delta region who would be glad to see the Gbaramatu Kingdom and "by extension, Ijawland" ravaged during the search for him. Tompolo reminded the president that there was nothing criminal about his support for ex-president Jonathan; "I did so out of conviction not because I hate you or because you are a northerner" (The Whistler [Abuja], May 10).
In response to NDA activity, the Nigerian military began putting pressure on illegal refineries and bunkering operations, particularly in the Gbaramatu Kingdom and the Warri South West Local Government Area (Daily Post [Lagos], April 26). The townspeople of Oporoza (Gbaramatu Kingdom) have complained the hunt for Tompolo has led to incursions of heavily armed troops "looking for an excuse to burn out town down" (YNaija, May 15). According to Bibi Oduku, the chief of the Riverine Security force, it is the people of Gbaramatu Kingdom who make up the membership of the NDA, suggesting that "It is not possible for any militia groups to carry out attacks in Gbaramatu without the permission or blessings of the said ex-militant leader [i.e. Tompolo] (Vanguard, May 12).
Conclusion
According to the Nigerian National Petroleum Corporation (NNPC), Nigeria loses 800,000 barrels of crude oil a day to pipeline vandalism and bunkering and does not have enough vessels to properly patrol the Delta region (The Eagle Online, May 23).
Given Nigeria's oil-related economic crisis, it is perhaps unsurprising that President Buhari is questioning the value provided by employing ex-militants such as Tompolo as private security forces when the state is already paying for a police and military. When ex-militants flaunt the wealth gained by rebellion and subsequent reconciliation with the government and engage in corrupt practices to further fleece a government that has offered re-entry to society, it rots the core of the public administration, does little to discourage Delta youth from "going to the Creeks" (i.e. rebellion), and nothing at all to further the environmental or political interests of their own communities. In some sense it is irrelevant whether Tompolo is using the NDA to manipulate his own legal proceedings – it is the sum of his career that encourages Delta youth to use violence to further their own aims.
Notes
Patricia Taft and Nate Haken: Violence in Nigeria: Patterns and Trends, Springer, 2015, p.15.
For Asari-Dokubo and the NDPVF see Andrew McGregor, "A Profile of the Niger Delta's al-Haji Mujahid Dokubo-Asari," Militant Leadership Monitor, Part One; March 2013; Part Two, April 2013.
This article first appeared in the May 2016 Militant Leadership Monitor