Andrew McGregor
April 17, 2010
A Tuareg rebel leader who was sentenced to death in 2008 has been arrested in Niger's capital of Niamey after returning from exile to negotiate peace with the government (Radio France Internationale, April 1). A veteran Tuareg rebel leader, Ag Boula was sentenced to death in absentia for his alleged role in the 2004 murder of politician Adam Amangue. Ag Boula, who arrived in Niamey in late March, appears to have severely misinterpreted the mood of the military junta which took control of Niger in February. The arrest has effectively squelched earlier speculation that Ag Boula's return was a sign he had reached a deal with the new government, the Conseil Suprême pour la Restauration de la Démocratie (CSRD) (L'Evenement [Niamey], November 29, 2009).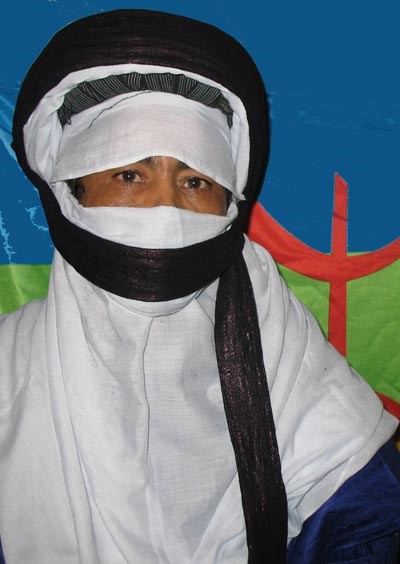 Rhissa ag Boula
The military has recently arrested dozens of former members of ex-president Mamadou Tandja's administration, as well as over 600 individuals in an unrelated crackdown on crime (AFP, April 1). Ag Boula arrived in Niamey in the company of the main leaders of the various Tuareg rebel movements involved in the 2009 Libyan-mediated peace agreement—the Mouvement des nigériens pour la justice (MNJ), the Front patriotique nigérien (FPN) and Ag Boula's own Front des forces de redressement (FFR). All the leaders were covered by a government amnesty except Ag Boula, who remains under sentence of death (Jeune Afrique, April 1).
With a brief interruption caused by a military coup, Ag Boula served as Tourism Minister in Niger's government from 1997 to 2004. A pioneering desert tour operator in the 1980s, Ag Boula is generally acknowledged to have performed well in that role (including a 2000 visit to the United States) before being charged in 2004 with orchestrating the kidnap and murder of Adam Amangue. He was convicted of ordering three men to carry out the murder, all of whom were sentenced to 20 years in prison (Radio France Internationale, July 14, 2008). There was speculation at the time of his 2004 arrest that his detention was intended to spark a new Tuareg rebellion, allowing the Forces Armées Nigeriennes (FAN) to receive additional arms and funds from the U.S. military, which had just begun its Pan-Sahel Initiative, designed to secure the region against terrorists (see Jeremy Keenan, "Security and Insecurity in North Africa," Review of African Political Economy 108, pp.280-81).
While their leader sat in prison, Ag Boula's men took three police officers and a soldier hostage. The hostages were exchanged for Ag Boula's provisional release in 2005 in a deal mediated by the Libyans. Ag Boula fled to France, but when he announced he was returning to Niger in 2008 to join a new Tuareg revolt, his release was withdrawn and a sentence of death imposed following an in absentia conviction for Amangue's murder (Le Canard Dechaine [Niamey], July 14, 2008; AFP, July 14, 2008). In July, 2008 Ag Boula complained that the MNJ failed to retaliate for Tuareg deaths in a military offensive and left to create his own movement, the Front des Forces de Redressement (FFR) (RFI, June 1, 2008).
Ag Boula's fate will depend largely upon the mood of the junta and their reasons for arresting him. At the time of his conviction the prosecutor stated that Ag Boula could opt to be retried if he returned to Niger, where most death sentences are eventually commuted to life imprisonment (AFP, July 14).
Also arrested was Major Kindo Zada, an ally of Ag Boula. A field officer, Zada was closely tied to the administration of President Ibrahim Bare Mainassara, who was assassinated when his bodyguard fired on him with a truck mounted machine gun at Niamey Airport in April 1999.  Mainassara had himself taken power in a military coup in 1996.   Major Zada deserted the army in 2007, leading dozens of his men and 20 pick-up trucks north to join the Tuareg rebellion (African Press International, July 22, 2007; AFP, April 1). Major Zada is reported to have been arrested on charges related to the 2000 kidnapping of then-Major Djibrilla Hima Hamidou "Pele" by a group of officers loyal to Mainassara (TamtamInfo.com, April 1; Pan-African News Agency, June 12, 2000). Colonel Hima played an important role in the 1999 coup that killed Mainassara and is believed to have been a prime mover behind the latest military takeover.
This article first appeared in the April 17, 2010 issue of the Jamestown Foundation's Terrorism Monitor