Andrew McGregor
Terrorism Focus, August 1, 2006
With its attack on Hezbollah in southern Lebanon, Israel is fighting on terrain that has been prepared by the Shiite movement for six years since the Israeli withdrawal from Lebanon in 2000. Israeli Defense Force (IDF) soldiers have described finding a network of concrete bunkers with modern communications equipment as deep as 40 meters along the border (Ynet News, July 23). The terrain is already well-suited for ambushes and hidden troop movements, consisting of mountains and woods in the east and scrub-covered hills to the west, all intersected by deep wadi-s (dry river beds). Broken rocks and numerous caves provide ample cover. Motorized infantry and armor can only cross the region with difficulty. Use of the few winding and unpaved roads invites mines and ambushes by Hezbollah's adaptable force of several thousand guerrillas (The Times [London], July 21).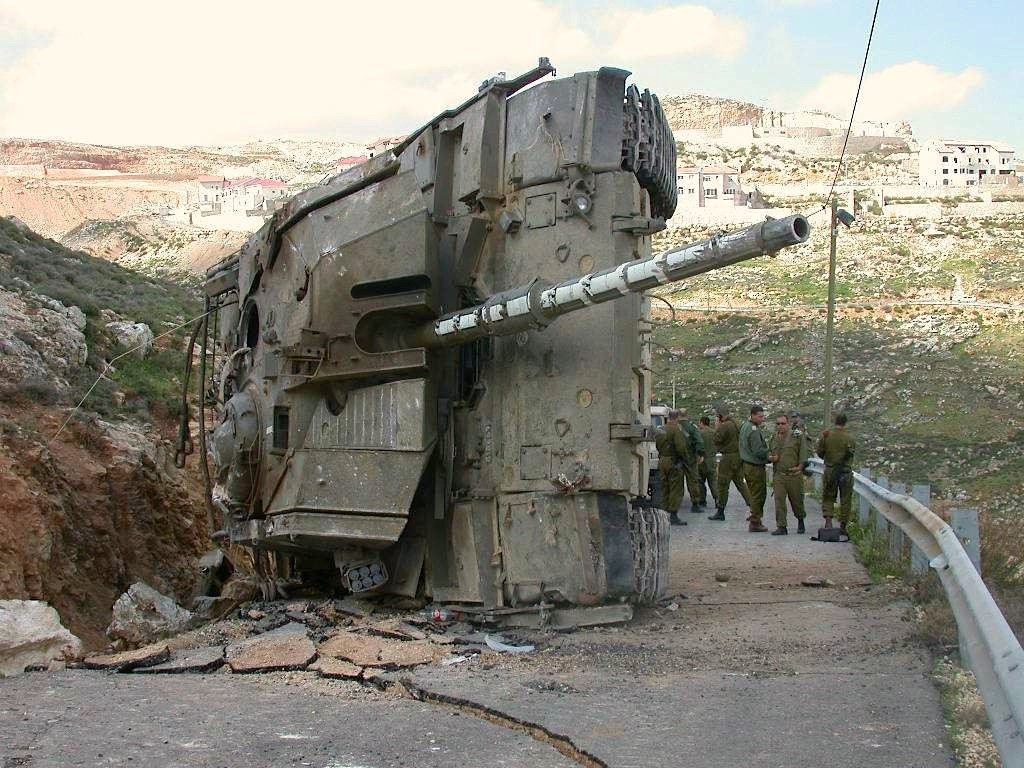 Israeli Merkava Tank – A victim of Hezbollah missiles
Hezbollah emerged in 1985 with more enthusiasm than tactical sense, relying on wasteful frontal assaults and more effective suicide attacks on Israeli troops. With training provided by Iran's Revolutionary Guards, Hezbollah's highly-motivated military wing developed into a highly effective guerrilla force. Iran continues to provide specialized training, funds and weapons to Hezbollah through the Revolutionary Guards organization. Various reports suggest Iranian volunteers are being recruited and sent to Lebanon to assist Hezbollah, but these reports remain unconfirmed (Alborz News Agency, July 18; Mehr News Agency, July 17).
Hezbollah's military leadership has rethought much of the strategic and tactical doctrine that led to the repeated defeat of Arab regular forces by the IDF. The top-down command structure that inhibited initiative in junior ranks has been reversed. Hezbollah operates with a decentralized command structure that allows for rapid response to any situation by encouraging initiative and avoiding the need to consult with leaders in Beirut. The military wing nevertheless answers directly to Hezbollah's central council of clerics for direction.
The fighters are armed with Kalashnikov assault rifles and rocket-propelled grenades, typically assembling in small teams to avoid concentrations that would draw Israeli attention. The preparation of well-disguised explosive devices has become a specialty of Hezbollah. The uncertainty created by such weapons takes a heavy psychological toll on patrolling soldiers.
Hezbollah has improved its night-vision capabilities, although they do not compare with Israel's state-of-the-art equipment, which includes UAVs, helicopters and jet-fighters equipped for night warfare. Hezbollah fighters are well-trained in the use of complex weapons systems. Air defense units use SA-7 missiles and ZU-23 anti-aircraft guns on flatbed trucks.
The guerrillas rigorously examine the success or failure of each operation after completion. Tactics change constantly and new uses are sought for existing weapons. The use of mortars (81mm and 120mm) has been honed to near perfection. Hezbollah fighters have developed efficient assault tactics for use against armor, with their main anti-tank weapons being AT-3 Saggers and AT-4 Spigot missiles. Four tanks were destroyed in two weeks in 1997 using U.S.-made TOW anti-tank missiles (these missiles traveled from Israel to Iran as part of the Iran-Contra affair before being supplied to Hezbollah).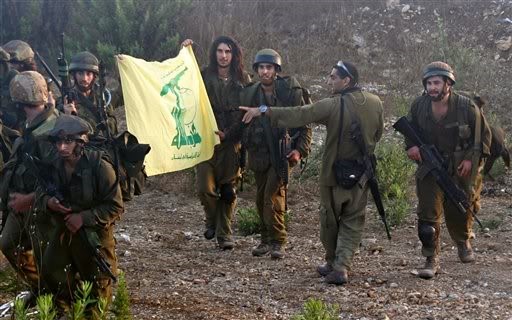 Israeli Troops with Captured Hezbollah Flag
Hezbollah leaders believe that their fighters have a perspective on conflict losses that gives them an inherent advantage; according to Naim Kassem, deputy leader of Hezbollah, "[The Israeli] perspective is preservation of life, while our point of departure is preservation of principle and sacrifice. What is the value of a life of humiliation?" (Haaretz, December 15, 1996). With no hope of overwhelming Israel's well-supplied military, Hezbollah fighters concentrate on inflicting Israeli casualties, believing that an inability or unwillingness to absorb steady losses is Israel's strategic weakness.
Hezbollah has also mastered the field of information warfare, videotaping attacks on Israeli troops that are then shown in Israel and around the world, damaging public morale and degrading the myth of IDF invincibility.
Hezbollah is believed to have as many as 10,000, unguided 122mm Katyusha rockets (range 22 km) (Arutz Sheva, August 1). The Second World War-style Katyushas are easily obtained on the international arms market and inflict greater economic and psychological damage than physical damage. Their chief advantage is their portability; launchers can be easily mounted on a truck that can dash into position, fire its rockets and take off to a prepared refuge before a retaliatory strike can be launched. Sometimes automatic timers are used on the launchers, allowing the crew to escape well in advance.
The weapon used in an attack against an Israeli warship that killed four commandos was identified by the Israeli military as an Iranian-made C802 Noor radar-guided land-to-sea missile (range 95 km). Most other missiles used by Hezbollah are Iranian-made, including the Raad 2 and 3 models (used against Haifa), the Fajr-3 and 5 and, allegedly, the Zelzal-2, with a range of 200 km.
Hezbollah is unlikely to have used the most potent weapons in its arsenal. Hanging on to them provides both strategic and psychological advantage. It is typical Hezbollah strategy to view war as a progression, rather than to use everything it has in the early stages of a conflict. While Israel may have a timetable of several weeks for this campaign, Hezbollah is prepared for several years of fighting. Disengagement may prove more difficult for Israel than it assumes. At some point, however, Hezbollah may become short of weapons and supplies. Normal supply lines from Syria have already been cut and Hezbollah has no facilities capable of producing arms or ammunition.
Israel has never been able to get the upper hand in the intelligence war with Hezbollah. Hezbollah's military wing is not easily penetrated by outsiders, but has had great success in intelligence operations against Israel. Nearly the entire Shiite population of south Lebanon acts as eyes and ears for the fighters, so it is little surprise that Israel initially concentrated on eliminating regional communications systems and forcing the local population from their homes in the border region.
Israel's air strikes have revealed the limitations of conventional air power in coping with mobile forces with little in the way of fixed installations or strategic targets. The 18-year war against the Israeli occupation (1982-2000) has, on the other hand, given Hezbollah an intimate knowledge of Israeli tactics. While some 3,000-4,000 Israeli Air Force air-raids in the last few weeks have killed hundreds of civilians, Hezbollah admits to only a few dozen of its own fighters killed (although Israel claims it has killed 300 Hezbollah fighters).
According to Ali Fayyad, a member of Hezbollah's Central Council, the movement's strategy is "not to reveal all its cards, to impose its own pace in fighting the war and to prepare for a long war" (Bloomberg, July 27).
This article first appeared in the August 1, 2006 issue of the Jamestown Foundation's Terrorism Focus