Andrew McGregor
December 16, 2010
While the Sahel/Sahara Command of al-Qaeda in the Islamic Maghreb (AQIM) has dominated reports of the movement's activities over the last year, Algeria's military continues to combat AQIM's northern command, based in the largely Berber Kabylia Mountains.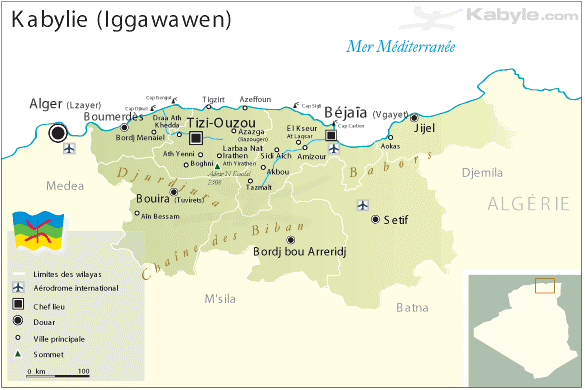 A major Algerian military offensive involving some 4,000 to 5,000 troops was launched on December 9 with the participation of Special Forces units and aerial support from helicopter gunships. Operations have focused on the North-Central wilaya-s (provinces) of Tizi Ouzou, Boumerdès and Bouira, mountainous strongholds of the Islamist insurgency since the 1990s. Operations in the latter regions were designed to prevent reinforcements from coming to the relief of the militants in Tizi Ouzou.  The offensive was launched on the basis of information obtained through the interrogation of captured AQIM militants regarding a major meeting of AQIM amirs at Sidi Ali Bounab (70 miles east of Algiers), to be presided over by AQIM leader Abdelmalek Droukdel (a.k.a. Abu Mus'ab Abd al-Wadoud) (El-Khabar [Algiers], December 12; Tout sur l'Algérie [Algiers], December 13).
According to sources in the Algerian security establishment, the meeting was intended to organize a group to be sent south to fend off a planned coup by the Sahel/Sahara command of AQIM designed to depose Droukdel as overall commander and establish an independent emirate in the Sahel/Sahara (El-Khabar, December 12).
The army jammed mobile telephone networks in the operational region to prevent AQIM cells from communicating or detonating prepared explosives with cell phones. Only days before the offensive, Algerian defense official Abdelmalik Guenaizia asked visiting AFRICOM commander General David Hogg for the latest jamming equipment to prevent remote cell phone detonation of improvised explosive devices (CNN, December 7; Ennahar [Algiers], December 6).
By December 12, as many as 20 AQIM terrorists were reported to have been killed. Algerian authorities have obtained DNA samples from relatives of AQIM commander Abdelmalek Droudkel and Amir Abou Derar in an effort to confirm their deaths in the operation (Tout sur l'Algérie, December 13). The offensive was also reported to have disrupted a major plot to use cell phone-detonated explosives in a bombing campaign in Tizi Ouzou, Boumerdès and Bouira (El-Khabar, December 12). The deaths of Droukdel and Derar remain unconfirmed at the time of publication while a reported 2,000 additional troops were reported to be joining the offensive as some militants remain under siege by Algerian forces (al-Fadjr [Algiers], December 12).
This article first appeared in the December 16, 2010 issue of the Jamestown Foundation's Terrorism Monitor.