Andrew McGregor
November 19, 2008
Insecurity continues to spread in the Darfur-Chad-Central African Republic triangle as rebels led by a Chadian mercenary slaughtered 9 soldiers of the impoverished but diamond- and uranium-rich Central African Republic (CAR). The village chief of Nobanja and his wife were also killed in the attack. According to CAR's Interior Ministry, the November 11 ambush in Kabo, close to the CAR's border with Chad in the mainly Muslim northern region, was carried out by men of the Front démocratique du people Centrafricaine (FDPC) led by Abdoulaye Miskine (real name Martin Koumta-Madji). Miskine admitted the participation of his troops, but denied issuing the order to attack CAR forces (Radio France Internationale, November 12).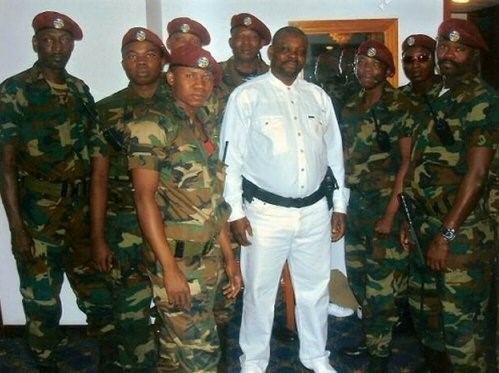 Abdoulaye Miskine with his Lieutenants (Journal de Bangui)
The troops were returning to Kabo after carrying out operations in the sous-prefecture of Moyenne Sido near the Chad border and were killed before they had a chance to return fire (AFP, November 12). Much of the border area is outside the effective control of CAR forces, with civilians suffering from repeated raids by bandits, rebels, and even government troops. Most villages in the region are deserted as their inhabitants seek security in remote areas.
South Sudan's leader, Salva Kiir, recently warned Egypt's President Hosni Mubarak that the political chaos engulfing Sudan, the Central African Republic, and the Democratic Republic of the Congo could soon produce insecurity within Egypt (AFP, November 10).
European Union peacekeepers based in northeast CAR also said units from the Union des forces démocratique pour le rassemblement (UFDR) rebel group carried out an attack on a CAR army outpost near the Sudan border on November 8, but were repelled by government troops (Reuters, November 12). Unable to assert its control of the unsettled north, the Bangui government is moving forward on holding a national dialogue session in December in an effort to restore stability.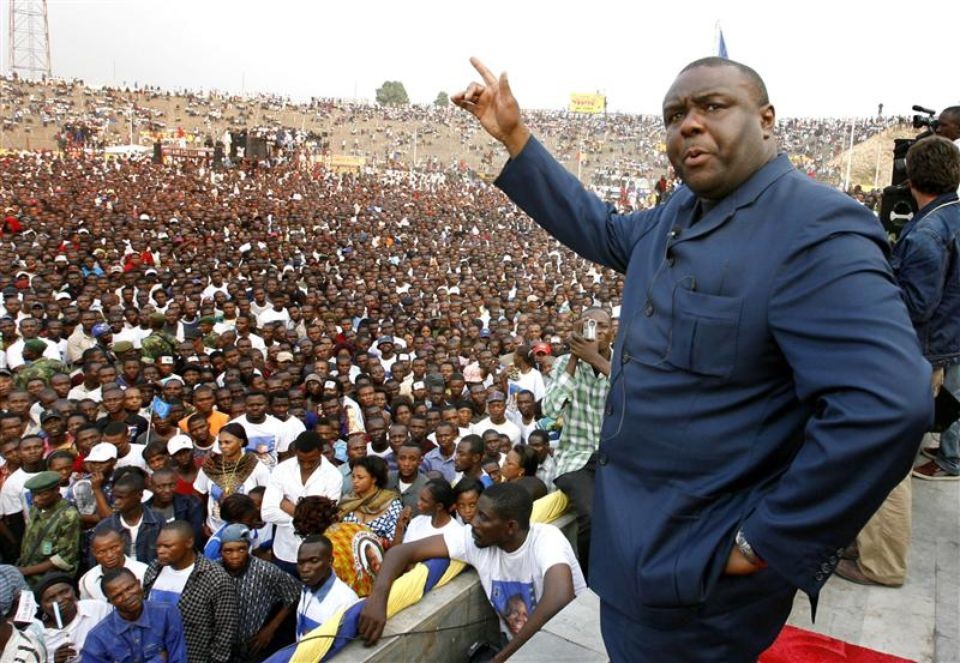 Jean Pierre Bemba in Kinshasha, 2006 (Liberation)
Many of the rebels are associated in some way with former CAR President Ange-Felix Patassé, who was deposed by General Bozizé in 2002 and now lives in Togo. Patassé grew suspicious of his own CAR armed forces after they became involved in coup attempts. The President's security was placed in the hands of foreign fighters, including well-armed troops from Libya, several hundred fighters belonging to the Congolese Mouvement pour la Liberation du Congo (MLC) led by Jean Pierre Bemba, and a special forces unit under the command of Chadian Abdoulaye Miskine. Bemba, Miskine, and Patassé all face charges in the International Criminal Court in relation to rapes, looting, and massacres carried out following General Bozizé's unsuccessful coup attempt in 2002 (BBC, November 6, 2002). Bemba was arrested last May and is now in detention in The Hague while awaiting trial. Bozizé succeeded in overthrowing Patassé in 2003 and was "elected" president in 2005. His government blames much of the rebel activity on neighboring Sudan. Khartoum in turn blames the CAR for supporting rebels in Darfur, though it is difficult to see what resources the CAR might offer in its current state.
With the collapse of the nation's power plants and the near-total deterioration of most other infrastructure despite enormous agricultural and mineral potential, the rebels and government find themselves struggling to control the ruins of a state. At stake are expected revenues from the development of the country's uranium resources, with French nuclear energy giant Areva scheduled to begin uranium production in the CAR in 2010 (AFP, August 1). France has provided military and logistical assistance to the Bozizé regime against rebel forces in recent years (AFP, January 30, 2007; Afrol News, February 5, 2007).
This article first appeared in the November 19, 2008 issue of the Jamestown Foundation's Terrorism Focus