Andrew McGregor
December 3, 2008
Spain's National Intelligence Center (Centro Nacional de Inteligencia – CNI) is monitoring a group of about ten ex-Spanish servicemen who are currently undergoing training at a number of unspecified jihadi training camps (La Razon [Madrid], November 24). The CNI insists that the would-be jihadis did not hold positions of responsibility in the Spanish military and had no access to sensitive information.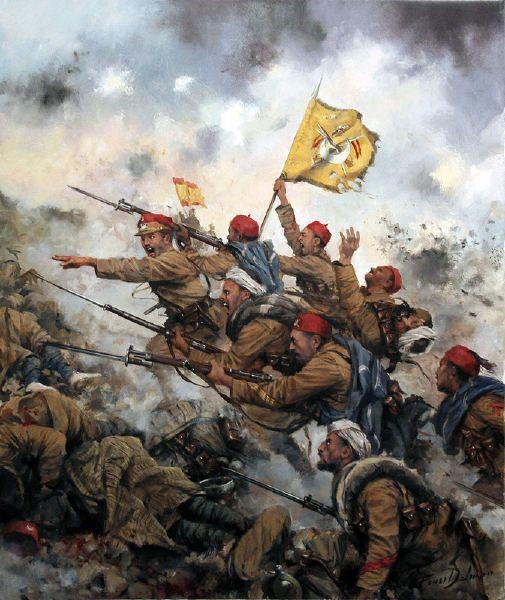 Spain Has a Long Tradition of Employing Muslim Troops
The CNI investigation also described the role of Spain's military in integrating Muslims into Spanish society. In the modern all-volunteer Spanish armed forces, accommodation is made for dietary restrictions and Friday prayers. In units with a significant number of Muslims, "supervisors" have emerged who discreetly encourage the observance of Muslim rituals and lifestyles. CNI detected one source of dissatisfaction – the appointment of female Muslim corporals has not been well received by Muslim troops who are not used to taking orders from women. The agency did note that this problem did not exist with women of senior NCO or officer status, but only with those female NCOs who were required to issue direct orders to Muslim servicemen. Overall, the CNI was satisfied that daily interaction with comrades of other faiths or no faith at all was contributing to the successful integration of Spain's Muslims into the greater Spanish society (La Razon, November 24).
The CNI handles both internal and external intelligence needs and has been headed by Alberto Saiz Cortés since 2004. Its mandate requires the CNI to provide the Spanish government "with information, analyses, studies or proposals that allow for the prevention and avoidance of any danger, threat or aggression against the independence or territorial integrity of Spain, its national interests and the stability of its institutions and the rule of law" (cni.es). Most CNI operations are in North Africa and Central and South America. The CNI is not a law enforcement agency – intelligence collected by it is submitted to governmental authorities who then decide what action should be taken, including turning the files over to Spanish law enforcement agencies for action.
780 Spanish troops are currently deployed in Afghanistan as part of the International Security Assistance Force (ISAF). Two Spanish soldiers were killed in a Herat suicide attack on November 9, bringing the total number of Spanish troops killed in Afghanistan to 25. A November 14 Taliban video warned Spain to withdraw its troops from the country.
Since ending conscription in 2000, Spain has struggled to maintain its military strength at approximately 80,000 troops. To do so, Spain has begun recruiting heavily in Spanish-speaking nations in Latin America and Africa. Beside Afghanistan, Spanish troops are currently deployed in peacekeeping missions in Lebanon, Kosovo and the Democratic Republic of the Congo. Troops of the Spanish Legion (formerly the Spanish Foreign Legion) are used overseas almost continually, having seen service in recent years in Bosnia, Iraq, Afghanistan and Lebanon.