Andrew McGregor
December 23, 2009

The sight of the black flag of the highly feared al-Shabaab organization being burned in the streets of Mogadishu by enraged Somalis was not something the leaders of the radical Islamist group hoped to see at this stage of their struggle for control of Somalia. The street demonstrations against al-Shabaab that followed the brutal December 3 suicide bombing of a graduation of medical students in Mogadishu were unprecedented in a nation where the only political opinions taken seriously are those expressed by gunmen.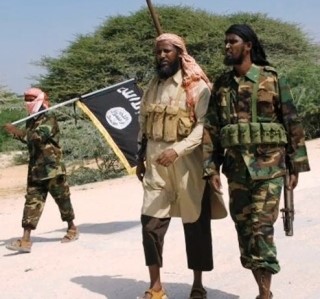 Al-Shabaab Spokesman Shaykh Ali Mahmud Raage (Center)
One protest leader remarked, "Everybody assumed [al-Shabaab members] were fighting foreigners and the government, but we realized on Thursday [December 3] that they are at war with us; it was the last straw. They are killing our best and brightest. They are the enemy" (IRIN, December 11).
The attack by a suicide bomber dressed as a woman that killed 23 people, including badly needed medical graduates, parents, professors, journalists and three cabinet ministers of Somalia's hard-pressed Transitional Federal Government (TFG), may be the start of a reversal of fortunes for the Islamist rebels of al-Shabaab, who have diverted resources from their assault on the TFG to fight Sufis and fellow Islamists alike over the last year. The movement is increasingly seen as an occupation force, with news of its imminent arrival in a certain town or region inevitably preceded by a rush by civilians to leave the area first.
Soon after the bombing came the dismissal of the TFG's police commander, Abdi Hassan Awale, and the TFG military commander, Yusuf Hussein. Kenyan police have intensified their patrols of Nairobi's largely ethnic-Somali suburb of Eastleigh, with reports of over 80 arrests in two days (Reuters, December 6).
Though few in Somalia doubt al-Shabaab's responsibility for the attack, noting that al-Shabaab is the only Somali group using suicide bombers, the movement's spokesman, Shaykh Ali Mahmud Raage (a.k.a. Shaykh Ali Dheere), quickly blamed the government itself for the attack, which appears to have been designed to kill the three TFG cabinet ministers. "We have no relation to this attack – it is from the enemy… We know that some so-called government officials left the scene of the explosion just minutes before the attack. That is why it is clear that they were behind the killing… We do not target innocent people" (Raxanreeb.com, December 4; al-Jazeera, December 3).
Local investigations revealed that the suicide bomber was a 26-year-old Copenhagen native and Danish citizen of Somali descent named Abdurrahman. Formerly known for nightclubbing and playing football, Abdurrahman began to change his behavior several years ago, withdrawing from his friends and former activities before deciding to return to Somalia in June 2008 "to study Islam" (Somaliweyn Media Center, December 10).
According to the TFG Speaker of Parliament, Shaykh Adan Muhammad Madobe, "It is unfortunate that a child whose parents escaped Somalia's conflict and raised him in Europe came home with extremist ideologies and blew himself and innocent people up" (Reuters, December 11). Abdurrahman left his pregnant wife behind in the Somali coastal town of Marka, an al-Shabaab stronghold (Mareeg Online, December 11; Somaliweyn Media Center, December 10).
There are also reports of a change of leadership within al-Shabaab, but these remain unconfirmed. Djibouti's Foreign Affairs minister, Mahmud Ali Yusuf, told an al-Sharq al-Awsat reporter on December 8 that Comoros Islands native and long-time al-Qaeda operative Fazul Abdullah Muhammad had taken over control of al-Shabaab from Shaykh Ahmad Abdi Godane (a.k.a. Abu Zubayr), who has been less visible than usual since he was seriously wounded in a suicide bomb-training incident in May (Garowe Online, December 8; Mareeg Online, December 8). Though Fazul Abdullah may have stepped up in the organization after the death of fellow al-Qaeda operative Salah Ali Nabhan in a September U.S. missile strike, it seems unlikely that the leadership of al-Shabaab could be taken over by a non-Somali. The movement has not confirmed the report or made any announcement regarding a change in leadership.
This article first appeared in the December 23, 2009 issue of the Jamestown Foundation's Terrorism Monitor