Andrew McGregor
December 23, 2009
General Kelly Kwalik, a senior leader of the Free Papua Organization (Indonesian – Organisasi Papua Merdeka – OPM), was shot and killed in a raid by Indonesia security forces on December 16 in the southern coastal town of Timika (Jakarta Post, December 16). National Police Chief General Bambang Hendarso Danuri said the shooting of Kwalik was justified by the rebel leader's record of violence (Jakarta Globe, December 19).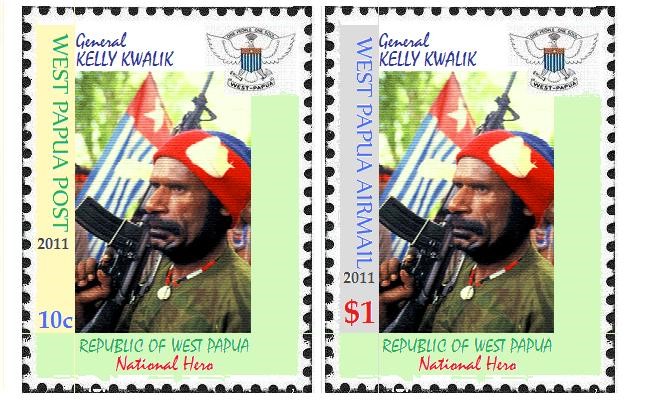 Stamp Posthumously Issued by the Unrecognized Republic of West Papua
Kwalik's December 21 funeral in Timika was accompanied by clashes between Indonesian police and up to 800 OPM supporters attending the services (AFP, December 21; Tempo Interaktif [Jakarta], December 21). The coffin was covered with the illegal red, white and blue "Morning Star" flag of the West Papuan independence movement. Displaying the flag can bring a sentence of 20 years to life under Indonesian law. The Catholic bishop of Timika, John Philip Saklil, called Kwalik "a great figure who fought for the best for the Papuan people," but added, "Violence will only generate more violence and murders will only lead to more murders" (AFP, December 21). The funeral followed several days of high tensions, marked by protests and warning shots fired by Indonesian security forces who kept the army on standby to intervene if rioting broke out.
Control of Western New Guinea was transferred from the Netherlands to Indonesia according to the terms of the 1962 New York Agreement, negotiated by the Netherlands, the United States and Indonesia without input from the natives of the area concerned. Several of the region's ethnic groups opposed the agreement and founded the OPM in 1965 to seek independence for western New Guinea (now administered as the Indonesian provinces of Papua and West Papua). In 1971 the OPM declared the existence of the "Republic of West Papua," but the declaration was soon followed by a major split in the movement. Support for the movement was revived in the 1990s by the activities of American gold-mining giant Freeport-McMoRan in the region and alleged human rights abuses by the Indonesian military. The OPM now operates through at least nine decentralized commands but remains poorly armed, using bows and arrows and arms and munitions left over from battles fought on the island in World War II.
Indonesian police, who claim the 60-year-old Kwalik was guilty of abductions, murders and terrorist attacks (including the murder of two American Freeport employees in 2002 and the killing of an Australian mine technician last July), verified the identity of the body through videos and photos after family members refused to submit DNA samples for testing (Jakarta Post, December 17; Jakarta Globe, December 19). Kwalik denied any role in the attacks, which others have suggested may have been part of a protection racket run by Indonesian security forces. The rebel commander described the attacks as a "pure conspiracy between the Indonesian police, the Army and Freeport" (Jakarta Globe, December 19).
This article first appeared in the December 23, 2009 issue of the Jamestown Foundation's Terrorism Monitor