Andrew McGregor
January 6, 2011
The late-December murder of Lebanese Islamist and Jund al-Sham commander Ghandi Sahmarani (a.k.a. Abu Ramiz) was an instructive example of the changing balance of power in Lebanon's Ayn al-Hilweh refugee camp, which exploded in Islamist-inspired violence in 2007.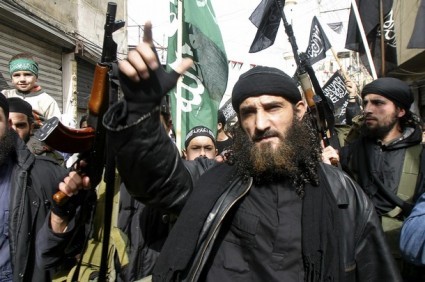 Former Jund al-Sham Commander Ghandi Sahmarani
While political assassinations are far from unknown in the Palestinian camps, Sahmarani's death followed a different pattern from the usual shootings and bombings. Though exact details remain unclear, it appears that Sahmarani was brutally tortured for as long as 48 hours before his ultimate death by hanging or a gunshot to the mouth (Now Lebanon, January 3). There was no claim of responsibility for the killing. Sahmarani, a native of Tripoli, was closely tied to the Ayn al-Hilweh camp for over 20 years. Following the discovery of his body the Lebanese Army moved additional forces to the entrance of the camp, but the anticipated unrest never materialized (Naharnet, December 27, 2010; December 28, 2010).
Established in 2004, Jund al-Sham ("The Army of Greater Syria") is a splinter group of the larger Usbat al-Ansar ("League of Partisans"), an armed Salafist movement formed in the 1980s. Unlike a number of other Salafist groups operating in the Palestinian refugee camps, both Usbat al-Ansar and Jund al-Sham include native Lebanese members, like Sahmarani, as well as Palestinians in their ranks (Naharnet, May 31, 2008). The small group of roughly 50 Jund al-Sham militants joined the Fatah al-Islam movement in the bitter fighting against the Lebanese Armed Forces (LAF) that erupted in the Nahr al-Bared refugee camp in 2007 and later spread to Ayn al-Hilweh.
Sources within the camp say the brutal killing was not politically motivated, but rather came in response to allegations that Sahmarani had raped a number of married and unmarried women within the site (Now Lebanon, January 3). One Islamist leader who declined to be named told a Beirut daily that Sahmarani was killed "for moral reasons" after raping a married woman and videotaping her naked (Daily Star [Beirut], December 29, 2010). Lebanese radio reported that the killers had been identified and were part of Sahmarani's "inner circle" (Voice of Lebanon Radio, December 27, 2010).
Jund al-Sham has had frequent clashes with the secular Palestinian Fatah movement led by Palestinian president Mahmud Abbas (a.k.a. Abu Mazin) (al-Hayat, March 24, 2008). Fatah security official Mahmud Abd al-Hamid Isa "al-Lino" in particular has been in the forefront of efforts to rein in Jund al-Sham extremists, who have frequently endangered relations between the Palestinians and Lebanese authorities. Al-Lino is a senior commander in Fatah's Palestinian Armed Struggle (PAS), which serves as a civil police force in the Palestinian camps. The camps are administered by Palestinian authorities rather than the Lebanese government under the terms of a treaty. Recently the Islamist factions have been cooperating with the PAS to restore order and security to the Palestinian camps, leaving little room for extremists like Sahmarani. Even other armed Islamist groups such as Usbat al-Ansar have participated in campaigns to disarm and dismantle the Jund al-Sham organization. Under pressure from all sides, many Jund al-Sham militants have fled to Europe, joined the jihad in Iraq, or returned to the ranks of Usbat al-Ansar.
Fatah's al-Lino issued a prompt denial of Fatah involvement in the killing of Sahmarani, describing it as "an incident shrouded in mystery" (Daily Star [Beirut], December 29, 2010).  Though an Ayn al-Hilweh shop owned by a PAS major was bombed shortly after the discovery of Sahmarani's body, authorities were reluctant to make any connection between the two events. Authorities are likely correct in this; considering the circumstances and method of Sahmarani's murder, his near complete isolation, the general desire, even among Islamists, for security and the unsupportable nature of the allegations against Sahmarani, retaliation for his death would definitely be inadvisable for his few remaining supporters. His followers (if any indeed still exist) might be more likely to seek the services of human smugglers to emigrate to Europe, a path frequently taken by other Ayn al-Hilweh militants who have found themselves under pressure in the close confines of the camp. The new but largely powerless Jund al-Sham leadership will be under close scrutiny from Palestinian security forces, Lebanese intelligence and even their fellow Islamists in Ayn al-Hilweh.
This article first appeared in the January 6, 2011 issue of the Jamestown Foundation's Terrorism Monitor