Andrew McGregor
January 6, 2011
A New Year's Eve bombing within the confines of a Nigerian military base in the capital city of Abuja has damaged Nigeria's political stability, as various politicians and civil leaders seek to implicate each other as responsible for the unclaimed blast. The bombing, which killed four civilians (including a pregnant woman) and wounded 26, was the second terrorist attack in the nation's capital since October.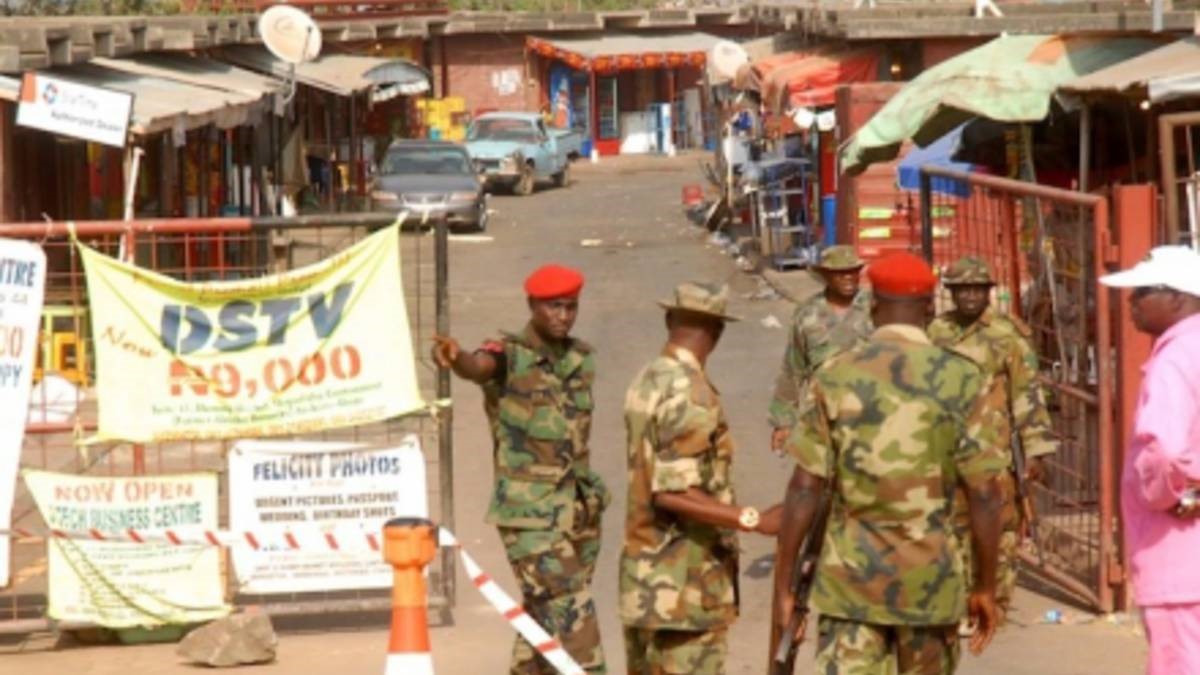 The "Mammy Market" at the Mogadishu Cantonment, Abuja
(Sahara Reporters)
The attack targeted an open-air bar and restaurant at a so-called "Mammy Market," a civilian-run market attached to Abuja's "Mogadishu Cantonment" military base providing shopping and recreational opportunities. The explosion culminated a week of violence in Nigeria that began with a series of bombings on Christmas Eve in the Plateau State city of Jos, a common site for sectarian violence in recent years between the Muslim and Christian communities. Eighty people were killed in the Jos bombings and subsequent retaliatory attacks. This was followed by a bombing at a rally of the ruling People's Democratic Party (PDP) in Yenogoa in Bayelsa State and murders and church burnings in Maiduguri in Borno State (Next [Lagos], January 4; Vanguard [Lagos], January 3; Daily Trust [Lagos], December 30, 2010).
On January 3 the government of President Goodluck Jonathan responded to the violence by holding an emergency closed-door meeting of the nation's top security officials. Following the meeting, spokesmen announced a number of measures to be taken, including:
The appointment of a special presidential advisor on terrorism.
The installation of new closed-circuit television (CCTV) cameras in sensitive areas of Abuja, though existing CCTV installations proved of little use in the latest attack.
New regulations regarding access to public and private establishments.
The creation of a presidential committee on the control of explosives and incendiary materials
The creation of a presidential committee on public enlightenment regarding security measures.
A presidential spokesman indicated that police had been "directed to ensure the prompt arrest and prosecution of political thugs" (Next [Abuja], January 4). Jonathan's government has invited American FBI agents and members of Israel's MOSSAD intelligence organization to help investigate the Abuja bombing (Vanguard, January 3; Abuja Leadership, January 3).
The Movement for the Emancipation of Niger Delta (MEND), which claimed responsibility for a pair of car bombings in the capital last October, issued a statement through spokesman Jomo Gbomo denying any involvement in the attack at the Mogadishu Cantonment: "Bombings and attacks carried out by MEND are always preceded by a warning in order to prevent casualties and followed by a statement of claim… [MEND] condemns the deliberate targeting of civilians by any persons or groups for what so ever reasons" (AFP, January 2; Vanguard, January 2).
PDP primaries next week will be followed by what is expected to be hotly contested presidential, gubernatorial and parliamentary elections in April. With the political direction of the country in the balance, few seem able to resist the temptation to link political opponents to the ongoing violence.
The campaign organization of Jonathan's main challenger for the PDP presidential nomination for upcoming elections in April, former vice-president Atiku Abubakar, denounced what it described as efforts by the president's paid agents to link Abubakar with the Abuja bombing: "In a moment of national crisis, President Goodluck Jonathan must demonstrate sobriety and cool-headed posture rather than losing his head to impetuous emotions… The President should allow security services to carry out intensive investigations instead of using the incident to frame up political opponents whom he perceives as stumbling blocks to his ambition" (Next, January 4).
Former military ruler of Nigeria General Ibrahim Babangida (1985-1993) has also complained of government attempts to tie him to the Abuja bombing, describing it as "sheer blackmail": "It exposes the weakness in the system if private persons and former leaders who are enjoying their retirement are being linked to acts of terrorism or bombings. We all should agree that there is failure in governance rather than passing the buck, or finding very idiotic and flimsy reasons to label some distinguished persons as being responsible for such failures" (Vanguard, January 3; Daily Sun [Lagos], January 3). Various NGOs, as well as religious and labor leaders have alleged that the Abuja bombing is part of an attempt to create a state of emergency leading to the military's return to power (Nigerian Compass [Lagos], January 4; Daily Trust, January 3).
The Sultan of Sokoto, Alhaji Sa'ad Muhammadu Abubakar, made an unfavorable comparison between the current state of security and that which existed under military rule. "We should blame the political class for getting us to this stage because it was not like this before," Abubakar claimed (Daily Trust, December 30, 2010).
Nigeria's intelligence services have come under strong public criticism for repeated failures to anticipate eruptions of sectarian violence in northern and central Nigeria. Army Chief-of-Staff Lieutenant General Azubuike Ihejirike acknowledged the failure, saying there is a need to "enhance intelligence operations" (Daily Trust, December 30, 2010). Meanwhile, Defense Minister Prince Adetokunbo Kayode promised the investigation would continue, saying, "The perpetrators are here, they are not from the moon and we will get them" (Vanguard, January 2).
This article first appeared in the January 6, 2011 issue of the Jamestown Foundation's Terrorism Monitor