Andrew McGregor
February 17, 2011
Following the lead of demonstrators in Egypt and Tunisia, hundreds of Somali youth took to the streets of South Mogadishu on February 13 to denounce both the Transitional Federal Government (TFG) of President Shaykh Sharif Shaykh Ahmad and the Islamist militant movement al-Shabaab, their opponent in the struggle for Somalia's capital.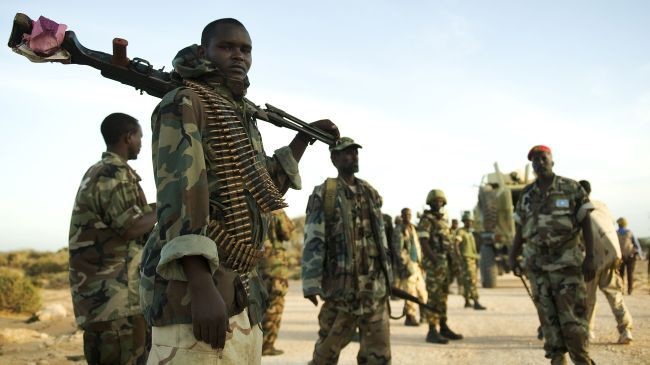 TFG Troops near Mogadishu (Press TV)
Under the watchful eye of African Union peacekeepers, the protestors waved Somali flags, chanted slogans expressing their unwillingness to be recruited by either al-Shabaab or the TFG and vowed to continue daily demonstrations "until we achieve our anti-war goals" (Daily Nation [Nairobi], February 14; Shabelle Media Network, February 13). TFG security forces tried to abort the demonstration by arresting seven organizers a day earlier, but the march occurred as planned.
Mogadishu civilians suffered greater losses in the battle for the city than either of the contesting groups of gunmen. The protest did not appear to have any effect on the warring parties; more than nine civilians were reported killed and 35 injured the next day in the deadly daily crossfire in Mogadishu.  There are reports that leaflets condemning both the TFG and al-Shabaab have begun appearing in parts of the city (Radio Gaalkacyo, February 13).
Perhaps confusing a pro-government demonstration for another anti-TFG/al-Shabaab march, a pickup truck full of TFG troops wheeled up to a pro-TFG rally the following day (February 15) and opened fire on a crowd of hundreds of people carrying pro-government banners, killing four and wounding at least 17 more. The rally had been organized by the Banaadir regional administration and the mayor of Mogadishu, Muhammad Ahmad Tarsan (Mareeg.com, February 15; Somaliweyn, February 15).
The TFG's mandate is set to expire in August without having established its writ over any area larger than a few neighborhoods of Mogadishu, but the Somali parliament has taken a unilateral decision (without consultation of its international partners and supporters) to extend the government's mandate for another three years (Mareeg.com, February 12).
A press release from the Somali Affairs Desk of the U.S. Embassy in Nairobi said parliament's decision to "ignore the African Union's request for wide consultation and instead to unilaterally extend its term beyond the end of the transition period is a disservice to the people of Somalia and a setback to the establishment of legitimate and effective government… It serves only to further undermine the credibility of the Parliament and risks strengthening al-Shabaab (Somaliweyn, February 4; CNN, February 5). [1]
Al-Shabaab is also seeking to exploit the spirit of recent demonstrations elsewhere in the Islamic world. An al-Shabaab leader, Shaykh Jama Abdusalam, appealed on local radio for Somalis "to carry out Egyptian and Tunisian style uprisings in Somalia… It is good to take up such revolution against all governments that serve the interests of Western countries. We have to follow Muslims who are fighting for their dignity and religion in Tunisia and Egypt" (Alfurqaan Radio, February 14; Daily Nation, February 14). So far, no pro-al-Shabaab demonstrations have been reported in areas controlled by the movement, where most residents are trying to cope with a massive drought and an al-Shabaab ban on international relief efforts.
Note
1. Matt Goshko, Public Affairs Officer, Somali Affairs Unit, U.S. Embassy, Nairobi – Press Release, February 4, 2011.
This article first appeared in the February 17, 2011 issue of the Jamestown Foundation's Terrorism Monitor