Andrew McGregor
November 8, 2007
Confusion continues to surround the case of eight foreign nationals and 15 Yemenis arrested in Yemen in October in relation to an alleged al-Qaeda plot to smuggle small-arms to Islamists in Somalia. The accused include three Australians, a Dane, a Briton, a Somali and an unidentified European. An eighth suspect, a German, was released on November 5. Although the detainees were arrested three weeks ago, charges have yet to be filed.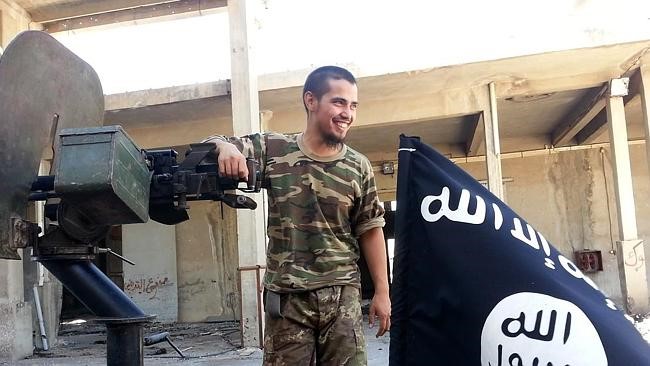 Muhammad Ayub in Syria in 2014 after joining the Islamic State (News Ltd.)
According to Yemeni security forces, the suspects were identified as al-Qaeda members (Saba News, November 1). Early reports claiming that all eight foreign suspects, including the Australians, were studying at Sheikh Abdul-Majid al-Zindani's al-Iman University appear to be false. Sheikh al-Zindani is a controversial figure, a radical Islamist closely tied to the Yemen government, but wanted by the United States for terrorism offenses. Al-Zindani denies any connection to the arrested suspects (NewsYemen, October 31). The suspects were also said to be close to a Somali al-Qaeda operative known as al-Ansar and to Imam Anwar al-'Awlaki (Abu Atiq), a lecturer at al-Iman University and a suspected al-Qaeda member who was arrested several weeks earlier.
The most prominent of the detainees are Muhammad and Abdullah Ayub, the Australian-born sons of Abdul Rahim Ayub, former co-leader with his twin brother Abdul Rahman of the Mantiqi 4 cell of Jamaah Islamiya, an Indonesian terrorist group tied to al-Qaeda. Abdul Rahim fled Australia for Jakarta days after the 2002 bombing in Bali. Their mother is Rabiah Hutchinson, an Australian who converted to Islam in 1984 when she married Abdul Rahim Ayub. Hutchinson was a frequent visitor to Afghanistan, Iraq and Iran before her passport was revoked at the urging of the Australian Security and Intelligence Organization (ASIO). She divorced Abdul Rahim Ayub in the mid-1990s and is reported to have been briefly married to Abu al-Walid al-Masri, a leading al-Qaeda member in Afghanistan. Hutchinson claims to have sent her two sons to study Islam in Yemen three years ago. Their sister Ramah is married to Khalid Cheikho, who is currently charged with conspiracy in a planned terrorist operation in Sydney.
The third Australian is Polish-born Marat Sumolsky (Abdul Malik), a 35-year old convert to Islam who took his wife and child to Yemen two years ago. Yemeni authorities suggest that Sumolsky may be released soon (Yemen Observer, November 4). All of the Australian suspects appear to have been subjects of interest for the ASIO, though Australian Foreign Minister Alexander Downer denies any government involvement in the arrests (Yemen Times, November 1). The Australian consul was not given access to the prisoners until November 4. Australian officials have been assured that the prisoners will not be transferred to Guantanamo Bay. The Danish suspect is Kenneth Sorensen (Abu Zakaria), a 24-year old convert to Islam who moved to Yemen with his wife and child.
The Australians moved to an apartment building in the Yemeni capital of Sanaa close to al-Zindani's university. The Danish and British suspects also lived there and were already under U.S. and British surveillance as possible terrorists. The group became targets of an investigation that was unexpectedly disrupted by raids conducted by Yemeni security forces on October 17. According to one account, the sudden arrests infuriated American and British intelligence services (The Australian, November 4). Australian police firmly denied media accounts that the Australian detainees were tied to a plot to bomb a railway station in Sydney. The suspects in this case include another Australian convert to Islam, 26-year old Jill Courtney (The Age, November 2).
The arrests come at a time when the foreign minister of Somalia's faltering transitional government, Ismael Mohamoud Hurreh, claims that al-Qaeda operatives from Yemen, Saudi Arabia, Pakistan, Eritrea and Chechnya are pouring into Somalia to fight on behalf of the Islamic Courts Union (The Independent, November 3).
This article was first published in the November 8, 2007 issue of the Jamestown Foundation's Terrorism Focus