Andrew McGregor
February 4, 2010
Somalia's Hizb al-Islam movement appears to have lost a significant portion of its fighting strength to its Islamist rival, al-Shabaab.  A senior Shabaab leader, Shaykh Fu'ad Muhammad Khalaf, used a February 1 news conference in Baidoa to announce that the Ras Kamboni Brigade had left Hizb al-Islam to join the mujahideen of al-Shabaab (al-Qimmah, February 1). A declaration signed by the leaders of both movements outlined the groups' shared objectives, which include the establishment of an Islamic government, support for Muslims in the Horn of Africa who are living under the rule of "enemy Christians", and a determination to "combine the jihad of the Horn of Africa with the international jihad."  Ras Kamboni will now operate under the name al-Shabaab (Shabelle Media Network, February 1).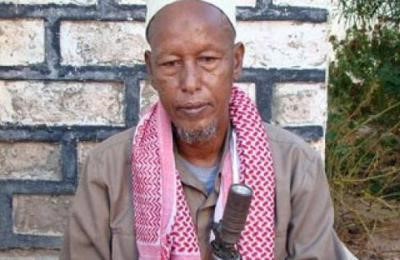 Hassan Abdullah Hirsi al-Turki
Mu'askar (Camp) Ras Kamboni was one of four Islamist militias that gathered together under the Hizb al-Islam umbrella in January, 2009 to oppose the government of Shaykh Sharif Shaykh Ahmad. Ras Kamboni has previously cooperated with al-Shabaab, most notably in the expulsion of the Transitional Federal Government (TFG) from the southern port of Kismayo in 2006. The movement is based in south Somalia and is currently led by Shaykh Hassan Abdullah Hirsi al-Turki, a controversial Islamist warlord and political figure who is well known for his shifting loyalties. Al-Turki provided reinforcements to al-Shabaab when the movement took heavy losses in the summer of 2008. The warlord was defeated in fighting by al-Shabaab in southern Somalia last fall, but unlike other Hizb al-Islam leaders he was unable to flee into ethnic-Somali north Kenya as he is wanted there for his alleged involvement in the 1998 Nairobi embassy bombing (Shabelle Media Network, February 2).
The Ras Kamboni militia has joined al-Shabaab just as the movement made a declaration of allegiance to Osama bin Laden and al-Qaeda. Shaykh Fu'ad Muhammad Khalaf announced that the unification agreement was just the first step in dismantling the Hizb al-Islam Islamist coalition, saying, "We intend to invite other groups in Hizb al-Islam and make our war a global jihad" (Garowe Online, February 2).
Hizb al-Islam commander Shaykh Ahmad Madobe said al-Turki was already "long suspended from Ras Kamboni" and was an ailing man who was "not capable of carrying out any duties" (Shabelle Media Network, February 2). Backed by a number of Ras Kamboni commanders, the leader of Hizb al-Islam, Shaykh Hassan Dahir Aweys, questioned the reality and significance of the Baidoa agreement; "Shaykh Turki has joined al-Shabaab, but that does not mean Ras Kamboni has indeed joined our brothers in al-Shabaab" (Garowe Online, February 2).
This article first appeared in the February 4, 2010 issue of the Jamestown Foundation's Terrorism Monitor