Andrew McGregor
April 2, 2010
Following an earlier campaign of grave desecrations and exhumations in southern Somalia, al-Shabaab militants have now turned their attention to the graves of respected Islamic scholars and Sufi leaders in Mogadishu. Heavily armed detachments of Shabaab fighters have been arriving at various cemeteries in Mogadishu to destroy shrines and graves with hammers and hoes while chanting "Allahu Akbar (God is great)," often in full sight of the local religious communities. The Shabaab official in charge of the destruction, Shaykh Sa'id Karatay, said the operations would continue "until we eradicate the culture of worshiping graves" (AFP, March 26). Salafists such as those found in the ranks of al-Shabaab oppose the practice of visiting the tombs of the revered leaders and founders of Somalia's Sufi orders.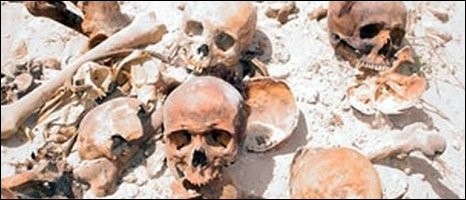 Scattered Remains of Sufi Saints after disinterment by al-Shabaab (BBC)
Al-Shabaab's pursuit of a self-destructive policy like grave desecration is yet another example of the movement's short-sightedness and adherence to a rigid Salafist interpretation of religion that seems to continually distract the movement from its stated intention of establishing a Shari'a state in Somalia. It was al-Shabaab's attacks on Sufi shrines and graves in southern Somalia in 2008 that led to the mobilization of a large Sufi militia devoted to the destruction of al-Shabaab. Known as Ahl al-Sunna wa'l-Jama'a (ASJ), this militia has drawn on the nation's large Sufi community to build a formidable fighting force that the beleaguered Transitional Federal Government has come to rely on for its own survival. The ASJ has leveraged this reliance into a formal entry into the TFG, negotiating a deal that calls for five ministries in the TFG, a number of diplomatic posts and deputy commanders in the army, police and intelligence departments (al-Sharq al-Aswat, February 24). The negotiations were hosted by the Ethiopian government in Addis Ababa.
Al-Shabaab began its campaign with the destruction of the tomb of Shaykh Muhyidin Eli on the northern outskirts of Mogadishu. Shabaab commander Shaykh Ali Muhammad Husayn (a.k.a. Abu Jamal, the Shabaab "governor" of Banaadir region) told reporters, "We have carried out a holy operation to destroy tombs used as worshipping symbols. We aim to get rid of the barbaric and non-Islamic culture in the country (AFP, March 23). Eyewitnesses said Shaykh Muhyidin's remains were removed from the grave and stuffed into sacks (Raxanreeb.com, March 24). Shaykh Sa'id's forces then excavated a series of graves close to Mogadishu's Bakara market, including the tombs of Ma'allin ("Teacher") Biyamalow, his wife and his small child (Andalusnews, March 25). According to Shaykh Ali Muhammad Husayn, "Allah forgives sins but He does not forgive polytheism. Therefore, the mujahidin always stand to fight anything that goes against the Shari'a… If a man does good deeds, he will reap rewards. However, it is polytheism to worship him besides Allah just because he is a good man" (Andalusnews.com, March 24).
Reaction to the exhumations was swift. Elders of the Mudulood clan in Banaadir region have announced they will lead a rising against al-Shabaab to expel them from north Mogadishu (Jowhar, March 23). Shaykh Bashir Ahmad Salad, chairman of the Organization for Somali Religious Scholars, described the exhumations as un-Islamic and a "violation of the rights of a deceased person" (Dayniile, March 27). The ASJ has reported that its scholars in Nairobi are raising their supporters to travel to Mogadishu to fight al-Shabaab and are also recruiting forces in Mogadishu to take revenge on al-Shabaab (Shabelle Media Network, March 26).
Shaykh Sa'id Karatay has expanded al-Shabaab's war on the dead, ordering his men to search out and destroy all graves from the colonial period, graves with crosses and graves with foreign names. Special targets are graves bearing Ugandan, Tanzanian and Kenyan names; the Shaykh describes these as the graves of the forefathers of the Ugandan dominated African Union peacekeeping mission in Somalia (AMISOM), which is involved in heavy fighting against al-Shabaab. "These people had previously come to attack the country and the dates they died here are also marked on the graves. Clearly, this is not the first time that Africans have come to attack us. The forefathers of these African forces raining down mortars on us are buried here, right here" (Universal TV [Somali], March 23).
The latest round of desecrations is being used as a rallying point for the Sufi militia; according to ASJ spokesman Abdikadir Muhammad Somow, "Every believer, every Somali, anyone interested in the dignity of our country and that of Islam should now stand up to [al-Shabaab] and let this be the last of their transgressions. It should give us the will and determination to once and for all oust them out of our country" (Universal TV, March 23). General Muhammad Nur Galal has joined the ASJ as a military advisor in central Somalia as the movement prepares to drive al-Shabaab out of Galgadud and Hiraan provinces (Warsheekh.com, March 23). The Soviet-trained General Galal, a member of the influential Hawiye/Habr Gadir/Ayr clan, was one of the planners of Somalia's 1977 invasion of Ethiopia's Ogaden region.
ASJ leader Shaykh Umar Muhammad Farah believes al-Shabaab's campaign is in retaliation for ASJ joining the TFG:
The excavation of the remains of prominent religious scholars that took part in spreading of Islam in the last centuries is quite disappointing. For them to treat fellow Muslims the way they did is abhorrent. We see this as a reaction to the recent agreement between Ahlu Sunna wa'l-Jama'a and the Transitional Federal Government of Somalia in Addis Ababa.
Many Somalis have observed the TFG's silence on the tomb demolitions and its failure to send security forces to intervene (Dayniile, March 25).  It is known that President Shaykh Sharif Shaykh Ahmad dislikes the Sufi community and has not hesitated to insult it in the past even though his government would probably collapse without its support. The President and many of his supporters were once allied with the leaders of al-Shabaab and they share many views on the application of Islam in Somalia.
This article first appeared in the April 2, 2010 issue of the Jamestown Foundation's Terrorism Monitor