Andrew McGregor
December 12, 2008
The Media Department of the Jamiat-ul-Mojahedin Bangladesh (JMB) has sent a package of threats and propaganda materials to Dhaka newspapers and Bangladeshi politicians by fax and registered mail.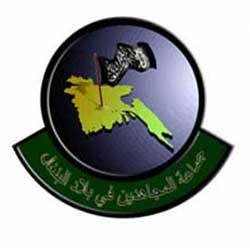 Jamiat-ul-Mojahedin Bangladesh Logo
Together with threats of a bombing campaign during the December 29 parliamentary elections (the first since the military enforced emergency rule in 2007), the JMB sent CDs containing video footage of JMB leaders, including footage of their arrests and court appearances following the nearly simultaneous explosion of roughly 400 bombs nationwide on August 17, 2005. JMB leaders also urge jihad against the Bangladeshi secular judicial system, condemn the media and describe democracy as "a system of evil." Bangladesh's judicial system is a frequent target of the JMB, which regards it as a colonial holdover in need of being replaced by Islamic law. The CDs featured a statement by the movement's late leader, Shaykh Abdur Rahman, who was executed for his role in the murder of two judges, and a Bengali translation of a statement by Osama bin Laden (Prothom Alo [Dhaka], December 3; New Nation [Dhaka], December 5). The movement is expected to seek revenge for the execution of Shaykh Abdur Rahman and five other top JMB leaders in March 2007. During emergency rule the JMB is believed to have regrouped and actually expanded its membership.
The JMB has the capability of following up on its threats. Recent seizures of JMB arms caches have revealed the group has developed the ability to manufacture sophisticated explosive devices made entirely from locally available materials (Indo-Asian News Service, November 18; Daily Star [Dhaka], November 18). The JMB's explosives expert, "Boma" Mizan, was recently sentenced to 20 years in prison (bdnews24.com, November 25; Daily Star, November 26).
Bangladesh's Rapid Action Battalion (RAB), an elite counterterrorist unit, is currently engaged in operations against the JMB in northern Bangladesh designed to capture the group's current Amir, Saidur Rahman (New Nation, December 5). Human rights organizations have accused RAB of torture, the death of innocent civilians and arbitrary violence. RAB is drawn from members of the nation's army, air force, navy and police.
This article first appeared in the December 12, 2008 issue of the Jamestown Foundation's Terrorism Focus