Andrew McGregor
September 17, 2009
In the depths of Tripoli's notorious Abu Salim prison, imprisoned leaders of the Libyan Islamic Fighting Group (al-Jama'a al-Islamiya al-Muqatila bi-Libya – LIFG) are ready to release a lengthy refutation of the extreme approach to the Islamic concept of jihad that put them behind bars. Their work, entitled Revisionist Studies of the Concepts of Jihad, Hisbah and Takfir, is expected to be published later this month after being reviewed by a number of leading Islamic scholars.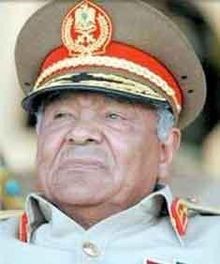 Libyan Defense Minister Abu Bakr Yunus Jabir
The LIFG leaders already issued a public apology to President Muammar Qadhafi on September 1st, the 40th anniversary of the Libyan revolution that brought Colonel Qadhafi to power.
With the publication of the Revisions, Libya is expected to release 50 LIFG prisoners, with the rest expected to follow soon after. These former militants may be among the last to be kept at Abu Salim, home to a quiet massacre in 1996 that may have taken the lives of as many as 1,200 Islamist prisoners (Libyan Jamahiriya Broadcasting Corporation, July 26, 2008). Run by Libya's Internal Security Agency rather than the Justice Department, Abu Salim has a reputation for torture and summary executions. Libyan authorities have announced their intention to demolish the prison and provide compensation to the families of the victims of the 1996 slaughter following the release of the last LIFG prisoners (Al-Sharq al-Awsat, September 10). To this end, a judge has been appointed (Muhammad Bashir al-Khaddar), together with six legal assistants.
The decision to open compensation tribunals is reported to have come from the acting Defense Minister, Major General Abu Bakr Yunus Jabir, after a Benghazi court responded to the law suits brought by family members of missing prisoners by ordering the government to disclose the fate of the missing militants (Al-Sharq al-Awsat, September 10).
Libya's experiment in rehabilitating former Islamists differs from similar experiments in Saudi Arabia and Yemen (and the mixed results obtained there) in one major way – Libya has the full institutional participation of the LIFG and its leadership in preparing a reconciliation instead of relying on the conversion of militant individuals who may remain drawn (willingly or otherwise) to their former organizations.
This article first appeared in the September 17, 2009 issue of the Jamestown Foundation's Terrorism Monitor