Andrew McGregor
September 10, 2008
In a 24-minute audio statement, Salih al-Nabhan (a.k.a. Abu Yusuf), the leader of Somalia's Shabaab al-Mujahideen movement, has confirmed the death of alleged leading al-Qaeda member Abu Talha al-Sudani (al-Sahab Media, August 31). Al-Nabhan is a Kenyan-born suspected al-Qaeda leader wanted for involvement in a Kenya hotel bombing in 2002 and an attempt to shoot down an Israeli airliner in Mombassa.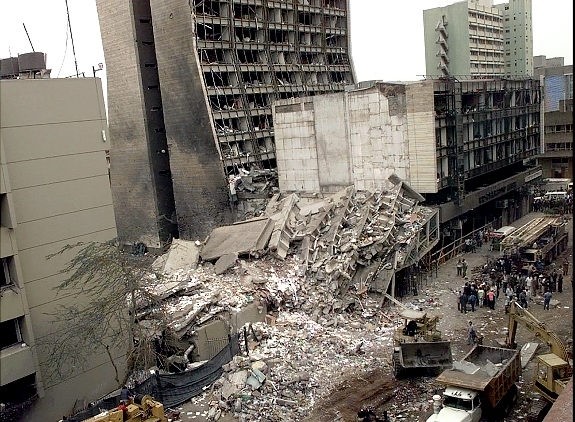 1998 US Embassy Bombing in Nairobi
Abu Talha ranked near the top of the American list of wanted terrorists since his alleged involvement in the 1998 East African embassy bombings, the 2002 bombing of an Israeli-owned hotel in Kenya, and a 2003-2004 plot to attack U.S. forces at Djibouti's Camp Lemonier. Abu Talha was a resident of Somalia since 1993 and was married to a Somali woman. He is alleged to have played a major part in arranging financing for al-Qaeda operations in East Africa.
Al-Nabhan confirmed the death of Abu Talha al-Sudani but provided few details: "A leader was martyred while he was leading one of the battalions of the mujahideen more than one year ago: Abu Talha al-Sudani, the leader of the mujahideen in Somalia. This is the first time that we have made this public." Though no official claim for his death was made by American officials, Time learned last year from an anonymous Pentagon official that U.S. and Ethiopian intelligence had learned months later of his death during Ethiopian airstrikes along the Somali-Kenyan border in January 2007 (Time, November 29, 2007). Abu Talha had escaped an earlier targeted attack by U.S. AC-130 gunships (Independent, January 13, 2007).
The admission of his death came in an audiotape intended to attract African Muslims to the ranks of the Somali mujahideen, especially recruits from Kenya, Tanzania, Uganda, Chad, and Nigeria: "Here are the training camps in Somalia and elsewhere that have opened their doors so that you join them. Hence, be truthful with God, answer the call of jihad, and prefer the lasting over the perishing and the next life over the present life." The tape opened with a greeting from al-Nabhan to "the courageous commander and my honorable leader, Shaykh Osama bin Laden."
Referring to the recent death of Shabaab leader Aden Hashi Ayro in a May 1 airstrike, al-Nabhan denounces American and Ethiopian attempts to target Somali resistance leaders: "They think, may God fight them, that the martyrdom of a commander shakes the pillars of jihad. They do not know that we are longing for death; the death of the martyrs." Al-Nabhan claims the Somali mujahideen are awaiting reinforcement from Sudan and Yemen to combat the "Abyssinian [Ethiopian] rabble" occupying Somalia.
Al-Nabhan's exhortations to the Somali people bear some of the ruthless approach to jihad found in the writings of the late Palestinian jihadist Abdullah Azzam (1941-1989), the inspiration for al-Qaeda: "It is not possible that the tree of jihad becomes steady on its trunk, except by sacrificing heads and souls cheap in the path of Allah, and the edifice of glory is not constructed, except with skulls and limbs, and indeed forfeiture, humiliation and degradation is in leaving jihad and succumbing to the colonialist Crusaders or contentment with fair [i.e. negotiated] solutions."
The greeting to Bin Laden contained in the opening of the message raises new questions about Somali insurgent ties to al-Qaeda. Contrary to many reports that allege Somalia's militants are closely tied to al-Qaeda if not controlled by them, U.S. ambassador to Somalia Michael E. Ranneberger has expressed reservations about a direct line of command from the al-Qaeda leadership to the Islamist militants in Somalia: "There are indications of a fairly close Shabaab-Al Qaeda connection, though it's not clear to what extent they've been operationalized… Shabaab taking orders from Al Qaeda? I would say no. They are still running their own show" (Mareeg Online, September 2).
This article first appeared in the September 10 2008 issue of the Jamestown Foundation's Terrorism Focus