Andrew McGregor
AIS Special Report, August 8, 2017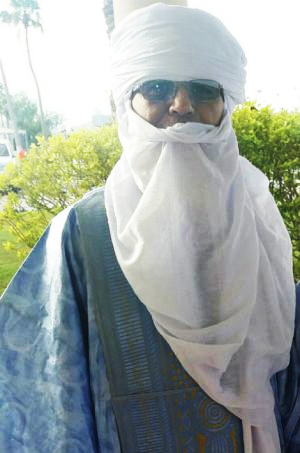 General Ali Kanna Sulayman (Paris Match)
Lieutenant General Ali Kanna Sulayman, a member of the Tuareg ethnic group, ruled the military district of southwestern Libya during the Qaddafi era. Ali Kanna was forced from Libya into exile in Niger during the Libyan Revolution, but unlike many of his Tuareg Libyan Army comrades who joined rebel movements in northern Mali, Ali Kanna kept his eyes on Libya, waiting for a chance to reinsert himself as leader of a neo-Qaddafist movement in the Fezzan region. Since his quiet return several years ago, Ali Kanna has tried to organize a multi-ethnic "Army of the Fezzan" and succeeded in reasserting his authority in Tuareg-held regions of southern Libya while attempting to rally the Tubu and Arab tribes of Fezzan in a common cause. With the recent release of many leading Qaddafists from prison, Ali Kanna stands to be a major player in the gathering neo-Qaddafist revival.
Background
In 2004, Ali Kanna was appointed commander of the newly formed Maghawir Brigade, a unit of approximately 3,000 Sahelian Tuareg (i.e. hailing from Niger and Mali rather than Libya) based in the Fezzan city of Ubari. When the 2011 revolution broke out, the brigade used deadly violence to repress protests in Tripoli and fought revolutionaries in northwestern Libya. [1]
When the unit broke up in the latter stages of the revolution, those Tuareg members who did not return to Mali or Niger formed the Tendé Brigade in the Fezzan city of Ubari. The brigade would play a major role in the severe fighting that took place there against the Tubu in 2014.
Exile
Most of the Sahelian Tuareg deserted Qaddafi as things began to look bad for the regime during the 2011 revolution. Ali Kanna fled to Niger rather than northern Mali, where the Tuareg, who had brought their arms with them, formed new rebel movements to establish the new nation of "Azawad." General Ali Sharif al-Rifi, another committed Qaddafi supporter and his last air force commander, also fled to Niger, and the two generals settled temporarily in the historic city of Agadez. Al-Rifi later moved to the Niger capital of Niamey, where he associated with Sa'adi al-Qaddafi until the latter was deported to Libya in 2014. Al-Rifi was reported to have returned to his home in the Fezzan town of Waddan in June 2017, a sign that Qaddafists now feel it is safe to return to Libya (Libya Herald, June 18, 2017).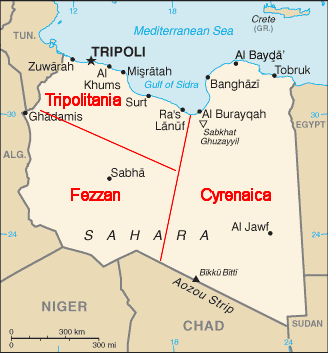 In September 2013, a group of Fezzani elders met in Ubari to declare the establishment of Fezzan as an autonomous federal province of Libya in response to the inability of authorities to provide either services or security in the region. Most of those involved were Qaddafists but the initiative went nowhere, having failed to involve local communities and institutions (al-Arabiya, September 26, 2013; Libya Herald, September 28, 2013).
Return
After his return to Fezzan, Ali Kanna initially allied himself with the Misratan Third Brigade against the forces of "Field Marshal" Khalifa Haftar, a Qaddafist general who was repudiated by Qaddafi after his defeat and capture in Chad's 1986-87 "Toyota War." Understandably bitter over his treatment, Haftar was rescued from captivity by the CIA and brought to the United States to act as an asset-in-waiting should the United States commit itself to regime change in Libya. Never deployed for this purpose, Haftar returned to Libya during the revolution seeking to establish himself as a national strongman in the Qaddafi mold, accepting aid to accomplish this from anyone willing to offer it, including Egypt, the UAE and Russia.
Ali Kanna made a bold move to reshape the political and military landscape of the Fezzan when he held a gathering of tribal and village representatives to ask the youths of every tribe to abandon their allegiances to various militias and join a new "Army of the Fezzan," warning there was "a great threat to the people of the South" (Paris Match, May 22, 2016).  The Fezzan Army would be loyal to the principles of the Jamahiriya rather than the GNA government in Tripoli or the rival HoR government in Tobruk (Middle East Eye, November 11, 2016).
Ali Kanna appeared to make progress with his concept of a Fezzan Army independent of Libya's rival governments in October 2016, when a group of southern Libyan National Army (LNA – a military coalition under the command of Khalifa Haftar) officers appointed him commander of the "Libyan Arab Armed Forces in South Libya." General Ali Kanna was explicit that his new command would remain aloof from politics and would not support any government until the achievement of national unification. LNA headquarters treated the incident as a rebellion and sent General Muhammad Ben Nayel to surround and disarm the dissident officers (Digital Journal, October 9, 2017; Libyan Express, October 10, 2017). General Ben Nayel was commander of the LNA's 12th Brigade and an important figure within the Arab Magarha tribe.
Without sufficient support for the initiative, Ali Kanna changed course and declared he would work with any national army operating under a unified national leadership (Libya Herald, April 13, 2017). Of course, the establishment of such an army is still far from sight.
There was speculation that Ali Kanna and other returning Qaddafists were seeking to carve out a new place for themselves in Libya by dedicating themselves to ridding Libya of Islamic State forces, even if this meant coming under the command of Khalifa Haftar.
The Qaddafist Revival – 2017
When Sa'if al-Islam Qaddafi was released from a Zintan prison in early June 2017 after six years imprisonment, there were reports of street celebrations in Sabha and a rumor that he had joined Ali Kanna in the Fezzan (Libya Herald, June 10, 2017). Sa'if, who was sentenced to death in 2015, is widely regarded as the most likely of Qaddafi's surviving progeny to revive Qaddafism as a political ideology in Libya. Sa'if al-Islam's release was followed by the release of 30 officers of Qaddafi's army and other Qaddafi supporters from Hadba prison in Tripoli (Libya Herald, June 11, 2017). Days later Sa'adi Qaddafi, Abu Zayid Dourda (a chief administrator in Qaddafi's government) and former intelligence chief Abdullah al-Senussi were transferred from prison to a luxury hotel in Tripoli where they were allowed to meet with supporters. Up to that point, al-Senussi, Qaddafi's top enforcer, was awaiting his execution under a death sentence issued two years ago (Libya Herald, June 13, 2017; Arab News, February 22, 2017).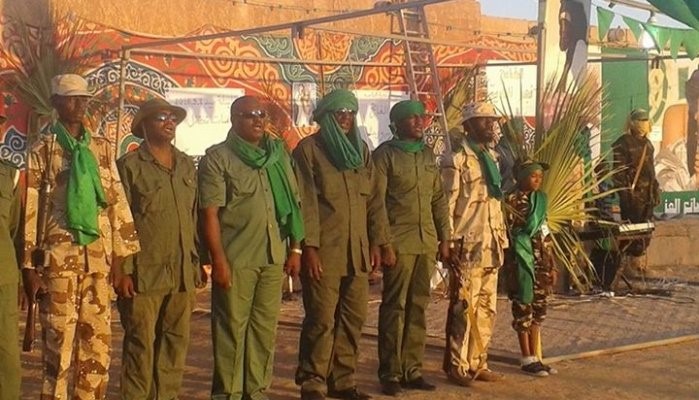 General Ali Kanna (center) at the Ghat Ceremony. The green scarves symbolize the Qaddafist Jamahiriya state.
Ali Kanna expressed his continued devotion to the Libyan Jamahiriya (the Qaddafist state) on September 1, 2016 during a ceremony in Ghat to mark the 47th anniversary of the Libyan Revolution of 1969 (Lavoixdelalibye.com, September 24, 2016).
Ali Kanna's status was evident when he attended the ceremony marking the completion of the reconciliation agreement between the Tuareg and Tubu in May 2017. The agreement was the culmination of peace efforts started after a bitter conflict between the two groups nearly destroyed the Fezzan city of Ubari in 2014. Ali Kanna was reported to have played an important role in the Doha-sponsored mediation process after his 2015 return to Libya.
In May 2017, the Misratan 13th Brigade (the former "Third Force") conducted a peaceful handover of the Sharara oil field to Ali Kanna's Tuareg militia, their former allies. Sharara was seized in 2014 by the Third Force and local Tuareg allies who forced out Tubu and Zintani militias (Libya Herald, May 25, 2017).
Under pressure from local tribal militias, the 13th Brigade then evacuated Tamenhint Air Base north of Sabha, which was quickly occupied by the LNA's 12th Brigade with support from the LNA's 116th Brigade (Libya Herald, May 25, 2017). The 13th Brigade's withdrawal was a major setback for the Misratan supporters of Libya's internationally recognized government, the Tripoli-based Government of National Accord (GNA).
Conclusion
Sa'if al-Qaddafi appears unlikely to abandon politics now that he has been released from prison, but restoring Qaddafism as an ideology in Libya will be slow and careful work. Part of these efforts will involve exploiting a relationship with Khalifa Haftar's LNA and the GNA's rival, the Tobruk-based House of Representatives (HoR) government, which has expressed a willingness to allow members of the Qaddafi regime to re-enter public life. To complete his encirclement of Tripoli and the GNA, Haftar needs support in the Fezzan, the last region to fall to the anti-Qaddafi revolutionaries in the 2011 revolution. The vast oil and natural gas reserves of the Murzuq Basin and Fezzan's al-Sharara and al-Fil oil operations are also major strategic assets of immense value to whoever controls them.
In the meantime, Ali Kanna, who is widely believed to have close ties to Algerian intelligence [2], can offer protection to Sa'if al-Qaddafi and a potential military base of veteran fighters capable of making Sa'if a political force in Fezzan to be reckoned with. Though this process remains fraught with uncertainty and a Fezzani population that is by no means solidly pro-Qaddafist, the resurgence of General Ali Kanna Sulayman will continue to go hand-in-hand with the revival of Qaddafism in post-revolution Libya.
Notes
Wolfram Lacher, "Libya's Fractious South and Regional Instability," Small Arms Survey Dispatch no.3, February 2014.
Rebecca Murray "Southern Libya Destablized: The Case of Ubari," Small Arms Survey Briefing Paper, April 2017, fn. 85.