Andrew McGregor
April 1, 2014
Much of West Africa has strong traditions of jihad in its Black communities dating back to the early 19th century Islamic kingdoms that dominated the region. Their roots in Islam go back centuries earlier. When Arab and Tuareg jihadists established control of northern Mali in 2012, it became apparent that the Arab-centric jihadist movement was failing to attract Black recruits in the numbers necessary to spread Islamist extremism in the rest of Mali and beyond. This situation was addressed by a 44-year-old Mauritanian, Hamada Ould Muhammad Kheirou (a.k.a. Abu Qum Qum). As leader of the Harakat al-Tawhid wa'l-Jihad fi Gharb Afriqiya (Movement for Unity and Jihad in West Africa – MUJWA), Ould Kheirou sought to expand the recruitment pool of the regional jihadist movement beyond its Arab core. Initially successful, Ould Kheirou briefly became one of the most powerful individuals in northern Mali.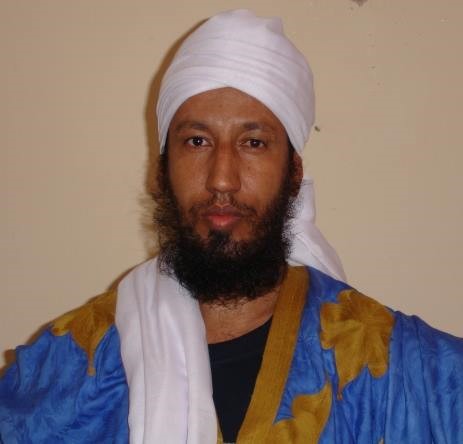 Hamada Ould Muhammad al-Kheirou (al-Akhbar)
Ould Kheirou, born in Mauritania in 1970, attended a Koranic school as a child, developing a reputation as a poet in classical Arabic (outside of religious studies, Mauritanians typically speak the Hassaniya dialect of Arabic common to northwest Africa). The Koranic student grew up at a time when Salafist interpretations of Islam were penetrating Mauritania with support and funding from Saudi Arabia.
Eventually, Ould Kheirou became a preacher, known for his provocative sermons in Nouakchott denouncing the "innovations" of traditional Islamic practices in Mauritania. There is little doubt the fiery preacher came to the attention of Mauritanian security services as former president Maaouya Ould Sid'Ahmed Taya initiated a crackdown on Salafists and other opponents of his regime in 2003. Perhaps not coincidentally, Ould Kheirou is reported to have left to join the jihad in Iraq the same year (Magharebia, December 10, 2012).
"True Islam" and al-Qaeda in the Islamic Maghreb
Back in Mauritania, Ould Kheirou was arrested in Nouakchott with two other men in 2005 for committing acts of violence against worshippers in a mosque he claimed did not engage in "true Islam" (Jeune Afrique, October 3, 2012; Sahara Media, January 12, 2012). Mauritanian Islam is dominated by two Sufi orders, the Tijaniya and Qadiriya, though Ould Kheirou has been known to even criticize other Salafists if they are unwilling to take up arms. Ould Kheirou escaped detention with two other Islamists dressed as women a few months later in April, 2006. Unconfirmed rumors suggested that Ould Kheirou fled to neighboring Senegal, but in June 2007, an in absentia judgment found Ould Kheirou not guilty on all charges.
Shortly after this, Ould Kheirou appears to have joined Mokhtar Belmokhtar's al-Mulathamin Battalion, one of the armed wings of al-Qaeda in the Islamic Maghreb (AQIM) operating in the Sahara. During this period, Ould Kheirou began developing skills as an AQIM bomb-maker, assisted by fellow Mauritanian Tiyib Ould Sidi Ali.
In 2009, Ould Kheirou and Ould Sidi Ali were arrested in Bamako for bomb-making activities after their workshop blew up and were additionally charged with sending supplies to the forces of AQIM amir Mokhtar Belmokhtar in northern Mali. His stay in prison was again short; his release the following year appears to have been part of the terms for AQIM's release of French hostage Pierre Camatte in February 2010 (al-Akhbar [Nouakchott], August 27, 2010; Jeune Afrique, October 3, 2012). By August of the same year, Ould Kheirou was making his first AQIM video, explaining al-Qaeda's objectives in the Hassaniya dialect of Arabic in a video entitled "On the Occasion of Ramadan Fighting is Ordained for You." Despite a severe approach to religion, Ould Kheirou has a reputation amongst his fellow fighters for his sense of humor and his poetry recitals, which he punctuates with gunfire (Sahara Media, January 9, 2012). His poetry, designed to appeal to the warrior caste of the Mauritanian tribes, has featured prominently in AQIM videos.
Diversifying Jihad
Despite existing differences with the AQIM leadership over the domination of the movement by Algerian commanders and problems regarding the distribution of ransoms, Ould Kheirou's creation of MUJWA in mid-2011 appears to have been less of a split within the movement than an effort at expansion through the creation of an organization with greater appeal to Black West Africans by appealing to their own traditions of jihad.
MUJWA's first video, released on December 12, 2011, displayed three European aid workers abducted from the Polisario camp in Tindouf in October 2011. A second video released in December 2011 presented the ideological basis of the group, praising the 19th century jihads of West African Islamic rulers such as Amadou Cheikou, Umar Tall and Uthman Dan Fodio in what appeared to be a break from al-Qaeda's usual Arab-centric narrative designed to entice Black Africans to join the West African jihad (AFP, December 22, 2011). Despite the new approach to recruitment, MUJWA's leadership remained almost exclusively dominated by Malian Arabs and Mauritanians. Suggestions that the creation of the new movement marked a split within AQIM were gradually dispelled by the apparent cooperation between the two movements after the "split" and MUJWA's continued focus on the Algerian targets favored by AQIM.
Despite the explicit attempts to appeal to Black Muslims, MUJWA described itself as an alliance incorporating Arabs, Tuareg, Black Africans and various muhajirin (foreign fighters). The movement accused the Tuareg of the Mouvement National pour la Libération de l'Azawad (MNLA) of racism, claiming that Blacks had no rights in the secular Tuareg independence movement. [1] However, MUJWA's sole Black African commander, Hisham Bilal, quit the movement and returned to his native Niger with his men in November 2012, complaining that the Arab commanders of MUJWA viewed Black jihadists as "cannon fodder" and believed "a black man is inferior to an Arab or a white" (AFP, November 9, 2012). For the duration of its existence, most of the leadership of MUJWA remained firmly in the hands of Lamhar Arabs from Tilemsi (Gao region of northern Mali) and various Mauritanian jihadists such as Ould Kheirou and his companions.
According to regional analyst Wolfram Lacher, MUJWA's core leadership was drawn mostly from Lamhar Arabs who were heavily involved in narcotics trafficking and kidnapping activities with support and financing from Lamhar and Songhai businessmen. [2] These origins have sparked suspicions that the movement was more about putting a political and religious face on a criminal enterprise than bringing Islamic rule to the Sahara/Sahel region (RFI, August 9, 2012).
In early January 2012, only days after Mauritania issued an international arrest warrant for his arrest, Ould Kheirou appeared in a new video to "declare war on France, which is hostile to the interests of Islam… The jihad will be exported everywhere it is necessary and for God, we must be ready for anything" (AFP, January 3, 2012). Only a year later, Ould Kheirou's movement would find itself face-to-face with French troops.
The Northern Mali Caliphate
When the MNLA and the Tuareg Islamist Ansar al-Din movement seized control of northern Mali from January to April 2012, an opportunity was presented to regional jihadists to establish an Islamist administration based on their own interpretation of Shari'a. Working in cooperation with Ansar al-Din to drive out the secular MNLA, AQIM soon found itself in control of Timbuktu Province, while Gao Province came under the control of MUJWA.
Relying on their old relationship, Ould Kheirou and Mokhtar Belmokhtar worked closely together during the Islamist occupation of northern Mali, including joint operations against the Tuareg MNLA. MUJWA's governance in Gao alternated between strict application of Shari'a and attendant hudud punishments and greater leniency when faced with protests from local residents. Ultimately, MUJWA sought to impose its will on Gao by recruiting local Songhai (the majority in Gao) to form the core of the Islamic police. Some attempt was made at providing a working administration but the movement's focus on enforcing Shari'a overshadowed these attempts.
In July 2012, al-Kheirou was added to the US Specially Designated Nationals sanctions list by the Office of Foreign Assets Control, along with his jihadi colleague, Ahmad al-Tilemsi (a.k.a. 'Abd al-Rahman Ould Amer), a Lamhar Arab from northern Mali and commander of MUJWA's Osama bin Laden katiba (battalion). [3] Al-Tilemsi's allegiance to jihad came late and may have been primarily motivated by a desire to maintain his business and drug-trafficking interests after the sudden Islamist occupation of the north.
Also in July, Ould Kheirou was falsely reported to have crossed the border to surrender to Algerian authorities in Tamanrasset (Echourouk al-Youmi [Algiers], July 8, 2012). Ould Kheirou was again reported captured, this time by the MNLA in February 2013, but the report was never confirmed (Tass, February 4, 2013).
Though MUJWA was supposedly a new movement with an independent agenda, its focus on Algerian targets in this period was virtually indistinguishable from AQIM's agenda and confirmed that the movement was more interested in using northern Mali as a launching point for jihadist attacks than running a competent Islamic administration:
March 3, 2012: MUJWA claims responsibility for a suicide car-bombing on the Algerian Gendarmerie Nationale headquarters in Tamanrasset that killed the bomber and wounded 24 people, including ten to 15 gendarmes (al-Arabiya, March 3; Echorouk [Algiers], March 3). The bomber used a Toyota 4×4 packed with explosives.
April 2012: MUJWA kidnaps seven Algerian diplomats in Gao, demanding 15 million Euros and the release of dozens of jihadists from Algerian and Mauritanian prisons (al-Watan [Algiers], May 3, 2012). One of the diplomats was executed on September 2, 2012.
June 29, 2012: A car bomber drove a Toyota 4×4 loaded with 1300 kilograms of explosives into a police station in Algeria's Ouargla Oasis, killing one policeman and injuring three. MUJWA claimed the attack, saying it was in retaliation for Algeria "pushing" the MNLA to fight the Islamist mujahideen in northern Mali (Tout sur l'Algérie [Algiers], June 30, 2012; Reuters, June 29).
Friction began to build between the various Islamist movements in northern Mali as preparations continued for a French military intervention in the region and Ansar al-Din sought to move closer to its Tuareg brethren in the MNLA to present a united front in negotiations underway in Ouagadougou. Shortly after a major battle between the MNLA and MUJWA on November 16, 2012, a leading member of Ansar al-Din's military command referred to MUJWA as the "common enemy" of both the MNLA and Ansar al-Din (Le Temps d'Algérie, November 27, 2012).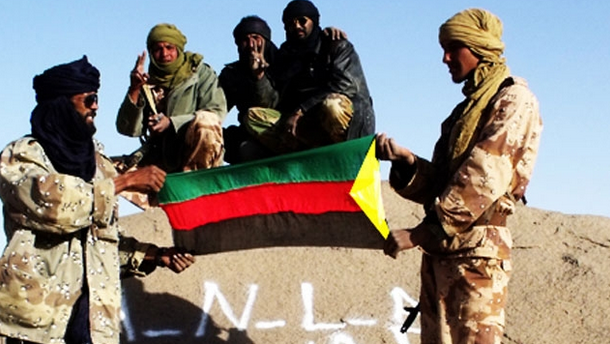 MNLA Fighters with the Azawad Flag (Maliweb)
By early January, 2013, Ansar al-Din was engaged in a broad effort to unite the various Islamist movements active in northern Mali under its own "native" leadership. MUJWA lost its Salah al-Din katiba when its commander, Sultan Ould Badi (a.k.a. Abu 'Ali, a.k.a Abzou Aïcha), took his fighters over to Ansar al-Din (Sahara Media, January 2, 2013). Ould Badi, another Lamhar Arab, was a former smuggler and member of AQIM before becoming a founding member of MUJWA (Echourouk al-Youmi [Algiers], September 2, 2012). His departure appeared to be part of an exodus of members after the group received a UN terrorist designation.
Merger with Mokhtar Belmokhtar
The French-led military intervention in northern Mali that arrived in January 2013 ran into little opposition from MUJWA as the movement and their fellow Islamists returned home, melted into the local population or fled to hidden bases in the rugged Adrar des Ifoghas region of northeastern Mali. On February 21, 2013, the UN Security Council added Ahmad al-Tilemsi and Ould Kheirou to its al-Qaeda sanctions list. Both were listed as MUJWA leaders. [4]
However, Ould Kheirou's partnership with Mokhtar Belmokhtar had not come to an end. The two were identified as co-planners of the May 23, 2013 dual suicide bombings in Niger against a military post in Agadez and the French uranium mining facility in Arlit (RFI, May 30, 2013). The partnership was formalized in August 2013, when a statement announced the merger of MUJWA with Mokhtar Belmokhtar's al-Mulathamin Brigade "to achieve the unity of Muslims from the Nile to the Atlantic as part of a single project to face the Zionist campaign against Islam and Muslims." The statement announcing the creation of a new post-merger movement called al-Murabitun went on to threaten French interests across the world while confirming the precedence of Osama bin Laden's methods and ideals. The movement also swore allegiance to Taliban leader Mullah Omar and al-Qaeda chieftain Dr. Ayman al-Zawahiri (Agence Nouakchott d'Information, August 22, 2013). The place of Ould Kheirou in this new structure is unclear – Belmokhtar himself has pledged not to lead the group in order to make room for "a new generation" of Islamist militants, possibly including Ould Kheirou.
AIS Update 2022 – What Happened to the MUJWA Leadership?
Ahmad al-Tilemsi – The jihadist commander was killed by French forces on December 11, 2014.
Sultan Ould Badi – After 2017, Ould Badi joined the Islamic State movement. He surrendered to Algerian authorities on August 11, 2018 to take advantage of an ongoing amnesty for former jihadists.
Hamada Ould al-Kheirou – The MUJWA leader appeared to have joined the Islamic State in 2014, but disappeared from public view shortly after. One report suggests he was killed in an airstrike in Libya in July, 2017.
Notes
Statement from the Majlis Shura al-Mujahideen, Gao, November 23, 2012
Wolfram Lacher, "Organized Crime and Conflict in the Sahel-Sahara Region," Carnegie Endowment for International Peace, September 13, 2012, http://carnegieendowment.org/2012/09/13/organized-crime-and-conflict-in-sahel-sahara-region/dtjm
UN Security Council, "Security Council Al-Qaida Sanctions Committee Adds Two Individuals to its List," February 21, 2013, http://www.un.org/News/Press/docs/2013/sc10923.doc.htm