Andrew McGregor
February 6, 2009

Battle wagons belonging to Ahlu Sunnah wa'l-Jama'a, a Somali Sufi-oriented religious group, burst into the town of Dhusa Mareb (headquarters of the Galgudud region of Central Somalia) on January 29, 2009, driving out a large force of fighters from the Salafist al-Shabaab movement (Shabelle Media Network, January 29). Al-Shabaab returned at night to lob mortar shells at the town's hospital and residential districts, provoking a major outcry at the group's tactics (Shabelle Media Network, January 30).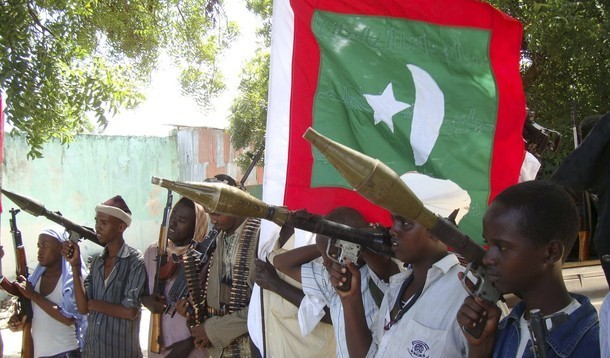 Ahlu Sunnah wa'l-Jama'a Militia (Horseed Media)
In Somalia, al-Shabaab has recently engaged in the destruction of tombs belonging to venerated Sufi "saints." In early December 2008, al-Shabaab destroyed the tombs of several Sufi shaykhs in Kismayo, together with an unused Roman Catholic church. An al-Shabaab spokesman, Shaykh Hassan Yakub, declared, "We destroyed graves where people used to worship dead people" (Garowe Online, December 9, 2008). On December 26, al-Shabaab members (reportedly including a number of foreign fighters) repeated this act in the Jilib district of Middle Juba region, where they demolished the tombs of Shaykh Nur Hussein and his two sons: "We believe people were worshiping the dead… so we destroyed the graves" (Garowe Online, December 26, 2008).
In Sufi-dominated Islamic societies like Somalia it is customary for the graves or tombs of noted Sufi shaykhs to become shrines and even places of pilgrimage for members of the Sufi orders. Salafists like those in the leadership of al-Shabaab condemn this practice as un-Islamic. Since the Salafist followers of Saudi religious reformer Muhammad ibn Abd al-Wahhab vandalized the tomb of the Prophet Muhammad in Medina and destroyed the tomb of his daughter Fatimah in 1803-04, the spread of Salafism in the Muslim world has often been accompanied by similar acts of desecration.
By pursuing the demolition of sacred sites, al-Shabaab has succeeded in alienating a large number of Somali Islamists who continue to practice Sufism rather than follow the Salafist trend of al-Shabaab. The militants' efforts were roundly denounced by Shaykh Abdulkadir Somow, a spokesman for Ahlu Sunnah wa'l-Jama'a, and within days the Sufi movement mobilized a group of fighters and joined battle against al-Shabaab just as the latter was on the verge of finalizing their conquest of the country (Garowe Online, December 7, 2008).
A spokesman for Ahlu Sunnah wa'l-Jama'a claimed that the group had killed over 50 al-Shabaab fighters and seized a large quantity of military equipment in the fight for Dhusa Mareb. Dozens of young al-Shabaab fighters had been captured: "We are holding over 50 very young youths who have clearly been misguided. We are going to de-brainwash them, cultivate them in Islam. We advise Somali parents whose son is missing to contact us" (Mareeg.com, January 31). The religious organization is battling al-Shabaab in the nearby Guri-El district of Galgudud and has also taken the town of Abudwaq (Somaliweyn, January 29. Mareeg.com, January 10).
This article first appeared in the February 6, 2009 issue of the Jamestown Foundation's Terrorism Focus