Andrew McGregor
Aberfoyle International Security Special Report – February 15, 2013
As the long-promised ECOWAS/African Union intervention force cools its hells behind the lines in Mali, experienced desert fighters from Chad and Niger have stepped into the breach, operating side-by-side with the French in retaking northern Mali from the Islamists and now mounting search operations for Islamists hiding in the sun-baked mountains of Kidal region. With a total contribution of nearly 2,500 men (2,000 from Chad), the contingents from Chad and Niger provide a significant boost to combat capability of the French force of 4,000 troops. Back in Bamako, the African-led International Support Mission to Mali (AFISMA) continues to be assembled piecemeal from troops arriving from seven West African countries.
Some 1800 Chadian troops have been joined in in the northern city of Kidal by several hundred soldiers from neighboring Niger who have been attached to the Chadian group since it passed through Niger to enter northern Mali from the south. These troops are now carrying out search-and-destroy operations to eliminate armed Islamists thought to be hiding in the caves of the Adar des Ifoghas mountains of north-eastern Mali. The Chadians are guided by local Tuareg belonging to al-Hajj ag-Gamou's pro-government militia or the separatist Mouvement National de Libération de l'Azawad (MNLA), the group that began the civil war in Mali over a year ago but was displaced by their former Tuareg Islamist allies in Ansar al-Din. Air support is provided by France, which has carried out scores of bombing runs in the region. So far, however, there seem to have been few contacts of any significance with Islamists in the region, many of whom may have already slipped across the international borders into Mauritania, Algeria, Libya or Niger. French reports describe their targets in the mountains as "mostly logistical depots and training centers" (AFP, February 5). The military intelligence chief of the Chadian deployment, Lieutenant Colonel Ibrahim Idriss, has identified the Chadian advantage in pursuing the Islamists: "We are Muslims like them, so we understand their ideology and we don't fear them" (McClatchy Newspapers, February 8).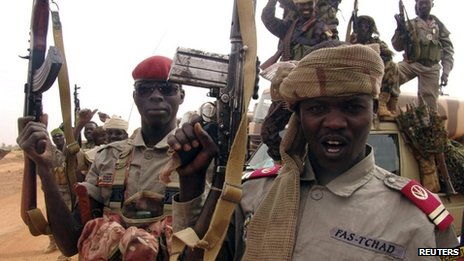 Chadian Troops in Mali (Reuters)
The Chadians spent several days in Menaka before heading north to Kidal. On the evening of February 8, Chadian and French forces entered the isolated garrison town of Aguel Hoc, scene of a rebel massacre of government troops in January, 2012.  The next day, the Chadians and French seized Tessalit and entered Kidal, which had already fallen under the control of the MNLA, who successfully demanded that Malian troops be excluded from the occupying force as a condition of turning over control of the city. The Kidal airstrip had already been taken by the French on January 29.
After the French and Malian troops failed to secure the homes of leading Islamists who had fled Gao and Timbuktu, leading to the loss of large quantities of important documents to looters and curious journalists, French and Chadian searches in Kidal are reported to have yielded large quantities of arms as well as a wealth of useful documents such as passports and lists of fighters. Telephone chips and computers found in Kidal have been sent on for analysis (RFI, February 5).
Chadian president Idriss Déby Itno, as then-commander-in-chief of the Chadian military, cooperated closely with French intelligence, Foreign Legion and air support units in the 1986-87 "Toyota War" that forced Libyan forces out of Chad permanently. The highly-mobile tactics developed by Déby and others in that war continue to characterize Chadian operations and have become the model for many insurgent groups and some government forces operating in the Sahara/Sahel region. The Chadian deployment in Mali is under the command of Déby's son, General Mahamat Idriss Déby Itno.
Déby's commitment of a substantial number of his best troops to the Mali intervention demonstrates the president's confidence in his political control of Chad, his elimination of insurgent threats and the steady improvement of relations with neighboring Sudan that followed the 2010 rapprochement. Prior to that, both Khartoum and N'Djamena were engaged in a proxy war in which each side supported rebel movements inside their rival's territory. Both regimes were nearly toppled in the process, but now there are plans to build a Qatari-financed road to tie the two countries. There is also a small French military base in N'Djamena with a pair of French fighter-jets and some 200 Legionnaires; it is not impossible that some type of guarantees were given by Paris regarding the preservation of the Déby regime in an emergency while his best troops are deployed in Mali.
Nonetheless, the Chadian capital of N'Djamena has been on a war footing since joining the Malian intervention. Dozens of suspects have been arrested as the Mobile Police Intervention Group carries out multiple patrols, identity checks and vehicle searches. A report citing an anonymous diplomatic source claimed 500 members of Nigeria's Boko Haram had entered the capital, but this report was quickly denied by a Chadian government spokesman (Jeune Afrique, February 13; Radio France Internationale, February 14).
Chadian forces are also present in the Central African Republic (CAR), which they entered in mid-December 2012 to prop up the regime of President François Bozizé against the Seleka coalition of rebels marching on the capital of Bangui.
Niger, which has faced a series of rebellions from Tuareg rebels with loose connections to Tuareg rebels in Mali, has no wish to see the MNLA legitimized for fear separatist success in Mali will revive the relatively dormant Tuareg independence movement in Niger. Nigérien President Mahamadou Issoufou recently stated: "The MNLA is not representative of the Tuareg people in Mali. It represents a tiny minority" (Le Monde, February 4).  There is no doubt Issoufou is uncomfortable seeing his troops working side-by-side with the Tuareg separatists of the MNLA, but he has no more influence on the composition of the counterterrorist force than does Bamako, which has issued arrest warrants for the MNLA leaders that have been ignored by the French and their allies in Kidal.
According to documents said to have been seized by French forces in Mali, Niger was designated to be the site of the second phase of the Islamists' plan to create an Islamic Emirate in the Sahara/Sahel region (al-Khabar [Algiers], February 13).  Issoufou confirmed that French Special Forces have moved in to protect Niger's uranium industry facililties from an In Aménas-style attack. Most of the uranium produced in Niger is destined for French energy and military uses. Niger has enormous, largely unguarded borders with northern Mali, and has taken a strategic decision to take the fight to the Islamists even though this commitment will decrease the number of men available to maintain the security of Niger's 500 mile border with Mali. Niger's desert units are well-experienced and normally contain a number of former Tuareg rebels who have been re-integrated into Niger's military, though it is unclear whether such individuals form part of the present deployment. Nonetheless, the Nigérien army is small and underfunded, leaving the president to seek military protection where he can. When a U.S. diplomat asked Issoufou on January 28 if Niger would be willing to host a U.S. surveillance drone base, the offer was accepted immediately (Reuters, January 29).
The Chadian deployment in Mali comes in stark contrast to that of Nigeria, which leads the AFISMA mission but has so far only managed to field under 300 of the 1,200 man deployment promised by Nigerian president Goodluck Jonathan. Many of the men appear to have arrived without arms, preventing their deployment in most tasks, and morale has suffered from food shortages. In their search for provisions, officers and men are reported to be resorting to "courtesy calls" on local leaders who are then expected to "return the call," usually with a large gift of food (Premium Times [Lagos], February 12).  Despite government claims of a fighting advance into northern Mali, Nigerian troops have yet to move out of Bamako. The deployment is highly unpopular in Nigeria, where many citizens worry the intervention will only provide new opportunities for vast sums of money to be siphoned from the national treasury. There are also critics who suggest that the army should finish dealing with the Boko Haram threat inside Nigeria before it engages in foreign adventures. Nigerian troops are already deployed abroad in Darfur with the African Union/United Nations Hybrid Operation in Darfur (still using the former acronym UNAMID). With AFISMA largely designed to be built around a Nigerian core, there seems little chance that the other West African contingents arriving in Bamako will see the front-lines any time soon. In a way they served as a diversion in the southwest while the real African combat group entered Mali from the southeast.