Andrew McGregor
September 4, 2019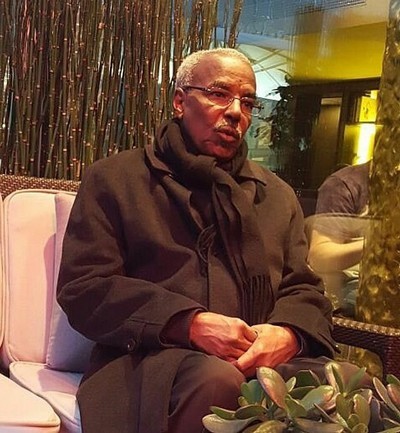 General Mahamat Nouri Allatchi in France (DR via al-Wihda)
At 72 years of age, Chad's General Mahamat Nouri Allatchi has survived numerous battles, headed a series of rebel movements, and evaded repercussions for being a close associate of one of Africa's worst mass murderers. Now, however, this veteran soldier and politician is facing prosecution in France for alleged war crimes.
With nearly 200 ethnic groups and a roughly 60-40 split between Muslims and Christians, governing Chad is a formidable task. Since the murder of its first president in 1975, Chad's Christian south has played only a minimal role in national politics, which is now dominated by nomadic and semi-nomadic Muslims of Chad's north and east, particularly the Tubu, Tama, Arab, and Zaghawa peoples. The latter, despite representing only roughly 3% of the population, have become disproportionately powerful. [1]
Complicating the issue of governance is Chad's status as one of the most corrupt and impoverished nations on earth. The discovery of over one billion barrels of oil inside Chad has not eased a seemingly intractable humanitarian crisis – despite the best efforts of the World Bank, much of the money that has flowed through Chad's capital of N'Djamena has been spent on arms or disappeared into the accounts of the country's leaders. Most notable of these is Chad's president, Idriss Déby Itno, who has not relinquished power since seizing it in 1990.
In this stagnant political atmosphere, scores of rebel movements have emerged in the last three decades, though few seem to have any kind of plan other than to simply take power for themselves. As noted by one observer,
In Chad, armed violence is one of several modes of intervention in the political field. From the point of view of those who resort to such actions, engaging in politics by force of arms is neither more nor less commonplace than engaging in politics without arms, even if the results are not the same. [2]
Early Career
Mahamat Nouri was born in 1947 at Faya Largeau as a member of the Anakaza sub-group of the Gura'an, part of the larger Daza Tubu ethnic group.
Nouri worked in northern Chad as a postal official until sometime in the late 1960s or early 1970s, when he joined a northern rebel movement fighting the southern-dominated government of François Tombalbaye, who was attempting to institutionalize the animist rituals of his southern Sara people (Jeune Afrique, February 11, 2008).  Nouri served in the Second Army of the Front de libération nationale du Tchad (FROLINAT – National Liberation Front of Chad) alongside two future Chadian presidents, Goukouni Oueddei (Tumaghera clan of the Daza Tubu), and Hissène Habré (an Anakaza Gura'an, like Nouri). When a 1976 dispute between Oueddei and Habré shattered the movement's unity, Nouri followed Habré into a new group, the Forces Armées du Nord (FAN).
Tombalbaye was killed in a coup d'état led by southerner General Félix Malloum (Sara) in April 1975. Nouri was given the sensitive job of negotiating the Khartoum peace accord on behalf of FAN in 1978. The accord created a coalition government with General Malloum in which Habré was made Prime Minister and vice-president. Nouri's loyalty to Habré was rewarded by his appointment as Interior Minister in the new government. The coalition collapsed in February 1979; Malloum resigned in March and a new national unity government was formed with Goukouni Oueddei at its head.
Chad entered a period of multi-sided armed political struggle, with Oueddei and Habré as the main contenders. Oueddei appealed to Libyan leader Mu'ammar Qaddafi for military assistance in December 1980, enabling the president to force Habré and his troops out of the capital. Eventually, the FAN returned and took control in 1982, installing Habré as president. Nouri was given the post of Minister of Transport and Civil Aviation. By 1984, he was a leading figure in Chad's sole legal political party. [3]
Nouri played a leading role as a military commander in the August 1987 Battle of Aouzou that helped end the so-called "Toyota War" (1986-1987) and expel Libya forces from northern Chad, where Qaddafi had tried to seize the allegedly uranium-rich Aouzou Strip (an International Court of Justice decision awarded Aouzou to Chad in 1994).
Nouri somehow evaded the consequences of his close association to the much-hated Habré. It is difficult to imagine that Nouri, Habré's confidant and defense minister, could have remained unaware and uninvolved in the Habré regime's reign of terror, during which some 40,000 people were executed or died in detention (Le Monde/AFP, May 17, 2013). Habré received a life sentence for various crimes against humanity from an African Union court in Senegal in 2016.
In Government
One of Habré's leading generals, Idriss Déby Itno (Bideyat Zaghawa), led a column of rebels across Chad from their Darfur base in December 1990, forcing Habré to flee the country, never to return. Displaying remarkable political survival skills, Nouri joined the new administration in several leading posts, including Minister of Health, Minister of the Interior, Minister of Livestock, and Minister of Defence from 2001 to 2003. After a bout of ill health, Nouri was made ambassador to Saudi Arabia from 2004 to 2006.
Nouri resigned his post in 2006 after a dispute over funding of the Chadian embassy and Nouri returned to the field as a rebel and leader of the newly founded and mostly Gura'an Union des forces pour le progress et la démocratie (UFPD – Union of Forces for Progress and Democracy) (Echos [N'Djamena], May 11-14, 2006).
First Assault on N'Djamena, 2006
Desertion of ANT officers and men from the Armée nationale tchadienne (ANT – National Army of Chad) together with their arms and equipment began to plague the army, with many joining the armed opposition. With support from Sudan, which was feuding with the Déby regime, rebels of the Forces unies pour le changement (FUC – United Forces for Change) coalition led by Mahamat Nour launched a mass attack on N'Djamena in April 2006. Mahamat Nour (not to be confused with the subject of this profile) was the leader of the largely Tama Rassemblement pour la démocratie et la liberté (RDL – Assembly for Democracy and Liberty), which later became the core of the FUC.
The French garrison in N'Djamena provided Déby with important logistical and intelligence support that helped save the Déby regime. With support from Khartoum, the rebels formed a stronger coalition in October 2006, the Union des forces pour la démocratie et le développement (UFDD – Union of Forces for Democracy and Development). The coalition included Nouri's own UFPD, part of the FUC and the Conseil démocratique révolutionnaire (CDR – Revolutionary Democratic Council), led by Acheikh Ibn 'Umar Sa'id (Awlad Rashid Arab and, like Nouri, a former minister in Habré's government) (Le Figaro, October 15, 2007). Only hours after issuing its founding statement, 800 men and 70 vehicles left their bases inside Darfur and launched attacks in eastern Chad on Goz Beïda, the capital of Dar Sila, and Am Timan, capital of the Salamat department (Chad is divided by departments, similar to states or provinces in other countries)  (Le Figaro, October 26, 2006). The UFDD was a potent coalition, but failed to bring in many Tama and Bideyat rebels who remained loyal to Mahamat Nour.
The coalition soon expanded to a total of 3,000 men from a variety of ethnic groups, including the Gura'an, Arabs, Bideyat, and Maba. [4] Schisms in the rebel camp continued, however, and Acheikh Ibn 'Umar left in May 2007 with most of the UFDD's Arabs to form the UFDD-Fondamentale together with veteran Arab rebel 'Abd al-Wahid Aboud Makaye (Salamat Arab).
In November 2006, the UFDD was joined by Arabs of the Concorde nationale du Tchad (CNT – National Concord of Chad), led by Hassan Saleh al-Gaddam "al-Jineidi" (Hemat Arab) and Bideyat of the Rassemblement des forces democratiques (RaFD – Assembly of Democratic Forces) to carry out attacks on the towns of Am Zoer and Biltine in eastern Chad. Nouri's forces went on to carry out a raid on Abéché, occupying the capital of Wadai province for 24 hours. [5]
The RaFD was a Bideyat rebel movement led by twin brothers Tom and Timan Erdimi, who are also cousins (sometimes described as nephews or even uncles of the president). The brothers were formerly close to Déby and held various cabinet posts and important posts before abandoning the government in favor of rebellion in December 2005. [6]
Khartoum continued to show confidence in Nouri by supplying his group with vehicles, arms, and other war materiel. Nouri disclosed that the UFDD strategy would now involve attrition of the Chadian army through hit and run attacks, with a final assault on N'Djamena when the time was right. [7]
Peace talks were sponsored by Mu'ammar Qaddafi and mediated by Goukouni Oueddei. Nouri and other rebel leaders signed a peace agreement at Sirte in October 2007. The agreement was short-lived, however, with the UFDD and three other rebel movements launching new attacks in eastern Libya in what was widely described as the worst fighting in Chad in over 20 years. Both sides suffered heavy losses and Nouri's UFDD, hit hard by heavy arms acquired with Chad's new oil wealth, was forced to withdraw and regroup (AFP, December 9, 2007).
Second Assault on N'Djamena, 2008
With Khartoum's encouragement, the UFDD, the FUC and the Rassemblement des forces pour le changement (RFC – Assembly of Forces for Change, the reorganized RaFD) of Timane Erdimi created a unified but ultimately three-headed command to mount a new assault on N'Djamena. The RFC's Zaghawa troops remained the object of suspicion by other rebels for belonging to the same ethnic group as the president and his closest supporters.
In late January, 2008, the rebels set off from their bases in Darfur in three columns to depose the Déby regime, crossing 1,000 miles of desert with 2,000 men and approximately 300 vehicles. At Massaguet, 78 kilometers from N'Djamena, the rebels repelled an attack by the Chadian Army in bitter fighting that killed the ANT chief-of-staff, General Daoud Soumain. Fighters belonging to the Justice and Equality Movement (JEM), a Darfur rebel movement led by Zaghawa and supported by Chad, joined Déby's forces and withdrew into the capital with the defeated army. The Chadian rebels arrived in N'Djamena the next day, February 2, 2008, and quickly took most of the city.
The president was still unwilling to give up even though the battle reached the gates of the presidential palace on February 3, but this did not prevent Nouri and Timane Erdimi from quarreling in the midst of the unfinished battle over who would have supreme command over a new regime. This dissension at the top and an unwillingness by the rebels to take orders from anyone not belonging to the same movement weakened the assault as French forces again supplied logistics and intelligence to the Déby loyalists. Chadian helicopters operated from the French-protected airport, using French targeting information and (allegedly) Algerian mercenary pilots to pound rebel positions, driving them out of the city (TchadActuel, February 17, 2008). Chadian armor took a heavy toll on the lightly-armed rebels; Nouri later remarked: "Pick-ups can do nothing against a tank" (RFI, February 2, 2009). Hundreds of dead civilians, rebels, and soldiers covered the streets of the capital while hospitals tried to deal with thousands of wounded.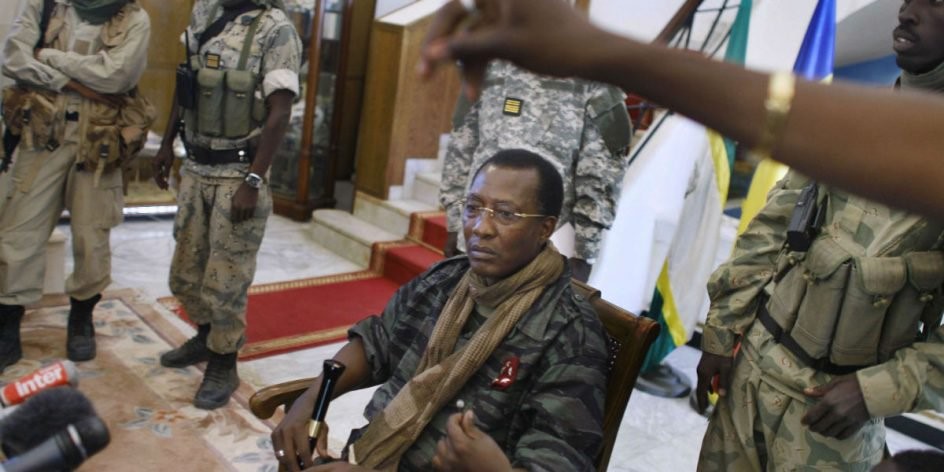 Deby holds his first press conference after the February 2008 attack on N'Djamena (Jerome Delay/AP/SIPA)
The failure of a UFDD column to arrive in time with ammunition and reinforcements due to JEM attacks also contributed to the collapse of the final push on the presidential palace (Sudan Tribune, February 8, 2018). In August 2008, Nouri was one of 11 rebel leaders sentenced to death in absentia by the criminal court of N'Djamena for his part in the assault on the capital (Le Monde/AFP, August 15, 2008).
The failure in N'Djamena prompted the formation of yet another rebel alliance with Nouri at its head – the Alliance nationale (AN). Joining the UFDD were the UFDD-F, the Union des forces pour le changement et la Démocratie (UFCD – Union of Forces for Change and Democracy, mostly Arabs from Wadai under Colonel Adouma Hassaballah Jedareb), and the Front pour le salut de la République (FSR – Front for the Salvation of the Republic), led by General Ahmat Hassaballah Soubiane, an Arab of the Mahamid branch of the Rizayqat tribe. However, Adouma and many of the Arabs soon left the coalition to form yet another movement, the Union des forces de la résistance (UFR – Union of Resistance Forces) over concerns Nouri was too tightly controlled by Khartoum (AFP, March 12, 2008).
Déby responded to the attack on N'Djamena by supporting a May 2008 JEM strike on Khartoum that nearly toppled President Omar al-Bashir. When the attack failed, Chad moved half its army (9,000 men) and three Russian-built attack helicopters up to the Sudanese border in anticipation of a retaliatory attack by the SAF (Le Monde, May 13, 2008).
Exile
Khartoum and N'Djamena finally tired of the very dangerous game they were playing and reached a rapprochement in 2010 that brought an end to support for cross-border insurgent groups. No longer needed, their leaders were sent away. Nouri was deported from Sudan to Qatar in 2010 and left for France a year later, where he was eventually joined by his deputy, Mahamat Mahdi 'Ali. [8] Erdimi headed to exile in Qatar while many rebels headed north to lightly-governed southern Libya or south to join Muslim Séléka rebels in the northern Central African Republic (CAR).
Nouri criticized the conditions of his residence in France, noting that "although I am sentenced to death in my country, I am not entitled to political asylum [in France]. Proof that the relations between Paris and Déby are good!" (Paris Match, April 23, 2016).
Nouri was one of four Habré associates for whom the Chadian Justice Ministry issued international arrest warrants in May 2013. The rebel leader protested (unconvincingly) that he had only dealt with international relations and managed Air Tchad, asking: "Where have I committed crimes?" (Le Monde/AFP, May 17, 2013).
In 2015, Nouri sent Mahamat Mahdi 'Ali to Libya to try to revive the UFDD. A member of the Kecherda sub-group of the Daza Tubu, Mahamat Mahdi recruited mainly from the Kecherda and the closely related Kreda, another Daza Tubu sub-group. With Nouri still in Paris, Mahamat Mahdi tried bringing the revived UFDD under his personal control, allowing them to be used as mercenaries by Misrata Islamists, but bloody clashes with Nouri's Anakaza Gura'an supporters forced Mahamat Mahdi to leave the UFDD in March 2016 to form a new rebel group, the Front pour l'alternance et la concorde au Tchad (FACT – Front for Change and Concord in Chad). [9] Nouri responded negatively to the creation of FACT, describing it as nothing more than "a group of mercenaries in the pay of Misrata whose mission is to establish the power of Libyan Islamists in Jufra [central Libya]" (Paris Match, April 23, 2016).
In a 2016 interview, Nouri noted that under existing conditions, another 2008-style drive on N'Djamena was unlikely. Bases in Sudan were no longer available and Libya was an unsuitable launching point. Nonetheless, he suggested Déby could count only on the Presidential Guard as "resistance" was growing in both civil society and the army (Paris Match, April 23, 2016).
France imposed financial sanctions for a period of six months on Mahamat Nouri on January 19, 2017 under a provision of the French Monetary and Financial Code that allows for restrictions on financial assets belonging to "persons who commit, or attempt to commit, acts of terrorism" (Le Monde, June 23).  Nouri insisted he had no funds to freeze and claimed he was the victim of a "politico-judicial cabal assembled from scratch by the French authorities" designed to deliver him into the hands of Chadian authorities (Al-Wihda [N'Djamena], June 25, 2018).
Amidst growing concern over the activities of Chadian mercenaries in Libya, Nouri was among 23 Chadians for whom the Libyan Attorney General issued international arrest warrants on January 3, 2019.
After Chadian authorities reported the defection of 400 UFDD fighters to the government in March, Nouri responded that the real figure was "85 to 86," the rest being either artisanal gold miners responding to a new ban on such work in northern Chad or army deserters turned rebel who wished to take advantage of an amnesty proclaimed in May 2018 (Al-Wihda [N'Djamena], March 14). Some of the defectors were ambushed by a Daju militia known as the "Toro Boro" near the point where they were to rendezvous with Chadian Army forces just south of the Libya-Chad border, suffering seven dead  (Al-Wihda [N'Djamena], March 9).
Arrest in Paris, 2019
Nouri was arrested by French police on June 17 after a two-year investigation by French prosecutors (Le Monde, June 23). Fellow exiles Abakar Tollimi and 'Abd al-Rahman 'Abd al-Karim were arrested at the same time (the latter was subsequently released due to a lack of evidence).
Among other charges, Nouri was accused of the forced recruitment of combatants between 2005 and 2010, including minors (RFI, June 22). When questioned by a French judge over claims regarding the use of child soldiers in a UN report, Nouri responded that the children depicted in the report's photos were actually southerners with no involvement in Nouri's northern rebel movement, basing his identification on the absence of the "finer nose" of the northern people. His lawyer, Elise Le Gall, appears ready to exploit the difficulty experienced by outsiders in understanding the complex structure and organization of Chad's rebel movements to move for a nullification of the indictment (Le Monde, June 23).
The case is being handled by the Office central de lutte contre les crimes contre l'humanité, les génocides et les crimes de guerre (OCLCH – Central Office for Combatting Crimes Against Humanity, Genocide and War Crimes), which operates under universal jurisdiction, allowing it to arrest and try individuals on French territory for crimes committed elsewhere (France24.com/AFP, June 17).
Conclusion
In early February, a column of UFR rebels (mainly Zaghawa and Tama) tried to cross through Tibesti into Chad after fighting as mercenaries in Libya's internal conflicts since 2013. From February 3 to 6, the column was struck 20 times by seven French Mirage aircraft working out of N'Djamena and Niamey. The attempt to reinsert the rebels into Chad was shattered and as many as 250 fighters were captured by ANT forces with the intention of trying them as terrorists (Al-Wihda [N'Djamena], February 9; RFI, February 7).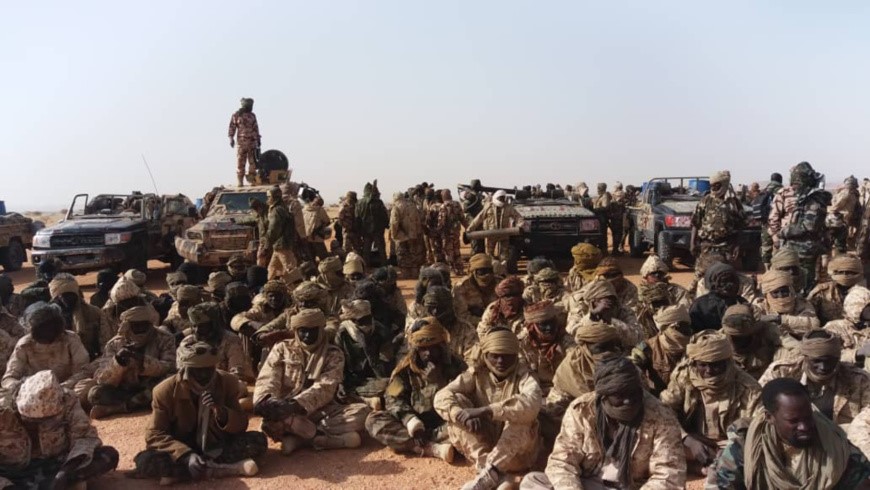 UFR rebels captured by ANT, February 2019 (Al-Wihda)
Though the UFR forces did not include the UFDD, the message was clear—France, which is using N'Djamena as headquarters for its counter-terrorist Operation Barkhane, is not prepared to tolerate any armed challenge to the Déby regime, its major African military partner.
The ANT, with active deployments against Islamist militants and other groups in Chad, Niger, Cameroon and the CAR, is badly overstretched at the moment, leaving Déby's security reliant on the discreet support of the French. In this sense, Mahamat Nouri has become the victim of a greater struggle against Islamist terrorism in which Nouri and other Chadian rebel leaders have become disposable irritants.
Notes
[1] The Zaghawa consist of four sub-groups: the Zaghawa Kobe, who live mostly in Chad and form the largest Zaghawa group, the Zaghawa Wogi, who are split between Chad and the Sudan, the Bideyat, who are concentrated in the Ennedi Massif of northeastern Chad, and the Borogat, who are a mix of Zaghawa and Gura'an Tubu.
[2] Marielle Debos, Living by the Gun in Chad: Combatants, Impunity and State Formation, Zed Books, London, 2016.
[3] Samuel Decalo, Historical Dictionary of Chad, Scarecrow Press, 1987, p.236.
[4] Jérôme Tubiana, "La guerre par procuration entre le Tchad et le Soudan et la « darfourisation » du Tchad: Mythes et réalité," Small Arms Survey, April 2008, http://www.smallarmssurveysudan.org/fileadmin/docs/working-papers/HSBA-WP-12-Chad-Sudan-Proxy-War-french.pdf
[5] Ibid
[6] For the Erdimi brothers, see: "A Family Affair: The Erdimi Twins and the Zaghawa Battle for Chad," Militant Leadership Monitor, July 30, 2010.
[7] Roy May and Simon Massey: "Chad: Politics and Security," Writenet, March 2007, https://web.archive.org/web/20070612230327/http://www.unhcr.org/home/RSDCOI/46384cde2.pdf
[8] For Mahamat Mahdi 'Ali, see: "Rebel or Mercenary? A Profile of Chad's General Mahamat Mahdi Ali," Militant Leadership Monitor, September 7, 2017.
[9] Jérôme Tubiana and Claudio Gramizzi, "Tubu Trouble: State and Statelessness in the Chad-Sudan-Libya Triangle," Small Arms Survey, Geneva, 2017, http://www.smallarmssurveysudan.org/fileadmin/docs/working-papers/SAS-CAR-WP43-Chad-Sudan-Libya.pdf
This article first appeared in the September 4, 2019 issue of the Jamestown Foundation's Militant Leadership Monitor.