Andrew McGregor
From Tips and Trends: The AIS African Security Report
Aberfoyle International Security, April 2015
Once again, Khartoum has been accused of supplying arms and transport to Islamist militias in the ongoing struggle between rival Libyan pro-Islamist and pro-secular governments based in Tripoli and Tobruck respectively. The latest accusations by a spokesman for the Libyan army claim that Sudan sent a convoy of 70 trucks of ammunition and 60 SUVs carrying Misratan Islamist fighters through Darfur and across Libya's southern border to take the strategic south-east Libyan desert community of Kufra  (Asharq al-Awsat, March 7, 2015). However, Sudanese Armed Forces (SAF) spokesman Colonel al-Sawarmi Khalid Sa'ad insisted that foreign militants had no presence in Darfur while Egyptian military intelligence said it had no information regarding the passage of such a large convoy close to the border it shares with Libya and Sudan (Sudan Tribune, March 7, 2015; SUNA, March 7, 2015).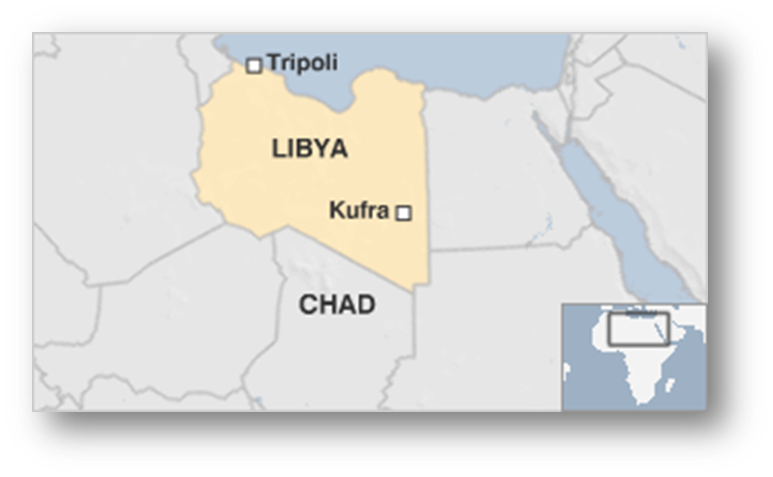 Kufra, the pre-colonial headquarters of the Libyan Sanusiya Order that led resistance to Italian, French and British imperialists, consists of a 50km by 20km basin containing a town and a half dozen oases. Sand seas on both sides of the basin force all traffic coming north from Sudan to pass through the region, giving it strategic importance. Kufra is inhabited mainly by local Tubu tribesmen and their rivals, the Zuwaya (or Zwai) Arabs that seized the region from the Teda Tubu in 1840. The two communities have clashed repeatedly since the collapse of the Qaddafi regime, requiring deployments of northern government-allied militias to restore order. In May 2014, Tubu leaders denied bringing Sudanese Tubu mercenaries north via the route to Kufra to help establish an ethnic-Tubu state in south-east Libya (al-Jazeera, May 9 2014).
Sudanese authorities have a special dislike of the new commander-in-chief of the Libyan National Army (LNA), General Khalifa Haftar, who is regarded in Khartoum as an agent of American influence in Libya due to his long-standing ties to the CIA and as an enemy of the Islamist movement due to his close relationship with Egyptian president Abd al-Fatah al-Sisi, whose hard-line on the Egyptian Brotherhood has led to the loss of hundreds of lives. Haftar has likewise accused Sudan (along with Chad and Egypt) of infiltrating armed Islamists into Libya and has expressed his dislike of Sudanese president Omar al-Bashir (Washington Post, May 21, 2014).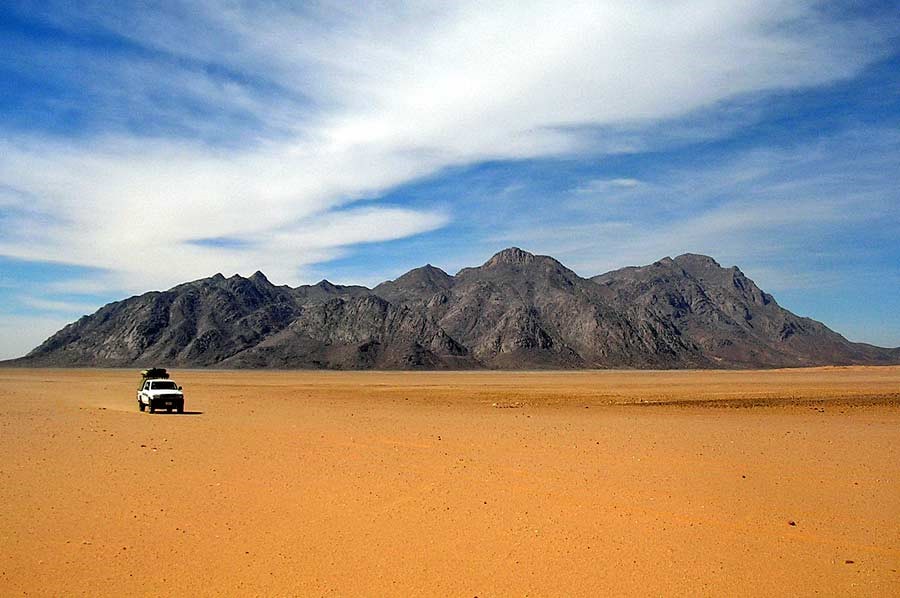 Jabal Uwaynat: Where Three Borders Meet
LNA officials have made it clear they regard they regard the Sudanese regime as one dominated by the Muslim Brotherhood and thus ready to aid the Muslim Brotherhood elements based in Benghazi (the Sudanese regime is in many ways a collaborative effort between the Sudanese military and various Islamist factions, including some former and current members of Sudan's independent branch of the Brotherhood, popularly known in Sudan as the Ikhwan [brothers]). In response, Khartoum has emphasized the indigenous nature of its own Islamist movement while distancing the regime from the Egyptian Brotherhood and its Gulf-state counterparts. The Haftar-aligned commander of the Libyan Air Force, Brigadier General Saqr Jeroshi, is a major proponent of the Sudanese arms to Libyan Islamists scenario, describing it as a "hellish" scheme overseen by Ahmed al-Zaway, a Libyan Muslim Brother with alleged tribal links in the Sudan (Sudan Tribune, September 7, 2014).
In June 2014, Khartoum declined to comment on reports the Sudanese capital had been visited by veteran jihadist Abd al-Hakim Belhaj, the Tripoli-based leader of the Libyan al-Watan Party. These reports were soon followed by accusations from Haftar's LNA that Sudan was using its air force to deliver Qatari arms to Belhaj's fighters (Youm al-Sabaa [Cairo], June 6; Sudan Tribune, June 6, 2014).
Libyan authorities were reported to have seized a Sudanese military plane carrying ammunition during a refuelling stop in Kufra on the way to Tripoli's Matiga Airport in September 2014, a story that originated with a Haftar-supported Libyan satellite TV channel and soon gained currency in government quarters, with LNA spokesmen going on to accuse Khartoum violating Libya's "national sovereignty" by flying military supplies to "terrorist groups" (al-Jazeeea, September 8, 2014). Sudan claimed the incident was a "misunderstanding," saying that the plane had only carried equipment needed by the joint Libyan-Sudanese border force tasked with tackling cross-border smuggling and human trafficking. This explanation proved unacceptable and an international spat followed, with Sudan demanding an apology and the Libyan government reportedly expelling the Sudanese military attaché (Sudan Tribune, September 7, 2014).
However, Khartoum pointed out that no communications were received regarding this expulsion and noted that the attaché was in Khartoum at the time and had since returned to Tripoli. The Sudanese government further produced documentation and a recording of the plane's radio exchange with the tower at Kufra Airport showing that the end destination of the flight was Kufra, not Tripoli. The story received a final blow when Lieutenant Sulayman Hamid Hassan, the Libyan commander of the joint Libyan-Sudanese border force, confirmed sending a request to Khartoum for "ammunition, arms, an ambulance, a water tanker and fuel" for the force and stated that the plane's cargo had been unloaded in Kufra in the full view of local officials and national security personnel. These observations were confirmed by a letter from the Libyan Minister of Defence (Sudan Vision, September 28, 2014; Sudan Tribune, September 7, 2014). The joint border patrols were established by an August 9, 2012 bilateral protocol and play an important role in intercepting human-smuggling operations despite underfunding and political chaos in Libya.
After Qaddafi's Libya used the Kufra to Darfur route to supply anti-Khartoum rebels of the Darfur-based Justice and Equality Movement (which nearly toppled the regime in 2006), Khartoum is wary of militants of any stripe using the traditional desert route to infiltrate the Sudan or supply Darfur-based insurgents. In the midst of Libya's anti-Qaddafi rebellion, a Sudanese column was reported to have crossed into Libya to briefly seize Kufra and its nearby military base to secure its northern border (Telegraph, July 1, 2011).
The route passing from Sudan into Kufra has a history as an arms conduit, being used in World War One in largely unsuccessful attempts to supply the Sultan of Darfur in his battle against the British-led Egyptian Army, and again in World War Two, when the route was heavily used by the British-led Sudan Defence Force (SDF) to supply the Free French garrison in Kufra after the French combined with the British Long-Range Desert Group (LRDG) to expel the Italian garrison in 1941. [1] Besides commercial traffic, the route is now most commonly used by smugglers and human-traffickers shipping refugees to the Libyan coast for onward transport to Europe. In the meantime, while unverified reports abound of Sudanese arms shipments to Libya's Islamists, most of these claims appear to originate with Khalifa Haftar's LNA, no friends of the Bashir regime in Khartoum.
Note
For SDF activities on the route in WWII, see "The Kufra Convoys," http://www.fjexpeditions.com/frameset/convoys.htm