Andrew McGregor
November 3, 2011
The cautious consolidation of its control over Mogadishu by the African Union Mission in Somalia (AMISOM) encountered a pair of serious setbacks in late October as al-Shabaab Islamists ambushed a Burundian patrol on October 20 and mounted a suicide attack on Ugandan troops in their base at the German Metal Factory near Mogadishu Stadium.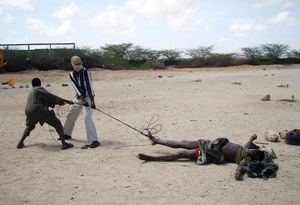 Body of Ugandan Peacekeeper Dragged by Somalis Through the Streets of Mogadishu (Feisal Omar)
A statement from al-Shabaab describing the "Mogadish Bloodbath" claimed two "martyrdom seekers" disguised as Transitional Federal Government (TFG) troops infiltrated the camp housing Ugandan troops and forces of Somalia's TFG and set off their bombs, killing themselves and a number of Ugandan soldiers. This much is acknowledged by AMISOM; the Shabaab statement, however, describes a more complete victory obtained when mujahideen followed the blasts by raiding the base, securing all access routes in and out and massacring all Ugandan and TFG forces contained within. [1] Al-Shabaab spokesmen later claimed at least one of the two suicide attackers was an American citizen who had joined the Somali mujahideen (AFP, October 30). Uganda's Lieutenant General Katumba Wamala claimed the Ugandans had suffered only three killed and two wounded in the attack, though some reports have suggested far greater losses (Sunday Nation [Nairobi], October 30). Nevertheless, sources in Mogadishu have confirmed that gunmen wearing TFG uniforms rushed the camp after the bombings, killing at least ten soldiers (AP, October 29; Reuters, October 29). Following the attack, a senior AMISOM officer promised that the African Union forces would soon "destroy" al-Shabaab (Shabelle Media Network, October 28; Horseed Media, October 28).
Corpses Alleged to be those of Burundian Soldiers Put on Display by al-Shabaab
Though al-Shabaab claimed to have killed anywhere from 76 to 150 Burundian troops in the earlier ambush in Dayniile district and displayed dozens of bodies wearing AMISOM gear afterward, the real figure appears to be closer to 50. Burundian authorities have claimed a much lower figure of ten killed, but this figure appears intended to ward off domestic opposition to the mission in politically volatile Burundi.The Bujumbura government reaffirmed its commitment to the AMISOM mission after the clash, urging its troops to "double their efforts and vigilance" while calling on the international community to supply the African Union peacekeepers with enough "hardware" to carry out their mandate (PANA Online [Dakar], October 27).
Al-Shabaab now describes their sudden August withdrawal from most of Mogadishu not as a sign of weakness, but rather as a strategic operation designed to focus efforts on causing as much damage to AMISOM as possible without having to defend ground. According to the Shabaab statement on the Dayniile clash of October 20, "The recent battles have lured the AU forces, who previously sought refuge behind their heavily fortified bases and underground bunkers, out into the open; thereby exposing their intense vulnerabilities and proving their inability to fight in an urban area" (Ansar1.info, October 24; Mareeg Online, October 24; Africa Review [Nairobi], October 25).  Al-Shabaab's general withdrawal from Mogadishu has presented the undermanned African Union mission with the dilemma of how to occupy and consolidate its gains in Mogadishu without spreading AU forces too thin. According to AMISOM spokesman Lieutenant Colonel Paddy Ankunda: "The outer north and eastern fringes of the city must still be cleared, but key ground and buildings are no longer under the control of the extremists" (AFP, October 11). The Shabaab strategy also has the benefit of freeing up forces to fend off Kenyan occupation of the Shabaab-held port of Kismayo, which would constitute a crippling financial loss to the Islamist movement.
Note
Press Office, Harakat al-Shabaab al-Mujahideen, "The Mogadishu Bloodbath – 80 Ugandan Soldiers Killed," October 29, 2011.
This article first appeared in the November 3, 2011 issue of the Jamestown Foundation's Terrorism Monitor.