Andrew McGregor
April 19, 2019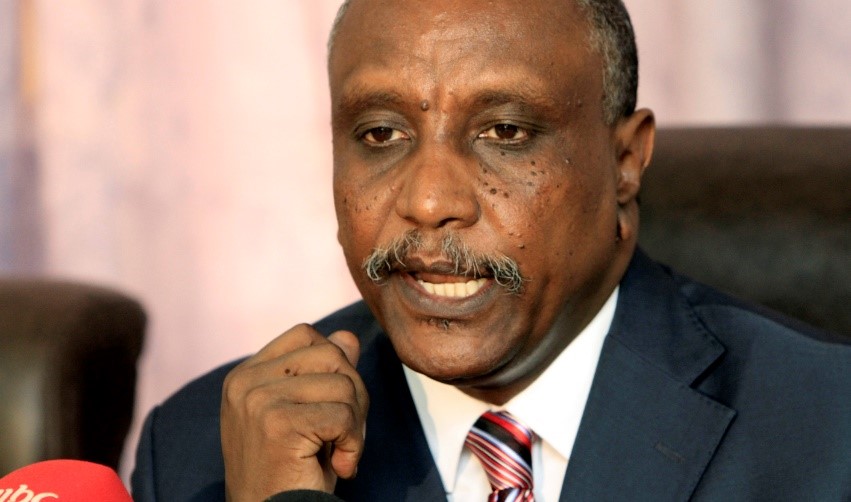 Yasir Arman (Reuters)
Veteran opposition politician Yasir Arman called the April 11 military coup in Sudan nothing more than "old wine in old bottles." Arman suggested it had preserved "the political and economic structures of the old system," the military-Islamist alliance that has ruled Sudan since an Islamist-backed military coup brought Brigadier Omar al-Bashir to power in 1989 (Sudan Tribune, April 12). Al-Bashir's regime was based on three pillars: Islamism, military governance and Arab supremacy.
Despite the coup, demonstrations and sit-ins continue at military facilities beyond the capital, in places such as Port Sudan, al-Gedaref, Kadugli, al-Obeid, and camps for the internally displaced in Darfur (Radio Dabanga, April 16).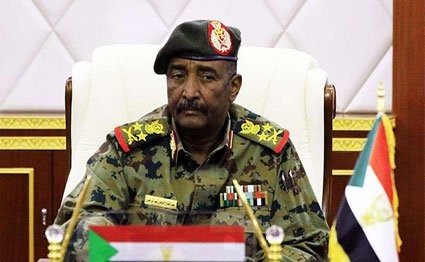 Lieutenant General 'Abd al-Fatah al-Burhan (Daily Nation)
The coup leaders have formed a Transitional Military Council (TMC) under Lieutenant General 'Abd al-Fatah al-Burhan, who commanded Sudanese forces in Yemen, where he formed ties to the Saudi military and its Gulf allies. Most recently he was Inspector General of the Sudanese Army. Al-Burhan replaced the first leader of the TMC, Lieutenant General Muhammad Ahmad Awad ibn Awf, who lasted less than 24 hours. Ibn Awf is a prominent Islamist and al-Bashir loyalist who has worked closely with Darfur's Janjaweed militias (al-Jazeera, April 20). Under U.S. sanctions for his activities in Darfur, Ibn Awf was unacceptable to both Washington and the protesters. The former chief of Sudan's Joint Staff, Lieutenant General Kamal 'Abd al-Maruf al-Mahi (a leading Islamist suspected of having political ambitions), was relieved of his post as deputy chief of the TMC at the same time General Ibn Awf was replaced. [1]
The Sudanese Professionals Association (SPA), a leading force in the demonstrations, is demanding nothing less than a civilian government (Asharq al-Aswat, April 13). The SPA is part of the Alliance for Freedom and Change, which includes the leftist National Consensus Forces and Nidea Sudan, a Paris-based group including opposition politicians and the leaders of armed movements (Middle East Online, April 16). The army is unlikely to clean house, which will continue to frustrate those demanding significant change.
What is al-Bashir's fate?
Al-Bashir and his two brothers have been moved to the notorious Khobar Prison in Khartoum North (al-Jazeera, April 17). The military council has stated it will prosecute al-Bashir inside Sudan (APA News, April 12). The military has been repeatedly purged until the officer corps consists mostly of men whose fortunes and views are closely aligned with the ex-president's. These officers may seek to send al-Bashir to a safe haven outside Sudan and avoid a nasty and public prosecution of regime misdoings. Uganda has said it is willing to consider offering asylum to al-Bashir (Monitor [Kampala], April 16).
Al-Bashir still faces two ICC arrest warrants for "massive human rights violations" including war crimes and genocide. However, the ICC lacks the means to detain the former president, and 33 nations (including China and Russia) have ignored the warrants by allowing al-Bashir to make visits to their countries. The ICC is demanding that the new government in Khartoum must surrender al-Bashir as well as four other individuals wanted on charges related to the Darfur conflict, including NCP leader Ahmad Muhammad Harun, Janjaweed leader 'Ali Muhammad 'Ali 'Abd al-Rahman (aka 'Ali Kushayb), former minister of defense Abd al-Rahim Muhammad Hussayn and Darfur rebel 'Abdallah Banda Abakr Nourain (Al-Ahram [Cairo], April 12; for Harun, see AIS Special Report, March 3 ). The military council will not take action on these demands and it would require a massive and unprecedented power shift in Sudan for a future civilian government to surrender these individuals for ICC prosecutions.
What happens to the National Congress Party (NCP)?
Recognizing the hold the ruling NCP had over the Sudanese political system, the SPA has demanded its dissolution and the arrest of its leaders. The TMC has said NCP representatives will not be part of the transitional government (Sudan Tribune, April 15).
What happens to the Rapid Support Force (RSF)?
The RSF (Quwat al-Da'm al-Seri), was created by the NISS in 2013 to absorb Janjaweed gunmen into a more manageable unit with a central control (Terrorism Monitor, May 30 2014). The intent was to deploy the RSF as a counter-insurgency and counter-terrorism force composed mostly of Darfur Arabs. The unit is led by Muhammad Hamdan Daglo "Hemeti" a member of the Mahariya branch of the Northern Rizayqat Arabs of Darfur. Daglo is now the deputy chief of the TMC.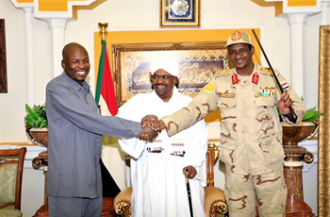 Ahmad al-Harun, Omar al-Bashir and Muhammad Daglo Hamdan
Though reviled by many Sudanese for its methods, the RSF has had some success in counter-insurgency operations in Darfur, South Kordofan and Blue Nile State. It operates in large numbers along the border with Libya, where it hunts Darfuri rebels and interrupts the flow of illegal migrants from east Africa through Sudan to Libya and on into Europe. It has also been deployed in the Saudi-led war in Yemen, where Daglo served under al-Burhan, who may now rely on the RSF's support.
There have been calls in Sudan to disband the RSF since its creation and its use of violence in the streets of Khartoum to repress the anti-regime demonstrations has not made it any more popular.
The appointment of Hamdan as deputy leader of the TMC does not indicate major change in the power structure and will anger the Darfur rebel movements who accuse him of ordering atrocities. Nonetheless, Daglo has been meeting with US and UK diplomats as the TMC's representative (Anadolou Agency [Ankara], April 14).
What happens to the National Intelligence and Security Service (NISS)?
The SPA and many demonstrators have called for the dissolution of the much-feared NISS (Jihaz al-Amn al-Watani wa'l-Mukhabarat) and the regime's paramilitaries, such as the RSF, the Popular Defense Forces (PDF) and the Haras al-Hudud (Border Guards) (Reuters, April 16). NISS director Salah 'Abdallah Muhammad Salah (Salah Gosh) resigned on April 13 but was not detained. He was replaced by Lieutenant General Abu Bakr Mustafa, putting the intelligence agency under military control for now. (Reuters, April 14; AFP/France24, April 14).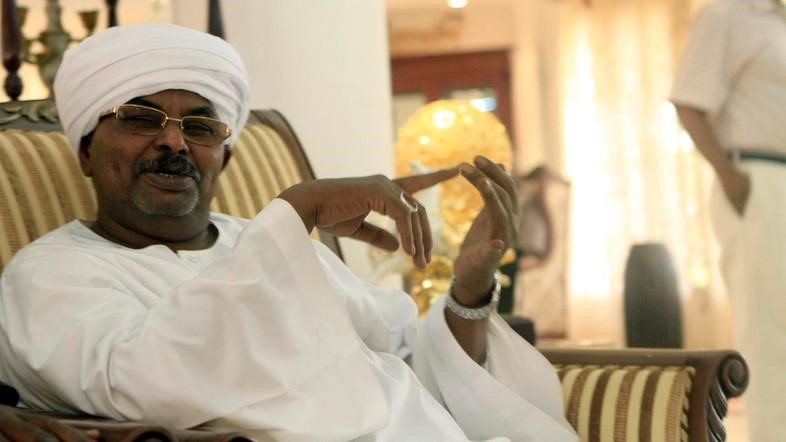 Ex-NISS Director Salah Gosh (al-Arabiya)
Gosh was NISS director from 2004 to 2009 but was suspected of plotting against al-Bashir in 2012. He was brought back into the fold in February 2018, when he was once again made chief of the NISS to subdue dissent. The NISS used rubber bullets, tear gas and live ammunition to disperse the demonstrators (Al-Jazeera, April 8). Roving squads of agents in pick-up trucks seized individuals and took them away to "ghost houses" where their unrecorded detention usually included torture. The NISS announced the release of all political prisoners on April 11, but there are reports that many protesters remain in detention (Radio Dabanga, April 16).
The snipers who continually took shots at demonstrators from buildings outside the army's compound in Khartoum were believed to be NISS agents who defied the army by engaging in firefights with soldiers (Middle East Monitor, April 9). The clashes were indicative of the serious differences the NISS has with the military. The NISS was given extraordinary and extrajudicial powers to act as al-Bashir's personal protection and enforcement unit. The opportunities for enrichment presented by NISS membership created a sore point with the poorly paid military.
There is no consensus in the opposition as to what should be done with the NISS. The Islamist Popular Congress Party (PCP), led by Dr. 'Ali al-Haj, is calling for the dissolution of the NISS and the transfer of its responsibilities to the police (Radio Dabanga, April 16). However, the Umma Party of two-time Sudanese prime minister Sadiq al-Mahdi and the center-left Sudanese Congress Party (SCP) of Omar Yusuf al-Digair have called for only a change in the NISS leadership (Sudan Tribune, April 16).
The U.S. will watch Salah Gosh's fate carefully – the notorious NISS director cooperated closely with the CIA on counter-terrorism issues and was even welcomed in Washington.
Will armed opposition continue?
Since independence, Sudan has been dominated by three powerful riverine tribes from Sudan's north, the Ja'alin, Danagla and Sha'iqiya (al-Bashir is Ja'alin). This has created enormous internal tensions as Khartoum tries to control restive non-Arab ethnic groups in guerrilla-friendly regions such as Darfur, South Kordofan and Blue Nile State. While a host of armed opposition groups operate in Darfur, the armed opposition in Blue Nile State and South Kordofan consists of two factions of the Sudan People's Liberation Movement-North (SPLM-N), led by Malik Agar and 'Abd al- Aziz al-Hilu respectively (for al-Hilu, see MLM, July 2011).
Most of the major rebel movements have refused to engage with the regime for years and appear ready to wait for a new civilian government to renew negotiations, likely under AU mediation.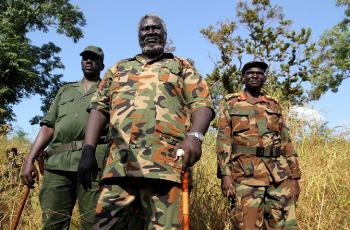 Malik Agar, leader of the rebellion in Blue Nile State (Sudan Tribune)
Al-Burhan's appointment as head of the TMC has angered many in Darfur, who accuse him of being "the architect of the genocide" in Darfur and regard his new role as "a play of the Islamists to retain power" (Radio Dabanga, April 15). Burhan is well known in Darfur for his threats to exterminate the Fur people. A leading Darfur rebel, 'Abd al-Wahid al-Nur (Fur), said that the Sudan "we dream of, cannot come through these racists like 'Abd al-Fatah al-Burhan, Awad Ibn Awf, Omar al-Bashir and their ilk" (Sudan Tribune, April 16).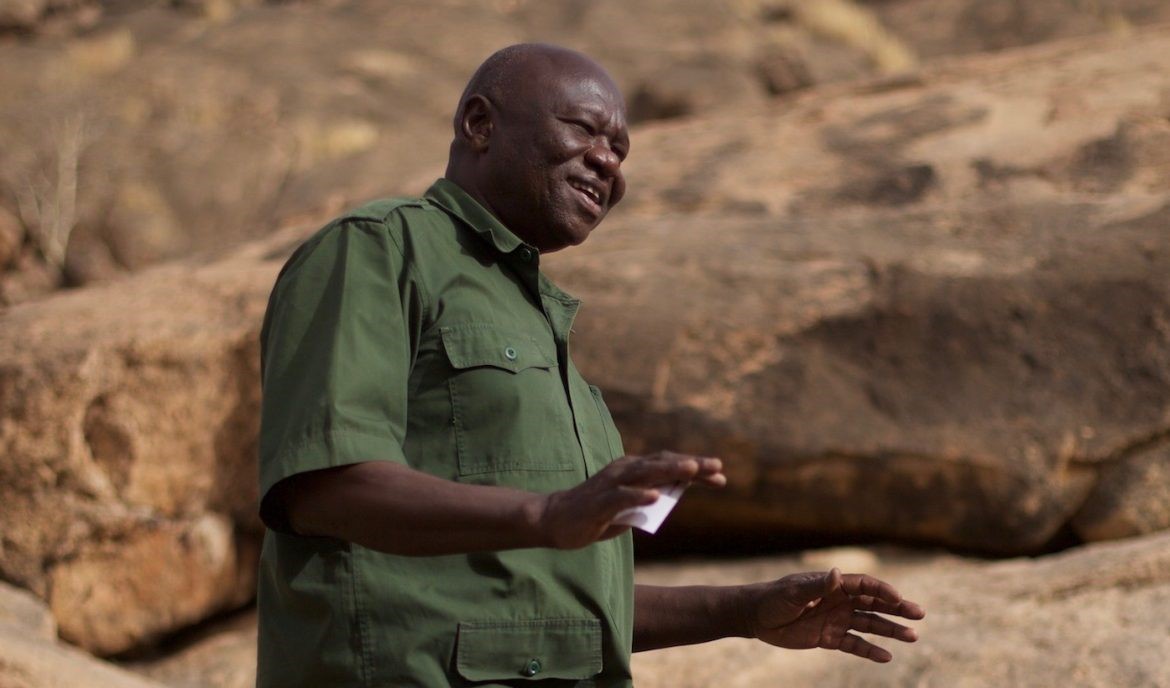 'Abd al-Aziz al-Hilu, leader of the rebellion in South Kordofan (Nuba Reports)
The South Kordofan and Blue Nile factions of the SPLM/A-N declared a unilateral three-month ceasefire on April 17 to give the military "a chance for a peaceful and quick transfer of power to civilians" (al-Jazeera, April 17). Nonetheless, there are reports of escalating violence in Darfur, where hundreds of thousands of displaced indigenous Africans see an opportunity to take revenge on regime associates and reclaim land seized by the regime and given to Arab settlers, many from outside Sudan (al-Jazeera, April 17).
Darfur's rebel Justice and Equality Movement (JEM) has demanded the release of all war-related detainees from Darfur, Kordofan and Blue Nile State, saying that a refusal to release them "Is a call for the continuation of the war" (Radio Dabanga, April 15).
What about the Army?
The Army has invited the opposition groups to nominate a new civilian prime minister, but the question is whether the PM would serve under or above the TMC, which is unlikely to relinquish control until arrangements have been made for leading military and security figures to make a post-coup "soft-landing."
During the demonstrations outside military headquarters in Khartoum, low-ranking troops and junior officers emerged at times from the military headquarters to interact with the demonstrators or offer refuge from NISS snipers. Al-Burhan listened to the demonstrators, but he and other officers will view their ongoing role as preventing the disintegration of the country, by whatever means necessary.
The military says it is only interested in holding the defense and interior ministries, which could remove the security sector from civilian oversight and bring the police and intelligence services under military control (Africanews, April 15).
Can the Islamists use the coup to their advantage?
Much of the Islamist political elite has been put under arrest, including al-Bashir loyalist and former prime minister Muhammad Tahir Ayala, leading NCP member Awad al-Jaz and two former vice-presidents, Berri Hassan Saleh and 'Ali 'Uthman Muhammad Taha, the latter a powerful Islamist who can call on his own supporters for political muscle. It should be recalled, however, that such arrests are often for show – the Islamist behind al-Bashir's 1989 coup, Dr. Hassan al-Turabi, was sent to prison for several months after al-Bashir's coup 1989 to disguise the Islamist nature of the new regime.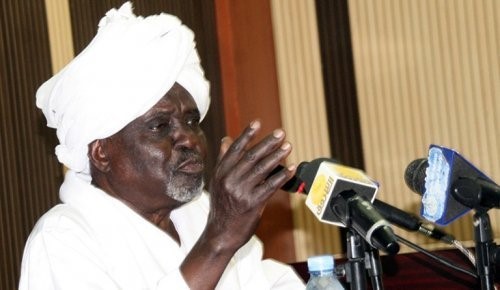 'Ali al-Hajj, leader of the Islamist Popular Congress Party (PCP) (Alleastafrica)
The military has excluded Islamist parties from talks on Sudan's political future. Islamists and supporters of the old regime are painting the demonstrators as secularists intent on attacking Sudan's traditional Islamic faith. (Middle East Monitor, April 9). The dissolution of the NCP would weaken the Islamist grip on Sudan, but the movement has proved to be highly resilient in the face of setbacks.
Besides hosting Osama bin Laden and his followers in the 1990s (they were eventually expelled), religious extremists outside of Khartoum's control were kept largely in check through most of al-Bashir's rule. Neighboring states fear a new regime might allow extremists to operate in Sudan, whether deliberately or through negligence. According to an Egyptian government source, Cairo "cannot afford a leadership emerging in Libya or Sudan that tolerates, or even worse condones, militant Islamic activity. This is why we… are keeping a close eye on any possible transition of power in Sudan" (Al-Ahram [Cairo], April 10).
What of the Economic Crisis?
The security situation in Sudan cannot be eased until the uncertainty created by the ongoing economic crisis is resolved. The problems are many, and include a declining currency, raging inflation, massive unemployment, inability to replace oil revenues lost with the separation of South Sudan and the cost of fighting endless rebellions in the provinces.
If the general staff possesses any economic skills, they have yet to be revealed. Unfortunately, most of the TMC's attention will be drawn to carefully watching their colleagues and rivals for signs of a counter-coup, a persistent danger in these conditions. The generals will also be concerned for their own future; as indicated by their demand for the defense and interior ministry portfolios in a future civilian government, they will work hard to ease their own safe transition into a new regime.
Note
1.The TMC, as announced by General al-Burhan, consists of:
General 'Abd al-Fatah al-Burhan, President
Lieutenant General Muhammad Hamdan Daglo "Hemeti," Vice President
Lieutenant General Shams al-Din Kabbashi Ibrahim Shanto, member and spokesman
General Omar Zine al-'Abdin Muhammad al-Shaykh, member
General Jalal al-Din al-Shaykh al-Tayib, member
General Mustafa Muhammad Mustafa Ahmad, member
General Yassir 'Abd al-Rahman al-Atta, member
Airforce General Salah 'Abd al-Khalig Said 'Ali, member
Police General al-Tayib Babikir 'Ali Fadl, memberRear
Admiral Engineer Ibrahim Jabir Ibrahim, member (Sudan Tribune, April 16).
This article first appeared in the April 22, 2019 issue of the Jamestown Foundation's Terrorism Monitor.