Andrew McGregor
June 8, 2018
The Abu Sayyaf Group (ASG) of the southern Philippines has always found itself perched on a fine line between Islamic jihad and organized crime. [1] Active since the early 1990s, some factions of the group are devoted solely to kidnapping-for-ransom, though some leaders have tried to return the movement to its ideological roots as an organization formed to impose Shari'a and establish "a purely Islamic government" in the southern Philippines. [2]
War in Mindanao (South China Evening Post)
One of the ASG's more religiously focused leaders is the shadowy Yassir Igasan, who stands out for his sheer survival skills in a movement whose leaders are notoriously short-lived. With a religious education in the Middle East and fluency in Arabic, Igasan was regarded as a potential leader of Islamic State forces in the region before he was reportedly wounded in the leg by an October 2017 artillery strike near the town of Patikul in the Sulu Archipelago. ASG prisoners informed Armed Forces of the Philippines (AFP) intelligence operatives that Igasan has not been seen in recent months, leading to speculation that he may have been killed (AP, May 5).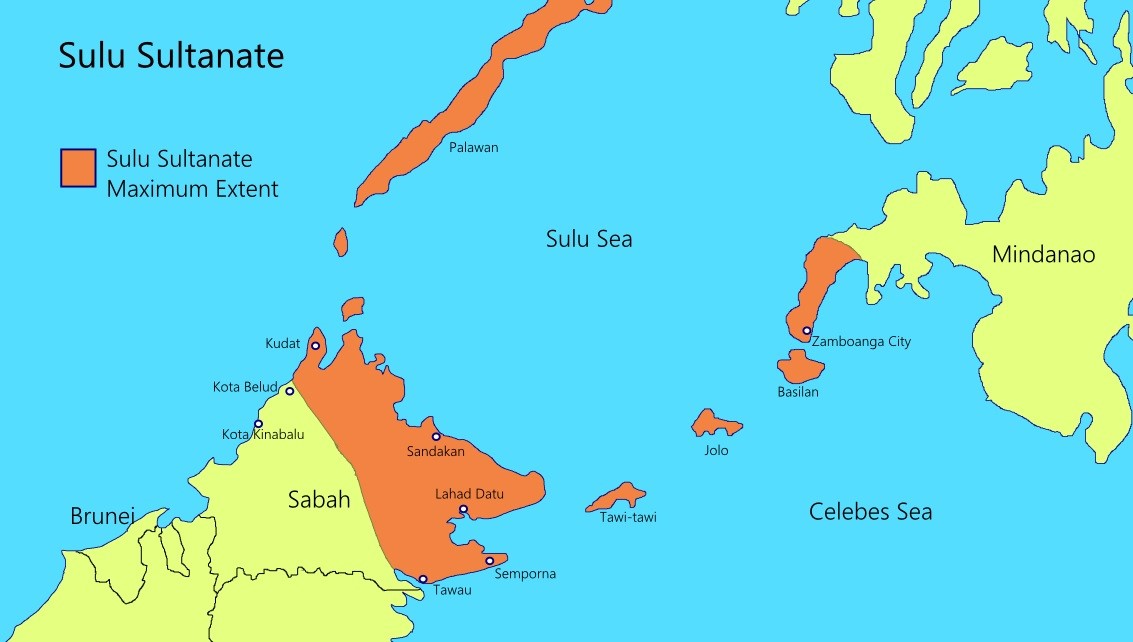 Map of the old Sulu Sultanate (Mkenology.com)
Igasan is a member of the Tausūg, the dominant ethnic group in the largely Muslim Sulu Archipelago, a chain of islands separating the Sulu Sea from the Celebes Sea and stretching southwest from the major southern Philippines island of Mindanao to Muslim Malaysia. Basilan and Jolo are the most important islands in the archipelago, which once formed the core of the independent Sulu Sultanate. The Tausūg have a strong warrior tradition and resisted occupation efforts by the Spanish, the Americans and the Japanese. Many Tausūg feel little connection to the culturally and religiously different Filipino Christian majority and often regard efforts to establish the control of the central government in Manila as differing little from the campaigns of these earlier imperialists. Historically, the southern Philippines have shared a trading relationship and common Islamic culture with neighboring Malaysia and Indonesia rather than the majority Christian islands of the north.
According to AFP Brigadier General Cirilito Sobejana, there are still somewhere between 300 to 400 Abu Sayyaf militants, most of them active in the Sulu Archipelago (Xinhua, March 27, 2018).
Early Career
Yassir Igasan (a.k.a. Tuan Ya) was born in 1972 on the volcanic island of Jolo. As a teenager, Igasan was one an estimated 300 to 500 Muslim Filipinos who joined the jihad against the Soviets and their communist puppet government in Afghanistan, though whether Igasan actually served as a combatant remains uncertain (Philippine Information Agency, October 3, 2008). [3]
Muhammad Jamal Khalifa in the Philippines (Asharq al-Awsat)
After his return, Igasan studied Islam at Darul Imam Shafin, a religious school in Marawi City founded by Osama bin Laden's brother-in-law, Muhammad Jamal al-Khalifa. [4] During the late 1980s, Igasan worked as a Quranic studies instructor for Khalifa's International Islamic Relief Organization (IIRO), one of a number of charities Khalifa used to divert legitimate charitable donations from the Middle East for use by Islamist militants in the southern Philippines, Abu Sayyaf in particular. [5] Igasan's close relationship with Khalifa would have provided an opportunity to study terrorist financing first-hand.
Abu Sayyaf Background
Abu Sayyaf was founded in 1991 by Abdurajak Abubakar Janjalani from radical members of the Moro National Liberation Front (MNLF), a Muslim rebel group that was beginning to negotiate with the government. Like many of the movement's early leaders, Janjalani was part of a local chapter of the Tablighi Jama'at, a global Islamist missionary group, and later joined the mujahideen in Afghanistan. [6] It was there that Janjalani first met Igasanj, who joined the ASG in 1993. [7]
Abu Sayyaf announced its emergence with a wave of bombings, kidnappings and assassinations targeting Christians, Catholic clergy and churches. Unlike the older Muslim separatist guerrilla groups in the southern Philippines, Abu Sayyaf was devoted to terrorist tactics from the beginning.
Abu Sayyaf's aim was to establish an independent Islamic state in the southern Philippines that would no longer be dominated by the nation's Roman Catholic majority. Funding for the group was initially provided by al-Qaeda, but kidnappings later became the main source of revenue. With ransoms for Europeans and North Americans in the millions of dollars, there is plenty of temptation for mediators and security forces to take a cut of these massive cash payments. The mayor of Jolo and a number of former hostages are among those who have accused certain Filipino military officers and civil officials of cooperating with Abu Sayyaf's kidnapping schemes in return for a slice of the ransoms (ABS-CBN News, June 17, 2016; Philippine Daily Inquirer, May 12, 2017). [8] When ransoms fail to arrive promptly, the hostages are typically beheaded.  Some ransoms have been paid in firearms, ammunition and other supplies (Straits Times [Singapore], May 20, 2015).
Abu Sayyaf has always struggled with a fragmented leadership due to rivalries, the difficulty of maintaining central control in a challenging physical environment and the steady elimination of its leaders by Filipino and American forces (American military assistance was provided for the battle against Islamist militants in the southern Philippines from 2002 to 2014). Abdurajak Janjalani was killed by Filipino security forces in December 1998. Igasan was considered a leading contender for the leadership position, but Abdurajak's brother Khadafy was elected instead.
One of the strengths of the ASG is the close ties its various command groups maintain with local communities in which the fighters have close clan and family ties. The work of security forces is made difficult by the possibility that these communities benefit financially from ASG kidnappings in exchange for silence and logistical support.
Igasan in Abu Sayyaf
Abdurajak Janjalani's death and a disruption of the al-Qaeda funding pipeline led to a period of decline for Abu Sayyaf in the late 1990s, during which Igasan returned to the Middle East for several years for further Islamic studies in Syria, Libya and Saudi Arabia. [9] He returned home but again traveled to Saudi Arabia in 2001, posing as an overseas Filipino worker. In reality he was organizing a new financial support network for Abu Sayyaf (Philippine Information Agency, October 3, 2008).  In the meantime, Abu Sayyaf had degenerated into a loosely knit group of kidnapping gangs known for their brutality.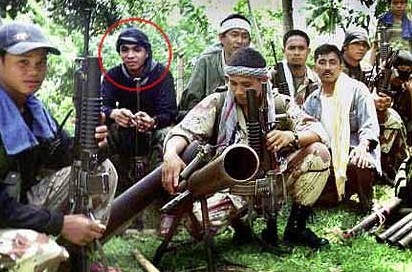 Khadafy Janjalani (circled) with Abu Sayyaf Militants
With US intelligence and logistical support provided by the U.S., the AFP mounted a major offensive against the group in 2002 that cost it many fighters, though AFP losses were also significant.  Khadafy Janjalani's attempted to restore the group's Islamist base, and under his guidance ASG returned to terrorist bombings in Manila and other majority Christian cities of the central and northern Philippines. [10]
Khadafy Janjalani was killed by the 3rd Marine Brigade in Sulu Province in September 2006. [11] In July 2007, AFP Lieutenant General Romeo Tolentino announced that the ASG had made Yassir Igasan their new leader. [12] Abu Sayyaf, however, never made it clear that Igasan had actually succeeded Khadafy Janjalani.
Igasan's usefulness to the ASG has always been based on his Islamic education and his fundraising connections in the Middle East. These became of particular importance once the existing conduit through the IIRO was severed after a U.S. investigation of the group's ties to al-Qaeda was launched (Reuters, July 22, 2009). Nonetheless, Igasan's reputed knowledge of Islam did not result in greater credibility or support for the ASG, which was heading in the direction of greater violence and criminality at the same time as the far larger Moro Islamic Liberation Front (MILF) was moving towards reconciliation with the national government.
Filipino Marines claimed to have wounded Igasan and killed six other Abu Sayyaf members in 2014 during an operation on Jolo Island sparked by tips provided by locals (ABC/AFP, February 11, 2014). Other forces were at work that year, as Abu Sayyaf leader Isnilon Hapilon pledged allegiance to the Islamic State in July 2014 and the MILF, with an estimated 11,000 fighters, signed a peace deal with Manila.
Igasan and the Islamic State Organization
In recent years, the jihadi landscape has begun to shift in the southern Philippines. MILF signed a peace agreement with the government in 2014 and now often acts as a mediator between Manila and various Islamic militant groups. While no longer fighting the government, MILF is not required by the agreement to disarm until an autonomous region is created in the Muslim south Philippines. MILF units are now deployed against non-signatory jihadi groups with fire support from the AFP, but they do not fight alongside the Filipino regulars as their tactics are very different; the AFP fights a conventional war of sweeps and containment, while the MILF guerrillas fight in a style very similar to their jihadi opponents (AFP, September 6, 2017; Tempo [Manila], December 21, 2017).
The introduction of the Islamic State organization led to further changes, with Abu Sayyaf working closely with the new group after ASG leader Isnilon Hapilon declared the ASG's allegiance to the Islamic State in July 2014. By 2016, Hapilon had emerged as IS leader. The Bangsamoro Islamic Freedom Fighters (BIFF), which split from the Moro Islamic Liberation Front (MILF), also pledged allegiance to the Islamic State (IS) (BenarNews, April 11). The shift from al-Qaeda influence to IS influence marked a greater emphasis on offensive jihad, with the IS organization ready to take its war to its "enemies," including Europeans and North Americans unfortunate enough to wind up in the hands of the militants. [13]
The IS formed itself into four operational groups in the Basilan, Ranao, Maguindanao and Cotabato regions of the southern Philippines (Eurasia Review, April 6). Maguindanao is the base of the allied Jamaatul Muhajireen wa'l-Ansar, led by Abu Turaifi (Esmael Abdulmalik), who left the BIFF to form his own movement.
When one-armed veteran ASG commander Radullan Sahiron began sending surrender feelers to the AFP in April 2017, Joint Task Force Sulu (JTFS) commander Brigadier General Cirilito Sobejana speculated that Sahiron's surrender could launch a leadership struggle within ASG between Igasan and another ASG leader, Hatib Hajan Sawadjaan (Manila Bulletin, April 21, 2017).
However, this struggle was averted when ASG militants joined IS forces and the Maute Islamist group in May 2017 to seize Marawi, the capital city of the deeply impoverished Lanao del Sur province. The city was besieged by the AFP for five months as 1200 people were killed in the fighting, many of them militants. After months of shelling and airstrikes, much of the city was reduced to rubble.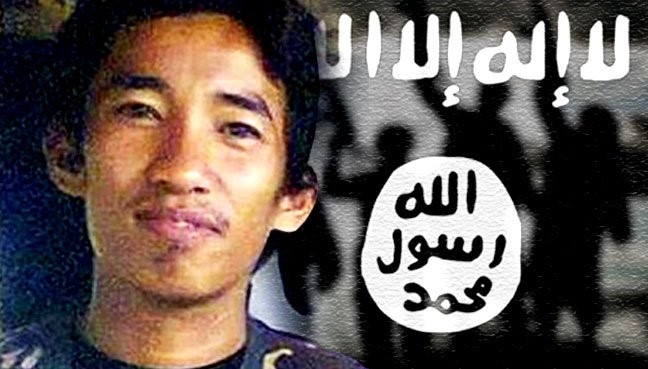 Sabahan Amin Baco (Free Malaysia Today)
Isnilon Hapilon was killed in the later phases of the fighting in Marawi. According to the Army's 1st Infantry Division and National Security Adviser Hermogenes Esperon Jr., Igasan was one of three potential successors as head of the IS (Manila Times, March 13). The others included Abu Dar (aka Humam Abdul Najid, a survivor of the Marawi siege with strong ties to foreign terrorist groups, and Sabahan Amin Baco, a Malaysian member of Jemaah Islamiya (JI) involved in bombings in Sulu and Basilan. Baco was possibly wounded in Marawi in January; reports claim he escaped to Sulu to take refuge with his father-in-law, ASG commander Hatib Hajan Sawadjaan, though the military claims he was killed but his body not recovered. Baco is also said to be working on an alliance of regional jihadi groups under the IS umbrella that would include the ASG (Manila Times, March 13; AP, January 17; Free Malaysia Today, November 27, 2017).
Once the Islamists had been defeated in Marawi, President Rodrigo Duterte called on Malaysia and Indonesia to take stronger action against Abu Sayyaf, particularly in the Malacca Strait, a vital shipping lane where sailors are frequently kidnapped: "Blast them out of the seas to keep our shipping lanes open and safe. They have committed enough piracy there, enough money collected from ransoms" (AFP, October 20, 2017). Duterte has also urged China to help counter terrorism in regional waters, making reference to China's participation in the campaign against Somali piracy: "I'm telling you, if we can't do it, we'll just have to call China to come in and blow them off just like Somalia (Philippine Inquirer, January 24).
Following the collapse of IS resistance in Marawi, most of the survivors created new strongholds in Maguindanao and Jolo, where ASG fighters and the AFP met in battle in March (Eurasia Review, April 6). In mid-May, a failed ASG ambush resulted in the death of two soldiers but also the death of 10 ASG militants and the wounding of a further 15 after an hour-long gun battle (BenarNews, May 14).
MNLF leader Yusop Jikiri, who survived an ASG assassination attempt in 2003, has provided the AFP with intelligence and hundreds of guerrilla fighters with intimate knowledge of the terrain in which ASG operates: "We'd like to clean the name of Sulu and the Tausugs… I hope the Abu Sayyaf will stop kidnappings and all sort of criminalities to avoid any more bloodletting" (AP, January 17).
Conclusion
The Islamic State's ill-advised attempt to hold territory (i.e. Marawi City) as the basis of a caliphate (a strategy that has failed elsewhere) has cost it in terms of leaders, arms, funds, fighters and morale. The ASG, as partners in this endeavor, has suffered in similar ways. At this time, ASG tends to operate as a series of generally cooperative but physically isolated factions with no clear central leadership. If Igasan has indeed been killed, it makes the ASG leadership picture even less clear, with the possibility of a final disintegration of the ASG into little more than a number of independent bandit groups operating from remote jungle bases under the thin cover of being nationalist/religious "freedom fighters."
In the meantime, Duterte's government remains committed to destroying the ASG. According to Brigadier General Cirilito Sobejana, AFP chief-of-staff General Carlito Galvez Jr has issued orders to finish off ASG as soon as possible: "The target date is December if we fast track our operation [but] it can be done in two years" (Tempo [Manila], May 18).
Notes
Abu Sayyaf = "The Sword Bearer"
Samuel K. Tan: Internationalization of the Bangsamoro Struggle, University of the Philippines Center for Integrative and Development Studies, Quezon City, 2003, p.96.
Zachary Abuza, "Balik-Terrorism: The Return of the Abu Sayyaf," US Army College Strategic Studies Institute, Carlisle PA, September 2005, http://www.strategicstudiesinstitute.army.mil/pdffiles/PUB625.pdf
Taharudin Piang Ampatuan, "Abu Sayyaf's New Leader: Yasser Igasan the Religious Scholar," RSIS Commentaries, July 9, 2007, https://www.rsis.edu.sg/rsis-publication/rsis/954-abu-sayafs-new-leader-yass/#.WvCMTpch3cc
Zachary Abuza, "Funding Terrorism in Southeast Asia: The Financial Network of al-Qaeda and Jemaah Islamiyah," Contemporary Southeast Asia 25(2), August 2003, pp. 169-199.
Rommel C. Banlaoi: Philippine Security in the Age of Terror: National, Regional, and Global Challenges in the Post-9/11 World, Boca Raton, Florida, 2010, p.57.
Ampatuan, op cit.
Jose Torres: Into the Mountain: Hostaged by the Abu Sayyaf, (Quezon City: Claretian Publications, 2001), pp. 147-148; Victor Taylor, "Addressing the Situation of the Abu Sayyaf Group in the Philippines: Part 2," MacKenzie Institute, May 7, 2017, http://mackenzieinstitute.com/addressing-situation-abu-sayyaf-group-philippines-part-2/.
Ampatuan, op cit.
Abuza, op cit, 2005.
Bob East: The Neo Abu Sayyaf: Criminality in the Suiu Archipelago of the Republic of the Philippines, Newcastle-upon-Tyne, 2016, p. 80.
Ampatuan, op cit.
Victor Taylor, "Addressing the Situation of the Abu Sayyaf Group in the Philippines: Part 2," MacKenzie Institute, May 7, 2017, http://mackenzieinstitute.com/addressing-situation-abu-sayyaf-group-philippines-part-2/.
This article first appeared in the June 8, 2018 issue of the Jamestown Foundation's Militant Leadership Monitor.