Andrew McGregor
July 23, 2008
According to the anti-terrorism branch of the Philippine National Police, a new funding network has been created to support the terrorist activities of the Abu Sayyaf Group (ASG) and the lesser-known Rajah Sulaiman Movement (RSM), a dangerous group of Filipino natives who abandoned Christianity for radical Islam after working in the Middle East. The new financing network, allegedly run by Saudi national Abdulrahman Qaussamulah, replaces an earlier network run by Osama Bin Laden's brother-in-law Muhammad Jamal Khalifa, which was disrupted by a raid on the Islamic Information Center in Manila in 2005 (Philippine Daily Inquirer [Makati City], July 14).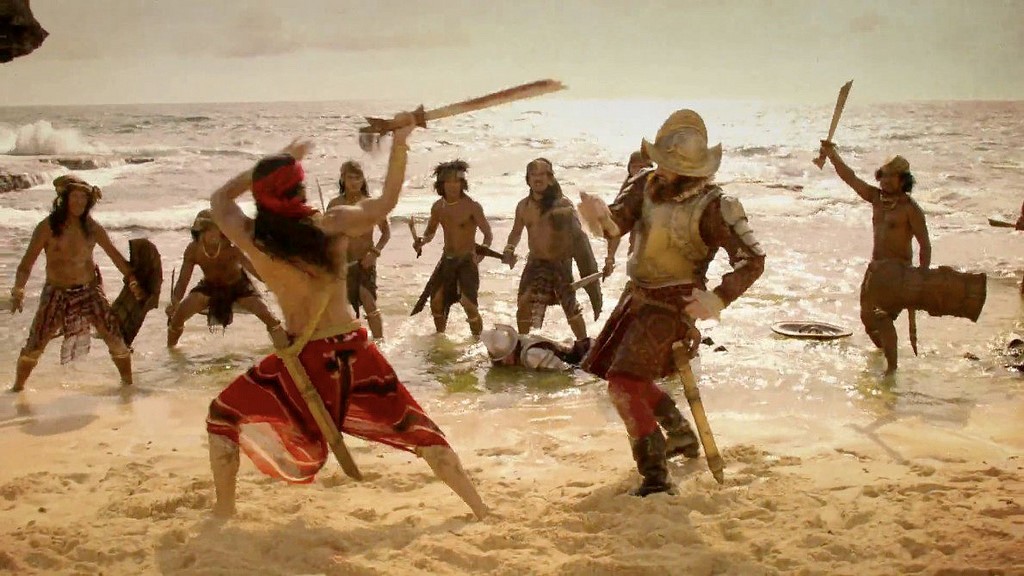 Re-enactment of the 16th century Muslim-Spanish Confrontation
The movement is named for Rajah Sulaiman Mahmud, the last Muslim ruler of Manila, who fell battling Spanish invaders in 1571. The RSM is dedicated to the "re-Islamization" of the northern Philippines (AFP, December 21, 2005). The converts to Islam work closely with the Abu Sayyaf Group and Jemaah Islamiyah (JI), an Indonesian-based terrorist group with close ties to al-Qaeda. The Moro Islamic Liberation Front (MILF), currently in negotiations with the government, denies accusations that it has provided refuge for RSM operatives (Mindanao Examiner, December 11, 2006). Abu Sayyaf has also made efforts to recruit Christians from their operational area in Basilan Island and Zamboanga City (AFP, September 21, 2005). A movement known as Balik Islam is dedicated to converting Filipino Christians to Islam.
Seven members of the RSM, including current leader Ruben Pestano Lavilla Jr., were placed on the U.S. list of "Specially Designated Global Terrorists" in June (U.S. Treasury Department, HP-1030, June 16). The document cited RSM involvement in the February 2004 Manila ferry bombing that killed 116 people and the February 2005 Valentine's Day bombing in Makati City that killed four people and wounded over 100.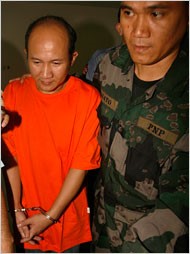 Ruben Pestano Lavilla Jr. after his arrest in August 2008 (NYT)
Lavilla replaced previous RSM commander Feliciano de los Reyes (a.k.a. Ustadz Abubakr), who was arrested in December 2006. Ricardo Ayeras (a.k.a. Abdul Karim), an important founding member of the RSM, was captured in August 2007. Ayeras later claimed to be a Catholic who was tortured into a confession at Camp Crame, the Quezon City headquarters of the Philippine National Police. RSM founder Hilarion del Rosario (a.k.a. Ahmed Santos) was arrested in Zamboanga City in October 2005 while stockpiling 600 kilograms of explosives for an alleged plot to bomb the U.S. embassy in Manila.
Many RSM members are believed to come from affluent families with connections abroad (AFP, January 23, 2007). Many speak Arabic and English as well as local languages and are able to mix freely in Manila and other major Filipino urban centers which are predominately Christian. An influential Filipino broadcaster and an audio consultant who worked with police were responsible for bailing out Dawud Santos (brother of RSM leader Ahmed Santos) in 2005 after he was arrested with 10 sacks of ammonium nitrate in his possession. The release reportedly left President Gloria Macapagal Arroyo infuriated (Remate [Manila], November 2, 2005).
This article first appeared in the July 23, 2008 issue of the Jamestown Foundation's Terrorism Focus.