Andrew McGregor
Eurasia Daily Monitor 13(122), September 5, 2018
Algeria is undertaking a major arms acquisition program designed to enhance its regional standing and make it difficult for terrorists or insurgent forces to operate on Algerian territory. To this end, it has become a major purchaser of Russian arms that are often battle-proven in Syria.
When it was initially formed in 1962 from anti-colonial guerrilla units, Algeria's Armée nationale populaire (ANP) possessed only captured or abandoned French arms as well as some Chinese and Egyptian equipment. Within a year, the Soviet Union began offering arms on credit at very favorable terms. By the time of the Soviet collapse, some 90 per cent of the ANP arsenal was Soviet in origin. [1]  With the military gear came thousands of Soviet advisors, but, still wary of encroachments on its hard-won independence, the Algerians declined to allow the establishment of a Soviet naval base at the port of Mers al-Kabir, a strategically vital former French naval base close to the Strait of Gibraltar.
To re-establish Russia's role as Algeria's main arms supplier, President Vladimir Putin cancelled a Soviet-era Algerian military debt of $4.7 billion dollars in 2006 in return for an Algerian commitment to buy $7.5 billion worth of Russian arms (BBC, March 11, 2006). Aided by an upsurge in energy prices that helped fund the purchases, Algeria became Russia's third largest customer for military goods (Sputnik, February 19).
A quick look at some of Algeria's most recent Russian arms purchases illustrates how Algeria is building a modern and capable army:
Two hundred modernized Russian T-90SA "Tagil" main battle tanks (MBTs) were delivered to Algeria in 2016 (Defence-Blog, July 15, 2016; Interfax, July 18, 2016). This year, Algeria is taking delivery of roughly 300 BMPT Terminator II armored fighting vehicles intended for protection of MBTs, particularly in urban warfare situations. Carrying both anti-armor and anti-personnel weapons, the BMPT can engage multiple targets at once (DefenceWeb, September 11, 2017).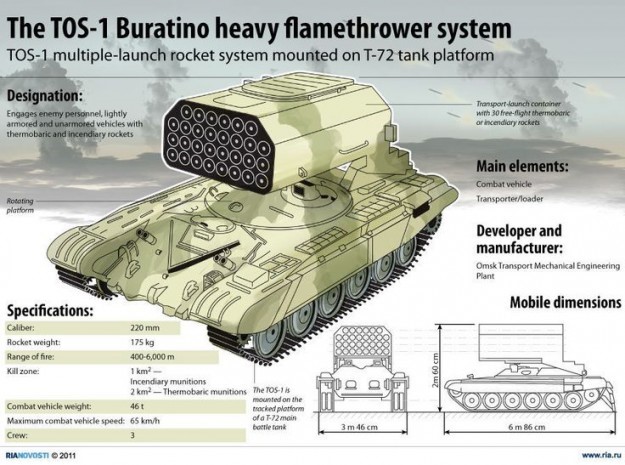 The TOS-1 Buratino Heavy Flamethrower System (RIA.Ru)
In May, Algeria became the fifth known purchaser of Russia's TOS-1A Buratino "Blazing Sun" multi-barrel mobile rocket launcher, consisting of 24 rockets armed with thermobaric warheads fired from a modified T-72 tank chassis (Jane's.com, May 14). Battle-tested in Afghanistan, Russian thermobaric weapons were successfully used against Chechen positions in the 1999 battle for Grozny and have since been used in combat by Iraq, Azerbaijan and Syria. The TOS-1A's fuel-air explosives are especially effective against fortified positions (Nezavisimoye Voyennoye Obozreniye, August 26, 2017).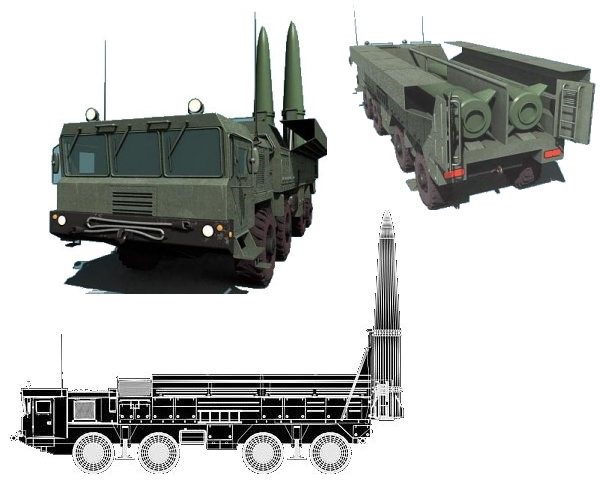 The Iskander-E Short-Range Mobile Ballistic Missile Launcher (Army Recognition)
Earlier this year, Russia began delivery of four regiments of the Iskander-E (SS-26 Stone) short-range mobile ballistic missile system. Each regiment consists of 12 launchers and about 30 support vehicles. The Iskander system was used against Georgian forces in 2008 (Kommersant, March 5; net, March 5).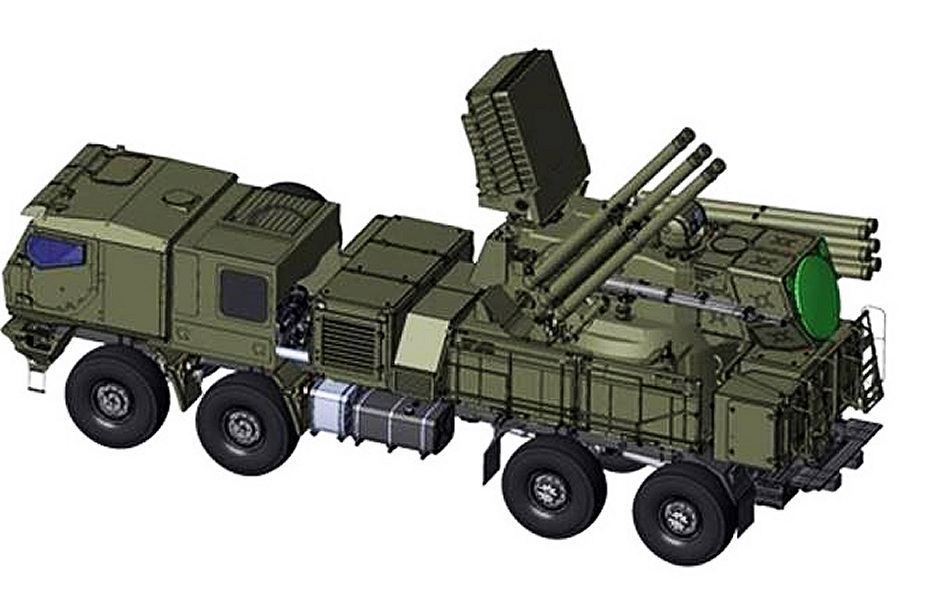 The Pantsir-SM Mobile Anti-Aircraft System (Army Recognition)
In a sign of the enhanced defense cooperation between Russia and Algeria, the latter field-tested the new Russian Pantsir-SM mobile anti-aircraft system in June. The system is a greatly improved version of the Pantsir-S1 system, using phased-array radars for target acquisition and tracking. Algeria is expected to be a major purchaser (ru, April 7).
Precision targeting of Algerian weapons will be much improved by June's ten-year agreement to allow Algeria military use of the GLONASS satellite navigation system. [2] India is the only other nation to be granted use of the system, and Algeria agreed not to pass the technology on to third nations or try to reverse-engineer the system (Le Monde, June 30). Algeria also acquired the Russian-made Rezonans-NE "over-the-horizon" radar system capable of long-range aerial surveillance and response coordination at a distance of up to 1,100 km (MenaDefense.net, April 3).
Military helicopters, first widely used by French forces during the Russian-supported Algerian independence struggle (1954-62), continue to be the most useful tool in combating militants in the forests, mountains and deserts of Algeria. With this in mind, Algeria has obtained 14 Russian-made Mil Mi-26T2 heavy-lift transport helicopters since 2016. Capable of carrying tanks and artillery as well as personnel, this new type incorporates electronics that enable the craft to operate 24 hours a day in a variety of inclement conditions (El-Khabar [Algiers], February 21, 2016, via BBC monitoring). [3]
This summer, Algeria is receiving the last of its 42 Russian Mi-28NE "Night Hunter" attack helicopters, an all-weather, two-seat attack helicopter designed to target armor, but also useful for reconnaissance and operations against ground forces. [4]
The ANP is also taking delivery of 39 upgraded Mi-171Sh "SuperHip" military transport helicopters, refurbished in Russia with the addition of an optronic ball, the Shturm-V precision guided-missile system and Ataka supersonic missiles. In addition to its transport role, it can also provide fire support to infantry forces and med-evac for wounded personnel (MenaDefense.net, May 17, 2018; Army-technology.com, 2018).
In September, Algeria will take delivery of its first Russian-made Project 22160 patrol vessel. Three more of the 1300 ton ships will be built in Algeria. Armed with "Klub-K" anti-ship missiles, Igla SAMs and cruise missiles, the ships were purchased based on their successful use against Syrian rebels (DefenceWeb, May 29). Other naval acquisitions include:
Four Russian-made Project 636 Varshavyanka Kilo-class submarines, with one already delivered and another undergoing sea trials. These new submarines are an improvement on the two Project 636M Kilo-class submarines already in Algerian service and are largely intended for coastal defence, particularly of Algeria's rich offshore oil and gas deposits.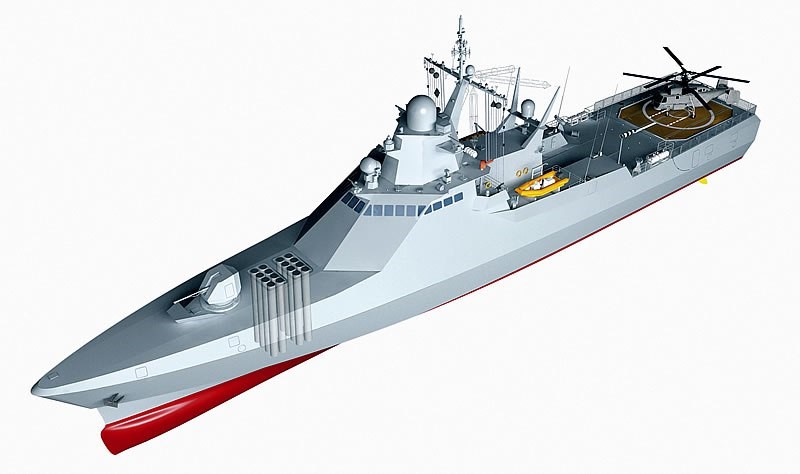 Project 22160 Patrol Ship (World Naval News)
In May, Algeria purchased one new Russian-made Project 22160 patrol ship and placed an order for three more to be built in Algeria under a technology-transfer agreement (ShephardMedia, May 22; Sputnik, June 15). The ships will incorporate stealth technology and be fitted with modern communications and jamming equipment (Algérie Monde Infos, April 24).
Moscow hopes that arms sales and military cooperation agreements will bolster their position in Algeria, but its goal of establishing a naval base at the port of Mers al-Kabir still appears distant. Algeria continues to try to establish some balance in its international arms purchases, but has let it be known that it is increasingly interested in technology-transfer agreements to permit the development of its own arms industry.
Algeria maintains its constitutional prohibition on military deployment outside Algeria and a strict policy of regional non-interference. While some of the Russian equipment is useful for counter-insurgency or counter-terrorism work, the rest seems better suited for defensive use against Moroccan, Libyan or European opponents. With Russian assistance, the ANP is now the second-most powerful military in Africa.
Notes
US Library of Congress Country Studies – "Algeria – Foreign Military Assistance," 1994, http://countrystudies.us/algeria/172.htm
Globalnaya navigatsionnaya sputnikovaya sistema – GLONASS (Global Navigation Satellite System).
See also: "Algeria reveals new MI 26T2 Transport and Multi role Helicopter," Algeria Today, YouTube, June 27, 2016, https://www.youtube.com/watch?v=EkIEO7Twg2c
Algeria's efforts to secure the Mi-28NE for use against AQIM were described in: "Algeria Seeks New Russian Attack Helicopters for its Campaign against al-Qaeda in the Islamic Maghreb," Terrorism Monitor, June 17, 2011, https://www.aberfoylesecurity.com/?p=879


---