Andrew McGregor
May 31, 2006
As the insurgencies in Afghanistan and Iraq continue to dominate headlines, a new front in the war on terrorism has opened in Somalia. At a brutal cost to Mogadishu's civilian population, once-discredited warlords have reinvented themselves as "counter-terrorists," seeking and apparently gaining U.S. support by characterizing their Islamist opponents as agents of al-Qaeda. The warlords have grouped together as the Anti-Terrorism Alliance (ATA) and insist they are dedicated to expelling foreign al-Qaeda members they allege are sheltered by the Islamic Court Union (ICU). Although nearly all the ATA warlords are cabinet ministers in the new Somali Transitional Federal Government (TFG) located in Baidoa, they have abandoned the TFG to pursue an unauthorized war against their Islamist rivals in Mogadishu. Allegations of U.S. funding for the unpopular ATA leaders are undermining U.S. efforts to stabilize the region.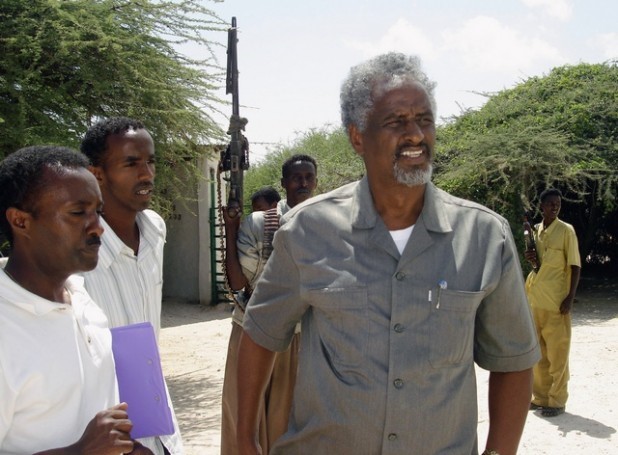 ATA Somali Warlord Muhammad Qanyare
Thus far, the efforts of the ATA have not been met with success. No "terrorists" have been detained, and ATA forces have not fared well in combat against the Islamists who continue to control most of Mogadishu. Ethiopia is reported to be sending convoys of weapons in violation of the UN embargo to re-equip beleaguered ATA fighters (Shabelle Media Network, May 24). ATA warlord and TFG Trade Minister Musa Sudi Yalahow has declared that the fighting in Mogadishu will continue until "African and Asian" terrorists have been removed from Somalia, while maintaining in reference to ATA funding that "nobody gives us anything" (Puntlandpost, May 19).
Muhammad Dhere, an important ATA leader, claims that Arab and Asian al-Qaeda members have been joined in Mogadishu by members of Ethiopia's Oromo Liberation Front, offering the observation that some fighters were covering their faces, obvious "proof" of their foreign origins (HornAfrik, May 19). The warlord also accuses numerous members of parliament of being al-Qaeda members, and further claims that 70 MPs are agents of hostile foreign countries (Shabelle Media Network, May 19). Increasingly, accusations of al-Qaeda links have become a common way for the warlords to discredit political opponents.
Former CIA Director Porter Goss is alleged to have visited Kenya in February to coordinate a campaign against al-Qaeda with Somali warlords (the U.S. embassy in Nairobi simply states that it has "no information" about such a visit). According to the TFG and Kenyan security sources, this visit was followed by a CIA mission to Mogadishu that distributed as much as US$2 million in funding to ATA warlords (Daily Nation, Nairobi, May 11). Assistant Secretary of State for African Affairs Jendayi Frazer stated that she did not know if the ATA warlords were receiving U.S. assistance, but made clear that "We will work with those elements that will help us to root out al-Qaeda and to prevent Somalia becoming a safe haven for terrorists, and we are doing it in the interests of protecting America" (Reuters, May 13).
TFG frustration with the United States is growing. The president, the prime minister, the speaker of parliament, and the minister of health (Abdiazziz Shaykh Yusuf) have all accused the United States of illegal intervention in Somalia through military and financial support of the ATA. President Abdullahi Yusuf Ahmad and Prime Minister Ali Muhammad Gedi insist that the United States deal solely with the TFG rather than cut deals with the warlords. Abdiazziz Shaykh Yusuf adds that Somalis "view the [Islamic] courts as the product of clan elders, and they have a good reputation compared to the warlords" (Midnimo.com, May 17).
The already fragile TFG is in danger of collapse due to Prime Minister Ali Muhammad Gedi's failure to force the return of cabinet ministers engaged in the Mogadishu fighting. Members of Parliament have called for his resignation, while other MPs accuse the United States of taking revenge on Somalia for U.S. losses in Mogadishu in 1993 (HornAfrik, May 17). The absent ministers are close to being dismissed from the government, which would effectively destroy any chance of the TFG establishing itself as an accepted government.
ATA warlord Muhammad Qanyare has complained that the TFG has "no respect for the [counter-terrorist] work we are doing." Qanyare explains the absence of the ATA warlords from their cabinet posts by noting that "we are busy fighting with terrorists now. We don't have time for the government" (Shabelle Media Network, May 24, May 25). Both the TFG and Somali popular opinion hold that the ATA is a collection of paid agents of the United States government. The presence of U.S. warships off Mogadishu and evening flights over the city by U.S. reconnaissance planes has tended to reinforce these perceptions (Haatuf News, Somaliland, May 10).
With the dictates of counter-terrorism in conflict with the methods of nation-building, Somalia is on the verge of another collapse. The battle in Mogadishu is spilling over into a wave of assassinations, grenade attacks and gunfights throughout Somalia. In the capital itself, firing tends to be indiscriminate and thousands of civilians are once more fleeing for safety. U.S. food aid programs are not enough to offset the belief of U.S. responsibility for this new round of misery. If the United States has indeed thrown its support behind the ATA, its efforts appear to be counter-productive. Most ATA fighters battle for pay and the promise of loot. Any serious setbacks or an exhaustion of ATA funds are likely to result in the rapid dissolution of the "anti-terrorist" coalition and a triumph for Mogadishu's Islamists.