Andrew McGregor
July 31, 2014
Reuben Wilson, a former commander in the loosely organized and allegedly disbanded Movement for the Emancipation of the Niger Delta (MEND), is threatening to block oil production in the Niger Delta region of Nigeria if the current president, Goodluck Jonathan, is prevented from running for a second term in February 2015 (see Terrorism Monitor, July 10). MEND was an umbrella organization for various Niger Delta militant groups fighting the Nigerian central government and targeting the region's oil industry before the movement's leaders accepted an amnesty in 2009. Despite this, disparate groups of militants in the Delta region continue to operate under the MEND banner, allegedly in response to continued environmental degradation and inequitable distribution of oil revenue.
Wilson, like other ex-militant leaders, has tied his fortunes to those of Jonathan, who as vice president under the late President Umaru Musa Yar'Adua, negotiated the amnesty and compensation payments that brought the former MEND leaders out of the creeks in 2009. Since then Nigeria has resumed something close to normal oil production in the region. Nigeria is plagued by its inability to secure the vast network of pipelines in the Delta. Last year alone, $11 billion were lost due to damaged pipelines and oil theft, which presidential spokesman Reuben Abati described as "an aspect of global terrorism" (Middle East News Agency, March 24).
Pastor Reuben Wilson (also known as "Ex-General" Reuben Wilson) was born in Koluama, a coastal community in the oil-rich Bayelsa State. A number of coastal communities in the Southern Ijaw region of Bayelsa State were recently wiped out by an ocean surge that locals and government officials blamed on Chevron's offshore exploration activities (Nigerian Times, July 8). Koluama was among the worst affected, losing an important fishery terminal in the surge. The community was wiped out by a similar surge in 1953 that local leaders blamed on the exploration activities of Shell D'Arcy, the predecessor of Shell Nigeria (Vanguard [Lagos], June 20). While remarking on the latest surge, Wilson recalled the earlier destruction of Koluama as one of the reasons he took to the creeks:
I am from Koluama in Southern Ijaw. We don't have money. We don't have roads. From Yenagoa to my place is three hours with speed boat and when you go there, you see flames [gas flares] everywhere. That is a place that was once flooded and the people wiped out. As I talk to you now, water has gone back there and the people's existence is being threatened. This was part of why we had to take up arms to attract government attention (The Nigerian Voice, January 29, 2012).
Wilson is a self-described "prophet" of the so-called "White Garment Church," part of the Aladura ("praying people" in Yoruba) spiritualist movement in Nigeria. After coming in from the creeks of the Delta in 2009, Wilson founded a peace advocacy group known as the Leadership, Peace and Cultural Development Initiative (LPCDI), which soon included most of the militant leaders who had accepted the federal government's amnesty.
Rebel Life in the Creeks
In 2006, Wilson took to the creeks of the Delta to join an insurgency targeting both the federal government and oil industry operations in the region. Wilson displays little nostalgia for his time there, describing it as a time of great hardship:
When we were in the creeks, we would not go out to the town. We would only leave our camp to the nearby riverine communities and then back to the camp. The only thing we were enjoying in the creeks was fish. Anytime we needed fish, we had enough… Then, we were in bondage, fighting with mosquitoes every day. To drink water, we would dig holes for water to come out. If you saw our skin then, you would pity us… We were there for like three years and could not see our wives (Nigerian Voice, January 29, 2012).
Wilson provides a somewhat glowing review of his leadership during his time in the creeks, saying the chiefs and elders "cherished me. I was not greedy; I shared whatever I have with them… My mode of operations attracted a very large followership" (The Tide [Port Harcourt], October 31, 2009). When asked to explain how a man of the cloth could take up armed rebellion against the state, Wilson replied: "I am a prophet in the church and for a prophet's anger to rise to the point of carrying arms, then it is really serious and intolerable. When I saw the condition of my community and nobody was ready to do something, I carried arms" (The Tide [Port Harcourt], April 22). According to Wilson, his group always prayed before operations and never actually killed anyone: "If anything like that happened, it must have been by mistake. We never intended to kill anybody" (The Tide [Port Harcourt], October 31, 2009).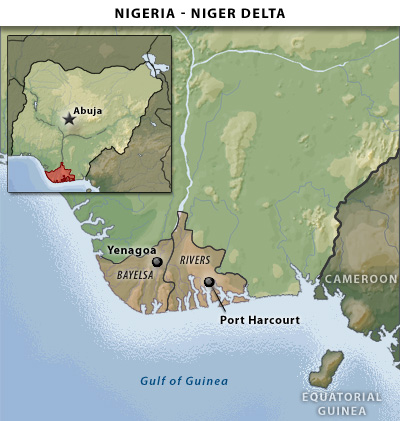 However, there were lucrative aspects to Wilson's time in the creeks with MEND and financial potential in the amnesty, as he recounted to a journalist in 2013:
When I was in the creek… We see money easily. We would call an oil company and say: 'If you don't give us this, we will blow up this facility,' and they would send money to the camp. Anything we said we need, they would send to us… By the grace of God, the oil company will give me a major contract to supply chemicals and equipment so in two or three years when you come back maybe you will see me in a big mansion (BBC, May 1).
Wilson soon discovered, however, that a reconciled militant no longer enjoyed the easy extortion of oil companies practiced in the creeks, naming Chevron in particular as a reluctant target: "When you approach them for anything, they will say 'we are dealing with government and we have paid money to them. It's government that will take care of your problems'" (The Tide [Port Harcourt], October 31, 2013).
A Reconciled Militant
Shortly after accepting the amnesty, Wilson began to complain that the payments from the federal government were "not enough to take care of myself and family. I need a steady job; even being a contractor will not be bad. I should be given [a] surveillance job. This is important so that some of the boys could be engaged in safeguarding the oil installations in my area" (The Tide [Port Harcourt], October 31, 2009).
Yenagoa, the capital of Bayelsa State, has become known for the enormous mansions built by reconciled former militant leaders who have benefited from access to government and oil industry contracts as well as from their customary deductions from amnesty-related payments to former members of these former leaders' groups. The lives of these past MEND leaders contrasts sharply with those led by their former comrades in the creeks, who continue to face challenges such as oil industry-related pollution, the lack of infrastructure, an absence of educational opportunities and widespread unemployment.
In recent years, Wilson has dedicated himself to visiting militant commanders still fighting the Nigerian government, such as General Lato, General Mammy Water and Commander Koko, to convince them to abandon their armed struggle, though the expiration of the federal government's amnesty program complicates these efforts (Nigerian Voice, January 29, 2012).
In June, the Wilson-led LPCDI warned it was prepared to take action against contractors that had failed to carry out projects commissioned by the Niger Delta Development Commission (NDDC), a growing complaint in the region. Wilson emphasized the LPCDI had other means than violence to force the contractors to act:
The same way we were able to fight the federal government and forced them to remember the Niger Delta, that same way, we will go after fraudulent NDDC contractors and force them to execute every job faithfully. We will not use guns, because we have surrendered them. But we will devise our own way of peacefully compelling all NDDC contractors to do what is right (Leadership [Abuja], June 30).
Ongoing Trouble in the Creeks
Despite Wilson's claim he has put violence behind him, there are signs that former members of his group are still armed and pursuing their own agendas in Bayelsa State. In May 2013, five former members of Wilson's militia, including his younger brother Benaibi Wilson, were killed in a shootout with a rival group in the Southern Ijaw region of Bayelsa State (AFP, May 5, 2013). Wilson denied that "his boys" had returned fire during the attack, believed to be connected to young ex-militants who have seen little or none of the amnesty allowance they were promised in 2009 (Reuters, May 5).
Other militants still active in the Delta creeks have a different perspective on the amnesty program. On October 22, 2013, a group claiming to be MEND attacked the Warri Refinery and Petrochemical Company, setting it ablaze. In a statement of responsibility, the group warned that peace would be elusive in the region so long as the president placed his faith in an "unsustainable and fraudulent" amnesty program (RealNewsMagazine.net [Lagos], November 11, 2013). While authorities claimed the fire was an accident, Wilson castigated those who claimed responsibility, insisting that MEND could not be responsible as it had ceased to exist when the amnesty was accepted in 2009 (RealNewsMagazine.net [Lagos], November 11, 2013).
In April 2013, a number of ex-militants killed 12 policemen in an ambush claimed a group claiming to be MEND in the creeks of Bayelsa State but believed to actually be part of a dispute generated by alleged illegal deductions from monthly amnesty payments made by the militants' leader, Comrade Kile Selky Torughedi (a.k.a. "Young Shall Grow") (Reuters, May 5, 2013). The policemen were on their way to provide security at the funeral of Torughedi's mother at the time they were attacked (Sahara Reporters, April 7, 2013). Wilson rejected the MEND claim and suggested that such violence could be avoided if the ex-militant leaders maintained better communications with their followers rather than abandoning them in the creeks:
When we accepted amnesty, the federal government made lots of promises to the [militant] leaders. Because of the failures on the part of the federal government, the leaders were deducting the allowances of the boys. But if the Federal Government reached out and treat the leaders with respect and fulfill the promises, I don't think any leader will make such illegal deductions (Guardian [Lagos], April 8, 2013).
In April 2013, Lawrence Pepple, head of the Amnesty Committee's Reintegration Department, told a group of ex-militants (including Reuben Wilson) that the murder of the 12 police officers was tied to the work of "anti-Jonathan forces" in Bayelsa State. If approached by such forces, Pepple urged the ex-militants "please take their money and do not execute the destruction they want you to do," while noting ominously that the U.S. Congress must be told that "if they support these anti-Jonathan forces, we cannot guarantee internal security in the Niger Delta" (Sahara Reporters, April 22, 2013).
In February 2013, six foreign sailors (Ukrainian, Indian and Russian) were abducted from the offshore supply tug Armada Tuah 101 by Bayelsa-based gunmen. A ransom of $1.3 million was demanded, but the men were released nine days later without any ransom being paid (Reuters, February 27, 2013; Interfax, February 26, 2013; Maritime Bulletin, February 18, 2013). Wilson claimed he and other former militant leaders went back to the creeks to negotiate the release of the hostages and suggested that there was no justification for such kidnappings since the federal government was implementing the amnesty program:
We took the pains to go into the creeks that we left some years back to look for and rescue all the abducted foreign workers because for us, it was shameful and degrading that some disgruntled elements are still thinking of kidnapping people in times like this when the amnesty program has been on course… Our message to those elements is that they must stop the rubbish. There is nothing to gain in engaging in this kind of venture (Eagle Online [Lagos], March 1, 2013).
Conclusion
Wilson has been especially vocal on what he sees as a widespread campaign combining political activity and Boko Haram terrorism to discredit President Jonathan, who, like Wilson, is an Ijaw from Bayelsa (see Terrorism Monitor, July 10). Wilson believes that Jonathan will win the presidential election easily, even taking a large number of votes in the Muslim north, which is generally perceived as hostile to the southern-born president:
Forget what the elite are doing. The masses who will go to vote know the truth. I can assure you that many people will be so disappointed because the common man on the street knows the truth and when the time comes, he will gladly give his vote to President Jonathan. I, Ex-General Reuben Wilson, a former Niger Delta freedom fighter, am telling you that Jonathan will return to office in 2015 and he will do so in style (Daily News Watch [Lagos], May 1).
According to Wilson, the president's northern opponents seek to prevent his re-election so they can "take charge and continue to enslave us as was the case for decades. We will not fold our arms and watch a section of the country which believes that it is their birthright to rule Nigeria to chase Mr. President out of office" (Punch [Lagos], September 6, 2013).
This article first appeared in the July 31, 2014 issue of the Jamestown Foundation's Militant Leadership Monitor.