Andrew McGregor
May 22, 2007
After several weeks of relative calm in the Somali capital of Mogadishu, expelled Islamist leaders now based in Eritrea have pledged to continue attacks despite setbacks suffered in battles with Ethiopian troops in March and April. Two-thirds of the original Ethiopian force has now been withdrawn, and a three-week old cease-fire between Ethiopian troops and Mogadishu's dominant Hawiye clan appears to be holding. Some 1,500 Ugandan soldiers of the African Union's peacekeeping force are patrolling Mogadishu, but the rest of the projected 8,000-man force has yet to materialize, despite pledges from Nigeria, Burundi, Ghana and Malawi. The Ethiopian Foreign Ministry claims that 800-900 insurgents were killed in March and April, although this figure appears to include some of the 1,400 civilians killed in the fighting. Ethiopia also disputes the number of refugees, claiming the existence of only 80,000 displaced persons as opposed to UN estimates of 400,000 (SomaliNet, May 19). The UN's relief chief for Somalia has described the refugee crisis as "worse than Darfur" (Shabelle Media Network, May 15).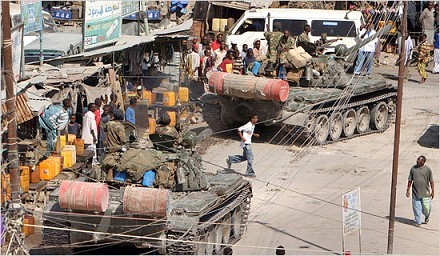 Ethiopian Tanks in a Somali Market
Indiscriminate retaliatory shelling from Ethiopian troops, following attacks on their bases, devastated many Hawiye neighborhoods and cost the insurgency in terms of local support. After assessing their losses, the insurgents appear to have abandoned their preferred methods of hit-and-run mortar attacks and open gun-battles in favor of a shift to Improvised Explosive Devices (IEDs) and targeted assassinations. For example, a remote-controlled roadside bomb hidden in a pile of trash killed four Ugandan soldiers and injured five more on May 16. Four days later, a large roadside explosive device hidden in a plastic bag killed two civilians, while another bomb narrowly missed a Transitional Federal Government (TFG) convoy, killing two civilians instead. The main road through the Bakara market was closed the same day when another bomb was discovered close to a TFG base.
TFG Prime Minister Ali Muhammad Gedi was nearly killed on May 17 by a grenade thrown by a would-be assassin. Former warlord and new Mogadishu mayor Muhammad Dheere was targeted on May 20 by grenades thrown from an assassin in a tree. Dheere survived, noting: "It seems the Islamic insurgents are still active in Mogadishu, but we will get rid of them" (Shabelle Media Network, May 20). The TFG has responded with controversial new tactics of its own, including seizing and burning women's veils to prevent insurgents from disguising themselves in women's garments (al-Jazeera, May 9).
Ugandan President Yoweri Museveni has urged AU members to pursue a more vigorous form of "peacemaking" that is closer to conflict intervention than the traditional definition of "peacekeeping." "If we follow the UN concept of waiting for peace to return before we deploy peacekeepers, then we are bound to lose many lives," he explained. "We should deploy even when fighting is still going on" (Shabelle Media Network, May 16). Ugandan troops are struggling alone in Mogadishu, waiting for the arrival of the rest of the AU peacekeeping force. The deadly attack on a Ugandan convoy suggests that the insurgents regard any foreign detachment as an occupying force. It does not help that the AU headquarters are located in Addis Ababa. The trouble is that the AU deployment was intended to replace the much-hated Ethiopian army, not work alongside it. There is little alternative, however, as an immediate Ethiopian withdrawal would place an isolated Ugandan force in a precarious position, with little choice but to drive an evacuation column overland back to Uganda or to evacuate by sea from their base on Mogadishu's waterfront. The AU's and Addis Ababa's U.S. patrons have warned the Ethiopian government against making a hasty withdrawal. Ethiopian Prime Minister Meles Zenawi complains of the "onerous" financial burden imposed on Ethiopia by keeping its troops there. According to Zenawi, the resistance has been broken and conditions have been established for peacekeepers "to do their job" (Shabelle Media Network, May 15). Zenawi has promised that Ethiopian troops will leave as soon as AU forces arrive in support of the Ugandans.
Mogadishu's powerful business associations have begun to transfer small arms to TFG depots, but lacking confidence in the permanence of the new government, they have failed to turn over their heavy weapons or "technicals" (armored pick-up trucks equipped with anti-aircraft weapons) (Banadir, May 4). After several large-scale robberies by men wearing TFG uniforms, the businessmen are now demanding that Ugandans rather than TFG men provide security for the commercial district (Shabelle Media Network, May 17).
On May 17, the United States appointed career diplomat John Yates as special envoy to Somalia. Yates wasted no time in claiming that the roadside bombing that killed four Ugandans was evidence of al-Qaeda activity in Mogadishu (Reuters, May 18). A spokesman for the AU also alleged al-Qaeda responsibility for the attack (Shabelle Media Network, May 18). In Uganda, public opinion is quickly turning against the Somali mission as reports of casualties come in. There are calls in the Ugandan press for the AU to admit its inability to manage the Somali mission and turn over responsibility to the UN. The chairman of the AU Commission, Alpha Konare, conceded on April 27 that, "If other countries do not commit troops soon, it will be a disaster for Africa" (New Vision [Kampala], May 7).
This article first appeared in the May 22, 2007 issue of the Jamestown Foundation's Terrorism Focus