Andrew McGregor
From Tips and Trends: The AIS African Security Report
March 30, 2015
On February 2, a spokesman for the rebel faction led by former South Sudan vice-president Riek Machar (now operating under the name Sudan People's Liberation Army/Movement in Opposition – SPLA-IO or SPLM-IO) declared the rebel movement was planning to undertake a massive recruitment drive before launching a new offensive to drive government forces loyal to President Salva Kiir Mayardit from strategic cities in South Sudan: "We now have more than 10 active fronts. There are already more than three major fronts in Bahr el Ghazal and another front in Lakes State will soon go into operation" (Sudan Tribune, February 2, 2015).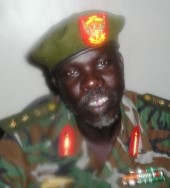 Major General Khamis Abdel Latif
Operations in the Lakes State will be led by Major General Khamis Abdel Latif Chawoul Lom, a controversial figure who defected from the SPLA to the Sudanese Armed Forces (SAF) in the 1980s and later served a year and a half in a Port Sudan prison after being convicted of rape (Nyamile.com, November 21, 2014). Whether the current struggle power intensifies or not will depend largely on the impact of a U.S.-sponsored motion to have the UN Security Council impose strong sanctions on both government and rebel leaders.
Washington has become fed up with the inability of both sides to follow up on any peace agreements or initiatives and the fighting has become something of a diplomatic embarrassment to the United States, which was the main sponsor of South Sudan's independence. In response to the growing pressure, President Kiir has offered a conditional amnesty and reintegration into the government of the rebel leaders, but the package fails to address any of the issues that sparked the rebellion in the first place. Sporadic but often intense fighting can be expected over the next few months as the two sides jockey for position in ongoing talks.