Andrew McGregor
February 6, 2019
Less noticed but no less important than the reported arrival of Russian mercenaries in Venezuela has been the influx of Russia Wagner Group "private military contractors" (PMC) in Khartoum to help local security forces shore up the embattled regime of Sudanese President Omar al-Bashir. The leader of this northeast African state is clinging to power in the face of nation-wide protests against his rule.
The demonstrations started on December 19, 2018, over a three-fold increase in bread prices after a shortage of foreign currency forced the government to cancel foreign wheat purchases. Accusations are rampant that some of the hundreds of arrested protesters have been tortured and compelled to confess membership in terrorist groups (Middle East Monitor, January 14; Sudan Tribune, February 3).
Over forty protesters have been killed in the demonstrations, with the president blaming the deaths on "infiltrators" from the Sudan Liberation Movement of 'Abd al-Wahid al-Nur (SLM/A-AW), a Darfur rebel movement active since 2003. National Intelligence and Security Service (NISS) chief General Salah 'Abdallah Gosh accused Israel of recruiting the Darfuris to disrupt the Sudanese state (Sudan Tribune, January 21).
Al-Bashir is wanted by the International Criminal Court (ICC) on charges of genocide, war crimes and crimes against humanity related to his repression of the revolt in Darfur. Russia was a signatory to the treaty that created the ICC but never ratified the agreement. In November 2016, Russia withdrew its signature, ending its involvement with the court (TASS, November 16, 2016). Ignoring the ICC travel ban on al-Bashir, Russia has hosted the Sudanese head of state twice: once in November 2017 and again in July 2018. When al-Bashir made an unannounced visit to Damascus last December, he travelled by a Russian military aircraft (RT—Arabic service, December 18, 2018). Russia is interested in the oil, mineral and financial sectors of the Sudanese economy and the establishment of a naval facility on Sudan's Red Sea coast (see EDM, December 6, 2017).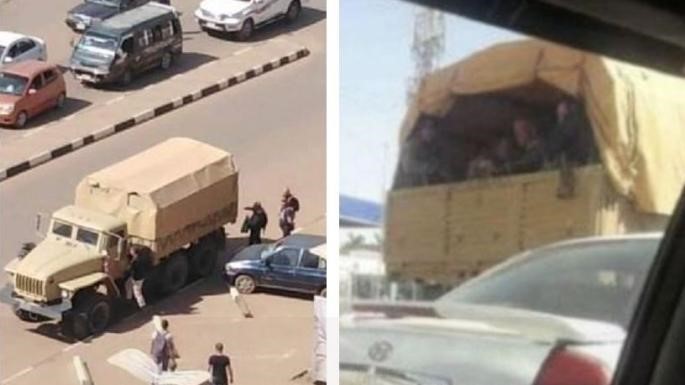 Photos of alleged Russian mercenaries in Khartoum (The Times)
In January 2019, The Times published photos of men alleged to be Russian mercenaries being transported through Khartoum in a Ural-4320 utility truck, widely used by the Russian military and Russian PMCs. The report also cited witnesses who claimed Russians forcibly dispersed protesters (The Times, Newsru.com, January 10). Local sources state that the Russian contractors are training the special operations forces of the NISS, Sudan's powerful secret police organization (Sudan Tribune, January 8).
Vasyl Hrytsak, the chief of the Security Service of Ukraine (SSU), claimed that his agency had obtained the travel documents and passport data of 149 Wagner Group personnel who "directly partook in suppressing democratic protests in Sudan in early 2019." The SSU alleged that Wagner mercenaries had been transported to Sudan on Tu-154M airliners belonging to the Russian Ministry of Defense (Unian.info, Gordonua.com, January 28). The deployment was arranged by Yevgeny Prigozhin's M Invest LLC, which obtained gold mining concessions in Sudan during al-Bashir's 2017 visit to Sochi (Government.ru, November 24, 2017; The National, December 17, 2018).
A spokesperson from the Russian embassy in Khartoum declared that the Russian "experts from non-government structures" were not involved in suppressing the protests, adding that reports to the contrary in Western media were "outright fakes seeking to demonize our country and its foreign policies" (Reuters, January 15).
Russia's Ministry of Foreign Affairs confirmed, on January 23, that Russian military contractors "who have nothing to do with Russian state bodies" were operating in Sudan. According to the foreign ministry, their work was confined to "training staff for the military and law enforcement agencies of the Republic of Sudan" (Reuters, January 23). The statement contradicted an earlier one by Sudanese Interior Minister Ahmad Bilal Osman, who described reports of Russian mercenaries in Khartoum as "completely false… a mere fabrication intended to offend the government" (Middle East Monitor, January 14).
In late July 2018, there were reports of a group of 500 Russian mercenaries operating in a camp some 15 kilometers south of the Darfur town of Um Dafug, close to the border with the Central African Republic (CAR) (Radio Dabanga, July 31, 2018). Russian mercenaries were reported to have spent five months in the area training both Muslim Séléka rebels from the CAR and Sudanese troops. The bulk of these forces were said to have departed from the region in late July 2018 (Radio Dabanga, August 1, 2018).
'Abd al-Wahid al-Nur, the veteran leader of Darfur's SLM/A-AW, expressed his concern with the Donald Trump administration's "decoupling" of human rights issues from foreign policy and the opening this is providing to Russia in Sudan at the expense of the United States:
What is most astonishing in the context of the Kremlin's hostile action against the U.S. and deliberate sabotage of your electoral process… is the soft pedaling towards al-Bashir's overtures to Moscow… When Russian mercenaries fresh from Syria and Ukraine now have a foothold in both Darfur and the Central African Republic, with a mission agenda entirely contrary to that of U.S. Africa Command… your ill-considered policy towards Sudan is self-evidently not serving you well (Sudanjem.com, December 19, 2018).
Major General Al-Hadi Adam Musa, the head of Sudan's parliamentary defense committee, said that a draft military agreement made with Russia in early January "will pave the way for more agreements and greater cooperation… possibly a Russian base on the Red Sea" (Sputnik, January 12; Sudan Tribune, January 13). The general noted that Russian naval visits could provide the sailors of Sudan's tiny navy of Iranian and Yugoslavian-built patrol boats with training and "first-hand experience of Russia's cutting-edge military equipment…" The agreement will allow for shore leave by unarmed naval personnel, but it forbids visits by ships carrying nuclear fuel, radioactive substances, toxic material, drugs, biological weapons or weapons of mass destruction (Sputnik, January 12).
Since its 1971 show trial of German mercenary Rolf Steiner, Sudan has maintained strong opposition to the presence of European mercenaries in Africa. While al-Bashir appears to have reversed Sudan's position, it seems unlikely that the regime would squander what is left of its political capital by deploying white mercenaries against unarmed Sudanese on the streets of Khartoum. Such direct intervention could set back Moscow's growing role in Africa, though Russia will likely do all it can behind the scenes to preserve a regime that has proved highly accommodating to Russian interests.
This article was first published in the February 6, 2019 issue of the Jamestown Foundation's Eurasia Daily Monitor.