Andrew McGregor
November 6, 2009
After heated fighting, Pakistani forces in South Waziristan have captured the towns of Sararogha and Kaniguram, the latter a main center for fighters of the Islamic Movement of Uzbekistan (IMU), a militant organization that has operated in the region since it was forced from its bases in Afghanistan in late 2001. Pakistani security services claim over 360 militants have been killed since the start of Operation Rah-e-Nijat, to the loss of 37 soldiers (The Nation [Islamabad], November 4).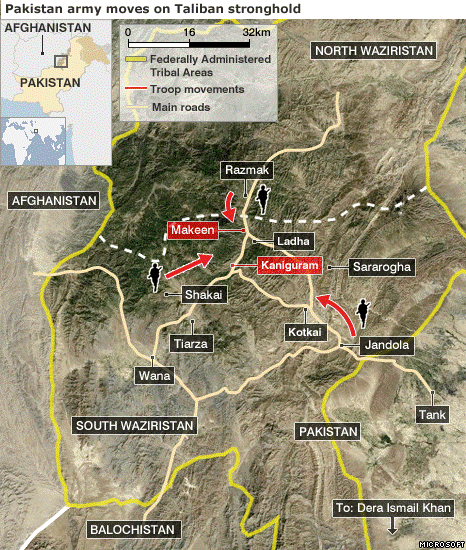 The slow start to the air and ground offensive involving 30,000 troops provided the militants ample time to prepare escape routes, but continuing suicide bomb attacks in Pakistan's major urban areas by the Tehrik-e-Taliban Pakistan (TTP) have provided a new sense of urgency in eliminating the terrorist threat in the Federally Administered Tribal Areas (FATA) of northwest Pakistan. Chief of the Army Staff Gen Ashfaq Parvez Kayani has described the elimination of the Uzbek militants as one of the three main goals of Operation Rah-e-Nijat.
Uzbek fighters and TTP militants were reported to be fighting from fortified positions and bunkers at Kaniguram as Pakistani troops struggled to take the town street by street, clearing IEDs as they went. Jet fighters, helicopter gunships and artillery were all used to hammer the militants' positions (Daily Times [Lahore], November 3; Dawn [Karachi], November 4). The number of Uzbek fighters based at Kaniguram was estimated somewhere between 1,000 to 1,500. The town is primarily populated by members of the Pashtun Barki tribe (Nawa-i-Waqt [Rawalpindi], November 1).
While many accounts of the operation have described the Uzbeks as being "on the run" after the army's attack on Kaniguram, Brigadier Muhammad Ihsan allowed that the Uzbeks "might have made a strategic withdrawal" (Dawn, November 4). Major General Khalid Rabbani, commander of Pakistan's 9th Infantry Division, said Uzbek militants "gave us a very good fight" in the army's earlier effort to take the village of Sherwangi, a known base for foreign fighters. The Uzbeks eventually made a disciplined withdrawal from the village to continue resistance elsewhere (AFP, November 1).
The IMU leader, Tahir Yuldash, is believed to have been killed in a missile strike in August, but it is unclear what changes, if any, have been made to the IMU leadership structure, particularly with IMU spokesmen denying reports of his still unconfirmed death. Locally the options for IMU fugitives are limited, as the Uzbek gunmen have developed serious differences with TTP factions beyond the Mahsud tribe of South Waziristan. There are reports that the Uzbeks may be moving into North Waziristan, but this would bring them into close proximity to TTP factions that have long opposed the Uzbek presence. Crossing the border into east Afghanistan via established Taliban routes may be the best option for the surviving IMU fighters, many of whom are traveling with their families. The military operation in South Waziristan is expected to last another one to two months.
This article first appeared in the November 6, 2009 issue of the Jamestown Foundation's Terrorism Monitor