Andrew McGregor
March 26, 2009

For several weeks now, there have been reports of heavy fighting between government forces and rebels in Ethiopia's Ogaden region, home to a majority population of ethnic Somalis. Government officials have denied most such reports as fabrications, while asserting in other cases that government troops were not involved in the clashes.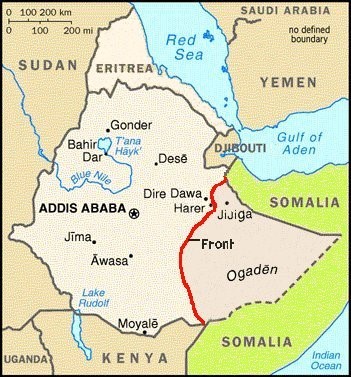 The fighting would be the latest episode of political violence since Abyssinian troops occupied the region in the late 19th century. Ogaden residents complain of a lack of development initiatives in the region and oppose the rule of Prime Minister Meles Zenawi, leader of the Tigray People's Liberation Front (TPLF), the leading element in Ethiopia's coalition government (known as the Ethiopian People's Revolutionary Democratic Front – EPRDF). A number of Chinese, Malayasian and Indian corporations have concluded deals with Addis Ababa to exploit the region's oil and mineral reserves without the input of local communities.
On March 19, Ethiopia claimed that both the Ogaden National Liberation Front (ONLF) and the allied Oromo Liberation Front (OLF) had been completely destroyed as they attempted to regroup in the southeast of the country. Security forces claimed to have killed Dr. Muhammad Serri, who led a devastating ONLF attack on a Chinese oil installation at Obala in the northern Ogaden region in April 2007 (Sudan Tribune, March 16). 65 Ethiopian soldiers and nine Chinese oil workers were killed in the Obala attack.
Government spokesmen also claimed to have captured a major OLF military leader in the offensive. Despite these assertions of government success, other sources claim government conscript militias drawn from non-Tigrean communities have mutinied after suffering heavy losses. The mutineers claim they were misled about ONLF capabilities. Reports say 486 mutineers have been arrested and detained in Qabri Dahar (Ogaden Online News, March 11; March 23). Rebel sources also claim to have killed Colonel Manos and "Wadna Qabad," both prominent government militia leaders, in a battle six kilometers outside the garrison town of Wardheer (Ogaden Online News, March 20). Many of the government troops involved in the fighting were recently redeployed to the Ogaden region after withdrawing in January from a two-year deployment in Somalia.
Earlier this month, the ONLF claimed to have captured the town of Mustahil (near the Somali border) in a battle involving heavy weapons, though a government spokesman said the claim was "absolutely false" and rebel forces were on the run (Shabelle Media Networks, March 8; Garowe Online, March 8; BBC, March 9). ONLF sources said their fighters were well trained and equipped with modern arms, enabling them to kill at least 100 government soldiers and capture another 50 in the fighting for Mustahil (Somaliweyn, March 10).  Commercial and private vehicles were reported stuck at the border as Ethiopian troops closed roads while they conducted counter-insurgency operations in the area (Garowe Online, March 9).
In a military communiqué, the ONLF reported its "Dufaan" ("Storm") commando unit was involved in heavy fighting around Degah Bur in northern Ogaden and had captured a quantity of arms and ammunition from the government garrison (Mareeg Online, March 7). The Dufaan unit is best known for leading the 2007 attack on the Chinese oil facilities at Obala. The Ethiopian government denied its forces were involved in the fighting around Degah Bur, insisting the clashes were between locally-raised pro-government militias and "local terrorists" (AFP, March 7). A government official later said the rebel statements were issued because the ONLF was "embarrassed with the fact that the ongoing peace, development and democratization efforts in the state are becoming effective" (Walta Information Center [Addis Ababa], March 16).
Ethiopia refers to both the ONLF and OLF as "terrorists," though neither group appears on the U.S. or EU list of designated terrorist groups. The rebel movements claim Ethiopia is a colonial regime that has done little to develop outlying regions such as Ogaden.
This article first appeared in the March 26, 2009 issue of the Jamestown Foundation's Terrorism Monitor