Andrew McGregor
October 4, 2010
Efforts by Tajikistan President Emomali Rahmon to solve his problem with Islamist militants through lengthy sentences for detained opposition members encountered a serious reversal on August 22 when 25 militants made a dramatic escape from a State National Security Committee (SNSC) remand center Tajikistan's capital city of Dushanbe, killing four guards in the process.
Tajikistan has experienced little internal success since obtaining its independence from the collapsing Soviet Union in 1991. A devastating civil war followed from 1992 to 1997, which provoked the loss of most of Tajikistan's ethnic Russian and European population, which formed much of the country's professional and administrative classes. A peace and reconciliation agreement in 1997 promised a new era, but in recent years the regime has expelled most of the former armed Islamist opposition from their posts in the reconciliation government, adding to a wave of unrest fueled by corruption, economic failure and the revival of Islam after decades of Soviet repression.
The Jailbreak
The SNSC remand center in Dushanbe has its own security staff and is located inside a larger remand center operated by the Ministry of Justice. Though the escapees appear to have been in control of the SNSC facility for four hours, they nevertheless took Justice Ministry guards by surprise as they burst out of the SNSC building dressed in regulation camouflage uniforms. One car was commandeered by the fugitives, but it is unclear how the rest escaped through the city without hindrance (Avesta [Dushanbe], August 25).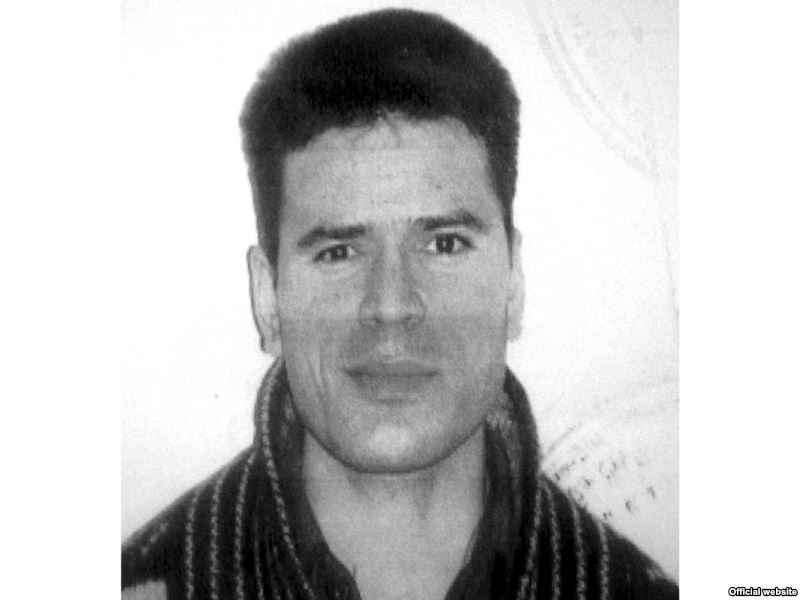 Escape Planner Ibrohim Nasriddinov
According to one report, the escapees were able to arm themselves with 20 pistols, seven AK-47 assault rifles, one machine-gun and four grenades (Nigoh [Dushanbe], September 1). Most of the fugitives had been charged with plotting a coup against the state and had been handed stiff sentences of 15 to 30 years imprisonment by Tajikistan's Supreme Court on August 20.  Unidentified gunmen who were believed to be part of the group of escaped prisoners fought a four-hour gun-battle with Defense Ministry outposts in the Romit Canyon (about 45 km from Dushanbe) on September 3 (Asia-Plus Online [Dushanbe], September 3; Itar-Tass, September 3).
Authorities believe the escape was organized by Ibrohim Nasriddinov, who was serving 23 years for murder and the planning of a terrorist act. Nasriddinov was caught on September 7 (Interfax, September 7). He is frequently identified as a former inmate of Guantanamo Bay although his name does not appear on the official list of prisoners (RFE/RL, August 7, 2007; Itar-Tass, September 7). There were reports that Nasriddinov was treated as a "privileged" prisoner, being allowed to move around the facility freely at night (Asia-Plus Online, September 2). Close relations between prisoners and guards coupled with understaffing (three guards for 90 prisoners) were cited as reasons for the success of the escape (Imruznews [Dushanbe], September 1).
The fugitives included 15 citizens of Tajikistan, five citizens of Russia, four citizens of Afghanistan and two citizens of Uzbekistan (Interfax, September 7; Khovar [Dushanbe], September 24). The two Uzbeks, Furkat Khalmetov and Khamidullo Yuldashov, were convicted of illegal border crossing and participating in an attempt to overthrow the government of Tajikistan, respectively (Itar-Tass, September 24).
A Dagestani escapee, Gusein Sulaymanov, was killed after wounding three policemen in a September 8 raid on a house used by militants (Interfax, September 29). Another escapee, Rahmiddin Azizov, a former Rasht Valley security officer, was killed in an operation in the Fayzobod district (Asia Plus Online, September 27; Interfax, September 29). Rahmiddin was serving a life sentence and was charged with belonging to a militant group led by his brother, Negmat (RIA Novosti, September 26).
Most of the fugitives were seized in last year's Operation Kuknor ("Poppy") and are alleged to have been former loyalists of Lieutenant General Mirzo Ziyoev, the military commander of the Tajik Islamists in the civil war who was given a high military rank and his own paramilitary in the reconciliation that followed the war (Itar-Tass, September 2). He was dismissed in 2006 and accused of having joined the Islamic Movement of Uzbekistan (IMU), an assertion that was quickly denied by late IMU leader Tahir Yuldash (RFE/RL Uzbek Service, July 16, 2009; Ferghana.ru, July 16, 2009). Ziyoev was captured by security forces on July 11, 2009 and died later that day in crossfire between security forces and a group of militants (Millat [Dushanbe], July 23; al-Jazeera, July 16, 2009; IWPR, July 23, 2009).
Though some escapees were thought to be headed to the Afghanistan border, most were believed to be on their way to the eastern Tavildara district, where they were apprehended in a military sweep last year.
The Dagestan Connection
One of four Dagestanis involved in the escape, Magomet Ahkmadov was named as one of the three men who led the breakout by killing four guards and wounding two others (Interfax, August 24). The other leaders included Mirzomen Abiyev, Kazbek Dzhabailov, and Gusein Sulaymonov, who was later killed in a gunfight with police (Interfax, September 29).
Another Dagestani, Ahmad Sultanov, was sentenced to nine years in prison only days after the prison break for "circulating extremist ideas" and making calls for jihad. Sultanov is an alleged member of Dagestan's Shari'a Jamaat, one of the most active armed Islamist groups in the North Caucasus (Itar-Tass, August 27).
The Ambush in the Kamarob Gorge
Using grenades and automatic weapons, an unidentified militant group ambushed a military convoy in the Kamarob gorge of eastern Tajikistan, about 260 km from Dushanbe, on September 19. The attack killed at least 28 soldiers and left many more wounded, leaving the government to suspect experienced guerrilla leaders like Mirzokhuja Ahmadov (a.k.a. "Belgi"), Abdullo Rakhimov and Alovudin Davlatov (a.k.a. Ali Bedak) of responsibility for the assault. Later reports put the death toll at 40 of the total 75 man detachment (RIA Novosti, September 20). The Tajik Defense Ministry insisted fighters from Afghanistan, Pakistan and Chechnya were part of the ambush force (Itar-Tass, September 26).
Tajik security officials identified Abdullo Rakhimov (better known as "Mullo Abdullo") as the main suspect, and a later video message from an IMU spokesman claimed responsibility on behalf of the movement, which has had little presence outside the northwest frontier region of Pakistan since 2001. Issued by Abdufattokh Ahmadi, the message said the attack was a response to several issues, including the closure of "thousands" of mosques, unreasonable detention of Muslims, a prohibition on headscarves, and government cooperation with the United States and NATO against Afghanistan's Muslims (Radio Liberty Tajik Service, September 23; Ferghana.ru, September, 24).
Calls for the resignation of the Tajik defense minister followed criticism that the army consisted of poorly-trained and poorly-supplied workers and farmers, many of whom are young and without military experience (Farazh [Dushanbe], September 22; Chark-i Gardun [Dushanbe], September 22). Last June the United States announced it would build a $10 million Counterterrorism Training Center at Qarotogh in Tajikistan's Shahrinav District, pending an agreement with the Tajikistan government. Both Washington and Dushanbe have made it clear that the center will train only Tajik soldiers and will not house American military personnel. U.S. assistant secretary of state for South and Central Asian Affairs, Robert Blake, told reporters on September 1 that the United States had no intention of establishing a military presence in Tajikistan (Interfax, September 7).
Tajik Military Operations Following the Kamorab Gorge Ambush
Two days after the ambush in the Kamorab Gorge, government troops began searching houses in the Rasht Valley belonging to former members of the United Tajik Opposition (UTO), the leading opposition front in the civil war. Security forces encountered resistance at the home of Mirzokhuja Ahmadov, where five of Ahmadov's followers were killed in a gunfight. Security forces reported seizing assault rifles, grenade launchers, mines and three completed bombs containing nearly 20 kg of explosives (RIA Novosti, September 23). Ahmadov himself was not found at the scene and his whereabouts remain unknown. The former Islamist warlord was formerly head of the government's organized crime unit in the Rasht Valley following post-civil war reintegration efforts. An attempt to arrest him in 1998 resulted in the shooting death of Oleg Zakharchenko, chief of Tajikistan's OMON police unit, by one of Ahmadov's men. Government officials have accused Ahmadov of sheltering Mullo Abdullo in his home since the latter's return from Afghanistan (RFE/RL, September 28). The government attack reportedly prompted another former opposition commander, Shoh Iskandarov, to join the militants in the mountains (RFE/RL, September 22).
The raid on Ahmadov's residence came only a week after Defense Minister Sherali Khayrulloev, Interior Minister Abdurahim Qahhorov and SCNS Deputy Leader Mansurjon Umarov met with Ahmadov and Iskandarov to assure them military operations in the Rasht Valley were intended only to apprehend Mullo Abdullo (RFE/RL, September 15). There were also rumors that the ministers had asked for the ex-warlords' cooperation in hunting down Mullo Abdullo. The ambush in the Kamarob Gorge appears to have led to a turnabout in government policy. According to an Interior Ministry spokesman, two more members of Ahmadov's group were detained without resistance on September 29, but many other suspected members of Ahmadov's group might be released due to lack of evidence (RFE/RL, September 29).
The pursuit of the spectral Mullo Abdullo, who largely disappeared from view after reports he was captured by government forces in Afghanistan's Kandahar province in 2002, and who may or may not have returned to the Rasht Valley last year, consumes much of the efforts of Tajikistan's security forces and provides a convenient bogeyman for government use. Mullo Abdullo has not been seen in Tajikistan since September 2000, when a government offensive destroyed most of his group. Mullo Abdullo's wife claims she does not know the whereabouts of her husband and does not believe he was responsible for the ambushed convoy (Asia-Plus Online, September 27).
Continuing military operations are being led by the chief of the Tajik General Staff, Ramil Nadyrov, and are reported to involve Tajik Special Forces and helicopter gunships (Itar-Tass, September 30; AFP, September 20). Rumors of Russian intervention in the form of troops or helicopters from the Russian 201st Motor Rifle Division base in Tajikistan began circulating after several alleged sightings in early September, but both Tajik and Russian sources denied the involvement of Russian personnel in the counterterrorist operations (Avesta, September 8; Itar-Tass, September 30). The 201st Division is permanently based in Tajikistan where it has been responsible for guarding the border with Afghanistan against militant incursions since 2001. While some Tajiks suspected Russian involvement in the hunt for the fugitives, others accused Russian or other "foreign forces" of engineering the escape (Farazh [Dushanbe], September 1; Millat [Dushanbe], September 1).
The mass escape, both alarming and humiliating, resulted in quick changes to the nation's security leadership. Colonel-General Khairidin Abdurakhimov was relieved of his duties as head of the State National Security Committee (SNSC) "at his own request" and was replaced by Saimumin Yatimov, a former diplomat who became involved in state security matters in 2000 (Asia Plus Online, September 2; Interfax, September 7). All other top officials of the SNSC were dismissed, as well (Itar-Tass, September 2).
The Khudzhand Suicide Bombing
A rare Tajik suicide car-bombing on September 3 targeted a regional police unit in the northern town of Khudzhand (350 km north of Dushanbe), killing at least two policemen and injuring nearly two dozen others (Interfax, September 3; September 7; Asia-Plus Online, September 3; Avesta, September 3; Daydzhest Press [Dushanbe], September 9). Authorities blamed the IMU, but responsibility for the attack was later claimed by a previously unknown group calling itself Jamaat Ansarullah. The claim suggested the assailants were local in origin; "The operation was carried out in response to the killing and humiliation of our brothers and ordinary Muslims behind the walls of that God-damned place" (Kavkaz-Tsentr, September 8). A representative of Tajikistan's Islamic Renaissance Party (IRP) was hesitant in accepting the claim, saying "enemies of Islam" invent organizations with Arab names to tie Muslims to acts of violence. "As far as we know, there is no such organization even among banned religious organizations in our country. I even doubt that it exists in the world," stated the IRP representative (Asia-Plus Online, September 11).
A September 5 explosion at a Dushanbe disco that wounded seven people was at first believed to be an attack by radical Islamists, but investigations revealed the blast was the result of "gross misconduct by visitors using pyrotechnics" (Interfax, September 7).
Taliban on the Border
On September 10, a Tajik border patrol encountered what they described as a large group of Islamist fighters, including Afghan Taliban, trying to cross the border from Afghanistan. A firefight lasting nearly 24 hours ensued, with the border police eventually driving off the Taliban incursion. Authorities claimed one officer and 20 Taliban were killed. Though only seven Taliban bodies were recovered, officials said the rest were observed being put into the river by their former comrades to be carried away. The battle took place roughly 210 km south of Dushanbe on the banks of the River Pyandzh and on a number of islands in the river occupied by Taliban fighters (Reuters, September 11; AFP, September 13).
Response from the Legal Islamist Opposition
In an effort to curb extremism, President Emomali Rahmon has asked parents to arrange for the return of their children studying at Islamic institutions abroad, claiming they were being trained as "extremists and terrorists" (Asia-Plus Online, August 30). The request proved highly controversial and brought pointed criticism from the opposition Islamic Renaissance Party (the only legal Islamic party in Tajikistan) (Asia-Plus Online, August 26).
The IRP responded to the new violence by issuing a call for national unity and a halt in the process of destabilization (Ozodagon [Dushanbe], September 22). Party leader Muhiddin Kabiri said his appeals to the government to open discussions with the militant opposition had fallen on deaf ears and led to the current violence (Najot [Dushanbe], September 23). Kabiri maintains that moderates form the majority in Tajikistan, but both the secular government and the armed Islamist opposition are now dominated by extremists. The government has jailed more than 100 members of banned Islamic groups in the last year alone. Kabiri's views on the violence were sought by assistant to the U.S. secretary of state on South and Central Asia Robert Blake during a recent two-day visit to Dushanbe (Vecherniy Dushanbe, September 7).
Conclusion
It is difficult to get a clear picture of the security picture in Tajikistan. Foreign press reports are quick to work al-Qaeda into their headlines, with reports suggesting all of Tajikistan's militants are somehow operatives of that organization. Tajik authorities prefer to blame their troubles on a revival of the IMU in Tajikistan or alternatively to blame Islamist opponents of the government who have already been subject to a campaign of marginalization for some years. The possible emergence of new groups such as the Jamaat Ansarullah and the pursuit of shadowy figures such as Mullo Abdullo tend to confuse the picture even more. Along the frontier with Afghanistan there is the risk of fugitive militants escaping across the border to join the Taliban while other groups of Taliban are apparently trying to make their way into Tajikistan. Presenting its troubles in the framework of the "war on terrorism" allows the Dushanbe government to avoid discussions of official nepotism, corruption and inefficiency as factors causing unrest in the country.
The small number of militants active in Tajikistan does not pose an existential threat to the nation, as some have suggested. They have little influence outside the Rasht Valley and do not enjoy the levels of popular support the armed opposition had in the 1990s. However, economic stagnation and the continuing marginalization of all types of political opposition threaten to create the conditions in which militant groups could flourish, especially those offering an Islamic solution to Tajikistan's problems in harmony with the nation's ongoing grass-roots Islamic revival.
This article first appeared in the October 4, 2010 issue of the Jamestown Foundation's Terrorism Monitor