Andrew McGregor
October 10, 2017
Mazi Nnamdi Kanu, the founder and leader of a Biafran separatist movement known as the Indigenous Peoples of Biafra (IPOB), has been missing since a raid by Nigerian security forces on his Abia State compound on September 14. Rumors abound regarding Kanu's fate or location: some say he sustained gunshot wounds in the raid and is in serious condition but unable to seek medical help for fear of arrest; others say he was killed and his body taken away or that he was arrested after the raid and hustled off in an unmarked vehicle, or even that he escaped to the United Kingdom (UK) via Malaysia (This Day [Lagos], September 24; Vanguard [Lagos], October 2).
Nigeria's government, fearing the growth of a southern version of the northern Boko Haram insurgency, declared IPOB a "terrorist organization" the day after the raid. Given that over one million Nigerians died during the unsuccessful 1967-1970 war for Biafran independence, Kanu's efforts to inflame separatist sentiments in Biafra and their consequences for Nigeria's stability and oil revenues are being taken seriously.
IPOB, claiming two million members mostly from the Igbo ethnic group, says it is in a struggle with Hausa-Fulani security forces from the Muslim north. Kanu has been accused of creating a secret armed group to combat them. Kanu, a dual British-Nigerian citizen, was out on bail on treason charges that followed his 2015 arrest at the time of his disappearance. The separatist leader promised before the raid: "If I'm re-arrested, this country will burn, I assure you" (Sun News [Lagos], September 2). Kanu's promise to cut off vital oil revenues from the south has hardly endeared him to the rest of the country and he is opposed even by some fellow Biafran separatists.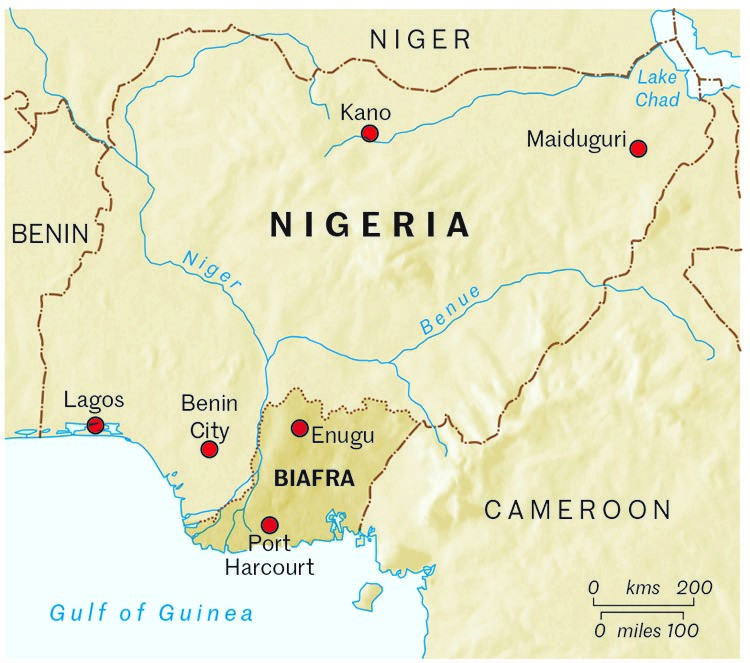 (History Today)
The government's decision to declare IPOB a terrorist group and the army's ongoing Operation Python Dance II has pre-empted any mass insurrection, but tension in Nigeria's South-East region is growing.
Early Life
Kanu was born in Nigeria's Abia State in 1967, the first year of independence for the short-lived Republic of Biafra. A Christian of the Igbo ethnic group (one of Nigeria's largest, with 33 million people), Nnamdi Kanu is the son of HRM Eze (an Igbo royal title) Israel Okwu Kanu, a traditional ruler based in Isiama Afara, a town in Umuahia, Abia State (Nigerianbiography.com, December 19, 2015). As the son of an Igbo traditional ruler, Nnamdi Kanu is sometimes referred to by his followers as "prince."
Kanu attended the University of Nigeria, Nnsuka in Enugu State, where strikes interrupted his progress, before further studies at London's Guildhall University (NigerianMonitor.com, n.d.).
According to his father, Kanu was originally a member of a major Biafran independence group, the Movement for the Actualization of the Sovereign State of Biafra (MASSOB), but a rift began with MASSOB leader Chief Ralph Uwazuruike over the distribution of party funds. A permanent split occurred after Uwazuruike arrived at Kanu's wedding with ten buses of angry supporters. The wedding was disrupted and Kanu badly beaten (Punch [Lagos], February 14, 2016). At that point, Kanu decided to lead his own independence movement.
Radio Biafra
 Radio Biafra first operated as the "Broadcasting Corporation of Biafra" during the Nigerian Civil War. The station was revived by Kanu as a London-based shortwave and internet broadcaster in 2009. [1]
According to Kanu, "Radio Biafra programs were designed to wake up the public from their slumber and address the issues of the time, which [were] youth unemployment, lack of infrastructural provisions, poor electricity, an absence of rural development, and conspicuous absence of respect for human rights" (Facebook, December 31, 2015).
In practice, Kanu and his radio associates became known for inflammatory and insulting commentary. Beginning in 2013, Kanu used his broadcasts to claim that Igbo politicians were controlled by northern Muslim Hausa-Fulani "godfathers" who were working toward the Islamization of Nigeria's southeastern states (Sahara Reporters, March 25, 2014). In a statement written after his 2015 arrest, Kanu apologized for referring to President Buhari on Radio Biafra as "evil, a terrorist and a pedophile," and for uncomplimentary comments about President Goodluck Jonathan and Igbo elders: "All I was trying to do is draw attention to the problems afflicting society and what society is doing about it" (Facebook, December 31, 2015).
In one of his most disturbing statements, Kanu promised chaotic bloodshed if he failed to get his way:
If they fail to give us Biafra, Somalia will look like a paradise compared to what will happen to that zoo. It is a promise, it is a pledge and it is also a threat to them. If they do not give us Biafra, there will be nothing living in that very zoo they call Nigeria; nothing will survive there, I can assure you…  I do not believe in peaceful actualization or whatever rubbish it is called. I have never seen where you become free by peaceful means (Sahara Reporters, March 25, 2014).
Arrest and Trial
 Kanu was arrested at a Lagos hotel by the Department of State Services (DSS – Nigeria's secret police) on October 14, 2015 during a visit home. He was charged by the DSS with "criminal conspiracy, intimidation and membership of an illegal organization." The arrest generated protests outside the Abuja courtroom and across much of southwestern Nigeria. Despite being granted bail on October 19, 2015, Kanu remained in detention over the protests of his lawyers.
Nigerian authorities were no doubt alarmed by an address given by Kanu at the World Igbo Congress in Los Angeles on September 5, 2015 in which Kanu said the independence movement needed "guns and bullets." Kanu tried to walk back his comments in a June 2017 interview, insisting the Igbo only needed weapons for self-defense against marauding Fulani herdsmen, but the damage was done (Daily Post [Lagos], June 27).
Inspired by Donald Trump's support for Brexit, Kanu wrote the president-elect from prison in November 2016 to remind him that his electoral victory placed upon him a "historic and moral burden to liberate enslaved nations in Africa… It is imperative to draw historical parallels between your victory and that of the great Dwight Eisenhower, a fellow Republican, who was instrumental in the dismantling of European colonialism in Africa" (Herald [Lagos], November 11, 2016).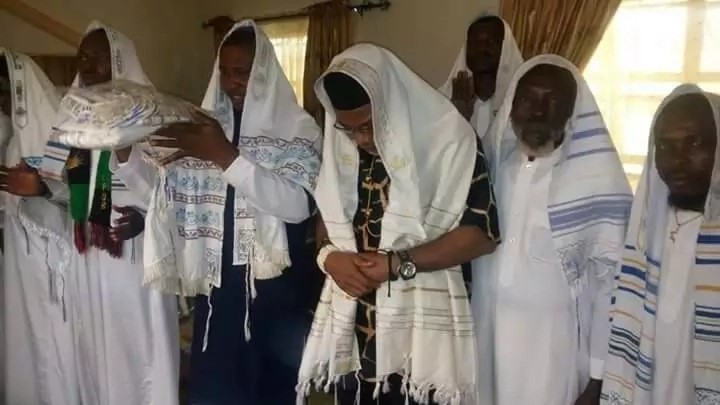 Nnamdi Kanu with supporters (Naij.com)
During new bail hearings in early 2017, Kanu often appeared in court wearing a Jewish yarmulke and tallit [prayer shawl], signs of his newly professed adherence to Judaism and the belief that the Igbo are a lost tribe of Israelites. [2] Some followers protesting for his release outside the court appeared in similar garb.
The court granted Kanu bail on April 25 on condition that he refrain from public speaking, giving interviews or joining a gathering of ten or more people. He was due back in court on October 17, 2017. One of the three individuals who stood as sureties for Kanu's bail was Nigerian Chief Rabbi Immanuel Shalum Okabemadu.
After his release, Kanu attempted to clarify his position on Biafran independence:
An independent Biafra means going back to where we were before the White man came. I am talking about total independence from Nigeria. Nothing can ever happen to make me change my mind about this [direction] of independence for Biafra. It is either Biafra or death. I will not go to war because truth is a far more potent and deadlier weapon than bullet and mortars. I have absolutely ruled out war from the struggle. When I say Biafra or death, I mean I will keep pushing; either I am alive or dead in the process, I won't stop (Daily Post [Lagos], July 6).
Nnamdi Kanu and the Hebrew Igbo
Donald Trump's election to the U.S. presidency was greeted with street celebrations by IPOB members who believed he would reverse President Obama's support for the Buhari administration. Many of the pro-Biafran celebrants wore yarmulkes and tallitot. Some of the self-declared Jewish Biafran separatists believe the president's strong support for Israel will translate into support for an independent pro-Israel Biafran state (Forward.com, February 6).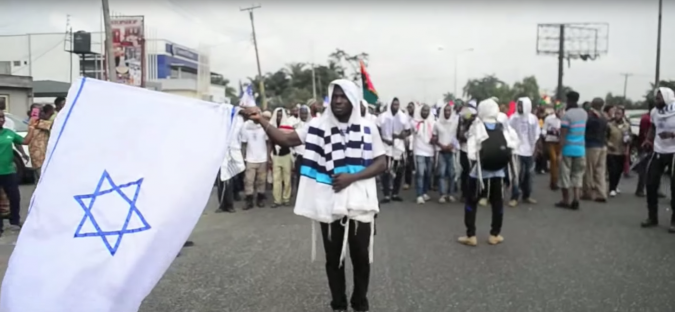 Pro-Trump Rally, Port Harcourt (The Forward)
The similarity of some Igbo customs to Jewish customs was first noted in the 1789 autobiography of a freed slave, Olaudah Equiano. [3] These similarities were expanded upon by Christian missionaries, but the identification by an Igbo minority with Judaism and Israel is of much more recent vintage. Nonetheless, Israel's Supreme Court ruled in 1994 that "there are no historical, halachic or national grounds to view the members of the Igbo tribe as Jews," and all Igbo attempts to migrate to Israel under the Law of Return have resulted in deportation (Forward.com, January 24, 2016). Efforts to establish a link by DNA testing have proven controversial rather than conclusive (Times of Israel, August 11). Though the "Jewish Igbo" remain a highly vocal and visible minority, out of some 33 million Nigerian Igbo, only 3,000 to 30,000 practice a form of Judaism.
A rival Biafran independence movement is known as the "Biafran Zionists' Federation" (BZF, a break-away group from MASSOB).  Pro-U.S. and pro-Israel, the BZF is led by barrister Benjamin Onwuka, who declared the independence of Biafra with himself as "interim president" on July 31 (Pulse.ng, August 1). Onwuka announced Israelis would have important cabinet appointments in his new administration and (falsely) that the new nation had "been recognized by the U.S." (Daily Post [Lagos], July 31; This Day [Lagos], September 13).
The Biafran National Guard
An armed group closely associated with Kanu is the Biafran National Guard (BNG), a group of militants led by "General" Innocent Orji, who claims to have received his appointment from the late Chukwuemeka Odumegwu-Ojukwu, president of Biafra during its brief independence (1967-1970). (Daily Post [Lagos], September 5).
The BNG says it works in cooperation with IPOB but ultimately takes orders from "Supreme Allied Commander Prince Nnamdi Kanu." The group claims to have large numbers of Biafran-origin veterans of the U.S. military services and is seeking to recruit more. [4] In a statement released on September 18, the BNG declared that they were not a new group (as claimed by the Nigerian Army) but were an independent organization that did not subscribe to the "peaceful strategy of IPOB," adding the Nigerian military "can go to hell" (Daily Post [Lagos], September 18). One of their odder beliefs is that President Buhari is dead and has been replaced by an imposter who is the product of plastic surgery and determined to "crush" Biafrans (Daily Post [Lagos], September 5).
A November 2016 Amnesty International report appeared to confirm IPOB and BNG claims of incidents of extreme violence against Biafran secessionists by the Nigerian Army, police and DSS, including widespread torture and the deaths of at least 150 pro-Biafra protesters between August 2015 and August 2016. [5] The army, in turn, cited IPOB attacks against non-Igbo ethnic groups and security services and claimed that IPOB's "unjustifiable violence… threatens national security" and has produced "unimaginable atrocities to unhinge the reign of peace, security and stability in several parts of South East Nigeria" (Premium Times [Abuja], November 24, 2016).
The Raid on Nnamdi Kanu's Compound
Abia State's police commissioner declared that the Ariara police station was attacked repeatedly between September 10 and 14 by IPOB members using petrol bombs. The station was destroyed, with one policeman killed and three pump action shotguns stolen. The commissioner also outlined disturbances in Umuahia, where IPOB members allegedly attacked soldiers as well as the residences of military and police officers. Sixty members of IPOB were arrested and charged with offenses including terrorism and attempted murder (Guardian [Lagos], September 17; The Nation [Lagos], September 25; Premium Times [Abuja], September 25).
With tensions rising in Umuahia, a serious clash occurred on September 10 between security forces and followers of Kanu staying at his family compound. Kanu claimed troops had attacked the compound and injured occupants in an attempt to kill him; his lawyer added that "about five of his family members were brutally wounded and some unfortunately killed" (Premium Times [Abuja], September 10).
The police and the Army's 14th Brigade gave varying descriptions of the incident, but both agreed there was no attack on Kanu's compound, but rather that suspected IPOB militants had attacked soldiers on patrol and an armored personnel carrier (APC) on a test run with stones, broken bottles and machetes (Sahara Reporters, September 10; Leaders.ng, September 18). The military released a video supporting their version of events, including troops firing in the air but not at the demonstrators.
Four days later security forces were back with the clear purpose of seizing the compound and those within. Gunfire within the compound was reported for over an hour. IPOB claims that the Nigerian army removed 22 bodies and 38 arrested members from Kanu's compound, none of whom have been heard from since (Daily Post [Lagos], September 18; This Day [Lagos], September 24). Among the missing were Kanu and his parents.
IPOB Declared a Terrorist Group
IPOB's classification as a terrorist organization began a day later on September 15, when Nigerian Defense Headquarters confirmed that IPOB was "a militant terrorist organization." Though the military backed off slightly a few days later, calling their announcement a "pronouncement" rather than a "declaration," IPOB's new status quickly received government backing (Africa News, September 19). An application by the attorney-general and justice minister to declare IPOB a terrorist organization was given judicial approval by the Federal High Court in Abuja on September 20 (Punch [Lagos], September 22; Sahara Reporters, September 24).
The U.S. Embassy in Abuja declared that IPOB "is not a terrorist organization under U.S. law" (Sahara Reporters, September 24). However, a special adviser to President Buhari insisted that recognition of IPOB as a terrorist group by foreign nations was "inconsequential": "This is a group that was burning police stations; killing police officers, throwing bombs at military convoys, threatening to make the country ungovernable…" (Daily Post [Lagos], September 25).
The "IPOB Intelligence Unit" claimed to have discovered a plot by "Hausa-Fulani Islamic extremists" in the security services to kill condemned prisoners in Nigerian military uniforms and then blame the killings on IPOB militants, justifying the planned extermination of thousands of Biafran "terrorist" youths (Daily Post [Lagos], September 22). No evidence was provided of this planned attempt to exploit the terrorist designation, which is somewhat typical of IPOB's hyperbolic rhetoric that portrays the Biafran independence struggle as a war between the Igbo and the "British-supported Muslim Hausa-Fulani oligarchy" (Daily Post [Lagos], March 23). However, Nigeria has tried, unsuccessfully, to use the terrorist designation to compel the UK government to shut down Radio Biafra (The Nation [Lagos], September 22).
Conclusion
The Biafran secession movement is badly organized, and its failure to develop an encompassing strategic plan has left it open to charges that it is little more than an excuse for mindless street violence. These weaknesses are now being exploited by the state. IPOB's threats of military activity to defend itself cannot be taken seriously, though at its present level of organization it is capable of terrorist activities, sabotage, vandalism and low-level militancy. Unfortunately, in Nigeria's current highly agitated political atmosphere, this might be enough to ignite new waves of ethnic violence similar to those that sparked the first war for Biafran independence. Nigeria's military is not taking chances — Operation Python Dance II may be viewed as a pre-emptive occupation intended to squelch the development of an armed insurgency, though there is a danger that it might also be seen as more of an act of intimidation than a measured response to a poorly-armed and rag-tag group of militants that one Nigerian commentator described as "looking in need of a good home meal" (Sahara Reporters, September 16).
There are many non-Igbo minorities within the borders of "Biafra" that have not been consulted by the Igbo secessionists, and Kanu's approach is opposed even by other secessionists, including his rivals in MASSOB. The example of South Sudan's 2011 secession from Sudan does not hold out hope for the success of an independent Biafra. President Buhari has been unequivocal in his opposition to Biafran independence: "We will not let that happen. For Nigeria to divide now, it is better for all of us to jump into the sea and get drowned" (Sun News [Lagos], May 10, 2016).
Though Nnamdi Kanu has been able to use his "royal" lineage to establish local credibility, his record does not suggest he can be taken seriously as the type of thoughtful, patient and responsible leader needed to bring any new nation into being. His haste, posturing and provocative behavior may have cost him his life; at best they have dealt a serious blow to the long-term success of the Biafran independence movement.
NOTES
[1] http://www.liveonlineradio.net/english/radio-biafra.htm
[2] Nigerian lawyer Remy C. Ilona is one of the most vocal proponents of the Igbo-Jewish identification and his 2014 work The Igbos and Israel: An Inter-cultural Study of the Oldest and Largest Jewish Diaspora is often cited in this context (Street to Street Epic Publications, 2014). More balanced accounts of the issue can be found in: Daniel Lis: Jewish Identity Among the Igbo of Nigeria: Israel's "Lost Tribe" and the Question of Belonging in the Jewish State, Africa World Press, Trenton, 2014 and Johannes Harnischfeger, "Igbo Nationalism and Jewish Identities," in: Edith Bruder and Tudor Parfitt (eds.), African Zion: Studies in Black Judaism, Cambridge, 2012, pp. 65-86.
[3] Published as The Interesting Narrative of the Life of Olaudah Equiano.
[4] See https://biafran.org/2015/07/25/mission-of-biafran-national-guard-bng/[
5] "'Bullets Were Raining Everywhere': Deadly Repression of Pro-Biafra Activists," Amnesty International, November 22, 2016, https://www.amnestyusa.org/reports/bullets-were-raining-everywhere-deadly-repression-of-pro-biafra-activists/
This article first appeared in the October 10, 2017 issue of the Jamestown Foundation's Militant Leadership Monitor.