Andrew McGregor
September 10, 2008
Azerbaijan's Ministry of National Security (MNS) has arrested 13 members of the Islamist "Forest Brothers," seizing weapons, ammunition, communications equipment, planning documents and maps in a combined operation involving a variety of Azeri security agencies (Azeri-Press Agency, September 2). One Special Forces member was killed and several wounded in fighting with several of the suspects. The Forest Brothers are a Salafi-Jihadi formation operating in southern Dagestan and the northern region of the former Soviet republic of Azerbaijan in pursuit of an Islamic state governed by Sharia law. Many members of the organization are believed to have served under the late Rappani Khalilov, the former Amir of the Dagestani Front of the Caucasus resistance forces led by Chechen commander Dokku Umarov.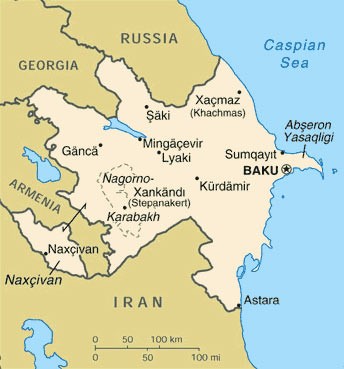 The group's leader, Ilqar Mollaciyev (a.k.a. Abdulmajid), his aide and relative Samir Mehdiyev (a.k.a. Sulayman) and two others are alleged to have crossed the border from Dagestan into Azerbaijan on July 19. At this point these men joined other militants deployed to Baku and Sumqayit to begin preparations for a jihad against the Azerbaijani government. According to security sources, the militants intended to create a Sumqayit Jamaat (Islamic community) responsible for raising funds through robberies in Baku. Following this the Quba-Qusar Jamaat would be formed to develop operational bases and ammunition depots in Azerbaijan's mountainous north (Turan News Agency, September 2, Azeri-Press Agency, September 3; Interfax, September 3).
The MNS claims that some of the detainees have informed investigators that Mollaciyev and Mehdiyev organized the August 17 grenade attack on Baku's Abu Bakr mosque, though the motive remains unclear from available information (Turan News Agency, September 2). The well-attended Abu Bakr mosque has been cited as a recruiting point for Islamists willing to fight in the Russian Caucasus, though its imam (who was among those wounded in the grenade attack) is careful to publicly encourage cooperation with Azerbaijan's secular regime.
Though Azeri authorities have refrained from associating the "Forest Brothers" with Lezgin separatists in public statements, a statement from the Northern Region Department of the Azerbaijani State Committee for Religious Associations made an indirect reference to Lezgin associations with cross-border militants seeking a Lezgin state; "Ethnics living in the [Qusar] region know well that separatism does not benefit anyone. Law enforcement bodies are conducting necessary work to prevent their action" (Trend News Agency, September 2).
Kuwaiti Salafist missionaries made significant inroads in the Qusar region in the early 1990s. Lezgins form the vast majority in the region, where the Lezgin community was split from its Dagestani Lezgin counterparts by the creation of an international border between Dagestan and Azerbaijan in 1991. Most Lezgins are Sunni Muslims, while the majority of Azeris are Shi'a. The more secular Lezgin Sadval (Unity) Movement was responsible for a number of terrorist strikes in the 1990s and 2001 but has been relatively inactive since, never having gained popular support in the Lezgin community
This article first appeared in the September 10 2008 issue of the Jamestown Foundation's Terrorism Focus