Andrew McGregor
August 20, 2009
Suicide bombing made its first appearance in Mauritania on August 8 when a man armed with an explosives belt blew himself up outside the walls of Nouakchott's French embassy. The blast killed the bomber and wounded three, including a Mauritanian woman and two French guards. No claim of responsibility was made for the bombing, which came three days after a military coup leader was sworn in as president following a disputed election. Security forces suspect the attack was the work of al-Qaeda in the Islamic Maghreb (AQIM).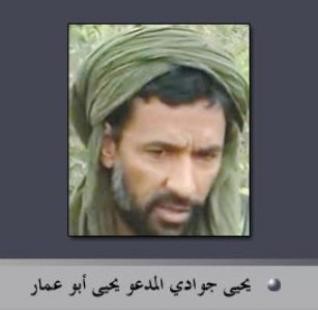 Yahya Djouadi, a.k.a. Abu Ammar
Mauritanian security services fear the bombing was a diversion intended to divert military and security resources from preventing a larger terrorist operation planned for Mali or Algeria (El-Khabar [Algiers], August 11, 2009). A secondary goal may have been the fulfillment of threats made earlier by AQIM against France and French interests.
Security services are reportedly looking for a Mauritanian explosives expert whose identity was revealed through the interrogation of arrested "Salafi-Jihadists." The man, in his twenties, is believed to have been trained by Algerian terrorist and explosives expert Charef Ben Smar (a.k.a. Abu Khabab). Nevertheless, security officials do not see the presence of a major AQIM leader behind this relatively ineffective terrorist attack (El-Khabar [Algiers], August 11, 2009).
Security officials suspect an AQIM unit led by Yahya Djouadi and Abu Anas Abd al-Rahman al-Shinqiti is active in the desert region of eastern Mauritania. Djouadi is the Amir of AQIM's Southern (Sahel) command and a U.S. and U.N. designated terrorist. Djouadi was previously based in northern Mali. Al-Shinqiti is a cleric and native of Mauritania (Bilad al-Shinqit = Land of the Shinqitis, i.e. Mauritania). The AQIM leader recently appeared in a video in which he promised new attacks on Mauritania and Western interests throughout North Africa. Al-Shinqiti found Mauritania's efforts to establish democracy particularly disturbing, claiming it had "extirpated Islam from the state… Democracy will lead to Jewish-American occupation [of Mauritania] and to the proliferation of the parties of Satan" (El-Khabar, August 12, 2009).
On August 13-14, the military chiefs of staff of Mauritania, Algeria, Mali and Niger met in Tamanrasset to discuss "joint confrontation of the crimes at the borders and in particular terrorism" (Al-Hayat, August 13, 2009). The military leaders negotiated protocols for "hot pursuit" of terrorist suspects across national borders and the establishment of a joint operations center. Algeria has frequently complained of Malian leniency in dealing with terrorists and the recent military cooperation effort was almost derailed when Mali released three al-Qaeda fighters in a prisoner exchange (El-Khabar, August 12, 2009).
Paris and Washington have reversed their earlier opposition to the military coup carried out last year by General Muhammad Ould Abd al-Aziz, who deposed Mauritania's first democratically elected president. The General's subsequent election to president on July 23 in a contest denounced locally as a fraud has received warm approval from both France and the United States (Afrik.com, August 7, 2009; Al-Ahram Weekly, July 23-29, 2009; Reuters, August 5, 2009).
In Nouakchott, French Minister for Cooperation Alain Joyandet announced, "With this election, Mauritania has become not only respectable again, but has also become once again for France a key partner in the region" (Reuters, August 5, 2009). On his return to Paris, Joyandet made clear the reason for the French turnabout: "France was delighted at the democratic election of the new president Aziz who made very strong declarations against terrorism… France is a historic partner of Mauritania and together we want to fight terrorism" (France 3 TV, August 9, 2009).
This article first appeared in the August 20, 2009 issue of the Jamestown Foundation's Terrorism Monitor.