Andrew McGregor
February 15, 2018
As Russian-Egyptian military and economic cooperation increases, there have been many comparisons made with Egypt's early post-independence era (1956-1971), when Cairo grew close to Moscow. Egypt's current strategic position, however, bears closer similarities to the foreign policy of the first decades of rule by the founder of modern Egypt, Ottoman Viceroy Muhammad 'Ali (1805-1848). Like Egypt's post-independence leaders, Muhammad 'Ali sought to simultaneously modernize Egypt with foreign assistance while increasing its political independence. This was no easy feat, as it involved balancing allegiance to his suzerain, the Ottoman Sultan, while using (unofficial) French military assistance and training to strengthen his own hand without falling under French control. Current Egyptian president Abd al-Fatah al-Sisi now uses Russian military aid in much the same way to gain leverage in a deteriorating relationship with the United States.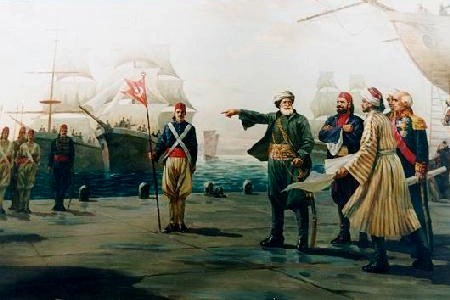 Building an Egyptian Empire: Muhammad 'Ali Pasha with his new navy and army
Some of the objectives shared by Muhammad 'Ali and President al-Sisi include:
Intensifying the purchase and manufacture of arms
Expanding naval capacity
Conducting military operations abroad to project Egyptian power
Consolidating Egypt's control of the Red Sea region
Securing the supply of Nile waters from the south
Diversifying international military suppliers and trainers
Exterminating the previous regime, and
Repressing Islamic extremists
The question for Moscow is whether their objectives meld with those of Cairo. The Kremlin is seeking enhanced military and economic relations with Egypt but has no desire to be used merely as leverage against Washington. Moscow will seek to obtain their own regional objectives by exploiting differences between Washington and Cairo and filling any void left by diminishing American military aid and engagement with the Sisi regime. For their part, Egypt's leaders remain wary of getting too close to the Russians – the last period of close cooperation ended badly. Nonetheless, Egypt may be seeking external military support in their failing campaign against Islamist extremists in Sinai and Russia's military track record in Syria makes it an enticing partner. Whether this can be achieved without paying a high price (such as the establishment of permanent Russian bases in Egypt) is Cairo's dilemma.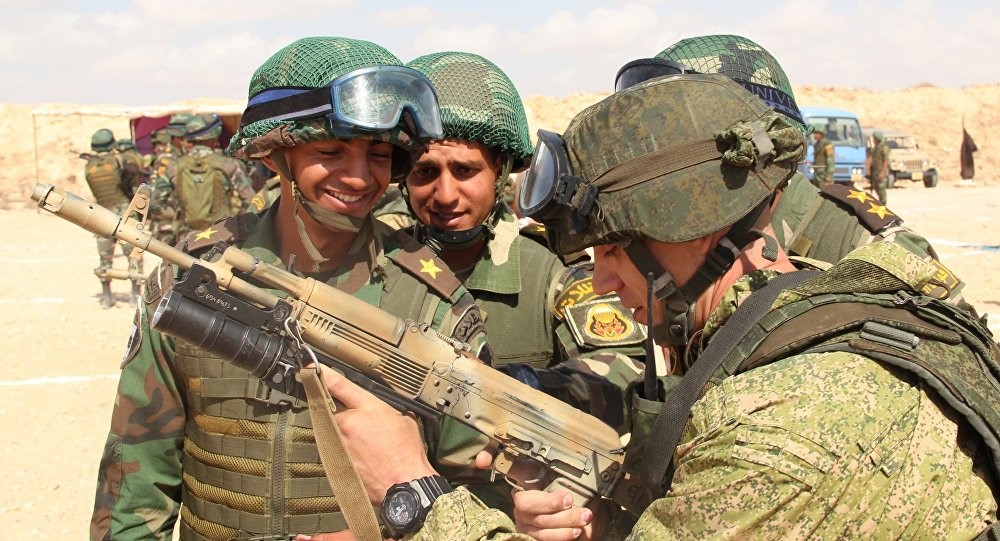 Egyptian and Russian Paratroopers on the 2016 "Defenders of Friendship" Exercise (Egypt Independent)
Russia and Egypt have now conducted two joint airborne exercises; one in Egypt in 2016, the second in Russia in 2017. The third "Defenders of Friendship" exercise will be held in Egypt later this year. Egypt has never conducted a combat air-drop, while Russia has not carried out a combat drop since the Soviet invasion of Afghanistan (1979-1989). However, the Russian Defense Ministry reported a successful drop of Syrian paratroopers behind Islamic State lines near the border of Raqqa and Homs governorates last August, with Syrian rocket fire directed by Russian Ka-52 combat helicopters (Sputnik, August 14, 2017). The ministry's report could not be verified independently, but it could point to future Russian-assisted counter-terrorism para-drops in Egypt, possibly in Sinai or along Egypt's remote western frontier.
Russia negotiated a deal last year that will allow Russian Air Force jets to use Egyptian airbases and airspace (Al-Monitor, December 18, 2017). The agreement could be the first step in allowing Russian airstrikes on terrorist targets in the Sinai or Libya. It would also preclude the necessity of further deployments of the Admiral Kuznetsov aircraft carrier in the Mediterranean; its performance in Syria was unimpressive and two Russian fighters were lost attempting to land on the ship's deck.
In mid-January, Russian naval commander-in-chief Admiral Vladimir Korolyov declared that the Russian Navy would focus on improving its system of naval bases, particularly to accommodate "strategic non-nuclear deterrence groups" (TASS, January 16, 2018). Egypt has suitable ports on both its Mediterranean and Red Sea coasts, but Egyptian policy forbids the establishment of foreign military bases on its soil. Russia has engaged in talks with both Sudan and Libyan factional leader Khalifa Haftar regarding the construction of naval facilities in both those nations, but Egypt would provide a more stable long-term partner. However, a Russian base on Egypt's Red Sea coast would conflict with Egyptian efforts to increase its own influence in the region, as seen in its establishment of a new Egyptian Red Sea squadron.
In furthering its own objectives, Cairo was able to take advantage of the cancellation of the French sale of two Mistral-class amphibious assault ships to Russia following Russia's annexation of Crimea in 2014. Egypt not only obtained the ships but was able to purchase Russian Kamov Ka-52K ship-based helicopters originally designed for the vessels (Tass, July 18, 2017). One ship, the Gamal Abdel Nasser, will be deployed with Egypt's Alexandria-based Mediterranean fleet, while the Anwar El Sadat will join the Red Sea squadron.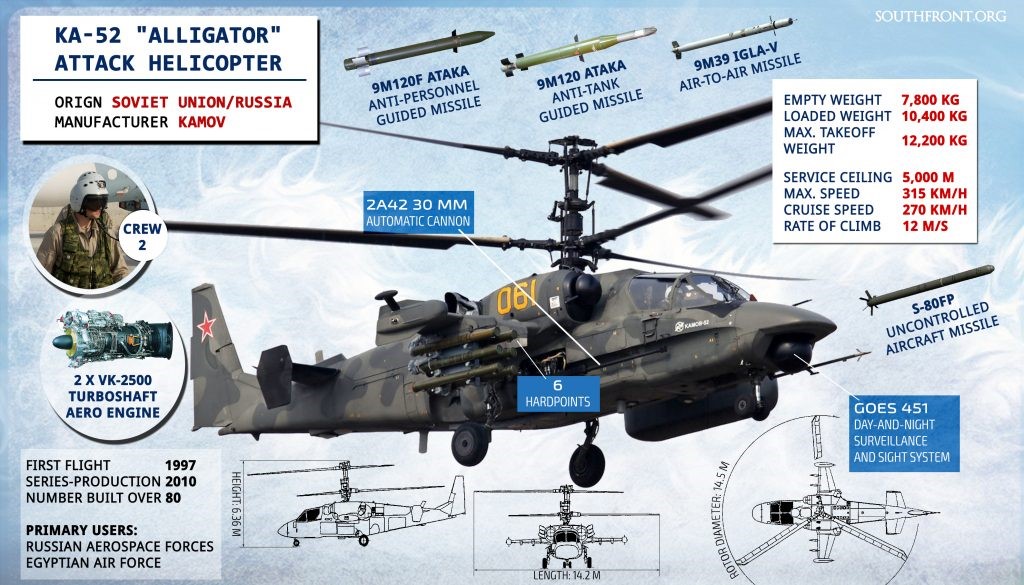 (Southfront.org)
With the help of financing from Saudi Arabia and the United Arab Emirates, Egypt has stepped up Russian arms purchases. Russia began delivery of 50 MiG-29 fighter jets last year, a process scheduled for completion in 2020 (Egypt Independent, September 17, 2017; TASS, September 11, 2017). Russia supplied the S–300VM mobile long-range air defence system to Egypt in 2017 and 46 Russian-made Kamov Ka-52 "Alligator" reconnaissance and combat helicopters are in the process of being delivered.
However, Cairo has avoided over-reliance on Russian arms (as in the Sadat era) by turning to other suppliers, such as France.  Twenty-four Dassault Rafale twin-engine multi-role fighter aircraft were ordered in 2015, some of which have already flown combat missions over Libya. Egypt took delivery of one French-made Gowind 2500 corvette (the El Fateh) last year and is building another three at its Alexandria shipyard (Defence Web, November 7, 2017). It has also purchased a South Korean corvette (the Shabab Misr) and four German-made Type 209 diesel-electric attack submarines to replace its ancient Chinese and Soviet-made Romeo-class diesel-electric submarines.
Al-Sisi, like Muhammad 'Ali, is eager to modernize and increase the capacity of Egypt's military but appears determined to avoid reliance on either the U.S. or Russia. While Russian approaches will not be rebuffed outright, Cairo is making it clear that enhanced cooperation must be consistent with Egypt's strategic objectives.
This article first appeared in the February 15, 2018 issue of the Jamestown Foundation's Eurasia Daily Monitor.