Andrew McGregor
February 28, 2011
Libya's most important military commander has no combat experience and has achieved his rank through nepotism rather than merit. His first active command involves attacking unarmed civilians and ex-members of his own military, yet Khamis al-Qaddafir will play a pivotal role in the coming days as the fate of the Libyan regime led by his father, Mu'ammar al-Qaddafi, is decided.
Born in 1978 and the fifth son of President Qaddafi, Khamis has avoided the allegations of hard partying and womanizing that have plagued the reputations of his older brothers.
As commander of Libya's 32nd (Mechanized) Brigade, Khamis al-Qaddafi controls the best-trained and best-equipped elements of the Libyan Armed Forces. The 32nd, popularly known as the "Khamis Brigade," is designed to defend the regime from both external and internal threats, with troops groomed to display loyalty to the Gaddafi family regime and prepared to fight other units of the armed forces in defense of the regime, if need be. While other officers are constantly rotated between various units to prevent the development of personal loyalties within military units to their commanding officers, Qaddafi's sons tend to be tied to certain commands.  Better pay, benefits, weapons and equipment in the Khamis Brigade are intended to solidify loyalty to the unit's commander, Khamis.
Khamis is a graduate of the Libyan military academy in Tripoli who took further military training in Russia at the Frunze Military Academy and the General Staff Academy of the Russian Armed Forces in Moscow. After completing his military studies in Moscow, Khamis paid a visit to Algeria, where he was received by President Abd al-Azizi Bouteflika. The Khamis Brigade later took part in joint exercises with the Algerian military (JANA [Tripoli], December 1, 2007). In 2009, Khamis was invited to observe joint Belarus-Russian military exercises (Belarusian Telegraph Agency, September 30, 2009).
Spanish sources say Khamis was not with his brigade when the unrest began, but was instead pursuing an international MBA at Madrid's Instituto de Empresa, studies which he began in April 2010. Khamis was apparently attempting to keep a low profile in Spain, using the name "Mu'ammar Khamis," though the Spanish government was aware of his presence. He was scheduled to attend a seminar in South Africa this week, but the school says it is now unaware of his whereabouts (El Pais [Madrid], February 22). He turned up on Libyan national TV on February 22, saluting and embracing his father after the latter's televised speech to the nation (Afrol News, February 23). The implication was clear to viewers – the Khamis Brigade would be leading the assault on those challenging the regime.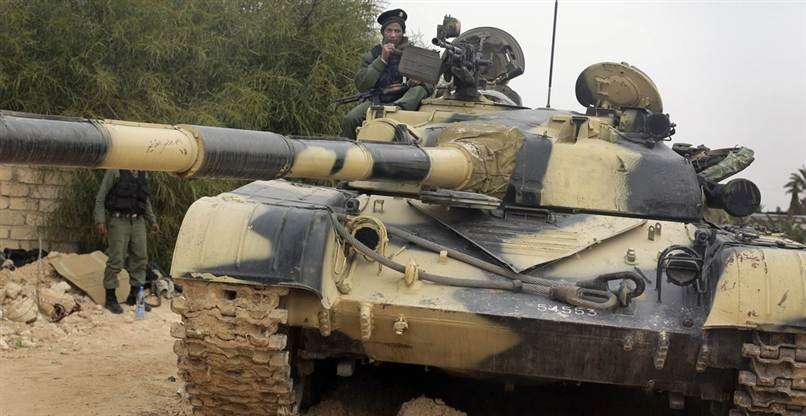 Armor of the 32nd (Khamis) Brigade
The Khamis Brigade was normally stationed close to Benghazi, but it appears that most of the unit has withdrawn to the Tripoli region. According to the recently resigned Libyan envoy to the Arab League, Abd al-Mun'in al-Huni, the Libyan regime is now largely confined to four military bases in the Tripoli region, including that of the Khamis Brigade and the Bab al-Aziziyah, which contains the residence of Mu'ammar al-Qaddafi (Al-Sharq al-Awsat, February 26).
Khamis was recently reported to have killed Said Rashid al-Muqarha, a tribal leader in the pro-government Muqarha tribe (al-Arabiya, February 23; ABC Internacional [Madrid], February 25).  Elsewhere, French-speaking mercenaries captured by protesters in Benghazi alleged that Khamis issued the orders to fire live-ammunition at demonstrators (al-Arabiya, February 19).
The Khamis Brigade has been reported as taking part in the fighting in several places, including Benghazi and Misurata, where they reportedly failed to retake an airbase (al-Jazeera, February 26; Financial Times, February 23).  The reluctance of defecting troops in eastern Libya to take a frontline role in resisting the government suggests they are fully aware of their limitations in engaging the Khamis Brigade or other units still loyal to Qaddafi.  However, fear of the Khamis Brigade seems to have played a bigger role in the current struggle for Libya than any actual military operations carried out by the unit so far. It may be that, in classic military style, the regime is holding its best troops back for use in a critical encounter such as the defense of Tripoli and the Bab al-Aziziyah barracks.
U.S. sanctions imposed on Libya on February 25 were followed by UN Security Council sanctions the next day that specifically targeted a number of members of the Qaddafi family, including Khamis (al-Jazeera, February 27; BBC, February 25). UNSC Resolution 1970 includes travel bans and asset freezes.
Several of Khamis' brothers also hold commands in the military, including Sa'adi and Mu'tasim, the national security advisor, though neither are regarded as serious military prospects. Colonel Mu'tassim is reported to have asked his father for $1.2 billion in 2008 to establish a military force comparable to that of his brother Khamis (Guardian, February 21). Another son, Saif al-Arab, is rumored to have joined the revolutionaries after having been sent east to repress the revolt.
Will Khamis provide the last line of defense for his father's regime and the "Green Revolution?" Though much money and attention have been devoted to making the troops under his command the elite force of the Libyan military, their performance so far cannot be very encouraging to the Qaddafis. In Benghazi, the Khamis Brigade surrendered fortified positions to a civilian assault (though they were hampered by disloyal units within the garrison that refused to fire), and Khamis Brigade counter-attacks in Zawiyah and Misrata against defectors and armed civilians are also reported to have failed (al-Jazeera, March 1; AP, February 27).   If the Khamis Brigade is offered an alternative to going down in flames in Tripoli, the armed foundation of the Qaddafi regime could quickly collapse as loyalty to its commander is measured against an uncertain future.
(AIS Update: It appears that Khamis al-Qaddafi was killed during fighting in August 2011, though the exact circumstances remain unclear.)
This article first appeared in the February 28, 2011 issue of the Militant Leadership Monitor