Andrew McGregor
January 31, 2011
Shaykh Ahmad Abdi Godane "Abu Zubayr" appears to be losing his grip on the leadership of Somalia's al-Shabaab, the largest and most formidable of the militant Islamist groups operating in the Horn of Africa. Reports indicate that Godane was relieved of his post as Amir of al-Shabaab at a December 24 meeting of the movement's Shura Council (WaltaInfo.com, January 15). However, Godane is apparently continuing to act as though he is still leader, issuing statements as the commander of al-Shabaab despite opposition from several other prominent commanders.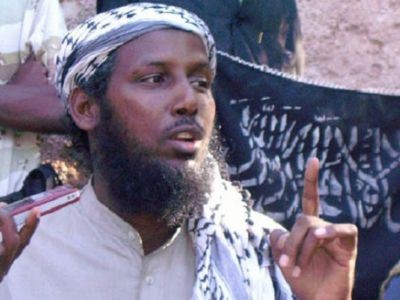 Shaykh Ahmad Abdi Godane "Abu Zubayr"
Background
Godane is reported to have trained in Afghanistan along with a number of other al-Shabaab commanders. Like many commanders with an "Afghan" pedigree, Godane has emphasized the international aspects of his movement, using the language and rhetoric of the global jihad propagated by al-Qaeda in statements such as "We will fight and the wars will not end until Islamic Shari'a is implemented in all continents in the world and until Muslims liberate Jerusalem."
A proponent of Salafism, Godane took over the leadership of al-Shabaab in May 2008 after the death of its leader, Adan Hashi Ayro, in a U.S. cruise missile attack. Godane's devotion to the global jihad earned him a U.S. terrorist designation under a November 20, 2008 executive order. The al-Shabaab commander has declared wars would continue until Shar'a was implemented across the world and the Muslims liberated Jerusalem (AFP, May 13, 2009).
The ever reclusive Godane usually communicates with the press through the medium of audiotape messages. The Shabaab Amir was seriously wounded in what appeared to be the accidental explosion of a suicide belt during the training of a Pakistani suicide bomber. As many as 17 Shabaab fighters may have been killed in the blast (Garowe Online, May 18, 2009; May 20, 2009; Waagacusub.com, May 18, 2009; see also Terrorism Monitor, June 4, 2009).
Challenges for the Amir
Godane has run up against a number of factors that have led to the challenges now being posed to his leadership from within the movement, which is battling Somalia's Transitional Federal Government (TFG) for control of the capital of Mogadishu, having already taken over the administration of much of southern Somalia. The most significant of these factors include the following:
Godane's secretive and furtive leadership style gains little respect with Somali fighters who prefer bolder leaders who are unafraid to appear on the battlefield, somewhere Godane never appears.
Godane belongs to the Isaaq/Arap a clan and subclan that are far removed and largely unrepresented in the current fighting, leaving him with few armed men under his personal command compared with other commanders, who often lead large contingents of their own southern or central Somali clansmen.
Photos of Godane disguising himself as a veiled woman have appeared on Somali websites, diminishing his reputation in comparison to most other Shabaab leaders, who appear in public without disguise and close to the front lines.
Godane's adherence to the philosophy and imperatives of the global jihad have done little to help his movement attain more immediate but elusive objectives, such as the conquest of Mogadishu.
The Shabaab leader's efforts to spread the jihad to the northern Somali regions of Puntland and Somaliland have been largely unsuccessful.
Godane has alienated many of the southern clans and sub-clans by imposing bans on badly needed medical and humanitarian relief efforts during a period of widespread drought. In some places al-Shabaab has seized all pharmaceutical supplies, preventing their distribution to impoverished and hungry villagers. This policy does not have the support of significant southern Shabaab commanders such as Shaykh Mukhtar Robow "Ali Mansur."
Al-Shabaab's Ramadan offensive to take Mogadishu was a failure, resulting in TFG and African Union Mission in Somalia (AMISOM) forces controlling more of the capital than when the offensive began. The heaviest losses were taken by Shabaab fighters of the Rahanweyn clan drawn from Bay and Bakool regions. This contingent is loyal to Godane rival Abu Mansur.
Special units loyal to Godane have killed badly wounded Shabaab fighters during combat operations in Mogadishu. The practice of making these men "martyrs" rather than offering them medical treatment has outraged many al-Shabaab commanders.
Not Impressed: Shaykh Yusuf Muhammad Si'ad "Indha Adde"
Godane was openly mocked by TFG Minister of Defense Shaykh Yusuf Muhammad Si'ad "Indha Adde": "As to the extent I know the so-called Ahmad Godane, he is a fugitive who wears women's dress such as gowns, veils, headscarves, etc… and what makes me laugh loud is that he is telling us to surrender to him. I am advising him to change his womanly style of dressing and put men's clothes on and come to the battlefield…" Indha Adde added that Godane had never participated in combat with the Ethiopians during the latter's occupation of Somalia (Mareeg Online, n.d.).
A Shadowy Leader Wears Out His Welcome
Godane's apparent successor is Shaykh Ibrahim Haji Jama "al-Afghani," another member of the Isaaq clan and a reputed spiritual as well as military leader. As his nickname suggests, Shaykh Ibrahim is believed to have trained and fought in Afghanistan and Kashmir before returning to Somalia to become a commander in the extremist al-Ittihad al-Islami. However, Godane appeared to ignore the reported change of leadership, issuing a new audiotape to the Mogadishu press on December 31 that urged the united forces of al-Shabaab and Hizb al-Islam to redouble their efforts to topple the TFG and expel AMISOM from Somalia while warning against attempts to exploit divisions within al-Shabaab. Godane also called on the movement to provide aid to those Somalis suffering from hunger in the ongoing drought (Shabelle Media Network, December 31, 2010; Mareeg.com, December 30, 2010). On January 19, Somali warlord and former governor of Banaadir Region Muhammad Omar Habib "Dheere" accused al-Shabaab of burning relief supplies rather than distributing them to starving Somalis (Puntland Post, January 19).
Shaykh Fu'ad Muhammad Qalaf "Shangole," a senior al-Shabaab member and a field commander in Mogadishu, delivered a damaging blow to Godane's leadership by giving a December 17 speech that denounced the Shabaab leader for his offensive against fellow Muslims in the Afgoye corridor. Shangole also questioned Godane for avoiding public appearances and his absence from the front lines of the jihad he was supposedly directing (Mareeg.com, January 6). A week later, Shangole again attacked Godane in a speech in Afgoye in which he told al-Shabaab fighters they risked having the Somali people turn their back on Shari'a if it continued to be implemented in a haphazard and vicious form. He also noted that civilians continued to flock to TFG controlled regions because of the movement's refusal to permit aid agencies to distribute much-needed food and relief aid. Shangole's remarks were highly significant in that he could hardly be described as a "moderate," given his reputation as one of the strongest advocates of severe punishments for infractions of Islamic law. Shangole appeared to criticize the Shabaab leadership's devotion to global jihad rather than the conquest of Somalia when he told a market gathering in Mogadishu that "fighting everyone is not part of the solution" (WaltaInfo, December 24, 2010; The Star [Nairobi], December 30, 2010).
Despite the efforts of TFG president and former Islamic Courts Union chief Shaykh Sharif Shaykh Ahmad to institute Shari'a in Somalia, Godane rejects these efforts, saying the "so-called government cannot be described as an Islamist government, because it was created to destroy Islamists in Somalia," further accusing the president of collaboration with the Ethiopians (Garowe Online, May 13, 2010).
Al-Shabaab's Triumph in Buhabkaba is Godane's Defeat
The catalyst for Godane's downfall was the struggle with Hizb al-Islam for the so-called Afgoye Corridor, in particular the battle for the town of Burhabkaba on the road from Mogadishu to Afgoye. There are nearly half a million internally displaced people (IDPs) living in the so-called Afgoye Corridor outside of Mogadishu, where they are preyed upon by young Islamists whose rapaciousness is backed by their ability to implement "Shari'a" judgments and punishments according to their whims rather than their knowledge of Islamic law. A rally against al-Shabaab's treatment of IDPs was held in Mogadishu on January 19, a rare occurrence in a nation that lives in fear of Shabaab gunmen (Shabelle Media Network, January 19).
With Shaykh Aweys proclaiming "We will die for Afgoye or defeat al-Shabaab" it appeared Hizb al-Islam was ready to make a last stand against their rival Islamists. However, the battle against Hizb al-Islam did not have the full support of the other Shabaab commanders, many of whom saw useful resources withdrawn from the struggle for Mogadishu to fight fellow Muslims instead of the "apostates" of the TFG. Al-Shabaab's Shaykh Fu'ad Muhammad Qalaf "Shangole" opposed the campaign: "The fighting in Burhabkaba was not jihad, because it is haram [prohibited] for a Muslim person to kill another Muslim person and then brag about it" (Garowe Online, December 18).
According to some sources, however, an important shipment of weapons intended to help Hizb al-Islam defend its positions in Burhabkaba was seized by TFG troops outside of Mogadishu, leaving the movement with little choice but to surrender or seek terms with al-Shabaab, knowing these would include full integration into al-Shabaab, Godane's constant demand before accepting reconciliation. The very fact negotiations of any sort took place indicates Godane's diminished influence in the movement.
While Hizb al-Islam leaders have been promised command positions in al-Shabaab, most fighters will undergo retraining in Shabaab tactics and methods. It will then be up to the movement to decide whether to redeploy Hizb al-Islam fighters as distinct units or distribute them around existing al-Shabaab units (the process followed in the integration of the Ras Kamboni faction) to prevent Hizb al-Islam from re-separating from al-Shabaab, an entirely probable event in the acrimonious world of Somali politics.
The ambitious Shaykh Aweys will attempt to exert his influence within the Shabaab leadership during the current upheaval, always keeping his eye on the position of Amir. Aweys is a clever political tactician used to exerting power and influence from behind the scenes, and al-Shabaab may find it has taken a catalyst for change into its midst through the unification with Hizb al-Islam. The unending war promised by al-Shabaab's global jihadist faction has diminishing support amongst a war-weary Somali public. Given the continued flight of Somalis from Shabaab controlled territories, it becomes clear that the movement's global jihad will never graduate beyond a series of largely self-defeating terrorist attacks in neighboring countries. Locally, however, it is likely a mistake to view Awey's presence in the Shabaab leadership as a moderating influence on the movement, as some observers have suggested. The rivalry between Godane and Aweys is long-standing, and the integration of Hizb al-Islam with al-Shabaab might have hinged partly on Godane's replacement as leader. In May 2009 Aweys threatened to strike Godane with "an iron hand" (Somaliland Times, May 28, 2009).
War with Somaliland
Clan membership is always important in determining the leadership of any Somali group, and Godane has probably already proven the exception to the rule by taking control of al-Shabaab in the first place. Godane is from the Isaaq clan of the breakaway northern Somali state of Somaliland. This makes him something of a stranger to the southern Somali clans that form the bulk of al-Shabaab's rank-and-file. Somaliland is far removed from the terrorist bombings organized by Godane and others in the Somaliland capital of Hargeisa have failed to spark the Islamist rebellion in Somaliland that Godane naïvely hoped for. Most residents of Somaliland are proud of 20 years of peace and free elections in the region despite remaining unrecognized by even a single state. Few Isaaq, therefore, have rallied to Godane's cause, leaving him somewhat isolated in a movement dominated by southern clans.
In March 2006, Godane was sentenced in absentia to 20 years in prison after being convicted on a range of arms and terrorism related charges (Somaliland Times, December 9, 2009). In 2008 Godane was accused of planning three suicide bombings in the Somaliland capital of Hargeisa that targeted the presidential palace, the Ethiopian trade office and the regional UN offices (Garowe Online, November 27, 2008; AFP, November 27, 2008; see Terrorism Monitor, December 8, 2008).
Somaliland's decision to give landlocked Ethiopia access to the port of Berbera incensed Godane, who delivered a new series of threats to Somaliland's leaders (Jowhar, September 3, 2009; Gabiley.net, December 6, 2008; Radio Gaalkacyo, September 3, 2009).
As Somaliland approached a presidential election in mid-2010, Godane issued a statement in which he denounced the "danger" of elections and democracy, asserting their prohibition by Shari'a: "Every individual should fight democracy verbally, if necessary use his hands to fight democracy, or leave the area where democracy is practiced" (Garowe Online, June 25).
Conclusion
In the tradition of Somali warrior-poets such as Shaykh Muhammad Abdullah Hassan, Godane put his objections to efforts to divide the Shabaab movement into verse:
One may want to pursue it for their personal benefit,

One would want to see it collapse and go backward.

Even if every man works for its demise,

Or expels it to the jungle,

Or lays traps for it,

Or attacks it at midday,

Or sells it out of greed,

It will never collapse,

Even if you wish to side against it (Shabelle Media Network, December 31, 2010).
The reclusive Islamist shaykh from Somaliland will have difficulty retaining or regaining his position as Amir of al-Shabaab. If he is depose but not eliminated he may in fact create the new "Hizb al-Islam," an Islamist movement that will rival al-Shabaab without overpowering it. He may also be able to draw on certain connections in the ranks of the international Salafi-Jihadi movement to maintain a campaign of suicide bombings and similar attacks both inside and outside of Somalia in pursuit of a global Islamic Caliphate.
This article first appeared in the January issue of the Militant Leadership Monitor