Andrew McGregor
October 31, 2012
The Central African nation of Burundi has reached a political crossroads. In the last decade Burundi has managed, with international assistance, to bring an end to a vicious civil war and install a government that reflects demographic and tribal realities in Burundi. However, since the opposition decided to drop out of the political process by boycotting the 2010 elections, Burundi has witnessed a rise in political violence and state repression.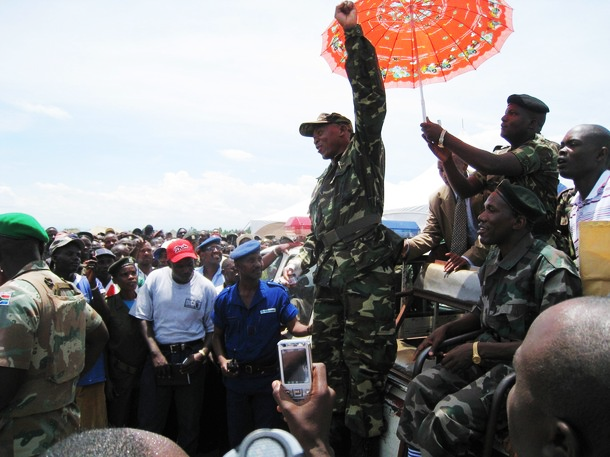 Agathon Rwasa in Bujumbura, 2010
The September announcement of a return to arms by the nation's most notorious Hutu militia, the Forces nationales de libération (FNL) of veteran militant Agathon Rwasa has raised new concerns about a return to civil war between the Hutu-dominated government and Hutu militants. Rwasa has suggested the announcement was the work of a rogue commander, but the question now is whether Rwasa, who is in hiding, can maintain his iron-fisted control of the Hutu militants in the face of a government campign to eliminate present and former members through extra-judicial killings. [1]
Burundi's Civil War
Landlocked and desperately poor, Burundi passed through periods of colonial rule by both Germany and Belgium before attaining independence in 1962. Like its neighbor Rwanda, Burundi has been consumed from the beginning by the rivalry between the majority Hutu (with 85% of the population) and the minority Tutsi community. In the first democratic elections, held in 1993, Burundians split from the traditional Tutsi elite by electing a Hutu president, Melchior Ndadaye, and a Hutu-dominated parliament. However, Ndadaye was killed by Tutsi troops only a few months later, launching a brutal 12-year civil war between the Hutu and Tutsi populations that left over 300,000 dead.
Early Life
A reported born-again Christian, Agathon Rwasa grew up in the culture of ethnic and political violence that dominated Burundi. His career became inevitably tied to the fortunes of Palipehutu, a Hutu militia dedicated to the extermination of the Tutsi community. Palipehutu had its origins in the post-independence period of Burundi, when the political aspirations of the Hutu majority collided with Tutsi control of the military. By 1972 a Hutu organization (Umugambwe w'Abakozi b'Uburundi – UBU) had emerged with the intention of wiping out the Tutsi community in Burundi.  Hutu massacres and Tutsi repression of UBU left over 100,000 dead. UBU reorganized in the Hutu refugee camps in Tanzania in 1980, adopting the name Palipehutu and resuming massacres of thousands of Tutsi civilians in northern Burundi in the late 1980s. Many of these killings were carried out by Palipehutu's military wing, the Forces pour la liberation nationale (FNL).  The latter, under the name Palipehutu-FNL, split from the Marxist-influenced political wing of the movement in 1991.
By 2001, Agathon Rwasa was challenging Cossan Kabura for leadership of the movement, with Rwasa representing a hardline faction uninterested in negotiations with the government. In February 2001, the FNL announced it had sacked Kabura for pursuing peace talks without authorization, followed by a Rwasa-led assault on the capital of Bujumbura. Rwasa had already gained a degree of notoriety for his leading role in the so-called "Titanic Express Massacre" of December 2000, in which 20 Hutu and one British woman were removed from a local bus and murdered (Reuters, December 30, 2000; Sunday Times, January 11, 2004).
FNL official Alain Muhabarabona announced on August 8, 2002 that he had in turn sacked Rwasa as leader and taken over command of the movement – the first of several such attempts to displace Rwasa as FNL leader, all of them unsuccessful (AFP, August 22, 2002). Internal divisions did not prevent Rwasa from launching a major attack on Bujumbura in August, 2002 that demonstrated he was still firmly in control of the movement (AFP, August 25, 2002). By the end of the year the other major Hutu militias had made peace with the government, leaving only the FNL still in the field.
The Gatumba Massacre
In the spring of 2004 there appeared to be some softening of the FNL position and it seemed possible that peace talks with the government would resume.  This process was derailed, however, by the Rwasa-authorized massacre of roughly 160 Banyamulenge Congolese Tutsis at the Gatumba refugee camp on August 13, 2004. Pointing to previous massacres of Hutus by Burundian Tutsis, responsibility for the slaughter was quickly and proudly claimed by the FNL (Radio Publique Africaine, August 14, 2004). Though the massacre was roundly condemned by the international community and was cited in UN Resolution 1577, there was little follow-up, with no arrests made and no referral to the International Criminal Court.
The movement's next schism occurred in October 2005, when a government-supported faction was created under the leadership of former FNL deputy leader Jean-Bosco Sindayigaya, who had left the movement maintaining that all its demands had already been met. This faction had little impact as it fielded very few fighters but created some confusion by continuing to use the name Palipehutu-FNL. An apparent plan to transfer two battalions of well-armed Hutu fighters of the Forces pour la Défense de la Démocratie (FDD) returning from the Democratic Republic of the Congo (DRC) to Sindayaigaya's command in order to negotiate with this version of the FNL rather than Rwasa's collapsed when the scheme became known to Rwasa's FNL (AFP, October 10, 2005; Radio Publique Africaine [Bujumbura], October 10, 2005; June 25, 2006; Net Press News [Bujumbura], September 21, 2005).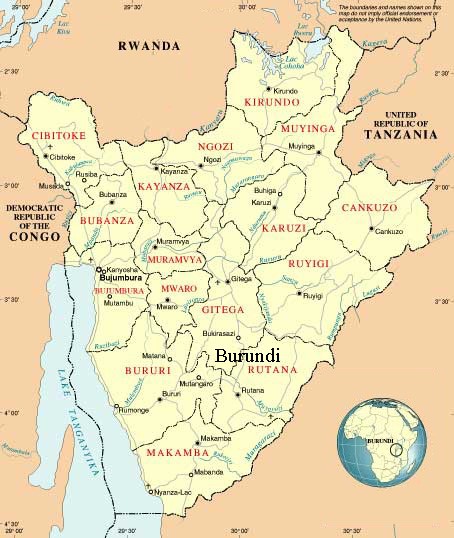 Funding for the movement came largely through local taxation, reported to be set at the rate of 1,500 Burundian francs from each household and 2,000 francs for every cow owned, these amounts to be paid every three months in FNL-controlled areas (Burundi Press Agency, November 16, 2007). Commercial vehicles passing through FNL areas were also charged 2,000 francs (Burundi Press Agency, June 25, 2007).
Making Peace
From October 2005 to March 2006 there were numerous raids and skirmishes with security forces, particularly near the rebels' base in the Rukoka Forest. Eye-witnesses reported that many of the rebels appeared to be under 18-years of age (Agence Burundaise de Presse, October 3, 2005).
Despite international condemnation for his role in the Gatumba massacre, Rwasa surfaced in Dar-as-Salaam in May 2006, where he engaged in talks with then-Burundian president Domitien Ndayizeye that yielded a ceasefire and would eventually lead to a June 2006 peace agreement (South African Press Association, June 18, 2006). Rwasa identified three main issues to be addressed in the talks:
[First,] The problem of ethnicity which has always undermined the Burundian society which has been turned into a hobby-horse by governments. Secondly, the fact that all the governments killed and continue to kill innocent citizens instead of protecting them and promoting the Burundian society. There is also the problem of democracy, because democracy agrees that people express their opinions. We are asking to be recognized and to be able to exercise our political functions without being hunted down or pursued… (RFI, May 31, 2006).
Rwasa's chief demand (not met by this agreement) was complete reform of the once Tutsi-dominated Burundian military, where 50% of personnel were to remain Tutsis according to the constitution as a counter to further genocide (RFI, June 16, 2006; Bonesha FM [Bujumbura], June 6, 2006). Despite the peace agreement, FNL fighters remained active in Bujumbura Rural Province and grenade attacks on bars and the murder of police officers in the capital continued through 2006. In July 2006, Rwasa's followers shelled Bujumbura from the hills surrounding the capital in response to the arrest and alleged torture of three FNL leaders (Burundi Press Agency, July 24, 2006).
Destroying the Dissidents and Deserters
By mid-February 2007 there were reports that Rwasa had crossed the border from Tanzania into Burundi to reorganize the FNL (Net Press News [Bujumbura], February 19, 2007). Rwasa's presence was essential as large numbers of FNL fighters said to be tired of life in the bush, constant warfare and the intransigence of the FNL leadership had begun to desert the movement in 2006-2007. According to an army spokesman, deserters had revealed FNL fighters were short of food by mid-summer, 2006 and were forced to eat grass to combat hunger (Burundi Press Agency, August 19, 2006). Many of the deserters were regrouped by the army under new leaders, but the old Palipehutu-FNL name was retained by the government to create dissension within the movement. In early September, 2007, FNL loyalists attacked one of these camps in a northern suburb of Bujumbura, driving the upstart FNL faction into the bush with heavy losses (IRIN, September 4, 2007; Bonesha FM [Bujumbura], September 5, 2007).
Mainstream FNL militants killed nine men in October 2007 in the camp of dissidents who continued to use the Palipehutu-FNL in defiance of FNL spokesman Pasteur Habimana's demands the dissidents change the name of their group (Bonesha FM [Bujumbura], October 22, 2007). Habimana accused the chief mediator, South African security minister Charles Nqakula, of gathering "bandits" together under the FNL name, though it was more widely believed that the divisions in the FNL were being promoted by the Bujumbura government. Only days earlier, FNL forces had attacked dissident FNL leaders at the Hotel Albatros in downtown Bujumbura, killing three and seriously wounding dissident leader Nestor Banzubaze (a.k.a. Banes) (Net Press News, October 15; RFI, October 15). Further embarrassments followed as other "FNL dissidents" loyal to Emmanuel Sindayigaya (a.k.a. Gatayeli) bearing newly issued Burundian military gear began carrying out atrocities in southern Burundi, compelling government authorities to seize and imprison their new ally (Net Press News [Bujumbura], November 23, 2007).
Ending the Armed Struggle?
Peace efforts suffered a serious blow in April, 2008 when the FNL began shelling Bujumbura to reinforce FNL demands for full immunity from prosecution and a healthy share of government positions. The dispute descended into street clashes between the army and FNL fighters, angering the Tanzanian and Ugandan brokers of the peace deal (BBC, May 8, 2008). International pressure finally forced Rwasa to agree to a May 25 ceasefire that laid the foundation for a new peace agreement with the government.
Under the protection of a detail of South African troops, Rwasa returned to Bujumbura on May 31, 2008 aboard a South African aircraft to the cheers of thousands of people after two decades in the bush (RFI, May 31, 2008). Rwasa declared the end of the armed struggle at a ceremony on June 17, 2008, saying the movement wished to show the international community that it was "committed to reaching a lasting peace." The demobilization process was complicated, however, by Rwasa's reluctance to declare how many fighters he had under his command (IRIN, June 17, 2008).
In June, 2008 the Army arrested over 100 young men who they claimed had been recruited to the FNL after the ceasefire in order to boost FNL numbers in a newly-integrated Burundian army (BBC, June 19, 2008). Rwasa was now claiming a vastly inflated strength of over 21,000 FNL fighters. By late July, 2,450 fighters had surrendered only 40 weapons (IRIN, July 29). Despite many difficulties, the government and the FNL came to an agreement in December, 2008 that called for 33 senior government posts to be offered to FNL members as well as the release of political prisoners from state prisons (Radio Burundi, December 4, 2008). Rwatha was eventually appointed head of Burundi's national social welfare agency (AFP, June 5, 2009).  South African troops foiled an assassination attempt on Rwasa by assailants armed with grenades a month later (Net Press News [Bujumbura], July 14, 2009).
Rejection and Flight
The FNL began demobilizing its fighters with a ceremony in western Burundi in April, 2009 (Radio Publique Africaine [Bujumbura], April 18, 2009). In a process assisted by the South African military, 3,500 fighters were destined to be integrated into the Burundi Defense Forces and police, with the remainder (an estimated 5,000) being completely demobilized (Institute for Security Studies [Pretoria], May 8, 2009).
The FNL put Rwasa forward as its candidate for the 2010 presidential elections, with Rwasa announcing: "The time of taking power by force is over. Now is the time for dialogue and democracy" (Reuters, November 30, 2009). Though Rwasa was viewed as the main challenger for the presidency, he joined five other opposition candidates in announcing their withdrawal from the June, 2010 elections after the ruling CNDD-FDD won easily in a round of local elections preceding the presidential poll.
Rwasa went into hiding in July, 2010, claiming he feared for his life as the government wanted to kill him (Net Press News [Bujumbura], July 8, 2010. In a cassette tape distributed to his followers, Rwasa said: "They're looking for me because I told the truth [about election rigging], because I said publicly that I don't accept the results of the local elections… [Last]Wednesday they wanted to arrest me again. I got wind of it and I disappeared from circulation" (AFP, June 30, 2010).
The FNL leader was believed to have fled to the DRC's Kivu region, a common refuge for many regional militants, terrorists and bandits. FNL members claimed Rwasa's flight had followed a raid on his home in Bujumbura in which tear gas, live ammunition and rockets had been used. Police denied these details, but said they had acted after FNL activists had gathered near Rwasa's house after rumors of his impending arrest began to circulate, searching passers-by and stopping vehicles (AFP, June 17, 2010).
His opponents within the FNL saw their opportunity, and on August 1, 2010, a number of dissident FNL leaders announced they had replaced Rwasa as leader of the movement with Emmanuel Miburo at a congress from which Rwasa was absent. (RFI, August 1, 2010). Rwasa described the leadership congress as "a provocation. It is very clear that the intention of the government is to allow people affiliated to it to take over the FNL party leadership" (RFI, August 7, 2010). Rwasa appealed to UN Secretary-General Ban Ki-moon for help in the "restoration of the FNL party and its leaders in their rights" (Jeune Afrique, September 25, 2010). Rwasa loyalists began to search for the dissident RFL leaders and their followers and the murder of seven sugar factory workers and the discovery of bound and mutilated bodies in the Rusizi River in northern Burundi was taken as an indication FNL fighters were regrouping in the nearby Rukoko marshes (AFP, September 15, 2010; September 22, 2010).
By December, 2010, Rwasa was telling journalists that he had "totally renounced the war" even as a UN report suggested the FNL leader had re-mobilized 700 of his most dedicated fighters in the eastern DRC (IRIN, December 10, 2010). Authorities in Bujumbura continued to maintain the fiction that the frequent episodes of grenade-throwing and armed attacks were the work of "armed bandits" rather than political dissidents gathering in the Congo, even in the face of reports from Congolese Colonel Delphin Kayimbi that his forces were battling FNL guerrillas in the North and South Kivu provinces of the eastern DRC (Net Press News [Bujumbura], November 10, 2010).
At the same time FNL spokesmen and other opposition leaders were warning of "an explosive situation" in Burundi with the entire opposition sidelined from the political process, though this was partly the result of their own electoral boycott.  Without access to government, the opposition began to complain of a constant campaign designed to harass the opposition through arbitrary arrests, torture and extra-judicial killings. Murders of demobilized FNL fighters by uniformed men were becoming common (IRIN [Nairobi], November 26, 2010; December 1, 2010; AFP, October 16, 2010). By May 2011, Burundian defense minister Major-General Pontien Gaciyubwenge was ready to admit that the growing violence in western Burundi (especially in Burundi Rural Province) was the work of Agathon Rwasa and his followers (RFI, May 7, 2011). A year later, President Nkurunziza would promise Rwasa: "We will follow you and bring you back with your arms tied behind your back" (AFP, May 18, 2011).
On May 30, 2011 a group of fighters believed to be members of the FNL threw a grenade into a crowd watching a soccer match at the home of a ruling party member in Kanyosha district, killing four people and wounding others (Reuters, May 30, 2011).
According to a document produced by the Service National de Renseignement (SNR), Burundi's national intelligence service, Rwasa was personally involved in the planning of an attack on the Chez les Amis bar in Gatumba (near Bujumbura) on September 18, 2011 that killed 39 people (al-Jazeera, September 19, 2011; AFP, September 19, 2011; October 6, 2011). The attack, allegedly carried out by a group under the command of Bariyanka Antoice (a.k.a. Shuti), came a week after Rwasa accused the government of torturing and killing over 100 members of the FNL. Many of those at the bar when it was attacked were members of a local football club with ties to the ruling party.
In mid-September, 2011, Rwasa claimed 169 of his followers had been killed since the start of the year, 20 of them after being detained by police. He claimed the latter, together with the intelligence services and the ruling party's youth wing, were behind a series of "unacceptable massacres, arbitrary arrests and imprisonment, cruel acts of torture, intimidation, death threats and extra-judicial executions" (AFP, September 16, 2011). One of the organizers of the Gatumba massacre, FNL commander Laver Nduwayezu (a.k.a. Carmel, a.k.a. Mukono) was killed by Congolese troops in early May, 2012 and his body handed over to Burundian security forces (AFP, May 4).
A Return to War?
Overt and covert government operations against the FNL that began in July, 2012 have played an important part in encouraging the movement to renew its armed struggle against the Bujumbura government. On September 2, veteran Hutu rebel General Aloys Nzabampema announced the creation of a new FNL faction of 1,000 fighters, which would take up arms against the regime in response to the government's "policy of extermination of FNL members" (AFP, September 4; RFI, September 4). The statement declared their goal was the removal of President Pierre Nkurunziza, the Hutu leader of the Conseil National Pour la Défense de la Démocratie–Forces pour la Défense de la Démocratie (CNDD–FDD – National Council for the Defense of Democracy and the Forces for the Defense of Democracy).
Though the statement caused great consternation in Bujumbura, it was quickly rejected by Rwasa's spokesman, Aimé Magera, who denied a resumption of hostilities and described Nzampema as a deserter who "has never been a leader of the FNL" (Jeune Afrique, September 4; IWACU [Bujumbura], September 3).
Conclusion
Extrajudicial killings by security services or members or allies of the ruling party are encouraged by a culture of immunity in which the current CNDD-FDD government denies the very existence of such a problem despite ample UN documentation of scores of such killings since the 2010 elections. President Nkurunziza appears to be overly reliant on his military advisors, leaving few options for other means of addressing the impasse with the FNL, which still sees itself as the senior Hutu liberation movement and thus deserving of the fruits of political supremacy. Rwasa, a consummate political survivor, is under strong pressure from his movement's rank-and-file to resume the armed struggle against the government, which is quickly becoming a matter of personal survival for many FNL members. Though the still-hidden Rwasa insists the FNL has abandoned its arms, this is a familiar refrain oft-heard shortly before Rwasa launches yet another deadly attack in this seemingly interminable conflict.
Notes
Rwasa's organization is still often referred to by its earlier name, the Parti pour la libération du peuple hutu (PALIPEHUTU). A common usage is "PALIPEHUTU-FNL."