Andrew McGregor
July 30, 2016
The Islamic State-inspired Bastille Day atrocity in Nice that killed 84 people and injured over 300 more has brought new awareness of a strain of radical Islam that thrives behind the lights and glamour of life on the French Riviera. Nurtured in hidden mosques in an alienated and unassimilated Muslim community, Islamist extremism has produced scores of jihadists from the Nice region, most of whom have traveled to Syria to take up arms in al-Qaeda or Islamic State combat groups. Most prominent of the recruiters responsible for this flow of French residents to the battlefields of the Middle East is Omar Diaby (a.k.a. Omar Omsen), a Senegalese-born extremist who eventually left for Syria himself to take command of a group of Francophone jihadists.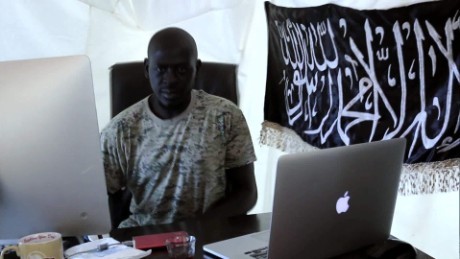 Omar Diaby: Cyber-Jihadist (CNN)

Early Life
Born in Dakar in 1976, Diaby arrived in the Nice region of France at the age of five. Nice is home to a large Muslim community, many of whom are Tunisian in origin. Though many have poor employment prospects and depend on state assistance, there is also a growing Muslim middle class. Nonetheless, radical preachers find an interested audience for their views in the Islam du caves, mosques that operate out of sight in underground parking garages in heavily-Muslim banlieus (suburbs) like Ariane and St. Roch.
Marine Le Pen's anti-immigration Front National and right-wing French nationalism are particularly strong in the Nice region, partly as a legacy of French pieds noirs settlers expelled from Algeria, Morocco and Tunisia settling there after those nations reached independence. Their proximity to Islamists in the Ariane and Saint Roch districts perpetuates a certain amount of inter-communal tension (Guardian, July 18). Jihadist recruiters exploit these tensions to convince young Muslims to abandon their mundane lives in France to take up a more glorious existence as jihadis and martyrs in Syria and elsewhere.
Nice has taken steps to address the problem, providing teams of social workers and psychologists to persuade would-be jihadists to abandon their plans. The city also provides counseling programs to reintegrate returned jihadis (France24.com, July 15). The threat from returnees is serious; in February 2014 one such returnee from the Syrian jihad, an Algerian native who had received bomb-making training in Syria, was arrested after planning to detonate bombs during Nice's popular carnival (France24.com, July 15).
Diaby was known in the Riviera region as a violent gangster, imprisoned for a 1995 gang-related murder (Diaby deliberately ran the victim down with a car) and again for the 2002-2003 armed robberies of two jewelers in Monaco. In prison, that great incubator of jihadists, Diaby became fascinated with radical Islamist ideology and took the new name Omar Omsen. After his release, Diaby took up preaching and the production of Islamic-themed videos until he joined a group of Salafi extremists using the name Fursan Alizza (The Knights of Pride), a move that brought him new attention from French counter-terrorism forces (Fursan Alizza is now a banned organization in France after a wave of arrests in 2012) (Dakar Actu, June 13). Diaby was again detained in 2011 after a French investigation suggested the recruiter was planning to join the jihad in Afghanistan via Tunisia and Libya (Le Nouvel Observateur, August 10, 2015).
In Nice, Diaby operated a snack bar and football club, which brought him into contact with young men to whom he could distribute jihadist literature and videos (Independent, July 17). Diaby is believed to be responsible for sending as many as 40 Nice residents to Syria before his own departure. Diaby appealed to young men by asserting they would never succeed in France and must go to a Muslim country to thrive. He also justified assault and robbery of non-Muslims in France, "a land of unbelievers," thus providing religious sanction to petty criminals (BBC, July 16).
Former jihadists recruited by Diaby have described his recruiting methods during their trials in France. Whether early contacts were made in person or by internet, Diaby and fellow recruiters like Fares Mourad would begin by speaking of the importance of making hijra (emigration to Muslim lands), followed by discussions of religious points and end-times prophecies, but jihad was rarely if ever discussed in these initial contacts. Only later did the recruits realize Diaby, a self-styled "preacher," could not read the Koran in Arabic or even lead his followers in prayer (Le Point, April 6).
"The Spielberg of French Islamism"
To create the right conditions for recruitment, Diaby drew on his talents as a graphics designer and video editor in creating a series of slick, professional looking video productions designed to encourage young Muslims to pursue a more militant response to the West's alleged persecution of Islam (RFI, August 9, 2015). These videos were part of a project named "19HH" which stands for the 19 terrorists who carried out the 9/11 attacks, with the 'HH' acting as a symbol for the twin towers of the World Trade Center.
Diaby's French-language video productions include "The Truth about Islam" and the three-hour "The Truth about the death of bin Laden," [1] but it was an April 2013 release that would become famous in jihadi recruitment circles and bring him a reputation as "the Spielberg of French Islamism." "Histoire de l'Humanité," as its name suggests, is a broad examination of several themes, including millenarian prophecies, accusations of Christian and Jewish persecution of innocent Muslims, charges of media control, 9/11 conspiracy theories and a defence of Salafism and Takfir (the practice of one Muslim condemning another for apostasy, a basic element in Salafi-Jihadist ideology). The video stitches together various French-language news accounts, movie excerpts and found footage through the use of sophisticated special effects and graphics, the whole overlain with Arabic religious singing. [2]
Diaby uses the video to claim the U.S. government fakes criminal charges to "liquidate [American Muslims] and get them out of the scene," giving two examples:
Imam Jamil Amin (the former H. Rap Brown), a Black-American nationalist militant serving a life sentence for shooting two Black-American police officers in 2000, killing one. Amin converted to Islam while serving an earlier prison sentence in the 1970s for armed robbery, eventually becoming an important figure in the American Muslim community. Famous for once saying "Violence is as American as apple pie," the evidence in the murder case that brought him a life sentence was overwhelming despite Amin's claims of a "government conspiracy."
Humeidan al-Turki, a Saudi national living in Denver, was convicted in 2006 of the repeated rape and four-year captivity of a young female Muslim Indonesian house-servant. Sentenced to 28 years (later reduced to eight after Saudi intervention), al-Turki's defense that he was the victim of American bias against Arab and Muslim cultural norms did nothing to save him from prison, but the charges gained some traction overseas, particularly in Saudi Arabia, where the case became an irritant in U.S.-Saudi relations. At the time he was charged, al-Turki was being investigated at the same time by the FBI in an unrelated terrorism case.
Diaby also uses extensive footage of a 2012 speech by then-French presidential candidate François Asselineau, a veteran politician who indulges in U.S. conspiracy theories while demanding a French exit from the EU and NATO together with a military withdrawal from Syria and Iraq. Asselineau's claim that Europe is not really menaced by Islam is followed by footage of "European terrorists" from the Basque and Corsican communities.
The moral decay of the West is defined by toleration of incest and homosexuality before praise for the "Minhaj Salafiya," a discussion of Quranic creationism and suggestions that 9/11 was an American false-flag operation that included a cover-up requiring the death of Osama bin Laden. Most importantly, it makes the claim (over footage of maimed and bleeding children) that "defensive jihad" is fard ayn (individually mandatory) for all Muslims. The video concludes with a display of Diaby's personal email address for those wishing to obtain further information or subscribe to Diaby's newsletter.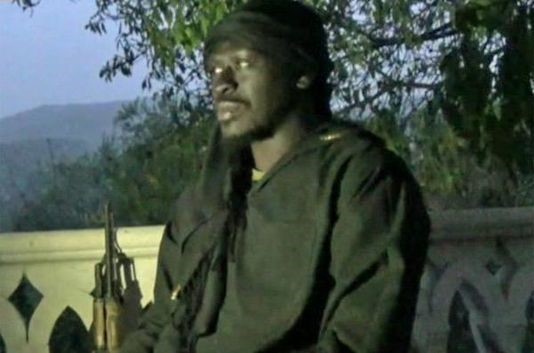 Omar Diaby: Jihad in Syria (Le Monde)

The Syrian Hijra
Fearing further arrest, Diaby slipped away to Dakar. After arrival in Senegal, Diaby was arrested by the Division des investigations criminelles (DIC), who after a hearing, released him and returned his passport. With ten others, Diaby then travelled via Mauritania and Tunis to Turkey and on to the Aleppo region of Syria. (DakarActu, June 13)
The former recruiter now turned Amir and formed his own katiba (brigade) in the Latakia governorate of Syria, a group composed of some 80 to 100 jihadis of French origin (many from Nice) allied with the Islamist Nusra Front, eventually a rival to the Islamic State organization. After arriving in Syria, Diaby was able to being eight members of his family to Syria from Senegal (Diaby is married and the father of two children) (DakarActu, June 13)
It was not until February 2014 that Diaby finally appeared in a video in person. In footage aired by al-Jazeera, the black-clad jihadist, Kalashnikov at his side, claimed that the Caliphate would be established in Damascus "as the Prophet said" (Le Monde, February 12, 2014). [3] According to Diaby, Muslim armies will use the Syrian capital as a base for operations in other countries. Diaby added that his group was "for the time being" allied with neither the Islamic State or the Nusra Front due to questions regarding their assaults on Muslim civilians: "We have learnt our religion and know that the Prophet warned us against any Muslim killing his Muslim brother. This is a very serious offense as they will both go to hell." Nonetheless, Dibay insists that hijra is compulsory: "If someone comes to see me to tell me that he wants to go back [to France], I am going to tell him that going back to infidel land is forbidden, that God forbids it. What's going to happen to them if they go back? They're going to be arrested."
Death and Resurrection
Twitter reports from Diaby's family claimed that the jihadist had been shot and mortally wounded on July 29, 2015 during an attack on Aleppo, with Diaby succumbing to his injuries after a week-long coma (Dakar Echo, August 8, 2015). According to Diaby, the rumors of his death had been spread to allow him to leave Syria for four months of medical treatment in an un-named Arab country he entered under a false identity (L'Express, June 27). Nothing was heard from the jihadist until April 2016, when, after hearing from his cousin that journalist Romain Boutilly was preparing a video feature on jihadi recruiters in France, Diaby contacted Boutilly to announce he was still alive and would like to be included in the France2 documentary broadcast on June 2. [4] A Syrian cameraman was hired to shoot the footage, consisting of an interview with Diaby and views of his katiba's camp. Once shooting began, Diaby exercised tight control on who and what was shown. (FranceTVInfo.com, June 2).
Relations with the Islamic State
Diaby appears to view al-Qaeda (and the related Nusra Front) as a more serious, intellectually-based movement than the Islamic State organization, whose fighters he characterizes as "ignorant youths without serious religious training [much like Diaby himself] whose deviant behavior springs forth as soon as you put weapons in their hands" (Le Nouvel Observateur, August 10 2015). He also objects to their methods of occupation:"Their understanding of Shari'a is different from ours" (Le Monde, May 29). Despite Diaby's criticism of the Islamic State, there are indications that the movement is draining off jihadis from Diaby's katiba to new Francophone Islamic State units (Libération [Paris], August 9, 2015).
Diaby derides the Islamic State's videos of graphic cruelty as targeting "a reactionary, impulsive audience" through "five-minute clips that merely inspire rage" (France24.com, June 1). Nonetheless, Diaby justified the Islamic State's November 13, 2015 terrorist attacks in Paris (which included the mass shooting at the Bataclan Theatre): "They were made in retaliation for French strikes on women and children… therefore we cannot condemn them, because Allah said "transgress for equal transgression" (Le Monde, May 29).
Al-Qaeda's January 2015 Charlie Hebdo massacre in Paris also met with Diaby's approval:
If defending his Prophet is terrorism, then all Muslims who know their religion are terrorists. Those who insult the Prophet are to be executed, it is Islamic law. The fact that Kouachi brothers [Saïd and Chérif] applied this law does not make them terrorists, but real Muslims… Those who insulted the Prophet were executed. I wish I'd been chosen to do that" (Le Monde, May 31; AFP, May 29).
Conclusion
Breaking new ground in the use of video as a recruitment tool, Omar Diaby bears a large share of responsibility for the recent terrorist outrages in France as well as the emigration of scores of young French Muslims to Syria's battlefields, from which many will never return. Diaby's propaganda efforts have fostered a climate of fear and resentment amongst French Muslims, some of whom have become convinced that powerful forces in the Western world are determined to eliminate Islam and slaughter its followers, a belief that can have only one response – jihad against the infidels.
Notes
This article first appeared in the July 2016 issue of the Jamestown Foundation's Militant Leadership Monitor