Andrew McGregor
AIS Special Report, December 12, 2017
Khartoum is using an Arab paramilitary under the direct command of President Omar al-Bashir to clean up resistance to its rule amongst Darfur's northern Rizayqat Arabs, once the core of the notorious Janajaweed militias that wreaked havoc on the region's non-Arab population in the 2000s.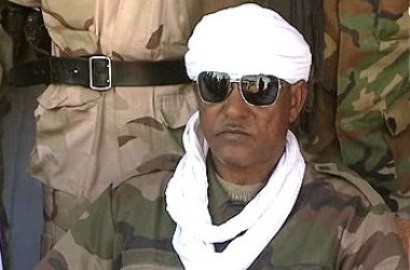 Shaykh Musa Hilal (Sudan Tribune)
The campaign has included the violent arrest of Shaykh Musa Hilal Abdalla, a member of the Um Jalul clan of the Mahamid Arabs. Hilal is the nazir (chief) of the Mahamid, a branch of the northern Rizayqat tribal group (the northern Rizayqat includes the Mahamid, Mahariya, and Ireiqat groups). Once the leader of the Janjaweed, Hilal was arrested on November 26, 2017 by the government's Rapid Support Forces (RSF – al-Quwat al-Da'm al-Sari) after spending the last few years building a fiefdom in northern Darfur funded by illegal gold mining. Hilal remains subject to travel and financial sanctions imposed by the UN Security Council in 2006 in connection to his leadership of the Janjaweed.
Also arrested in the RSF raid were Hilal's sons Habib, Fathi and Abd al-Basit, three brothers and a number of aides. At the time of the RSF's arrival in his hometown of Mistiriyha, Hilal was still receiving condolences from visitors after the death of his mother (Radio Dabanga, November 27, 2017).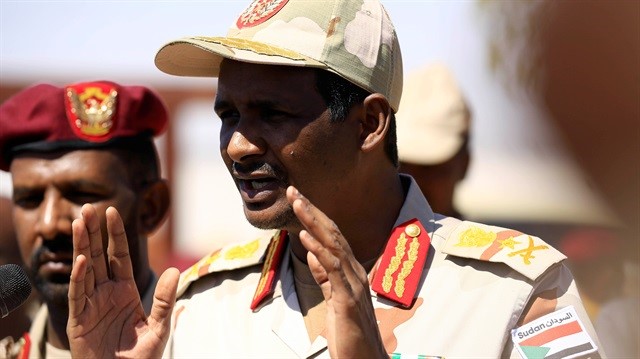 RSF Commander Muhammad Hamdan Daglo "Hemetti" (Anadolu Agency)
Commanding the RSF forces was Hilal's cousin, Muhammad Hamdan Daglo "Hemetti," a member of the Mahariya branch of the northern Rizayqat and Hilal's former Janjaweed deputy. Daglo is leading the government's six-month disarmament campaign in Darfur, intended to confiscate weapons held by civilians, rebel groups and government-controlled militias such as the Popular Defense Forces (PDF) and the Central Reserve Police (CRP).
The clashes began when a RSF disarmament unit was ambushed near Mistiriyha, killing nine. Hilal's men then attacked and killed RSF Brigadier Abd al-Rahim Gumma when he arrived to investigate the ambush (Sudan Tribune, November 27, 2017). The RSF has deployed 10,000 men and an armored regiment in North Darfur to deal with the threat posed by Hilal and his followers (Sudan Tribune, November 5, 2017).
Terrible conditions were described in Mistiriyha after the raid, with mass arrests of male residents, the flight of women and children to barren hills nearby without water or food and bodies left to decompose in the streets (Sudan Tribune, November 29, 2017). Government sources admitted the loss of between nine-to thirteen men with 35 others wounded (Sudan Tribune, November 29). Reports of heavy civilian losses were denied by General 'Ali Muhammad Salim, who claimed only a single child was hit by a stray bullet (Sudan News Agency, November 29, 2017).
The list of weapons seized from Hilal's forces included 25 "technicals" (Land Cruisers mounted with heavy machine guns), a SAM-9 anti-aircraft system and a variety of "Dushkas" (the Russian-made DShK 108mm machine gun) and other automatic weapons commonly found in the region (Sudan Tribune, December 5, 2017).
Daglo insisted the arrest of an Algerian with "sophisticated communications equipment" and several other foreign nationals at Mistiriyha confirmed "the participation of foreign parties in destabilizing the security [of] Darfur" (Radio Dabanga, November 27, 2017; November 30, 2017; AFP, November 27, 2017).
Hilal was the official commander of the government's Border Guard Force (BGF), once a small camel-mounted unit that was greatly expanded as a means of absorbing former Janjaweed into more tightly controlled government structures. Hilal spent several years in Khartoum as a senior government advisor before a dispute with the regime led to his return to Darfur in 2014. To further his own personal and tribal agenda, Hilal began to transform the BGF into the Sudanese Revolutionary Awakening (Sahwa) Council (SRAC). Composed largely of members of Hilal's Mahamid clan, SRAC began to drive over-stretched government forces from northwest Darfur and established administrations in the region's major centers and at the artisanal gold fields of Jabal Amer.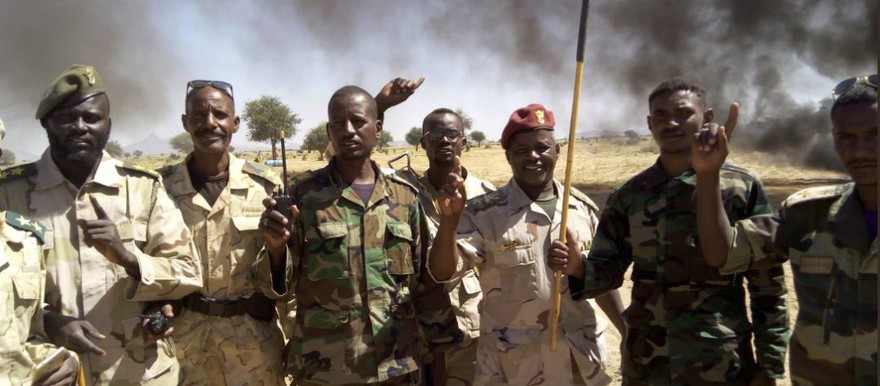 RSF Officers after a Raid on the Gold Mines at Jabal Amer (Radio Dabanga)
The Defense Ministry announced its intention to integrate the BGF into the RSF under Sudan Armed Forces (SAF) command in July 2017. The decision was immediately opposed by Hilal, who had no intention of serving under his former Janjaweed lieutenant and tribal inferior, General Muhammad Hamdan Daglo "Hemetti." [1]
A major quarrel broke out between Hilal and what he described as "these Nile Valley Arabs," the Ja'ailin, Danagla and Sha'iqiya tribes that have controlled Sudan since independence. Hilal announced his refusal to cooperate with the government's disarmament campaign and accused Daglo and his patron, Vice-President Hasabo Abd al-Rahman, of siphoning off millions of dollars intended for the Sudanese treasury in return for the deployment of RSF fighters in Saudi Arabia's military campaign in Yemen (al-Jazeera, September 10, 2017). [2]
As commander of the Border Guards (part of the SAF), Musa Hilal was flown to Khartoum for questioning by military intelligence, to be followed by a military trial for turning Mistiriyha "into a hideout for fugitives and outlaws," according to Minister of State for Defense General 'Ali Muhammad Salim (AFP, November 29, 2017). Fifty Border Guards were taken prisoner, with 30 sent immediately to Khartoum and the remainder to follow (Sudan Tribune, November 30, 2017).
The Northern Rizayqat – Defections and More Arrests
Hilal's detention followed the arrest earlier in November of former Border Guards Lieutenant Colonel 'Ali Abdullah Rizqallah "Savanna." Rizqallah (Mahamid clan of the Rizayqat) split from the Border Guards in August to form his own Sudan Army Movement – Revolutionary Forces (SAM-RF) after Khartoum declared its intention to merge the Border Guards into the RSF. The commander was arrested after two days of clashes with the RSF around Korma (12 km west of al-Fashir) and in the area south of Kutum (Radio Dabanga, November 10, 2017). Rizqallah was removed to Khartoum for questioning and may face charges carrying the death penalty (Anadolu Agency, November 12, 2017).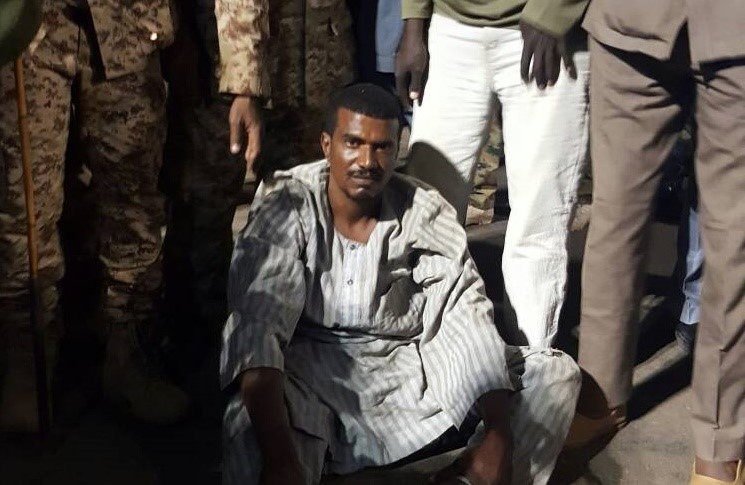 Lieutenant Colonel 'Ali Abdullah Rizqallah "Savana" after his capture (Radio Dabanga)
The RSF claimed a week earlier that it had absorbed some 300 SAM-RF fighters after they defected from Rizqallah's movement with their weapons and vehicles (Sudan Tribune, November 4, 2017; November 12, 2017; Radio Dabanga, November 5, 2017). Rizqallah is reported to have feuded with General Daglo's Mahariya clan, responding to a 2016 ambush by Mahariya gunmen with an attack on the home of a Mahariya National Security and Intelligence Service (NISS) colonel and governor of East Darfur that killed two NISS agents. [3] More recently, the RSF claimed to have repelled a SAM-RF attack on the North Darfur city of Kutum (Sudan Tribune, November 4, 2017).
Three days after the RSF assault on Mistiriyha, Adam Khatir Yusuf, leader of the Awlad Eid clan of the Rizayqat, died in a medical facility belonging to Sudan's security services. The tribal leader was wounded while in Mistiriyha to offer condolences to Musa Hilal and was seen in a poor and bloodied condition being taken off a plane in Khartoum. His family claimed that Adam Khatir died while undergoing torture by military intelligence (Radio Dabanga, November 29, 2017). RSF commander Daglo claimed Adam Khatir had deceived them regarding the possibility of acting as a mediator between the RSF and Hilal: "We thought he [could] serve as a good-faith mediator, but unfortunately we were surprised to see him carrying a gun and fighting with Musa Hilal" (Sudan Tribune, November 29, 2017).
On November 26, the RSF announced the capture of SRAC spokesman Harun Mahmud Madikheir south of Mistiriyha where he was reported to be on his way to Chad with his bodyguards (Radio Dabanga, November 27, 2017).
Government security forces have also raided camps for internally-displaced persons (IDPs) in Darfur as part of the disarmament campaign. President al-Bashir (a Ja'alin Arab) has declared his intent to empty the camps over the objections of the UN and the African Union and Darfuri rebel groups claim the disarmament efforts are just a pretext to clear them of IDPs (AFP, November 21, 2017; Sudan Tribune, September 24, 2017).
Conclusion
Khartoum must still deal carefully with Hilal; there are many members of his Mahamid clan in the RSF who could turn against the government and he can describe the exact type and level of involvement of many leading Sudanese politicians and officials in the ethnic cleansing of Darfur. Al-Bashir himself is subject to International Criminal Court (ICC) arrest warrants issued for war crimes, genocide and crimes against humanity in Darfur. Hilal has been in contact with rebel movements looking to integrate Arab groups into the ongoing rebellion. The former Janjaweed leader may also be able to call on powerful friends beyond Darfur's borders – Khartoum believes he has been in contact with the commander of Libya's "Libyan National Army (LNA)," Field Marshal Khalifa Haftar. Hilal is as well the father-in-law of Chad's Zaghawa president Idriss Déby Itno, a former foe of al-Bashir.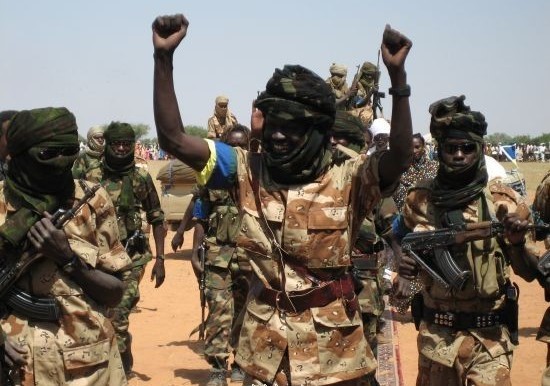 SLM/A-MM Rebel Commander Minni Minawi (Radio Dabanga)
Hilal's arrest has also met with internal opposition. Old enemy Minni Minawi, leader of a largely Zaghawa rebel movement and current chairman of the Sudan Revolutionary Front (SRF) rebel coalition, denounced the government's disarmament campaign for inciting a new round of violence in Darfur and called for the immediate release of Hilal and his sons.  He further described the alleged RSF killings of women and children in Mistiriyha as "a crime against humanity" (Sudan Tribune, November 29, 2017). The disarmament campaign has also been condemned as nothing but a new war in the name of disarmament by the Islamist opposition Popular Congress Party (PCP) and the still-influential Sudanese Communist Party (SCP) (Radio Dabanga, November 29, 2017).
In Sudan, prosecutions and detentions depend a great deal upon the importance of the individual to the regime's tribal relations, his own connections to leading members of the regime, or his future value to the regime. Hilal was previously imprisoned in 2002 on charges of inciting ethnic violence, but was released the next year when the regime needed a leader for an Arab supremacist militia that would punish Darfur's non-Arabs for their resistance to the government – the Janjaweed. With few political cards to play in Darfur and influence with the region's Arab tribes in a state of decline, Khartoum is likely to hang on to Hilal as a potential future asset, however uncomfortable his stay may be made in the meantime.
NOTES
For a detailed account of Musa Hilal's resistance to the disarmament campaign and conflict with the RSF, see: Andrew McGregor, "Why the Janjaweed Legacy Prevents Khartoum from Disarming Darfur," AIS Special Report, October 15, 2017, https://www.aberfoylesecurity.com/?p=4027
For the RSF's campaign in Yemen, see: Nicholas A. Heras, "Sudan's Controversial Rapid Support Forces Bolster Saudi Efforts in Yemen," Terrorism Monitor, October 27, 2017, https://jamestown.org/program/sudans-controversial-rapid-support-forces-bolsters-saudi-efforts-yemen/
Jérôme Tubiana, "Remote-Control Breakdown: Sudanese Paramilitary Forces and Pro-Government Militias," Small Arms Survey, May 4, 2017, http://www.css.ethz.ch/en/services/digital-library/articles/article.html/571cdc5a-4b5b-417e-bd22-edb0e3050428